UCF's Shaquem Griffin isn't just one of the best stories in the entire 2018 NFL Draft, but what makes his story so compelling is that he can legitimately play, and isn't just a compelling storyline with no substance.
Griffin is the twin brother of Seahawks cornerback Shaquill Griffin, and what makes him such a unique story is that he is missing his left hand, amputated at the age of four due to a prenatal condition that caused a fetal abnormality in that particular extremity.
Since that point, he has gone through his entire football career with only one hand, but that didn't stop him from being one of the more productive pass-rushers in college football while expanding his role to show more diverse skills both at UCF and then the Senior Bowl.
[Editor's Note: The 2018 NFL Draft Guide is coming. For PFF Edge & Elite subscribers, a comprehensive guide featuring player profiles of signature stats, grades and exclusive PFF content will be released on February 26.]
Positional Paradox
The biggest concern for Griffin isn't that he is missing a hand, but that he is extremely undersized for what he does best – rushing the passer. His twin brother is a cornerback and there isn't a wildly differing body type between the two. Shaquem stands 6-foot tall and weighed 223-pounds at the Senior Bowl in Mobile.
Robert Mathis – the long-time Indianapolis Colt and current pass-rush consultant for that team – was for years considered the exception to the rule of undersized pass rushers in the NFL, and Mathis played at 245 pounds, more than 20 pounds heavier than Griffin.
James Harrison's listed playing weight is 242 and there are a couple of other full-time NFL edge rushers who exist (at least on paper) in the 240s, but any way you look at it, Griffin is undersized for that role even among undersized edge rushers.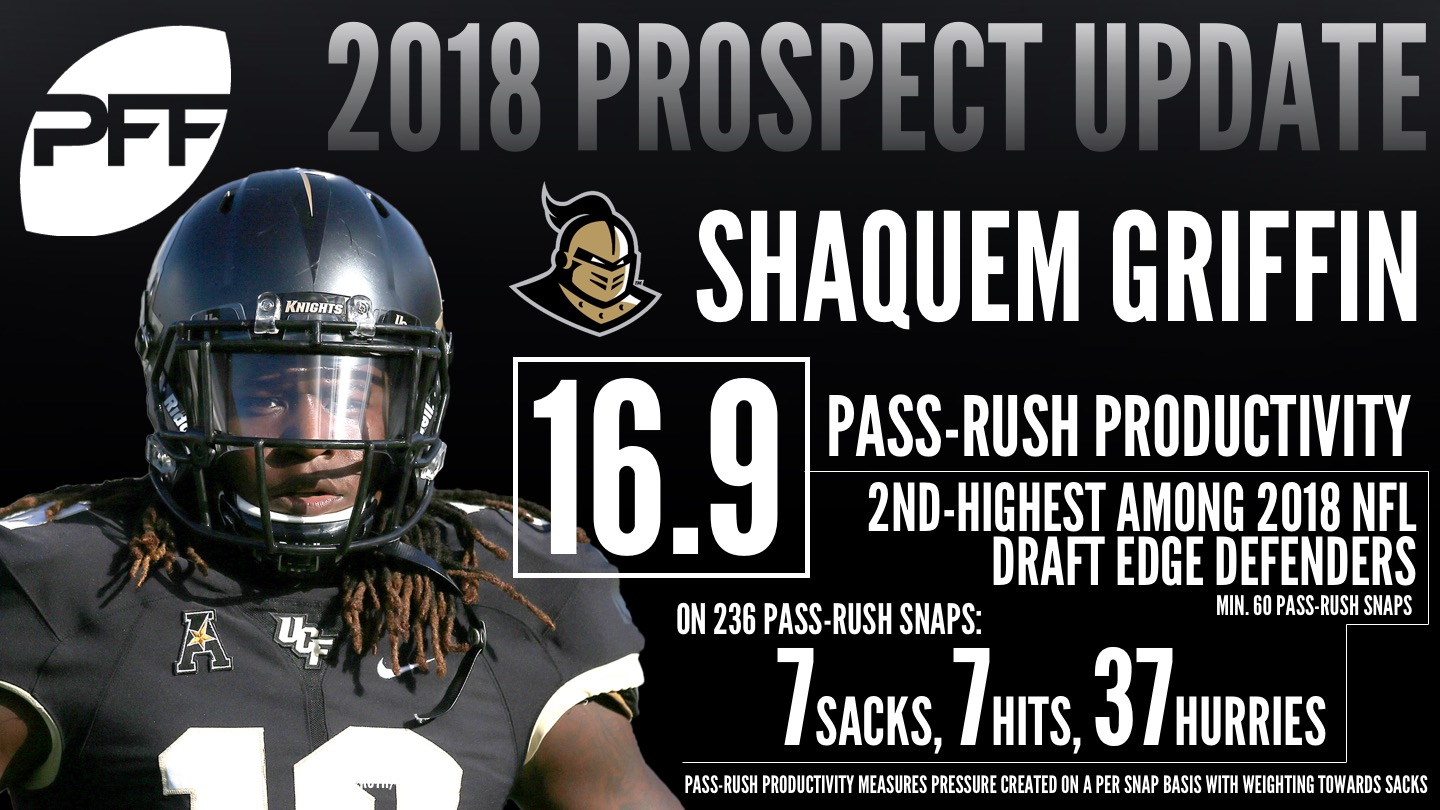 That's a potential issue because rushing the passer is by far what he is best at, and he is really good at it. In 2016, he was the AAC's Defensive Player of the Year, and not without merit. He notched 12 sacks, five hits and 11 more hurries over the season from 206 pass-rushes. A year later, he had seven sacks, eight hits and 39 hurries from 249 pass-rushes. His pass-rush productivity score of 16.9 this past season was the second-best mark in the draft class among all edge defenders.
He had multiple games in 2017 with seven or more pressures (four) and generated pressure in every game except one. While not having a hand would seem like a hindrance to rushing the passer, Griffin has been able to do it consistently well and if anything, improve as his career has gone on. Even more, at UCF he moved from one side of the line to the other and was almost exactly as productive on either side of the line. He doesn't favor one side because of any issue his hand gives him in terms of technique.
Best thing about Shaquem Griffin is that the dude can play. This was on back to back plays against Auburn: pic.twitter.com/44fcqGCnhe

— Sam Monson (@PFF_Sam) February 20, 2018
Griffin's best game in 2017 came in UCF's bowl game against Auburn, an SEC team that had finished first in the SEC West and came up just short against the eventual national runner-up Georgia in the SEC Championship game.
Griffin had 10 total pressures and seven defensive stops in that game going up against an offensive line – and tackles in particular – that are far from poor.
At the Senior Bowl, he got the chance to show scouts how he can do with an extended run against elite competition in an all-star game and again, he impressed and produced. He saw limited pass-rush snaps during practice, but when given the chance, he was able to generate pressure. He was given extensive time during the week with the linebackers, where he struggled far more in coverage during 1-on-1 drills. In the game itself, he rushed the passer 21 times and failed to generate any pressure.
Griffin's size also gives him a good speed advantage in the run game. He had 89 defensive stops over the past 2 years pic.twitter.com/b9kBVfuoe8

— Sam Monson (@PFF_Sam) February 20, 2018
Griffin has also developed against the run throughout his college career and shows impressive recognition of run concepts and athleticism to get in on the play. His grade against the run has gone up in every year of his college playing time, and it has been a strength, even at his size.
Going up against NFL caliber offensive linemen, and the strength and power they possess can quickly change that, but if a team is willing to get creative in how they use him, Griffin could still be a success and a three-down player doing what he does best on all three downs. When the Seattle Seahawks first drafted Bruce Irvin, they used him across multiple positions – an off-the-ball linebacker for two downs and then as a pass-rush specialist on obvious passing plays. The Denver Broncos once did something similar with Von Miller before deciding he was better employed as a pure edge defender on every down.
There is also recent precedent for a player similar to Griffin not just being embraced by the NFL despite the uncertainty of how he would be deployed, but actually being drafted in the middle of the first round. A season ago the Arizona Cardinals took Haason Reddick out of Temple (an AAC school just like UCF), as an extremely athletic pass-rusher who had the body of an off-the-ball linebacker.
For the first four weeks of the season, Reddick was utilized as that off-the-ball linebacker, with only a few snaps per game as a true edge defender, but he struggled in that new role. From Week 5 onwards, he was moved back to the edge, playing just 21 snaps as an off-the-ball linebacker over the rest of the season, and never more than four in a single game. Reddick is listed at 235 pounds, and is quite possibly the smallest and lightest edge defender in the NFL, and the closest analogue for Griffin.
The Cardinals effectively switched Reddick's position during the season, but the most effective use for both him and Griffin might be to switch positions between downs. The move did at least allow Reddick to go back to what he does best and helped him improve in games down the stretch. This outstanding athleticism was essentially the reason he was such a sought-after prospect in the first place, but Griffin has actually been a notably better pass-rusher in college.
Reddick generated 97 total pressures over his final three seasons in college to Griffin's 82, but he also rushed the passer an extra 212 snaps to generate those pressures. On a per-rush basis, Griffin was significantly more productive, recording pressure once every 5.8 pass-rushing snaps compared to 7.1 for Reddick. To put that number into some context, last year's No. 1 overall pick, Myles Garrett, generated pressure on once every 5.9 pass rushing snaps over his college career.
Came inside to get another pressure, and finished well when the QB tried to escape pic.twitter.com/a20LQvxDMW

— Sam Monson (@PFF_Sam) February 20, 2018
Before cries of 'SEC' ring out, it's worth remembering that Garrett generated some of his best statistical games against non-Power-5 competition, but also that Griffin's best game this season came against SEC competition. With the game on the line and only seconds left on the clock, it was Griffin streaking around an SEC tackle with speed to pressure Jarrett Stidham into throwing the interception that sealed the win.
Bottom line
Shaquem Griffin is an intriguing prospect, and a player who creates some challenges for NFL teams in terms of how best to use him at the next level, but none of that intrigue or those challenges are because he plays with just one hand. This is a legitimate NFL football player and the fact he has overcome that impediment just makes his story all the more interesting.