When you think of a graduate transfer, there is a good chance that the quarterback position comes to mind. Russell Wilson, Garrett Gilbert, and this year Jalen Hurts are the players that have notably grabbed headlines for the rule. It's not solely quarterbacks, though, that can take advantage of the immediate eligibility exception. The most intriguing graduate transfer this season from a PFF grading perspective plays on the other side of the ball entirely.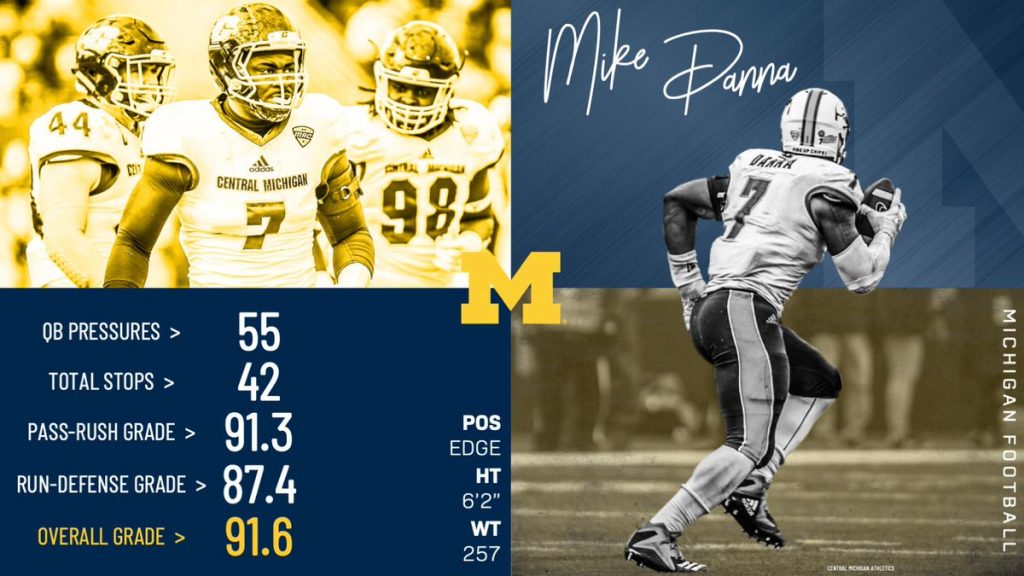 Former Central Michigan defensive end Mike Danna will be suiting up for his final season across the state at the University of Michigan this fall. Danna not only fills a glaring need for the Wolverines after Rashan Gary and Chase Winovich were first- and third-round picks, respectively, this April, but he may even prove to be an upgrade at the position. Danna's 91.3 pass-rushing grade last season was the highest of any returning player in the country and outpaced both Winovich (89.1) and Gary (71.5).
The obvious caveat is level of competition. A 91.3 pass-rushing in the MAC isn't directly translatable to the offensive lines in the Big 10. With that in mind, let's take a look at exactly what Michigan fans can expect this fall and what kind of prospect Danna will be next spring.
The first thing that pops off the tape with Danna is his power. He manhandles tackles in both the run game and as a pass-rusher with pure strength. As you can see below, his ability to use his leverage to forklift tackles should be a constant no matter what college competition he's playing against.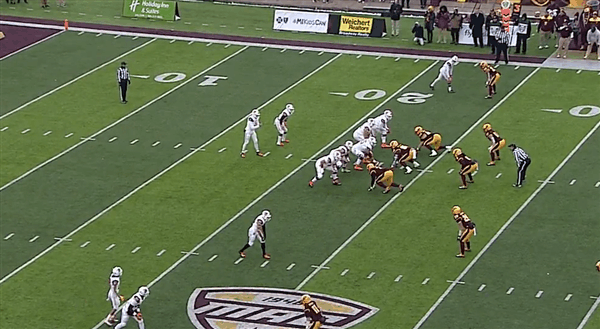 Danna isn't some undersized rusher who feasts on unathletic lower-level college tackles. At 6-foot-2, 257 he has legit size for the position whether it's college football or the NFL. This is a complete defensive end who ranked top-10 among returning edges nationally in both run stops (30) and pressures (55).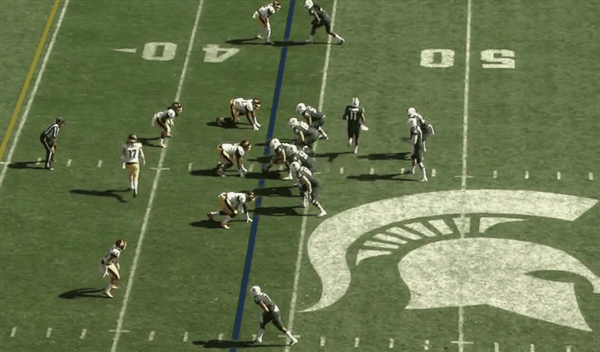 The worrisome part when projecting Danna to the NFL is his athleticism. He's a middling athlete for the position and doesn't make up for it with prodigious size. While he does great work with his hands, Danna racked up pressures with inside moves against sloppy tackles. Danna doesn't have the burst or bend of you typical pass-rusher that can consistently corner offensive tackles. Over 1/3 of his pressures (20) came against Maine and Ball State last season while his three lowest pass-rushing grades came against Central Michigan's only three Power-5 opponents (Kentucky, Kansas, Michigan State). He'll have to develop a more refined set of moves to win the edge for his production to translate to the NFL or even the Big 10.
The good news for Michigan fans is that we've already seen Danna add more tools to his game every single year. His overall grade has improved by leaps and bounds every single season, going from 61.9 in 2016 to 82.1 in 2017 and finally to 91.6 last season. Now he gets tutelage in a Michigan program that has produced some of the highest graded defensive linemen in PFF college grading history (Maurice Hurst, Chase Winovich).
While he may not seamlessly replace Winovich's production for the Wolverines, with Danna's distinct upward trajectory in his career, he should easily be an upgrade over Gary. If Danna would have declared after last season, he would have gotten drafted, but it likely would have come somewhere on Day 3. Because he lacks top-end athleticism, he's going to have to prove his combination of hands and strength can still get the job done against the top competition of the Big 10 for him to hear his name called earlier next April.
[Editor's Note: PFF will be releasing a Preseason 2020 NFL Draft Guide in August of this year. All EDGE and ELITE subscribers will have access to the guide upon release. Sign up today to ensure you have access the day it comes out!]