NFL draft season is upon us, which means player evaluations are in full swing. A common theme in player evaluation is to compare a prospect with a previous NFL player with similarities. However, with more than a decade of PFF's data at hand, we can go a little deeper with our player comparisons.
Never before in the history of the NFL have pass-rushing defensive tackles been of greater value than in the past few years with the distinct shift away from base defense towards more sub-package defense. Michigan DI Maurice Hurst has been an incredible, disruptive interior defensive lineman this year in large part to his quickness and athleticism, and we at PFF are very high on his NFL prospects even though he doesn't have the prototypical size of a first-round pick at defensive tackle. Hurst was our highest-graded player overall in all of FBS college football with an overall grade of 96.8 at season's end, which edged out Oklahoma QB Baker Mayfield's 95.2.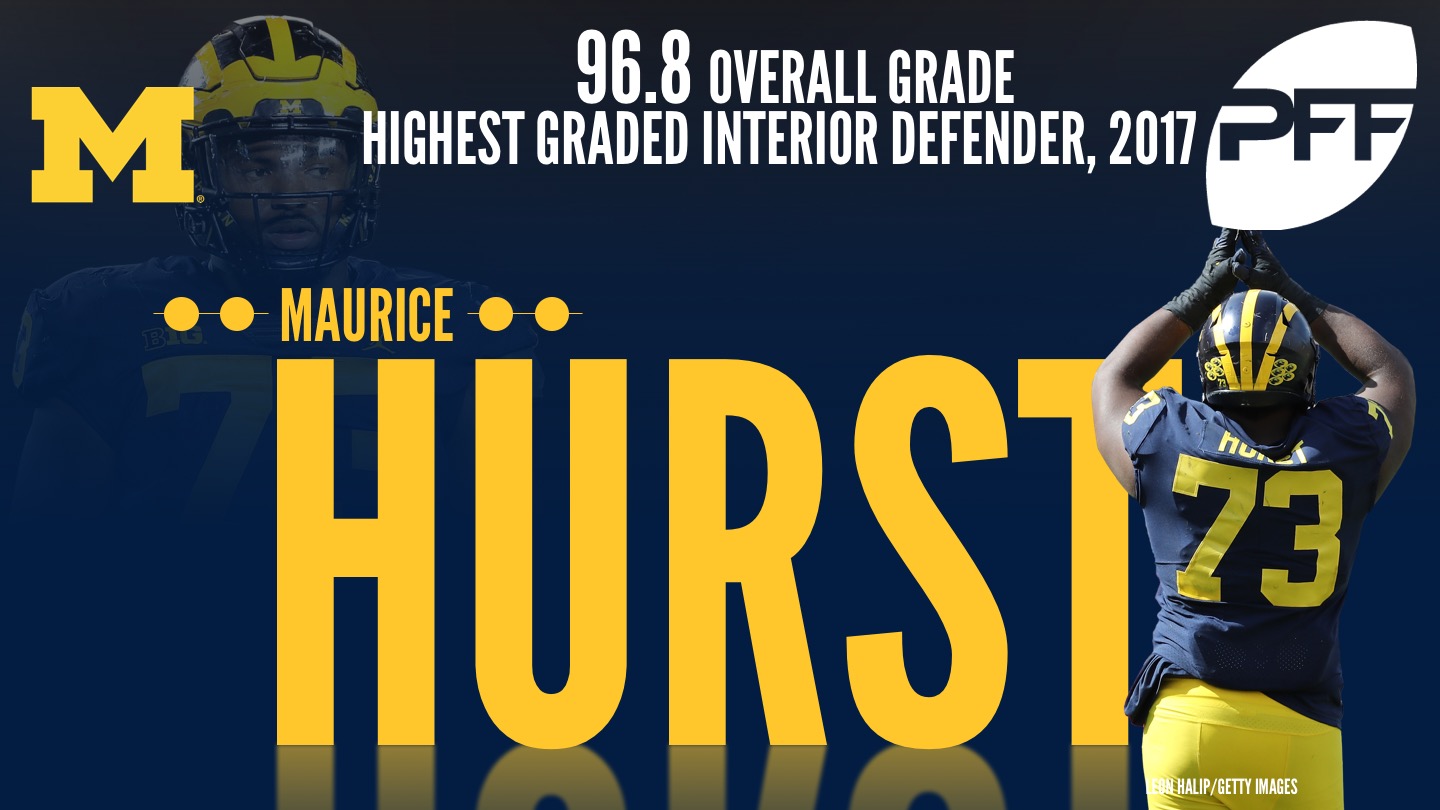 When Gerald McCoy was coming out of Oklahoma, the book on him was somewhat similar to Hurst's. McCoy didn't weigh over 300 pounds like his draft classmate Ndamukong Suh, but he consistently won with quickness and athleticism on the field. Hurst is close to 6-foot-2 and weighs 280 pounds, which is noticeably smaller than McCoy's 6-foot-4, 295-pound frame coming into the NFL.

As a run defender
For far too long in the NFL, the reason not to draft defensive tackles that didn't meet certain height and weight specifications was that their lack of size would translate to them getting pushed around in the run game. However, that is far less of a concern with fewer run plays being called on first and second downs than for most of NFL history. Additionally, Hurst wasn't a serviceable run-defender; he was dominant. Hurst's 93.5 run-defense grade ranked No. 1 among all draft-eligible interior defensive linemen. On run plays, the lighter and quicker defensive tackles such as Hurst can quickly shoot through gaps to cut off the front-side of run plays or to clean up plays from the back-side. Hurst's 31 run stops tie him at No. 3 among all FBS draft-eligible defensive tackles.
His run-stopping has been a top priority during his time in Michigan, and it certainly showed with his production.
"My first job has always been to stop the run," Hurst told PFF in an exclusive interview. "That's what we're taught at Michigan. Pass-rush has always been secondary."
[Editor's Note: The 2018 NFL Draft Guide is coming. For PFF Edge & Elite subscribers, a comprehensive guide featuring player profiles of signature stats, grades and exclusive PFF content will be released on February 26.]
Positional versatility
Hurst and McCoy have both demonstrated the ability to contribute at a high-level at multiple positions along the defensive line. Hurst played more of his snaps at nose tackle than anywhere else despite lacking prototypical nose tackle size. In 2017, Hurst played 405 snaps at nose tackle, 377 at defensive tackle and even 34 at defensive end for the Wolverines. The fact that Hurst was able to play the bulk of his snaps at nose tackle and not only held his own, but dominate, should ease the concerns of teams about his lack of ideal NFL defensive tackle size. As a rookie in 2010, McCoy played 511 snaps at defensive tackle, 108 snaps at defensive end and 69 snaps at nose tackle. In McCoy's monster pass-rushing season in 2013, where he collected 10 sacks, 14 QB hits and 56 hurries, he logged 51 snaps at nose tackle, 411 snaps at defensive end and 512 snaps at defensive tackle.
As a pass-rusher
Both McCoy and Hurst have been consistently productive interior pass-rushers. McCoy has graded positively as pass-rusher every season of his NFL career thus far and as a rookie in 2010, McCoy's pass-rushing productivity rating of 6.3 ranked No. 7 among defensive tackles. In McCoy's monster, double-digit sack 2013 campaign, his PRP of 11.1 ranked No.1 among defensive tackles. This past season, his PRP of 8.2 ranked No. 6 among all defensive tackles, proving that he's been a consistently dominant pass-rusher from the defensive tackle position.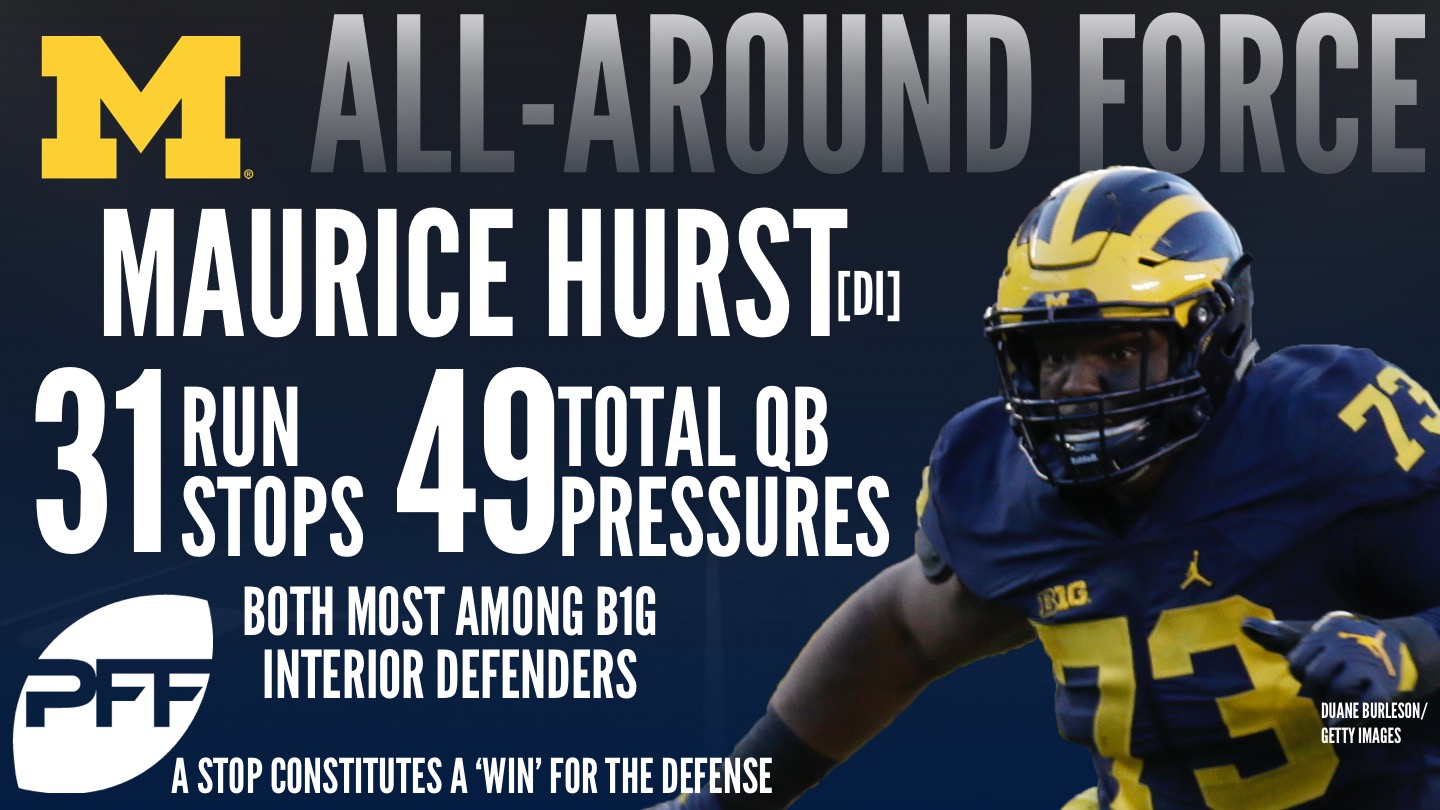 It's often said that the low man wins in football and especially so at the line of scrimmage. For some smaller but productive defensive tackles, the lack of height can lead to a natural leverage advantage on pass plays, as it's difficult for a blocker to reach across, attempting to grab and control their man's chest if it is too low and moving too quickly for them to reach. Hurst excels at being the low man that wins.
Hurst consistently plays with a lower pad level than the man across the line of scrimmage trying to block him. His lack of height gives him a lower center of gravity and therefore tremendous balance to fight off blocks from all angles and keep his feet to make a play. He explodes off the snap like a sprinter out of their stance and is consistently one of the first players moving at the snap on either side of the ball. Hurst's low center of gravity, initial burst off the line, lateral quickness and his low pad level makes him a difficult assignment for any blocker. The growing trend of success for 'smaller' defensive tackles in the NFL is something Hurst is aware of.
"We all want 6-foot-4, 6-foot-5 guys," Hurst said. "But in reality, the 6-foot-1, 6-foot-2 guys are the ones going to the Pro Bowls. That's the way the game's going."
In 2016, Hurst played a limited role in a talented Wolverines defensive front and only rushed the passer on 173 snaps, but his pass-rushing productivity of 15.3 ranked No. 1 among all defensive tackles. In 2017, in a full-time role, Hurst's PRP rating of 12.1 also ranked No. 1, this time among all NFL draft-eligible defensive tackles. He generated eight sacks, 13 QB hits and 28 hurries on his 320 pass-rush snaps. Hurst was so productive that his 92.2 pass-rush grade ranks No. 1 among all FBS defensive players in the draft class.
Summing it all up
Many PFF analysts believe that exceptional defensive tackle prospects that hover around 6-foot or weigh less than 300-pounds are being passed over by too many teams to their own detriment.
All too often, teams are missing out on the quick, disruptive but 'undersized' defensive tackles that continue their disruptive ways in the NFL such as Grady Jarrett (6-foot-1), Geno Atkins (6-foot-1, 293-pounds), Jurrell Casey (6-foot-1) or Aaron Donald (6-foot-1, 285-pounds). Hurst's ability to be an elite run-defender and pass-rusher from the defensive tackle position in addition to his quickness and athleticism inside is very reminiscent of McCoy's game both at Oklahoma and with the Tampa Bay Buccaneers.
The comparison between the two — McCoy and Hurst — does, in fact, come with merit. Hurst himself sees it.
"I also watch a lot of Gerald McCoy," Hurst said. "He's a guy I really look up to and take as much stuff as I can from him on film. He's ridiculously fast and quick, and he works really well with his hands."
Hurst's ability to be disruptive and productive against the run and as a pass-rusher means he should be able to stay on the field in nearly every down-and-distance situation and provide tremendous value for the team that drafts him.