NFL draft season is upon us, which means player evaluations are in full swing. A common theme in player evaluation is to compare a prospect to a previous NFL player with similarities. However, with more than a decade of PFF's data at hand, we can go a little deeper with our player comparisons.
Ohio State cornerback Denzel Ward is one of the best coverage players in the draft class and currently our No. 3-ranked cornerback. Ward's play on the field and his size are reminiscent of a slightly taller Jason Verrett when he came out Texas Christian and was the 25th overall pick in the 2014 draft by the then-San Diego Chargers.
The 2018 NFL Draft Guide is here! For PFF Edge & Elite subscribers, a comprehensive guide featuring player profiles of signature stats, grades and exclusive PFF content including position by position rankings. Find out more information here and join PFF now!
Similar size and athletic profiles
With the NFL scouting combine now in the books, Ward's workout and testing numbers are now a matter of record. Ward measured in at the combine at 5-foot-10 7/8 and weighed 183 pounds. When Verrett was at the combine, his measurements were 5-foot-9 1/2 and 189 pounds. The two players have very similar builds, as only about an inch in height and six pounds separated them from each other.
Both players ran speedy 40-yard-dash times at the combine, which cemented their status as first-round picks. Ward just ran a 4.32-second 40 with a super impressive 1.47 10-yard split at the combine. Verrett's speed results were quite similar, as he ran a 4.38-second 40 with a 1.50 10-yard split. Both players also boasted explosive jumps at the combine, as both registered 39-inch vertical leaps, with Ward's 11-foot-4 broad jump being a bit farther than Verrett's 10-foot-8 broad jump.
Similar versatility and playing style
Verrett and Ward have both shown they have the deep speed to play outside cornerback as well as the incredibly quick feet and fluid change of direction skills necessary to play in the slot. As a rookie in 2014, Verrett played 199 snaps at outside cornerback for the Chargers and only 15 snaps in the slot. The following season, Verrett logged 626 snaps at outside cornerback and 80 snaps in the slot. Ward has shown the similar ability to play inside or outside, as he played 465 of his snaps at outside cornerback and 38 of his snaps in the slot in 2017 at Ohio State. The type of positional versatility that both players offer is highly coveted by defensive coordinators but the value of both players is higher to their teams if they play outside cornerback.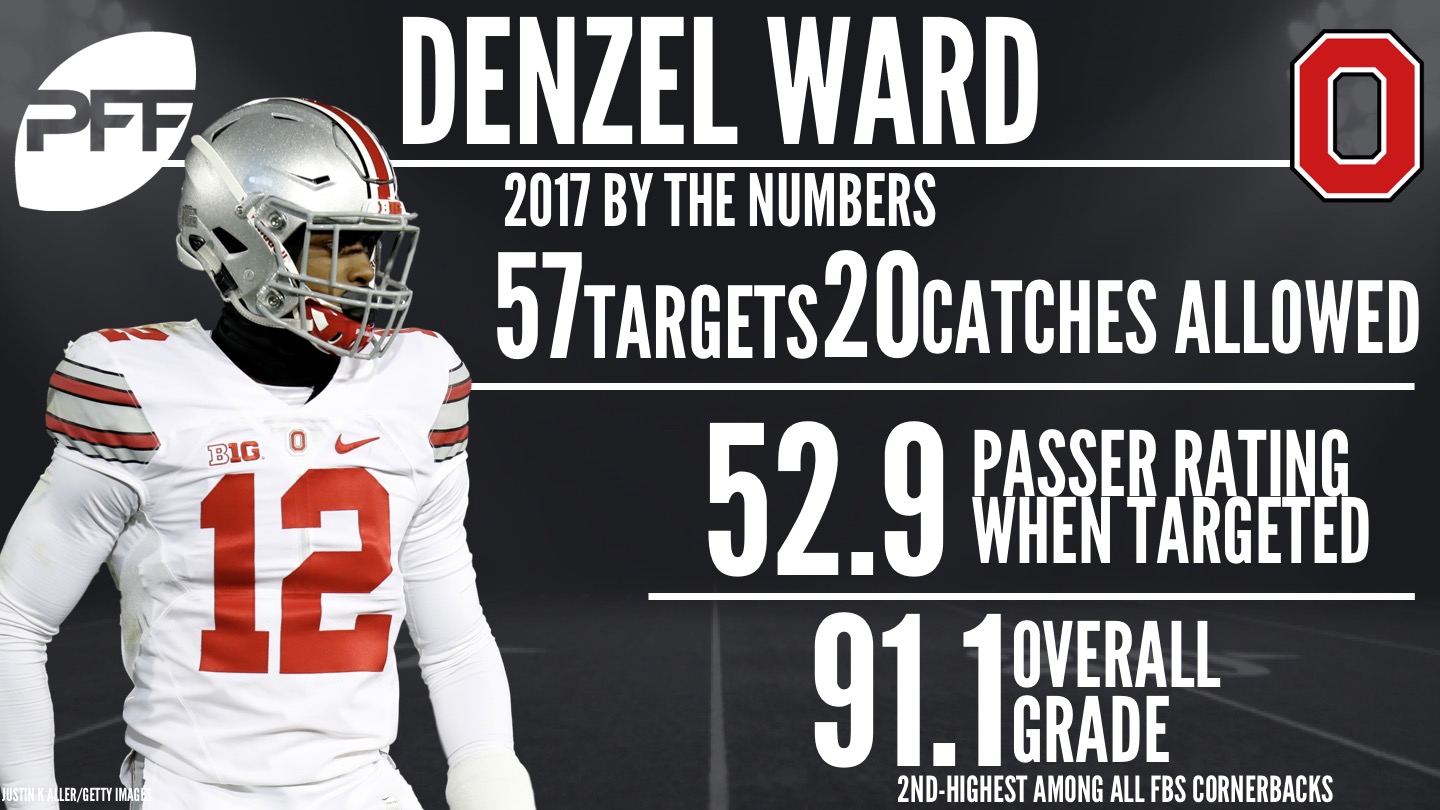 Similar production
Verrett's NFL production has been limited due to injuries, but he has shown to be one of the league's best young cornerbacks when he is healthy. In Verrett's best NFL season of 2015, he finished the season with an overall grade of 89.4. Verrett was targeted 72 times and allowed 42 catches for 616 yards and three touchdowns and he also had three interceptions and three passes broken up and opposing quarterbacks had a passer rating of 82.9 when targeting Verrett that year.
In 2017, Ward finished the season with an overall grade of 91.1, which was the second-highest grade among all FBS cornerbacks. Ward consistently showed the ability to play sticky coverage on the outside and was targeted 57 times in 2017 and allowed only 20 passes to be caught and he picked up two interceptions and broke up another 12 passes. Opposing quarterbacks had a passer rating of only 52.9 when targeting Ward.
In summary
Ward plays like a slightly taller and faster Verrett. Ward and Verrett are both top-notch athletes at the cornerback position with incredibly quick feet and fluid change of direction ability. As a result, both players have the ability to play inside at slot cornerback or outside but have so far been used primarily in the outside role. Verrett was selected with the 25th pick in the first round of the 2014 NFL Draft and Ward's elite speed along with his production makes him a likely candidate to go even higher than that in the first round of the 2018 NFL Draft.