Riding high after a career year at Georgia in 2018, 22-year-old Riley Ridley chose to forgo his senior season and enter the 2019 NFL Draft, trading another year in Athens, Ga. for an early start at the next level. And it's hard to argue against his reasoning. 
"I'm a sure-handed receiver," Ridley said in an interview with Pro Football Focus on Monday. "I'm big, physical. Not only am I a good core player as a receiver, I'm willing to play special teams and go to bat for my teammates. I'm just an all-around winner."
Ridley turned in a career-highs nearly across the board in 2018, earning a 75.5 overall grade, 76.3 receiving grade and a 71.2 run-blocking grade across 635 offensive snaps. He caught 43-of-60 targets for 559 yards, 33 first downs and nine touchdowns, recording the 11th-best passer rating when targeted (133.3) in the process.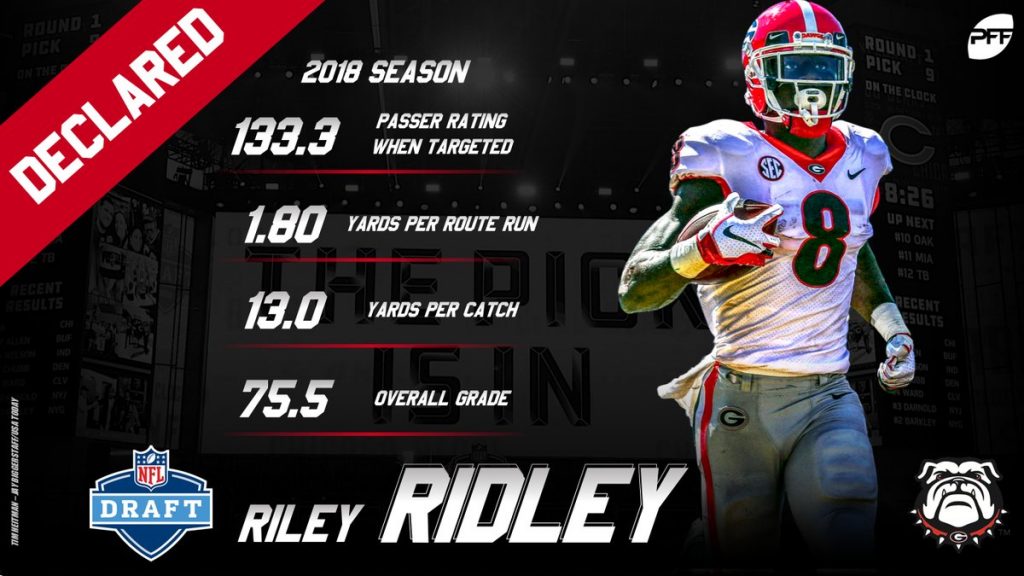 Compared to other wide receivers in the 2019 class, Ridley doesn't separate himself with his speed but rather his physicality and ability to come down with contested catches. Among the 189 FBS wide receivers with at least 10 contested targets this past season, Ridley ranked fourth in contested catch percentage (75.0%).
Ridley pushes catching the football regardless of the situation ahead of everything.
"Being a receiver is about catching the ball," Ridley said. "You can run as many routes as you'd like. You can have as much separation as you'd like. But if you can't catch the ball, you're finished.
"Contested, wide open, I got to bring the ball down so we can keep the chains moving."
With his high-end route running and physicality at the catch point, Ridley was a premier chain mover for the 'Dogs in 2018. He ranked fourth in percentage of targets resulting in a first down or touchdown (55.0%) among the 266 FBS wide receivers with 50-plus targets on the year.
Ridley also makes up for less than ideal top speed with sheer dominance at the short and intermediate levels of the field. He earned an 89.0 receiving grade when targeted between five and 15 yards beyond the line of scrimmage in 2018, ranking 11th among qualifying FBS receivers. His 13.94 passer rating when targeted and 58.5 first down percentage ranked fifth and sixth, respectively.

A significant chunk of Ridley's success at short and intermediate areas of the field can be chalked up to his hitch route. He often creates separation with crisp footwork at the top of the route and has a knack for turning the short pass into a long gain with his yards-after-the-catch ability. In 2018, 36.8% of his targets and 34.6% of his receiving yards – both highs among all of his routes – came on hitches. He earned an 84.5 overall grade when targeted on hitches this past season, ranking T-10th among FBS qualifiers.
Of course, Ridley's route-running prowess goes well beyond hitches, and he has his brother, Atlanta Falcons wide receiver Calvin Ridley, to thank for that.
"He just talks to me like a brother," Ridley said. "He lets me know how he feels about things. He lets me know how I can be used at the next level. He helped me out with my routes. When I was at Georgia, he was showing me certain things.
"[He said] you got to run your routes full speed. You have to be able to notice coverages and know how you have run certain routes against certain coverages so you don't get covered up."
Riley and Calvin are close. Calvin has been a "leader" and "mentor" to Riley throughout his entire football career and even more so this past season with the duo both residing in the Peach State in 2018.
When I was down in Georgia, I was able to go visit him and talk to him about certain things and my game. He was always there to give me a hand. We have one of the closest relationships. Growing up under the same household and him being able to excel in the sport that we love is awesome."
The brotherly love had a significant impact on Riley's route-running ability. Pro Football Focus' own Zac Robinson said "[Ridley is the] best route runner by far from the guys I've seen. [He is] really natural with everything ball skill wise, too."
Ridley's route-running ability hasn't kept doubters completely at bay. Speed, quickness and acceleration are all mentioned as concerns in Lance Zierlein's profile of Ridley on NFL.com. With the 2019 NFL Scouting Combine looming, Ridley looks forward to doing away with such concerns.
"Just to surprise people, get a couple heads turned that didn't really think I could do certain things," Ridley said of his plan for the Combine. "Me knowing my ability, it's a blessing to be able to go out and showcase what I can do."
Ridley has turned plenty heads already with his 2018 tape at Georgia and should continue to do so in Indianapolis in early March.