A strong 2016 campaign saw Florida State interior defender Derrick Nnadi finish with an overall grade of 85.7 and rank eighth in the (eventual) 2018 draft class, just 1.5 points behind Steven Richardson of Minnesota, the highest-graded player in the group. This grade was based largely on his run defense, which ranked fifth in the class (85.6), and while his 80.7 pass-rush grade lagged behind the top prospects from this year, he did show flashes of his ability to get after the passer by registering a total of eight sacks and 31 total pressures.
After the season, Nnadi is aware of his run-stopping prowess, saying that that is essentially what separates him from the rest of the defensive line class of 2018.
"I feel like I'm really great when it comes to stopping the run," Nnadi told PFF in an exclusive interview. "I'm very effective in gap control, maintaining my gap, rushing the passer and things like that."
[Editor's Note: The 2018 NFL Draft Guide is coming. For PFF Edge & Elite subscribers, a comprehensive guide featuring player profiles of signature stats, grades and exclusive PFF content will be released on February 26.]
Some had expectations he'd be able to elevate his draft stock to that of a first-round prospect during the 2017 season, but this never fully came to fruition. His run-defense numbers were comparable to last year, as his run-defense grade of 86.6 ranked eighth among 2018 draft prospects. However, he failed to improve as a pass-rusher, posting just four sacks and 23 total pressures to go with a 76.0 grade in the category, which ranked just 113th in the country.
With 1,741 snaps played over the course of four college seasons and little progression in his play over the past three, there could be real concern about his translation to the next level. Last spring, he measured just over 6-foot and at 312-pounds, which is considered undersized for a true 0-tech nose tackle, and the NFL in recent years has devalued 2-down run defenders that lack the athleticism to consistently rush the passer.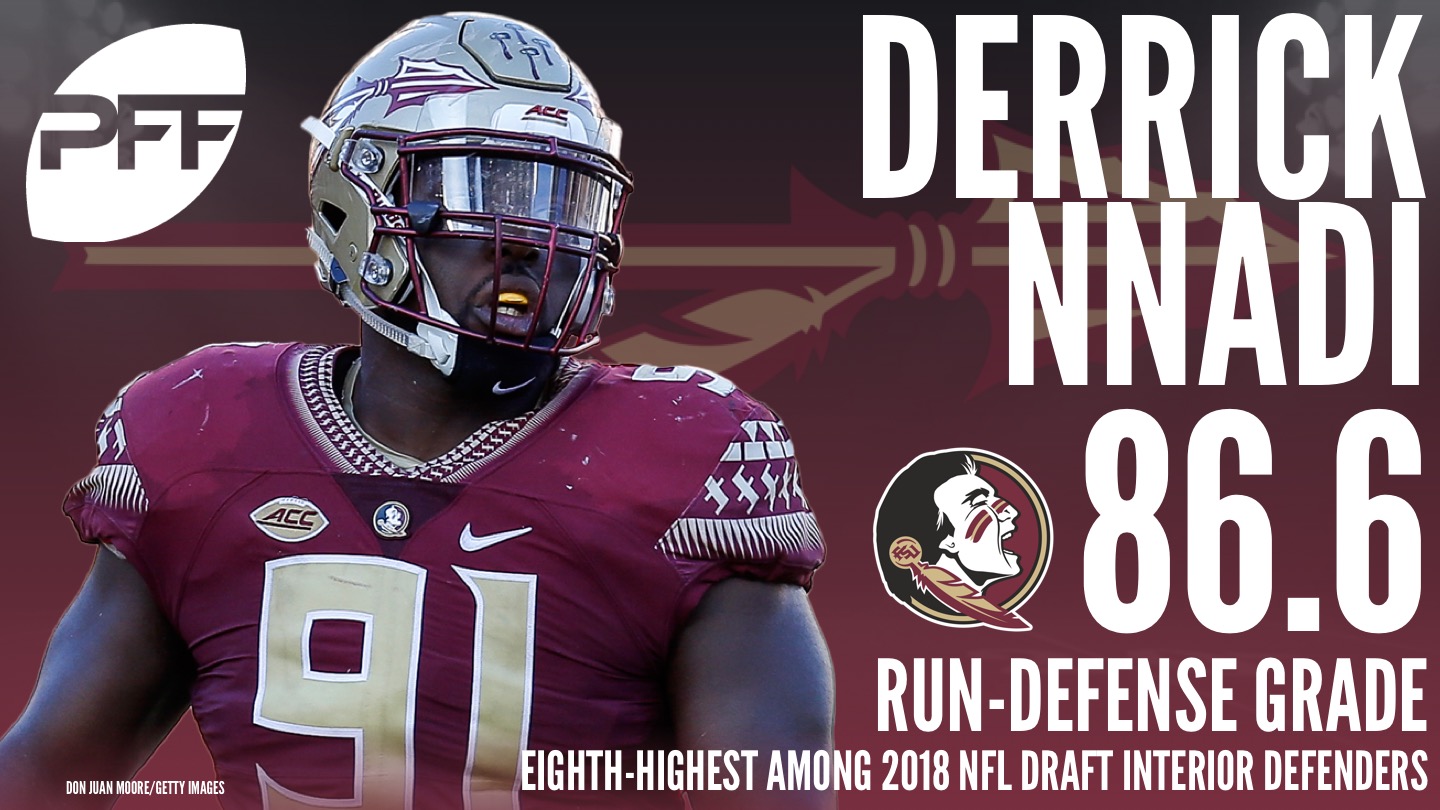 Nnadi has not been without his flashes, however, as he posted at least three pressures in five games this past year, including a sack, two hits and four hurries against Syracuse, and two sacks and hits against rival Florida. However, in the other eight games this season, he completely disappeared, managing a single sack against Louisville and a total of nine hurries against the other seven opponents.
Much like his knowledge and admission of his run-stopping abilities, Nnadi also told PFF that he could stand to improve as a pass-rusher.
"When it comes to rushing the passer, I really have to have a second and third move when the first move doesn't work out," Nnadi said. "Or, when the first move does work, I need to have a second move to counter that first move just in case they're ready for that first move. A lot of it has to do with my technique. [I] need to start critiquing it more, playing with more pad level, trying to lock out much longer, reading my keys I'm supposed to read, keying on pre-snap reads."
In terms of the strength of his game, his run play, Nnadi was a consistent force throughout the season. He finished eighth among all defensive tackles in the country with an 11.2 run-stop percentage, and his 26 run-stops ranked tied for 14th.
Perhaps the closest comparison to him is Andrew Billings, who played his college ball at Baylor and was drafted in the fourth round of the 2016 draft by Cincinnati. Billings was a comparable player to Nnadi both in terms of size (he measured 6-foot, 311-pounds at the 2016 NFL scouting combine) and production (his 86.6 run-defense grade ranked 11th in 2016's defensive interior class, and his 82.8 pass-rush grade was good for 34th), and he has struggled to see consistent playing time and production during his first two seasons with the Bengals.
A torn meniscus ended his rookie campaign in August of 2016, and he notched just 334 snaps with just five total quarterback pressures and seven total defensive stops this past season. His 43.6 overall grade ranked just 117th among qualifying defensive interior players, and he managed just 127 pass-rush reps over the course of 15 games played (just 17 snaps in the first seven games).
With just one season on the field in the books on Billings' career, it's not fair to expect he'll maintain his current grades and fail to improve his play. However, being a player of a similar style and showing the ineffectiveness against the pass that was projected when he was drafted certainly does not bode well for Nnadi's draft stock.
Regardless, Nnadi will have a chance to improve his draft stock at the NFL Combine in March, something he is working hard in preparing for.
"Yes, I've been invited to the combine," Nnadi said. "The majority of what I'm looking for from my training is position work. My main priority is position work, honestly."