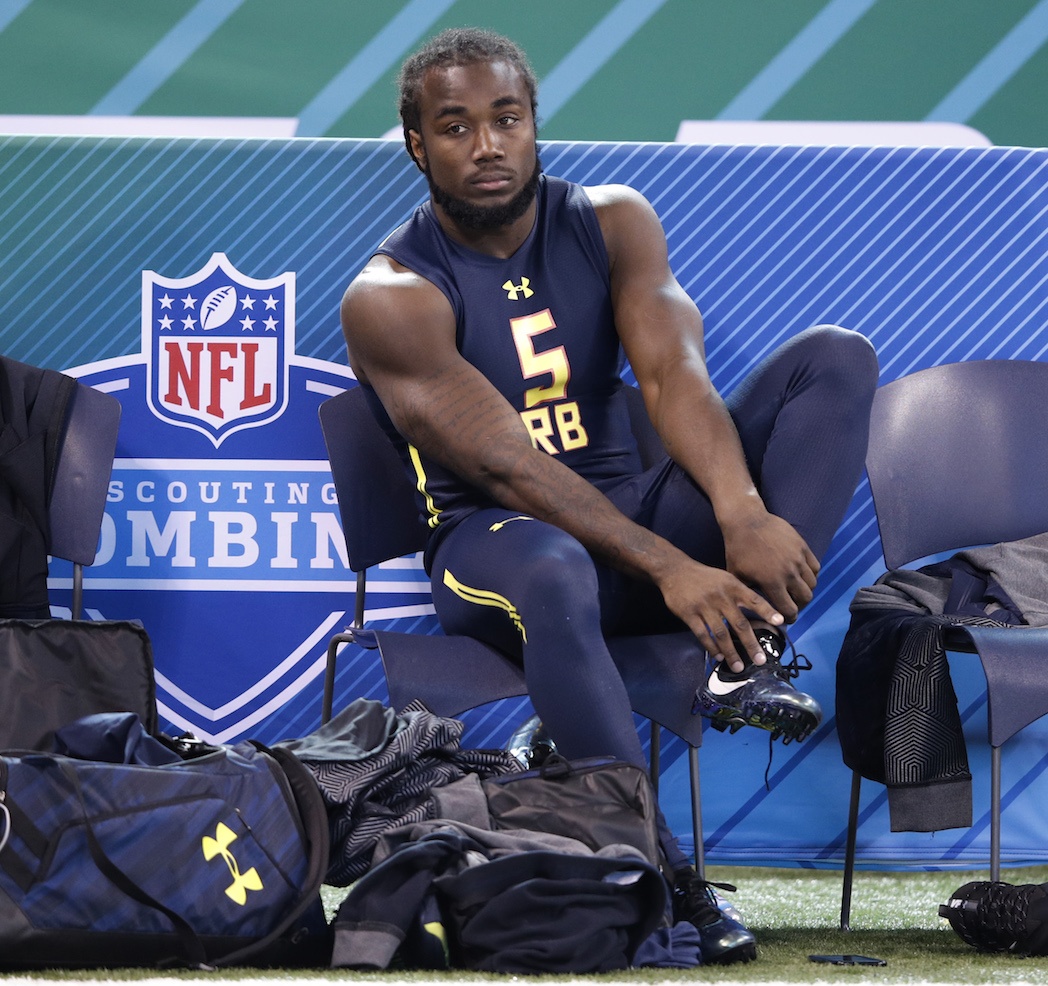 INDIANAPOLIS, IN - MARCH 03: Running back Dalvin Cook of Florida State looks on during day three of the NFL Combine at Lucas Oil Stadium on March 3, 2017 in Indianapolis, Indiana. (Photo by Joe Robbins/Getty Images)
Pro Football Focus' Draft Daily will hit on a number of NFL Draft-related topics including recent news, scouting reports, PFF draft takes, and much more on a frequent basis.
---
After the combine, it's back to the film
One of the more enjoyable parts of the NFL Combine is seeing which prospects look noticeably different during their workouts than they do on film. This season had many guys that fit this bill, both positive and negative. When this happens, the smart thing to do—instead of jumping to a conclusion about a player based off a workout without pads—is to go back to the film. Sometimes, further film study will uncover positive (or negative) athletic traits that were otherwise missed on first viewing, while other times a player's performance on the field will still look completely different than it did in Indianapolis. Here are some of the more notable players worth taking a second look at based off combine performance:
Jonathan Allen, DI, Alabama
Allen suffered labral tears in both shoulders during his college career, but that should not have greatly affected his combine performance (except for the bench press, on which he posted 21 reps). That being said, there was little about his workout to get excited about. His 5.00 40-yard-dash time isn't normally considered poor for a defensive tackle, but coming in underweight at 286 pounds, more was expected out of Allen. He also failed to stand out in other athletic drills; on Saturday, it was difficult to find the explosive, physically-dominant player we saw throughout the college season.
Allen finished 2016 with the top run-stop percentage and second-best mark in the FBS in pass-rushing productivity at his position, as he consistently beat blockers off the ball and destroyed them at the line of scrimmage. His workout on Sunday, however, did not look like what would be expected from the best defender in the country, thus scouts will want to review his film again to see if he showed any of those same athletic deficiencies on film.
Ben Gedeon, LB, Michigan
While Gedeon generally graded out well against the run in 2016, he had significant struggles in coverage, due largely to his speed limitations. He allowed completions on 21 of 27 throws sent his way, and every incompletion was due to quarterback or receiver error, as he did not defend a single pass.
Michigan LB Ben Gedeon tested much better than I expected in Indy. Too many coverage plays like this on his film, however… pic.twitter.com/bpeU1A7X5c

— Josh Liskiewitz (@PFF_Josh) March 8, 2017
The above play illustrates some of the stiffness and lack of speed he showed on film when operating in space. However, his performance in Indianapolis suggests that he's actually a better athlete than that, as his 4.75 40-yard-dash time is more than passable, and his 4.13 short-shuttle time tied Wisconsin's T.J. Watt for the top time among linebackers in the combine. He also jumped a respectable 34.5 inches in the vertical, and led his position group with 27 reps on the bench. With such a complete effort this past weekend, Gedeon's film is worth another look, as his struggles in coverage could be more about angles and instincts than athletic limitations.
Dalvin Cook, RB, Florida State
This GIF from @PFF_College shows why Dalvin Cook is just so damn good.https://t.co/QQyYgVkGCB pic.twitter.com/O2GmkSvcSd

— Tyler Brooke (@TylerDBrooke) November 28, 2016
Where was that on Friday? The concerns around Cook are supposed to be injuries and an off-field history, not athleticism, and yet his combine workout could not have been more underwhelming. His 4.49-second 40-yard-dash was slightly disappointing, but 4.53 short shuttle and 7.27 three-cone postings were absolutely dreadful. His 30.5-inch vertical leap and 9-foot-8 broad jump certainly do not scream explosiveness either, which is supposed to be Cook's hallmark.
With such a poor workout completely opposite to his film, teams are likely to question his conditioning and preparedness for the combine, which of course brings other serious questions into the discussion. He'll get a chance to redeem himself on March 28 at Florida State's pro day, but unless it's determined that he was slowed by an undisclosed injury, his stock has already taken a hit.
---
PFF analyst draft takes
This has been a particularly fun series to follow this draft season, as our analysts have made a point to step out from the back with some, shall we say, "interesting" opinions that aren't necessarily shared by everyone. Today's comes courtesy of Senior Analyst Sam Monson, who had this to say about one of Tuesday's surprise standouts:
"UCF cornerback Shaquill Griffin is a poor man's Marshon Lattimore, and doesn't have Lattimore's injury history."@PFF_Sam pic.twitter.com/BnTTedNOZY

— PFF College (@PFF_College) March 7, 2017
At least based off combine measurables, this seems like a reasonable comparison. Shaquill Griffin measured 6-foot-0, 194 pounds. and ran an impressive 4.38 40-yard dash, while the more-heralded Marshon Lattimore blazed a 4.36 40 at 6-feet-0 and 193 pounds.
How do they stack up production-wise? Well, there are some reasonable comparisons there, as well. Lattimore had a completion percentage against of just 45.0 while defending a total of 10 passes, as opposing quarterbacks had a rating of just 31.9 when throwing into his coverage. While Griffin did surrender six touchdowns in 2016 (three to Michigan in Week 2), his four pass plays against of over 20 yards were actually one less than Lattimore's total, and Griffin gave up completions on just 38.7 percent of throws into his coverage while defending an impressive 17 targets.
Lattimore certainly has the edge in competition level, especially when comparing how the two cornerbacks performed against Michigan, but Griffin has 154 targets against him for NFL scouts to evaluate, while Lattimore has just 49. With so many quality players at the position in this draft class, expect some teams to employ the strategy Monson suggests, as there will inevitably be a number of corners taken on Days 2 and 3 that will out-produce some of their counterparts drafted in the first round.
---
From the 'My guys' list
Iowa TE George Kittle, not Alabama's O.J. Howard, was PFF's highest-graded returning Power-5 tight end for the 2015 season. Unfortunately, his season was marred by injuries and poor quarterback play, although he still graded extremely well as a blocker.
Fast-forward to this past Saturday at the combine, and he was just an afterthought heading into the event. However, now healthy, Kittle put together one of the most impressive workouts of the week, regardless of position. His 4.52 40-yard dash was second-best in the position group, and he also finished third in the broad jump with a leap of 11 feet. He also posted a vertical of 35 inches, and looked fluid and natural in all drills.
Based off what I saw from him in 2015, I was probably one of the few people not surprised by his performance on Saturday. While his volume as a receiver was low throughout his college career, he displayed the speed and burst to stretch linebackers vertically and consistently get separation downfield. It was, however, his blocking that really set him apart for me, as he consistently handled bigger defenders both at the line of scrimmage and at the second level. With so few tight ends in today's NFL able to produce effectively as both a receiver and blocker, Kittle's stock should be soaring at this point. Look for him to possibly sneak into Day 2, as he has the athleticism, physicality and competitiveness to be an every-down starter in the NFL, and should be able to get on the field early and often this fall.
---
PFF Draft Podcast
Every mock draft written to this point is about to be blown up, as the opening of free agency tomorrow will have an immediate impact on the draft plans of every team. Get a head start on Thursday's action by learning everything there is to know about day one of the football new year with Senior Analysts Mike Renner and Sam Monson. The guys will go over their most overrated and underrated free agents, as well as repeatedly forget the fact the Chargers now play in Los Angeles.
Be sure to download and subscribe to the PFF Podcast from your favorite provider.
---
PFF Draft Pass
PFF Draft Pass has officially launched, and can be accessed by clicking here. Users can now view PFF signature stat breakdowns by position, and will soon have access to expanded scouting profiles with grades and signature stats for each top prospect. In addition, PFF Draft Pass users will have access to the PDF version of the PFF Draft Pass in the coming weeks.
Sign up for PFF Draft Pass for exclusive stats and analysis of the top 250 NFL Draft prospects.