Pro Football Focus' Draft Daily will hit on a number of NFL Draft-related topics including recent news, scouting reports, PFF draft takes, and much more on a frequent basis.
---
3 crazy draft prospect stats to know
One of the most exciting parts of PFF's grading is our ability to reveal standout players that won't necessarily be considered among the elites of the draft class. Diving deep into our data this year has revealed a number of prospects that stand out from the pack in a variety of key stats. Below are three of my favorites from this year's class:
Louisiana Tech WR Carlos Henderson forced 48 missed tackles last season. 
Carlos Henderson had an outstanding year for Louisiana Tech, as he posted 82 receptions for 1,530 yards, with 785 of those coming after the catch (fourth-most in FBS). The most obvious reason for the huge YAC total is certainly his absurd number of forced missed tackles. East Carolina's Zay Jones ranks second among 2017 prospects in that regard (third among all 2016 FBS receivers), and he racked up exactly half of Henderson's total. In fact, the next-highest total for an entire season since PFF started grading college (2014) is 28, which was accomplished by Bowling Green's Ronnie Moore in 2015. If Henderson can translate this part of his game to the next level, he is sure to be a highly-productive NFL receiver.
LaTech WR Carlos Henderson forced 48 missed tackles in 2016. ECU's Zay Jones has the next-highest total in the draft class with 24. pic.twitter.com/ZJlGyhE4Nf

— Josh Liskiewitz (@PFF_Josh) March 15, 2017
Indiana guard Dan Feeney surrendered one sack and three hits on 1,017 pass-blocking snaps at RG from 2014–2016.
Due to injuries on Indiana's offensive line this year, Feeney was forced to slide out to right tackle for the final four games. In those four games, he gave up a sack and eight hurries, with four of the QB pressures coming in the Hoosiers' bowl game against Utah. This was a rough way for Feeney to end his college career, but it shouldn't take away from what he accomplished at his natural position of right guard—just one sack, three hits and 15 total QB pressures is a remarkable feat. By comparison, Joshua Garnett of the 49ers, who was the first guard selected in last year's draft (28th overall), gave up 28 total pressures (with four sacks and 10 hits) over 855 pass-blocking reps between 2014 and 2015. While Feeney is unlikely to be taken as high as Garnett was last year due to his concussion history, based on production numbers, he is easily the top pass-blocking guard in this year's draft.
Indiana G Dan Feeney looks like "a viable player in a zone-heavy scheme at the next level." https://t.co/LGRf8MZd0L

— PFF College (@PFF_College) March 14, 2017
Utah S Marcus Williams surrendered, on average, just 0.09 yards per coverage snap.
Marcus Williams was one of our second-team All-American safeties in 2016, as he put together an all-around outstanding season (he led all FBS safeties in run-stop percentage). Possibly the most eye-popping stat on him this season was his 0.09 yards surrendered per coverage snap. This metric takes the total yardage a player allows into his coverage and divides it by the number of coverage snaps played, and is a way to gauge the efficiency of a player's production in coverage. Texas A&M's Justin Evans was the next-closest safety (likely to be drafted within the first three rounds) to Williams, at 0.53. Not surprisingly, Williams also led all qualifying FBS safeties (more than 100 coverage snaps played) in total yards allowed, with just 38. While players like LSU's Jamal Adams and Ohio State's Malik Hooker are getting all the top-15 hype (and for good reason), Williams may have had the best statistical season in 2016 of this year's loaded safety class.
PFF scouting report for Utah S Marcus Williams. https://t.co/oE6qIDuaQR

— PFF College (@PFF_College) March 10, 2017
---
PFF Draft Pass
Speaking of safeties with outstanding production numbers, you can now see our scouting report for Colorado's Tedric Thompson. Thompson gave up just one touchdown in 2016, while tallying seven interceptions and seven pass breakups. We are posting new scouting reports every day, so be sure to sign up for PFF Draft Pass for exclusive stats and analysis of the top 250 NFL Draft prospects.
PFF scouting report Colorado DB Tedric Thompson:https://t.co/cutcgsH40W

— PFF College (@PFF_College) March 13, 2017
---
From the 'My guys' list
While this draft class is full of first-round worthy linebackers, too many of them struggle with tackling. That is not the case, however, with Ohio University's Blair Brown.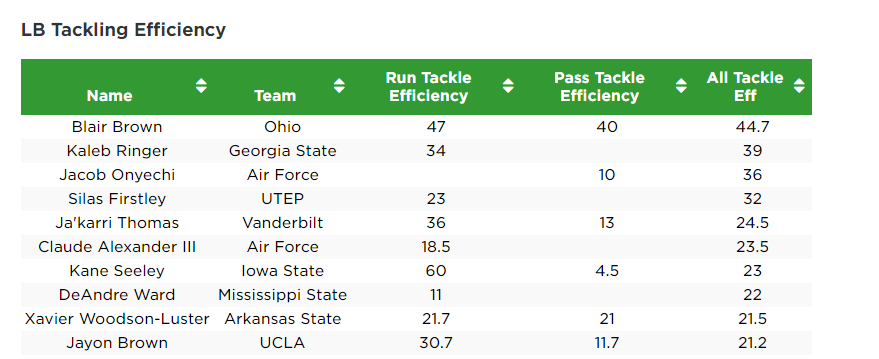 Brown topped our tackling efficiency list this year, as he posted 131 total tackles while missing just three. His efficiency is a result of his outstanding read and recognition skills, which allow him to consistently get to the point of attack in a flash before backs can gain speed and make moves, as well as his propensity to keep his feet when making contact with the ball carrier. While he doesn't display the same instincts in coverage, he at the very least looks like an excellent two-down run defender at the next level.
---
PFF Draft Board
We just updated our draft board to our top 100, which you can view here. The list is dominated by the edge class, which comprises nine of our top 31 prospects as of now. Secondary players are well represented, as a combined 17 players in the top 50 are either cornerbacks or safeties. Be sure to bookmark this page as we add more prospects and adjust our rankings while our analysts continue to debate this year's draft class.
---
PFF Podcast
Senior Analysts Mike Renner and Sam Monson are back to give their take on the first week of NFL free agency; Steve Palazzolo also joins Renner to discuss the draft. Be on the lookout for our new "Draft Prospect Shorts," which we'll start to roll out in the coming weeks.
Be sure to download and subscribe to the PFF Podcast from your favorite provider.