• Quarterback intrigue in North Carolina vs. South Carolina: Drake Maye and Spencer Rattler do battle in Week 1, with both looking to improve their draft stocks.
• Clemson CB Nate Wiggins has first-round potential: He'll look to shut down fellow 2024 prospect Riley Leonard, Duke's starting quarterback.
• Trey Benson vs. Harold Perkins Jr. an exciting battle: While Perkins won't be draft-eligible until 2025, this is still a fun matchup between future NFL players.
Estimated Reading Time: 6 minutes
---
With the 2023 college football season finally upon us, it's time to start our weekly article series where we preview some of the best matchups in college football and some future draft prospects to watch. 
Here are eight players, groups of players or matchups to keep an eye on this weekend when thinking about the 2024 NFL Draft.
Want to dominate your fantasy football league this year?
Check out PFF's fantasy tools below: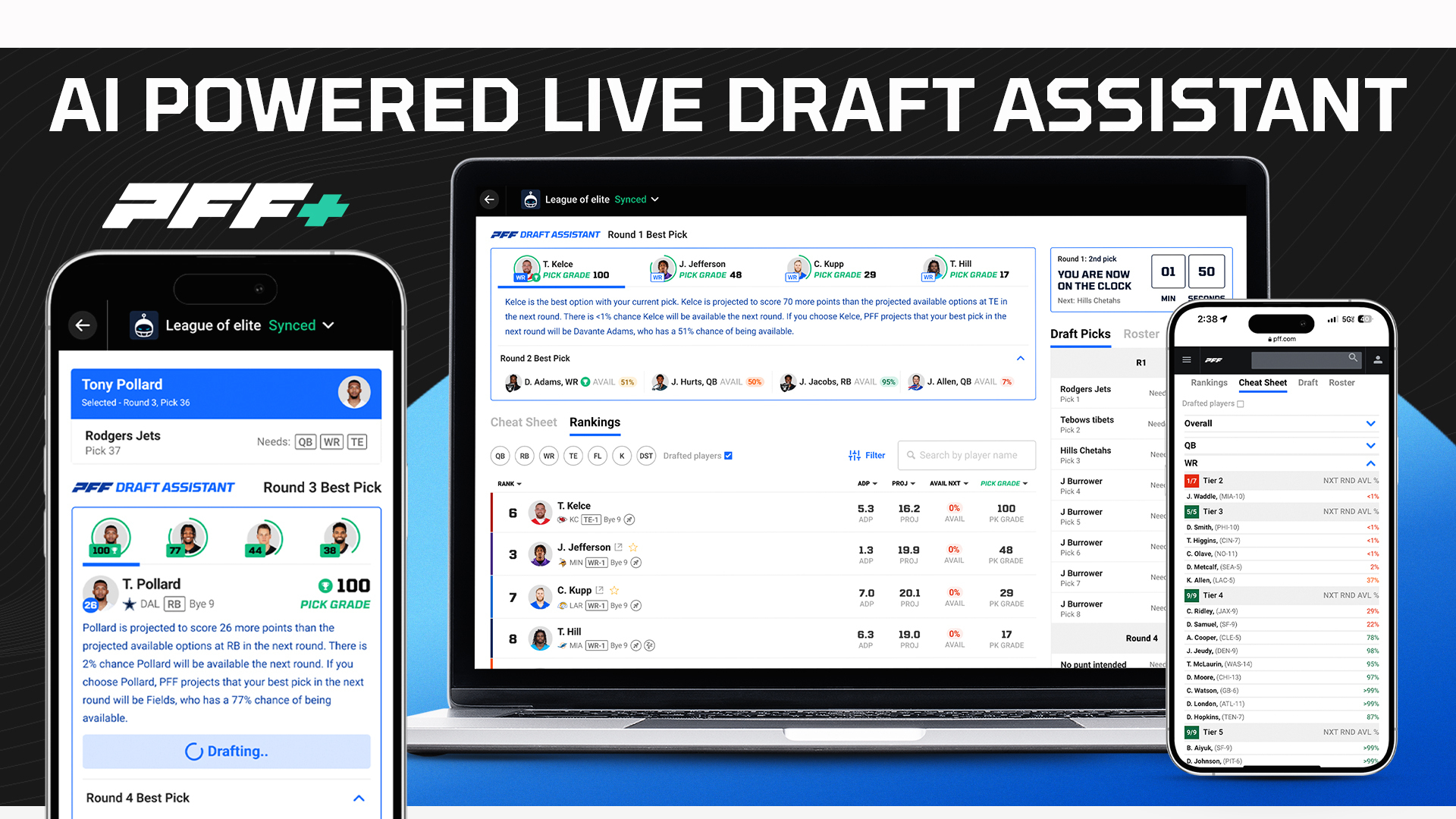 ---
QB DRAKE MAYE, NORTH CAROLINA
Week 1 Opponent: South Carolina
We're all super excited for a full weekend of college football, but if we're being honest, there aren't many major matchups between two teams with a lot of talent and intrigue. We do have a few, though, and that is the 2023 debut of North Carolina quarterback Drake Maye at a neutral site on Saturday night in Charlotte against South Carolina.
Maye comes in at No. 5 overall and the No. 2 quarterback on PFF's initial 2024 big board. Maye came out of the gate hot last year in Week 0 against Florida A&M and then Week 1 against Appalachian State. Through those two games, he had nine touchdowns and more than 600 passing yards with five big-time throws and zero turnover-worthy plays.
It's a huge statement game for North Carolina and Maye's Heisman campaign and draft stock. 
---
QB SPENCER RATTLER, SOUTH CAROLINA
Week 1 Opponent: North Carolina
Maye isn't the only quarterback prospect for the 2024 draft class playing in the North Carolina versus South Carolina game. I would even argue Spencer Rattler actually has the most to gain between the two.
Rattler has NFL arm talent, but his consistency with putting the ball into harm's way is what got him benched earlier in his college career and is his biggest concern as a prospect. He recorded a 9.4% turnover-worthy play percentage as a starter in 2020 and then a 5.0% mark last season. That number being almost cut in half is a step in the right direction, but he needs to cut it in half again before we really start to talk about him as a coveted draft prospect. 
---
QB RILEY LEONARD, DUKE
Week 1 Opponent: Clemson
Leonard is entering his second year as Duke's starting quarterback. Last season, he made 16 big-time throws with eight turnover-worthy plays. He has a nice arm and good athleticism to escape the pocket and make plays outside of structure. His consistency and accuracy needed work, as he recorded just a 79.7 passing grade from a clean pocket (19th percentile) and a 62.2 passing grade on early downs (12th percentile). But, at his best, the flashes of ball placement and touch were so impressive last season. 
He gets a great chance to show off his improvement against Clemson. He starts the season inside PFF's top 50 with a chance to rise. 
---
CB NATE WIGGINS, CLEMSON
Week 1 Opponent: Duke
Wiggins has first-round potential. He played both wide receiver and defensive back in high school, and at 6-foot-2 and 185 pounds, he moves so well. Wiggins already recorded a decent coverage grade in 2022 (78.6). But what we really want to see in 2023 is for him to capitalize on good coverage with takeaways. He recorded 10 forced incompletions and one interception last season but also dropped three interceptions. For as big and long as he is, he also played only 80 of his 421 snaps in press coverage.
He's going up against the aforementioned Riley Leonard, so a solid performance there will be a good box to check on his scouting report.  
---
WRs MALIK NABERS (LSU), JOHNNY WILSON (FSU) AND KEON COLEMAN (FSU)
In one of the best matchups of the weekend, we have a showcase of three top wide receivers in LSU versus Florida State. Now, of course, these guys aren't going up against one another, but no matter which offense is on the field, you'll have a chance to see some future NFL talent. 
Nabers is one of the best natural receivers in the country. His hands are fantastic, as evidenced by his high catch percentages, including a 61.9% contested catch percentage. He also becomes a fantastic playmaker with the ball in his hands, racking up after-the-catch yardage. As for Coleman and Wilson, both are big receivers who have unique athleticism. Coleman, who comes over to Tallahassee from Michigan State, is listed at 6-foot-4 and 215 pounds, while Wilson is 6-foot-6 and 237 pounds. It will be interesting to see if LSU has physical enough cornerbacks to play with those guys for all 60 minutes. 
---
QB JOE MILTON III, TENNESSEE
Week 1 Opponent: Virginia
Milton is one of the most physically gifted quarterbacks you'll ever see — and yes, I know Anthony Richardson was just in last year's class. Milton has an arm that will be one of the best in the NFL the second he is drafted, but his ball placement and lower body mechanics need to improve. His turnover-worthy-play percentage has never been lower than 3.5% throughout his career (though 2022 was his lowest), and his adjusted completion percentage has never been higher than 67.5% (though 2022 was his best).
He gets a good first test to open the season against Virginia. 
---
DI LEONARD TAYLOR III, MIAMI (FL)
Week 1 Opponent: Miami (OH)
Taylor is simply built differently from most interior defensive linemen. He's 6-foot-3 and 305 pounds, which is around the 50th percentile for both height and weight, but how he holds the weight on his body is what is impressive.
Taylor wins with impressive natural strength and explosiveness, earning an 85.3 pass-rush grade in 2022 with a 16.2% pass-rush win percentage (top 10 in the FBS). He's going up against a Miami offensive line that returns most of its starters and allowed 92 pressures as a team last season. He should feast. 
---
RB TREY BENSON (FSU) vs. LB HAROLD PERKINS JR. (LSU)
Benson was one of the most elusive running backs in the country last season. He led the FBS with a 0.51 missed tackles forced per attempt average, which was the highest mark in college football across the past 10 years. He also earned an elite 91.3 overall rushing grade in 2022 and an elite rushing grade with six, seven and eight defenders in the box. He's going up against LSU linebacker Harold Perkins, who isn't draft-eligible this upcoming season but could be one of the highest-rated prospects in the 2025 class. Perkins has moved to more of an inside linebacker role this season and should be matched up with Benson quite a bit.