Welcome back college football and welcome into the first edition of my scouting notes. Every week during the season, I'll be checking in on prospects around college football who caught my eye – both good and bad. Let's dive on in.
[Editor's Note: All EDGE and ELITE subscribers have access to PFF's Preseason 2020 NFL Draft Guide. Subscribe today to download your copy!]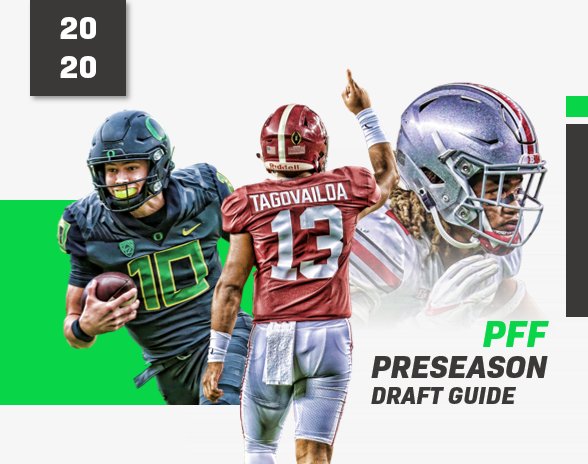 Hello Jonathan Greenard
Every year a prospect comes out of seemingly nowhere to become a first-rounder. This year's edition could very well be the Florida edge defender. After a wrist injury cost him his 2018 season at Louisville, Greenard transferred to Gainsville and is already making a name for himself. He racked up three sacks, five hurries and earned a 91.4 overall grade in their Week 0 matchup against Miami. The Hurricanes' offensive tackles weren't exactly world-beaters, but he clowned them all game long. He showed exceptional hands and won in a myriad of ways. What I love is that he did it down after down, playing 69 of a possible 71 snaps in the game.
Jerry Jeudy: Still Very Good
In an absolutely loaded wide receiver class, Jeudy stands comfortably on his own at the top. The man just moves differently than even elite athletes. He broke three tackles on 10 catches, although I'm not sure that number truly does him justice. He skirted a number of defenders so badly they never even got a chance to attempt a tackle. The receiver position has been a nightmare to scout in recent years, but Jeudy is making the job easy.
The Battle for DT1
Auburn's Derrick Brown was PFF's highest-ranked defensive tackle in the preseason draft guide, but our biggest worry was his inability to consistently affect the passing game. Those concerns came to light once again over the weekend against Oregon where he recorded only one hurry on 38 pass-rushing snaps. Washington's Levi Onwuzurike (second-ranked defensive tackle in PFF preseason draft guide), South Carolina's Javon Kinlaw (DT3) and Texas A&M's Justin Madubuike (DT7) all had their stock rise with nice debuts racking up four, four and five pressures respectively. The real mover, though, was Florida State junior Marvin Wilson. His 81.3 pass-rushing grade a year ago is one of the highest we've seen from a true sophomore defensive tackle and he looked even better on Saturday against Boise State. Wilson was unblockable as he collected a sack, four hits and a hurry on the day. He lined up all over for the Seminoles, even taking a handful of pass-rushing snaps off the edge.
The Dreaded Switch
Madden told us growing up that an offensive lineman can be plugged in at either LT or RT and have his rating remain unchanged. In the real world, linemen frequently lament flipping sides and having their feet, hands, and angles are all completely flipped. Texas redshirt sophomore Samuel Cosmi was already good enough on the right side to make our preseason top-50 draft board. He switched to left tackle over the offseason and the early returns are better than we could have ever imagined. Cosmi earned the third-highest grade of any tackle in the country over the weekend, as he didn't allow any pressure on 47 pass-blocking snaps. With two more years of eligibility after this season left, he's no shoo-in to declare this year, but he's quickly becoming one of our favorite tackles in the class. 
What to do with Justin Herbert?
In his first big test of the season, it's safe to say that Herbert resoundingly failed. His odd hail mary that missed the end zone by almost 10 yards was a microcosm of his game. The Oregon quarterback has crumbled mentally in high-pressure situations routinely over the course of his career. With all the arm talent in the world, his playstyle is almost the opposite of what you'd expect it to be with all those tools. Against Auburn, he looked timid and afraid to let it rip down the football field. Only 12 of his 38 attempts were targeted past the sticks – an egregiously low percentage. Yes, it's only one game. But it showed a lot of the same issues that we'd hope he'd clean up this past offseason.
Stock UP – Jonathan Taylor
For the first two years of his career, Taylor defined the term running back. Of his 839 snaps in 2017 and 2018, only 131 were passing routes. When Taylor was on the field, chances are he was getting handed the rock. That's fine at the college level, but we need to see receiving skills in today's NFL to even consider drafting a running back early on. While Taylor may have only had two catches against USF, it's hard to be more impressive on them than Taylor was as both resulted in scores. His 11 pass routes were the most he's even run in a game in his career. Paul Chryst wasn't lying about getting Taylor more involved in the passing game this year and it looks like it could do wonders for the running back's draft stock.
Stock DOWN – Raekwon Davis
With all the physical tools in the world, it was easy to excuse Davis' lack of production as a pass-rusher early in his career at Alabama as just him being raw. Now as a senior though with four years of arguably the best defensive line coaching in the country under his belt, that excuse doesn't fly anymore. On 24 pass-rushes against a porous Duke offensive line, Davis managed one lone hit on the day. He looks nearly identical to the player we saw back in 2017 when he first started seeing meaningful playing time for the Crimson Tide. That lack of development may be even more concerning than his lack of pass-rushing moves.