Draft season is heating up and the evaluation process is well underway. We're heading into the All-Star circuit leading up to the NFL combine and the underclassmen have announced their intentions, strengthening this draft class in a number of areas. The quarterbacks will be difficult to gauge as far as where they will land in the end, but I've come to the conclusion that while they all come with question marks, there are a number of signal-callers who are worth taking a risk on at various points in the first round. The other takeaways from this class include the depth at cornerback, edge rusher and running back, while the safety class also may be the best we've seen in years.
As always, this mock draft is what I would do as GM of each team, not a prediction of what the NFL teams will do when making their selections. Here's Mock Draft 3.0:
1.
Myles Garrett, Edge defender, Texas A&M
Cleveland is in a unique spot, with a plethora of top picks in the draft. While the need for a quarterback is pressing, the Browns can exhibit some level of patience knowing they have another pick at No. 12 and an early second-rounder, both strong ammunition to either get a quarterback or move up to do so. With that in mind, they're going to draft the top player on the board in Garrett who has the skills to become an elite edge rusher in the NFL. Garrett has ranked among the top edge defenders in the nation for three straight years, and he has the athleticism and power to back up his performance. That combination bodes well for his NFL future, and he's a cornerstone piece to build around on the defensive side of the ball.
Myles Garrett working the bull rush on this one pic.twitter.com/nypUA72ZIq

— Steve Palazzolo (@PFF_Steve) January 11, 2017
2.
Deshaun Watson, QB, Clemson
There is a lot of debate as to where the quarterbacks will land, and while I have my concerns about Watson after a year marred with inaccuracy and poor decision-making, he's a worthwhile gamble at the top of the draft. The need for quarterbacks is too strong in this league, and Watson has shown the ability to throw with touch on the outside while also showing the requisite zip to make passes up the seam. He was the No. 3 overall quarterback in the nation in 2016 in PFF grades, but given the high standards put on him, it was a disappointing effort for much of the season as he forced too many passes into coverage and his work in the pocket did not develop as expected. Still, there is plenty to work with in Watson who had a knack for bouncing back from adversity like few quarterbacks, and perhaps that is his greatest attribute and one that pushes him toward the top of the draft.
3.
Mitch Trubisky, QB, North Carolina
Another unique situation at quarterback, Trubisky has turned one year of starting into a potential first-round pedigree. He didn't completely burst onto the scene, as his talent was evident in limited time in 2015. He finished with the No. 2 passing grade in the class at 81.6, as he showed the arm to drive the ball with velocity outside the numbers while showing the footwork to maneuver the pocket and create space to get the ball out of his hand. There are some concerns about Trubisky's game, as there were plenty of games in which he showed his potential but also left wanting for more, but like Watson, there are enough positives to warrant taking a chance near the top of the draft. The Bears are ready for a new look under center, and Trubisky has the tools to develop into a good starter.
Watching some college QBs throughout the day.

First note: Trubisky probably hits the "cover-2" hole more than any college QB. Good arm

— Steve Palazzolo (@PFF_Steve) January 9, 2017
4.
Jonathan Allen, Defensive Interior, Alabama
The Jaguars can go in a number of different directions at No. 4 overall, but they could add one of the draft's best defensive linemen. Allen had a dominant 2016 campaign, posting the highest pass-rush grade of any interior defensive lineman at 93.4 while disrupting and finishing in the run game to grade at 86.5. Jacksonville has invested heavily in the defensive line in recent years, but there's still work to be done and Allen brings a versatile option who can line up on the outside on early downs while creating mismatches for guards in passing situations.
5. 
Mike Williams, WR, Clemson
(from Los Angeles Rams)
Like the Browns, the Titans have leverage in the first round with picks at five and 18, and while a cornerback should certainly be on their radar, the depth at the position may allow them to pick one up later in the round. Instead, they go with Williams to provide a big target for QB Marcus Mariota. Williams can win in the possession game, using his big body to win the position battle against cornerbacks on slants and posts but he also has the body control to win in contested, downfield situations. That combination led to the No. 3 receiving grade among FBS receivers in 2016 as Williams was Deshaun Watson's go-to guy on their national championship run.
6.
Jalen Tabor, CB, Florida
The depth at cornerback bodes well for the Jets as they may dip into the pool multiple times, but they start with Tabor who has the size and playmaking ability that head coach Todd Bowles needs for his system. He's had either an interception or a pass breakup on 26.5 percent of his targets, well above the national average, and he's capable of playing tight man coverage or breaking on the ball quickly in "off" coverage. Tabor's aggressive style can get him into trouble at times, but he may be the best playmaker in the loaded cornerback class.
7.
Jamal Adams, S, LSU
The Chargers have added valuable pieces to their defense and Adams brings another versatile weapon on the back end. Adams was a productive three-year contributor at LSU, capping his career with an 83.1 grade against the run and 89.0 coverage grade, showing he can make an impact all over the field. He can work downhill as a strong safety, playing all of the necessary coverages underneath while also showing enough ability to make plays in split-safety or single-high safety looks. San Diego could take a long look at Ohio State's Malik Hooker at this spot depending on the defensive coordinator situation.
8.
Derek Barnett, Edge, Tennessee
An influx of youth is much-needed up front for Carolina and Barnett is a perfect fit. His on-field production has been on par with Myles Garrett during their three years in the SEC, and while Garrett may have a bit more room to grow at the next level, Barnett has plenty of tools to succeed. Barnett is strong against the run, more than capable of holding up on the edge on early downs, and he's improved his ability to get to the quarterback each season, culminating in his winning the PFF Pass-Rusher of the Year Award in 2016.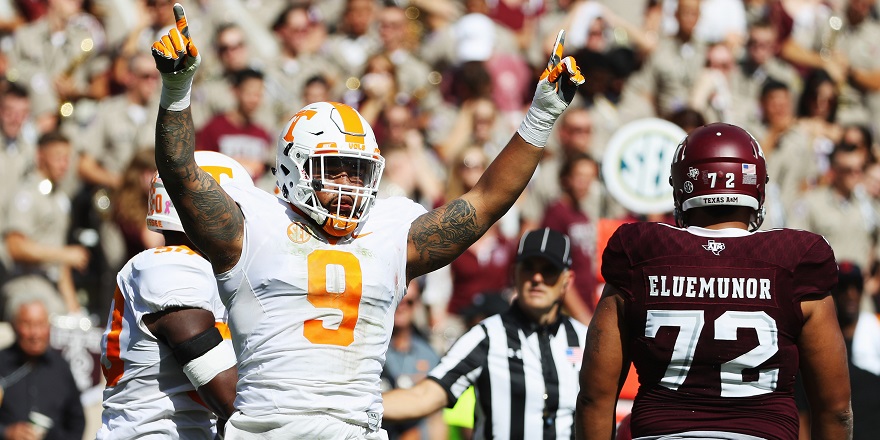 9.
Corey Davis, WR, Western Michigan
Every offense works more efficiently with strong playmakers, but Cincinnati was notably lacking after losing WR Marvin Jones to free agency and TE Tyler Eifert missing much of the season due to injury. WR A.J. Green was his usual elite self on the outside, but adding a complement should be a primary goal for the Bengals this offseason. Davis fits the bill as an excellent route runner capable of creating separation and creating big plays after the catch (averaged 8.1 yards after the catch per reception last three years) and down the field. Davis brings an immediate upgrade to the Bengals' offense whose best bet is to load up with playmakers for QB Andy Dalton in order to maximize their pass game.
10.
Malik Hooker, S, Ohio State
It's difficult to pass up a free safety with Hooker's range as he may be the best pure free safety prospect to come into the NFL in a number of years. The Bills will find a spot for him, even with Aaron Williams and Corey Graham on the roster as Hooker is capable of playing center field with outstanding range and feel for the game. Tackling is an issue, as he missing one out of every 6.5 attempts (135th out of 242 qualifiers), but his range and playmaking ability make him a viable pick near the top of the draft.
11.
Reuben Foster, LB, Alabama
One of the best potential fits in the first round, Foster brings three-down linebacking ability to one of the league's worst linebacking units of the last few years. He uses great agility to sift through the traffic in the run game, though he's not afraid to take on blockers which he does with great power. That led to the nation's top grade against the run among all linebackers at 93.4 and he was no slouch in coverage at 86.5. Foster has all of the skills needed to add a game-changing presence to the middle of the Saints defense.
12. 
Dalvin Cook, RB, Florida State
(from Philadelphia Eagles)
The Browns do not pass up the opportunity to add another game-changer to the roster as Cook's big-play ability is as good as it gets in the draft. The play here is to grab one of the second-round-worthy quarterbacks either at the top of the round or perhaps by trading back into round one to secure their spot (Patrick Mahomes of Texas Tech is a viable option). Adding Cook to the offense brings a player capable of scoring any time he touches the ball as he's capable of sneaking through the slightest crease to create a big play. Cook also showed capable of maximizing subpar blocking in 2016, leading the nation with 90 missed tackles forced and averaging 4.2 yards after contact per rush.

13.
Sidney Jones, CB, Washington
It's a great draft for the Cardinals to attack the cornerback position opposite Patrick Peterson and while there are a number of options, Jones may be the best fit. He can play the man coverage the Cardinals like to employ and Pac-12 offenses were well aware of Jones' skills, as he saw only 48 targets on the season, 199th in the nation. His 86.5 coverage grade ranked eighth in the Power-5 in 2016.
14. 

Cordrea Tankersley, CB, Clemson
(from Minnesota Vikings)
Another cornerback coming off the board, Tankersley has a 6-foot-1 frame and strong movement skills for his size. He had the No. 6 overall grade in the nation among cornerbacks and he's allowed a passer rating of 40.0 into his coverage in our two-plus years of grading. The Eagles have a chance to re-vamp their secondary in this draft and it starts with Tankersley who is capable of playing multiple coverages on the outside.
15.

Desmond King, CB, Iowa
And yet another cornerback (this wasn't on purpose), as the Colts could go a few different ways here to shore up their defense, but adding perhaps the best zone cornerback in the draft is a strong way to go. King is excellent at understanding route concepts and making plays on the ball and his three-year grading is as good as any cornerback in the country. He complements his ball skills with strong tackling as he's missed only 24 of his 191 attempts over three years and he'll be an asset to a Colts defense that needs talent in multiple places.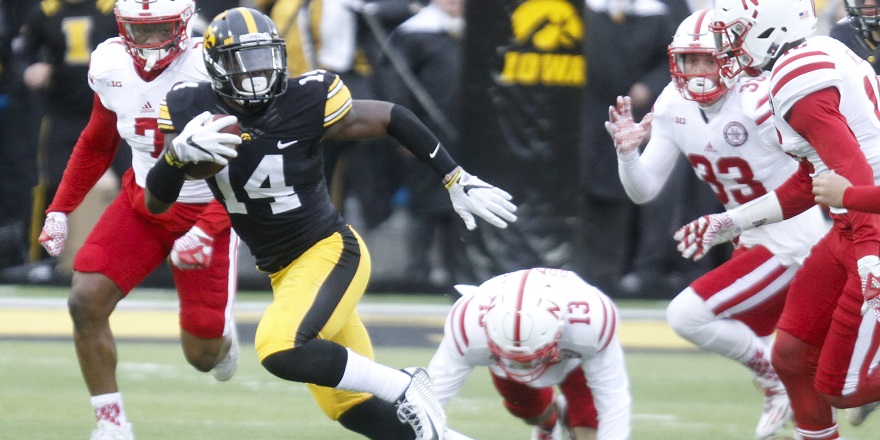 16.

Tim Williams, Edge, Alabama
Baltimore is in a good position to add disruption off the edge and that's just what Williams brings. Mostly a pass-rush specialist at Alabama, Williams created pressure on 26.1 percent of his rushes (NCAA average is 10.0 percent) over a three-year period, and while he didn't play many snaps against the run, he showed the power and length to shed blocks and disrupt plays. Williams can ease into the NFL as a pass-rush specialist while continuing to develop those skills against the run, and he'll upgrade a Ravens pass rush that ranked 30th in PFF's cumulative grades.
17.

Leonard Fournette, RB, LSU
One of the most intriguing prospects in the draft, Fournette has the power and speed that turns heads, but the question marks in the pass game may make him more of a mid-round option. The Redskins will gladly take him here as they love to run downhill behind one of the better run-blocking offensive lines in the league. Fournette is just one year removed from leading the nation in rushing grade and missed tackles forced with 83, and if he's back to his sophomore year form, the Washington offense has added yet another piece to one of the league's best units.
18.

Marshon Lattimore, CB, Ohio State
With only one year of action in Ohio State's secondary, Lattimore made a strong early impression with his ability to hang with receivers down the field while showing the skills to make plays on the ball. He's yet another six-foot corner with excellent movement skills that translated to the field as opposing quarterbacks had a passer rating of only 30.2 when targeting Lattimore and he'll fill a major need for the Titans at cornerback.
19.

Carl Lawson, Edge, Auburn
It seems like an annual tradition looking for an edge-rushing presence for the Bucs, and while they added Noah Spence in the second round last year, there's still room for more disruption. Lawson had an excellent 2016 season, finally showing what he can do while healthy as he had the nation's fifth-best pass-rush grade to go with nine sacks, 13 hits, and 45 hurries on his 364 rushes. Lawson doesn't make a lot of plays in the run game, perhaps due to Auburn using him on the interior quite a bit, but he has the burst and strong hands to create pressure for a unit that ranked 23rd in pass-rush grades on the season.
20.

Ryan Ramczyk, OT, Wisconsin
Finally an offensive tackle comes off the board, as the class is not great from top to bottom. Ramczyk burst onto the scene this year with the top run-blocking grade in the nation and a stellar effort in pass protection with only 12 pressures allowed on the year. He can play with power or execute blocks on the move, and he can be a big part of the rebuilding process that Denver must undergo along the offensive line.
21.

Solomon Thomas, Edge, Stanford
Adding PFF's Best Run Defender in college football should help to shore up a poor run defense that got gashed at times in 2016. Thomas played mostly on the interior for Stanford, even more impressive considering he's only 270 pounds. That projects more to a 4-3 defensive end role on early downs where Thomas can add a strong run-stopping presence before kicking inside on passing downs to rush the passer where his 87.7 grade ranked fourth among interior defensive linemen.
22.

Charles Harris, Edge, Missouri
Miami went on a nice playoff run in 2016, but there were some concerns up front beyond DT Ndamukong Suh and DE Cameron Wake. Harris adds a pass-rushing threat after finishing 12th among the nation's edge rushers with an 88.2 pass-rush grade. Armed with the best spin move in college football, Harris has been one of the nation's best pass-rushers the last two years, though there is some work to be done to improve his work in the run game.
23.

Zach Cunningham, LB, Vanderbilt
It's going to happen. Someday, the Giants will add a playmaking talent to their linebacking corps. So why not this year? Cunningham loves to take on blockers and he sheds them well and his nose for the ball led to his 56 solo run stops that led all Power-5 linebackers. He has the skills to excel in coverage as well, it's just a matter of getting better as a tackler where he's missed 34 over the last two years. The Giants' defense took major steps forward in 2016, but there's still plenty of room for improvement at the linebacker level.
24.

Malik McDowell, Defensive Interior, Michigan State
The Raiders have added some talent to the defensive side in recent years but they still have issues up the middle. McDowell can play multiple positions on the interior while dabbling outside as an edge rusher as he did at times last season at Michigan State. He's progressed nicely every year of college, with perhaps even more room to grow as he improves his technique, so he's a worthwhile pick for the Raiders after posting the No. 12 pass-rush grade among interior defensive lineman (85.7).
25.

Forrest Lamp, T/G, Western Kentucky
A three-year star in PFF's grading system, Lamp only gave up four pressures last season on 417 attempts, including his signature game in which he allowed only one against a formidable Alabama defensive front. He's played left tackle for Western Kentucky, though he may get moved to guard in the NFL, but regardless of position, he is smooth in pass protection and strong in the run game where his 82.7 grade tied for fifth in the nation. Houston can use an upgrade at both guard and right tackle, so Lamp is a fit.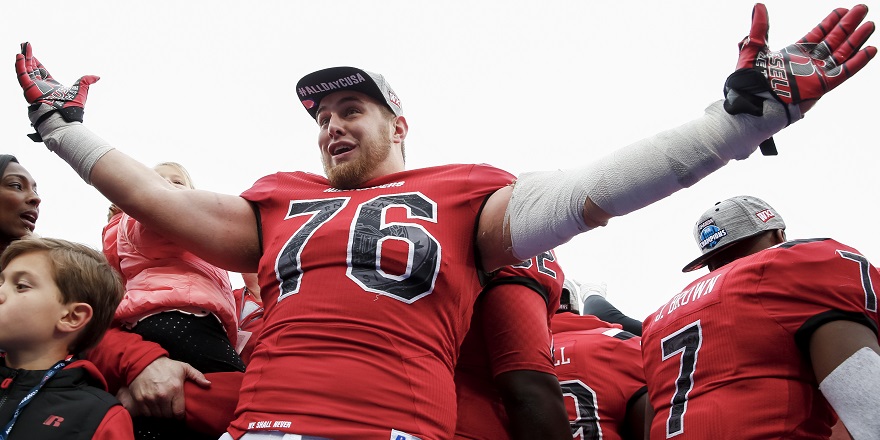 26.

Marlon Humphrey, CB, Alabama
While Seattle has had success finding their preferred long cornerbacks in obscure locations, a player like Humphrey is a good first-round fit at 6-foot-1 186 pounds. He's had two productive seasons for Alabama, and he has the skills to press at the line of scrimmage or break on the ball in off-coverage. The one concern with Humphrey is giving up big plays where as he's given up 16.9 yards/completion the last two seasons, but he looks like a good fit for the Seattle defense.
27.

Jourdan Lewis, CB, Michigan
The Kansas City defense can shut down even the best quarterbacks in the league, but the cornerback spot opposite Marcus Peters has been troublesome. Enter Lewis, who is a feisty man-coverage corner who can hang with shiftier receivers. At 5-foot-10, he'll struggle with bigger receivers, but his overall results have been outstanding as opposing quarterbacks have a passer rating of 45.8 when throwing into his coverage the last three years.
28.

Taco Charlton, Edge, Michigan
Another Michigan defensive player, Charlton fills a major need for Dallas, who was unable to consistently affect the quarterback this season. He started to live up to his potential down the stretch, using his long frame to finish fourth among edge defenders from Week nine through the end of the season. Over the last two years, Charlton has played about a season's worth of snaps, registering 14 sacks, 19 hits, and 62 hurries; the type of production Dallas badly needs up front.
29.

John Ross, WR, Washington
A good offense gets even more explosive with Ross, who ranked 12th in the nation with 3.04 yards per route and may be the best big-play receiver in the draft. His deep speed will pair with QB Ben Roethlisberger well as Roethlisberger is one of the better deep ball throwers in the NFL. Ross also provides a strong option opposite Antonio Brown and with Martavis Bryant returning and the emergence of Eli Rogers in the slot, Pittsburgh will have one of the most explosive offenses in the NFL.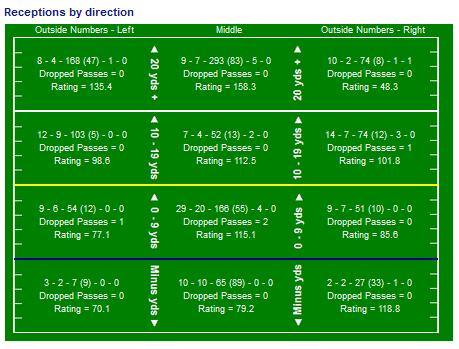 30.

Dede Westbrook, WR, Oklahoma
Even with the Packers offense rolling, they can use a strong route runner capable of giving QB Aaron Rodgers a quick option to find within the flow of the offense. Westbrook has those route-running skills and he has the deep speed to keep cornerbacks honest, all leading to the nation's No. 2 overall grade among receivers at 87.9 overall.
31.

DeMarcus Walker, Edge, Florida State
Atlanta made such great strides offensively this season, but the defense could still use more disruptive playmakers up front. Walker provides just that after finishing seventh among edge defenders at 89.4 overall, including an 89.2 pass-rush grade. Walker has the size to play on the edge or on the interior, adding yet another piece to Atlanta's defensive front.
32.

O.J. Howard, TE, Alabama
Howard is expected to turn a lot of heads during the draft process, and the nation's top-graded run blocker will likely be a bigger receiving threat at the next level. He averaged 7.3 yards after the catch per reception, showing just how much he can add to a passing offense. Howard has the speed to stretch the seam and New England will look to add another playmaking tight end to their offense.