This is the best of the best from seven years of grading college football prospects. There are no revisionist histories here. The players below are those we were highest on, even if they didn't pan out in the NFL.
Six players from the 2021 class get starting nods on the team, with two more getting honorable mentions. The crazy thing? Only one of those eight comes on the defensive side of the ball. It's a good year to be in need of help offensively at the top of the draft.
QUARTERBACK
Honorable mention: Joe Burrow, LSU
This is no surprise if you've been following at all. Lawrence is that good. He has three straight years with 90.0-plus overall grades. The real conversation here was whether Joe Burrow, Baker Mayfield or Zach Wilson would be the honorable mention based on what we saw from them coming out. Burrow's ability to operate an NFL offense and unparalleled accuracy into tight windows gives him the nod, though, despite lesser arm strength.
RUNNING BACK
Honorable mention: Saquon Barkley, Penn State
Don't get it twisted, Cook wasn't a second-round pick because of talent. He was an unrivaled big-play threat behind one of the worst offensive lines in college football. In his final season at FSU, he led the country with 91 broken tackles and had 4.2 of his 6.1 yards per attempt come after contact. The year prior, Cook had 34 runs gain 15-plus yards, accounting for 1,066 of his 1,696 yards that season. That all has borne out in the league, too.
WIDE RECEIVER
Honorable mention: CeeDee Lamb, Oklahoma; DeVonta Smith, Alabama
Chase cracks the list despite being a "one-year wonder." It's hard to pigeonhole him into that when his one-year was as a true sophomore and went down as one of the most productive seasons in college football history. His 24 deep receptions are still the most we've seen in a single campaign.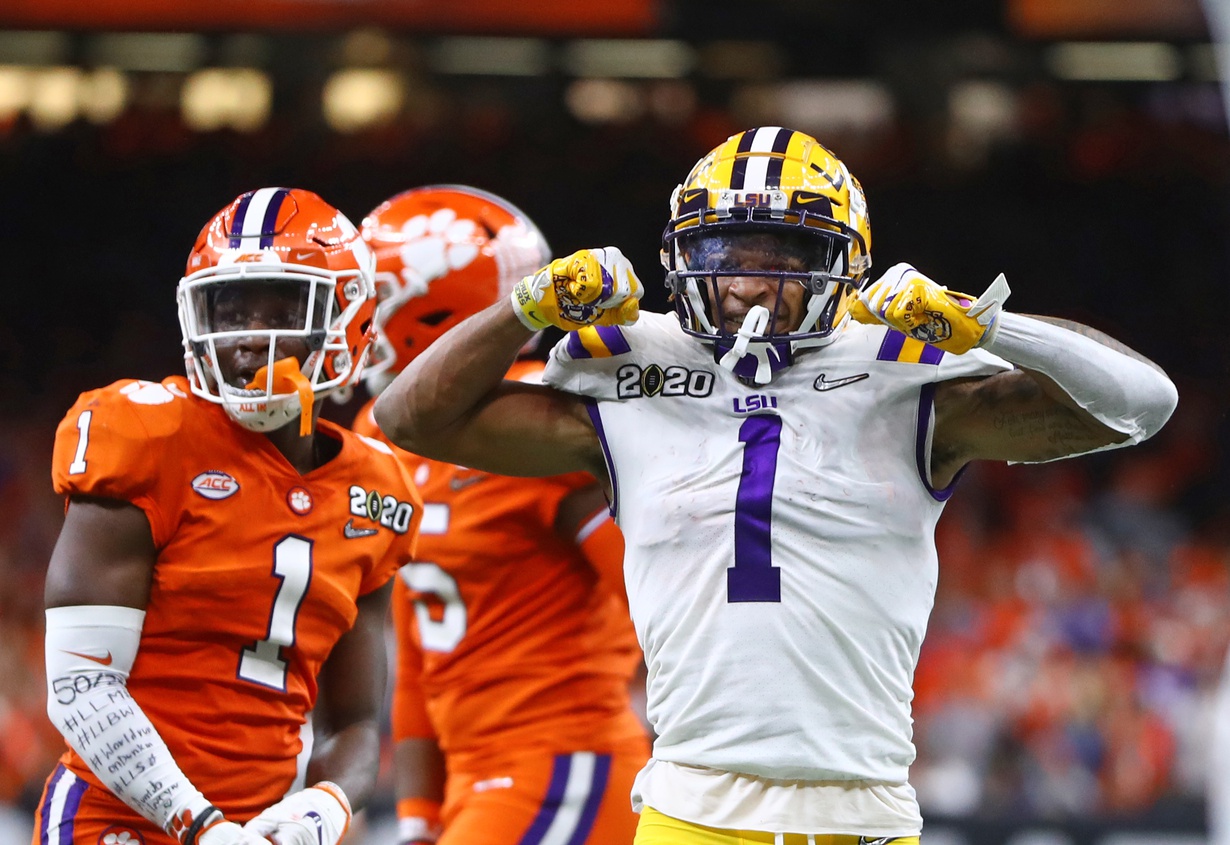 While the last couple of receiver classes have been excellent, don't forget how silly Cooper's numbers were coming out. He racked up 124 catches for 1,727 yards and 16 scores in 14 games back in 2014.
SLOT RECEIVER
Honorable mention: Jaylen Waddle, Alabama
This really shows how stacked the past two draft classes have been at the receiver position. If I have to pick one receiver prospect who we've graded on a random route out of a hat, Jeudy is the guy I'm taking. He has a different level of explosion out of his cuts, and even veteran corners Xavien Howard and Richard Sherman have taken notice already.
TIGHT END
Honorable mention: O.J. Howard, Alabama
Did I mention it's a good class to be in need of skill positions? Pitts has shown it all in a way no other college tight end has come close to doing. He can win from any alignment and is still only 20 years old. His 96.1 receiving grade this season shattered the previous record at the position.
OFFENSIVE TACKLE
Honorable mention: Jonah Williams, Alabama; La'El Collins, LSU
Tunsil had all the size, length and athleticism you could want at the position coming out of Ole Miss and had just earned a 91.1 overall grade in an injury-shortened junior season, to boot. He wasn't perfect, but he looked like a safe bet to get there sooner rather than later in the pros.
Sewell is simply the best we've graded at the position. As a 19-year-old, he had the highest-graded season from a Power Five tackle. I don't foresee him being unseated on this team for a long, long time.
OFFENSIVE GUARD
Honorable mention: Cody Whitehair, Kansas State; Isaiah Wynn, Georgia
Guard is definitely a position where, more often than not, the best prospects aren't the ones who played there in college. Three of the four here were college left tackles. Nelson is obvious. He had run- and pass-blocking grades over 90.0 in his final season in 2017.
Slater is a decidedly different type of lineman who wins with athleticism and technique. We didn't get to see his senior year, but his 87.4 pass-blocking grade and 89.1 run-blocking grade at left tackle in 2019 are good enough to land him on this list.
CENTER
Honorable mention: Elgton Jenkins, Mississippi State
We banged the drum for Ragnow all draft season after dominant junior and senior years. He's shown why in the NFL. This past season, he finished as the second-highest graded center in the league. Jenkins hasn't exclusively played center in the NFL, but that was a big part of his appeal for us. He was an excellent pass protector everywhere he lined up at Mississippi State.
NOSE TACKLE
Honorable mention: Vita Vea, Washington
While Wiliams isn't necessarily what you think of when you hear the term nose tackle, that's where he was at his best at Alabama. His 96.5 run-defense grade as a redshirt sophomore is easily the highest we've ever seen at the position. While he's had a slower learning curve than expected in the NFL, Williams came on strong with 24 pressures in his final five games of the 2020 season.
3-TECH
Honorable mention: Jonathan Allen, Alabama
On a play-for-play basis, Hurst had the most disruptive college career of any defensive tackle we've graded. He finished his Michigan tenure with a 95.0 run-defense grade and a 91.0 pass-rush grade in 2017, and he earned overall grades of 88.6 and 90.2 as a sophomore and junior for the Wolverines.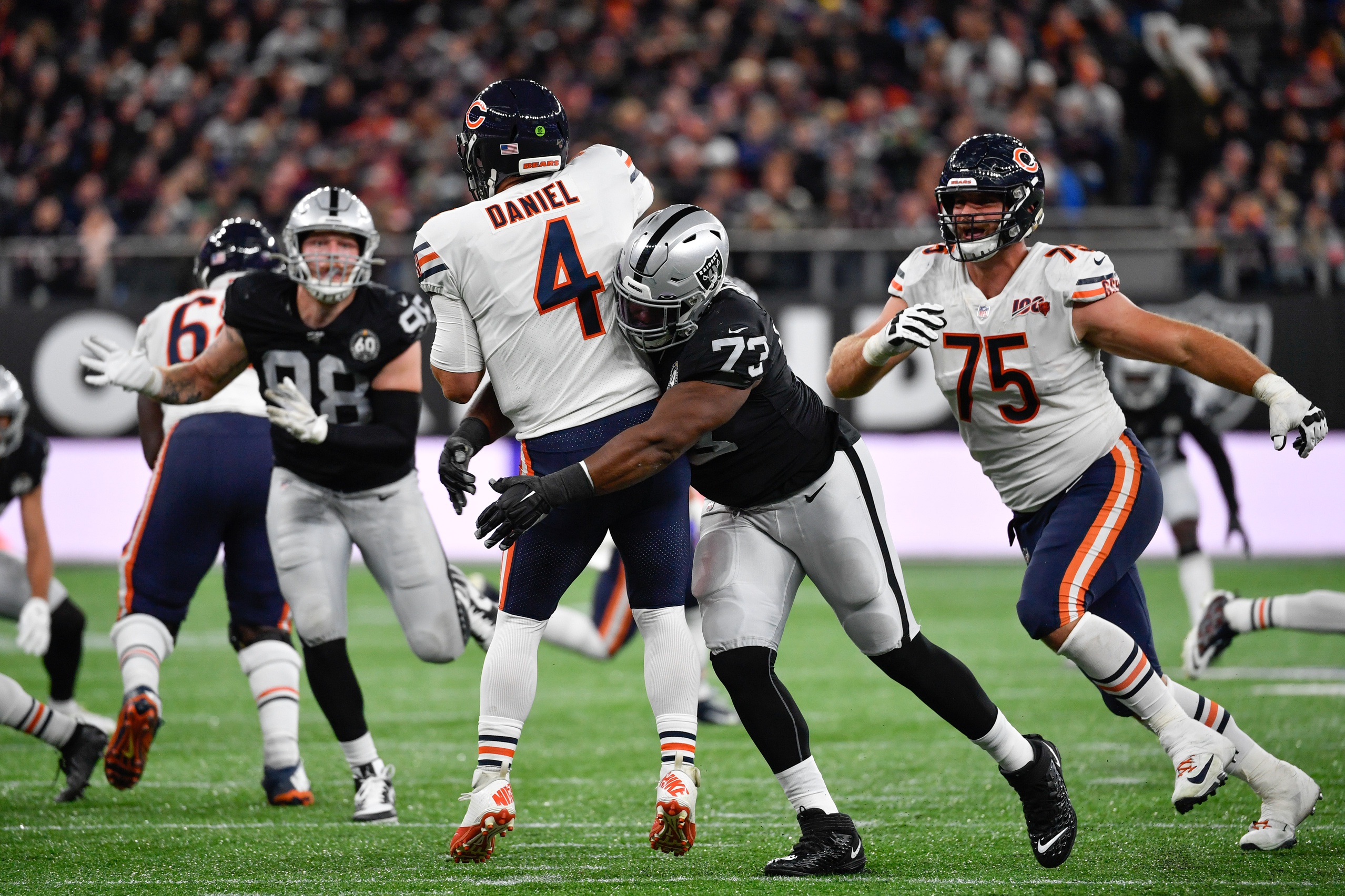 While we haven't quite seen the same dominance in the NFL, Hurst has posted pass-rushing grades of 77.8 and 78.5 in the past two seasons for the Raiders.
EDGE
Chase Young, OSU; Myles Garrett, Texas A&M
Honorable mention: Nick Bosa, OSU; Joey Bosa, OSU
We've seen such freaky edge talent in recent years that it's made people sick of the word "generational." That's how freaky both Chase Young and Myles Garrett were coming out of school, though. The Bosa brothers were both elite, elite prospects, but they didn't have the physical tools that our first-team prospects possessed.
Garrett still holds the record for true freshman pass-rushing grade (92.1), and he went over 90.0 in every single year of his college career. Young was more of a slow build, but his 96.5 pass-rushing grade in 2019 blew every other season we've graded out of the water. Neither has done too badly in the NFL, either.
LINEBACKER
Honorable mention: Roquan Smith, Georgia; Isaiah Simmons, Clemson
Parsons is the only defensive player in the entire class to crack the list. He is no athletic projection like Isaiah Simmons was last year, but he's already exceptional between the tackles in a number of areas. Parsons' 94.9 run-defense grade as a true sophomore in 2019 trailed only one man. That's the one accompanying him on the list.
Foster's issues in the league have not been talent-related. He was the total package coming out of Alabama after he earned a 94.9 run-defense grade and an 89.7 coverage grade in 2016. As a rookie with the 49ers, Foster produced an 81.2 overall grade. Then, the proverbial wheels fell off. He hasn't taken a snap since 2018.
CORNERBACK
Honorable mention: Jeffrey Okudah, OSU; Tre'Davious White, LSU
Caleb Farley was close to earning an honorable mention instead of Tre'Davious White, but the fact that we didn't get to see him build on his impressive 2019 season keeps him off the list. Farley is the only corner who has a season that can rival what Marshon Lattimore did statistically in 2016. That year, Lattimore allowed only 18 catches on 40 targets with four picks and 12 forced incompletions for a 31.9 passer rating.
While Lattimore only had one season of dominance, Ramsey put together multiple at both safety and corner. He was the most physical corner I can recall at the line of scrimmage, and he had three straight seasons with 80.0-plus coverage grades.
SLOT
Honorable mention: Byron Murphy, Washington
Fitzpatrick started in the slot as a true freshman for Alabama and stuck there over the next three seasons. That year, he allowed only 36 catches on 62 targets for 310 yards with two picks and seven pass breakups. On 184 career targets, Fitzpatrick surrendered just 56 first downs. He's also shown in the NFL why the slot position is more often than not a skill set more akin to safety than outside corner.
FREE SAFETY
Honorable mention: Grant Delpit, LSU
An ACL tear and an Achilles injury have kept us from seeing what Hooker is truly capable of. Still, he's been a solid deep safety in the NFL. His highlight reel from back in 2016 was a sight to behold, and while we've seen those types of plays at times in the NFL, they've been a little less frequent. Hooker picked off seven passes in his lone season as a starter in 2016 and earned a 91.5 coverage grade.
STRONG SAFETY
Honorable mention: Jamal Adams, LSU
I still can't believe James fell all the way to pick No. 17. He was the highest-graded safety in the country as a true freshman back in 2016. We've never seen anything quite like that before or since. While pundits did their best to poke holes in his junior tape, James was once again the highest-graded safety in the country. He's earned overall grades of 87.8 and 82.3 in the two years he's played in the league but has had his career derailed by injuries.