With two weeks in the books, it's time to check in on a few players who have caught the eye from an NFL draft perspective. Some of the players have already been on the radar and their stock continues to rise, while others have taken a huge step forward in the early going. The season is still young, and most teams have yet to get into the meat of their schedule, but it never hurts to have strong early-season performances.
Here's are a few prospects who have had a strong start to 2016.
Duke Ejiofor, Edge, Wake Forest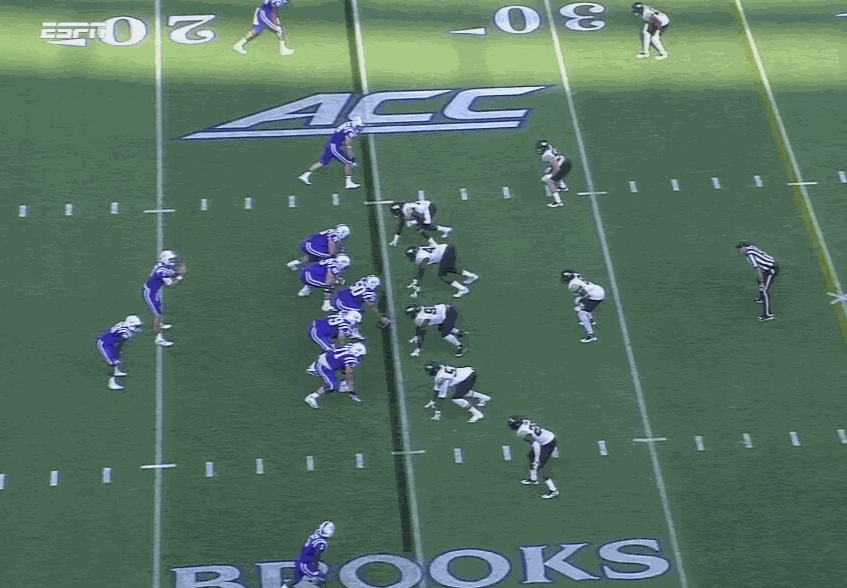 We noted Ejiofor as a breakout candidate this season and he had not disappointed through two games. His hands are so quick, he often beats opposing offensive tackles to the punch, and that's been a big part of his picking up three sacks, three QB hits, and eight hurries on only 56 rushes this season. Ejiofor was dominant against Duke, whether he was creating quick pressure, playing the run, forcing fumbles or batting passes. His work through two games is more of a continuation of what we saw last season when injuries limited him to only 382 snaps, particularly as a pass rusher. So far in 2016, Ejiofor has improved against the run as well, an important area to keep an eye on as the season progresses.
Ethan Pocic, C, LSU
While the sky may be falling in Death Valley, LSU has had a couple of notable performers through two games. The offensive line has been inconsistent on a play-for-play basis, but Pocic has done a fine job at center. He brings a big presence to the center position at 6-foot-7 301-pounds, but he's still capable of firing out at the snap and getting into good position in the running game. Pocic has done a nice job of controlling nose tackles as a run blocker while also making key blocks both on the move and at the second level. In pass protection, Pocic has surrendered only one pressure and one other loss in pass protection on his 47 attempts this season. Pocic had his ups and downs last season where he looked like one of the best run blocking centers in the nation and others where he was among the worst, so carrying this trend and showing that week-to-week consistency is extremely important for his draft stock.
Tre'Davious White, CB, LSU
Staying at LSU, White has had an excellent start to the season after a rocky 2015. He was one of the best players on the field against Wisconsin in the opener, keeping the ball in front of him and picking off a pass and returning it for a game-changing score. Perhaps just as important is his tackling as he's yet to miss on his eight attempts after missing 10 of his 46 attempts last season. So far he's only allowed four receptions on 10 targets for 30 yards (3.0 yards per attempt) to go with the interception and another pass defensed. White looked like a top cornerback prospect based on his 2014 play, often showing up as LSU's best cornerback, but his inconsistent 2015 season tempered some of that excitement. He's off to a great start here in 2016, and primed to get back into the early-round mix at cornerback.
Ryan Glasgow, DT, Michigan
Yes the Michigan defense has played two terrible offenses and yes the entire defense deserves at least some level of praise for their dominance. However, Glasgow may be the best of the loaded unit, as his two-week grade ranks third among the nation's interior defensive linemen. Big Ten analyst Josh Liskiewitz sums up his paly through two games:
"Glasgow's consistently defeated one-on one blocks, and opponents haven't been able to move him off the line of scrimmage on double teams. In addition to his dominant run play, he's averaging a pressure once every seven pass rushes, an impressive ratio for a nose tackle."
Glasgow was No. 72 on the PFF College 101 coming into the season, a ranking that could have been higher if not for his being limited to only 332 snaps due to injury last year. He's now played 415 snaps over the last two seasons and you'll be hard-pressed to find a more effective interior defensive lineman given that same sample size.
A.J. Jefferson, Edge, Mississippi State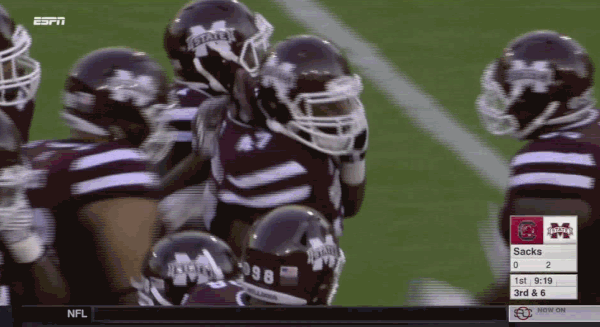 Mississippi State likes to rotate a lot of players in and out along the defensive line, and that often leads top players flying under the radar. Jefferson has quietly performed well as part of the rotation the last two years, but he's taken his game to a new level so far in 2016. He was one of the best players on the field last weekend against South Carolina, getting in on a sack, QB hit, two hurries and four run stops. It's the best game we've seen from him in three years of grading, though he's certainly flashed the big-play ability in each of the last two seasons. Like the others on the list, it's all about bringing the same production throughout the season.
Draft news and notes: 
Syracuse WR Amba Etta-Tawo has played the role of deep receiver in Syracuse's new "Baylor" offense. He's already caught 20 passes for 311 yards, and the opportunities should be plentiful for the Maryland transfer as the season progresses.
Arizona State RB Kalen Ballage tied the NCAA record with eight touchdowns against Texas Tech Saturday night, showing the size and speed that made him one of the top breakout candidates for 2016. Sure the Tech defense is atrocious, but we'd like to see more Ballage as he rises up draft boards.
There's a battle brewing among the cornerbacks and Alabama's Marlon Humphrey and Clemson's Cordrea Tankersley are both off to great starts. They ranked 25th and 26th respectively on the preseason PFF Draft Board as both players vie to be the top-ranked cornerback on the board, particularly for teams looking for long, 6-foot-plus corners.