With the 12th selection of the 2018 NFL Draft, the Tampa Bay Buccaneers have selected Vita Vea. The former Washington star was selected 12th overall after finishing the 2017 season with an 93.2 overall grade and a trade that saw the Bucs trade down from No. 7 overall with the Buffalo Bills.
Buffalo sent their Round 1 (12), Round 2 (53) and Round 2 (56) for Tampa's Round 1 (7) and Rond 7 (255).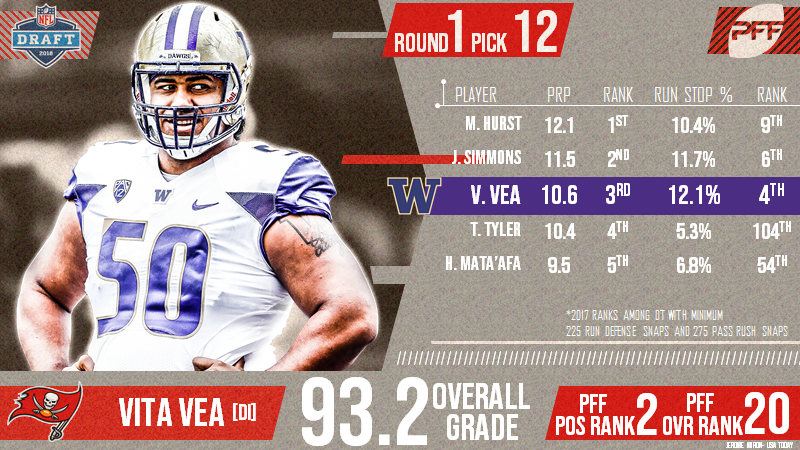 Vea ranked third among draft-eligible interior defenders in pass-rushing productivity (10.6).
He ranked fourth among draft-eligible interior defenders in run-stop percentage (12.1) and was one of only two interior defenders in the class to rank in the top 10 of both of those categories.
2018 NFL Draft – Round 1: 1 | 2 | 3 | 4 | 5 | 6 | 7 | 8 | 9 | 10 | 11 | 12 | 13 | 14 | 15 | 16 | 17 | 18 | 19 | 20 | 21 | 22 | 23 | 24 | 25 | 26 | 27 | 28 | 29 | 30 | 31 | 32