With the very first selection of the 2018 NFL Draft, the Cleveland Browns have selected Baker Mayfield, No. 1 player on the PFF Big Board. The former Oklahoma star was selected first overall after finishing the 2017 season with an 94.8 overall grade which ranked first among all FBS quarterbacks.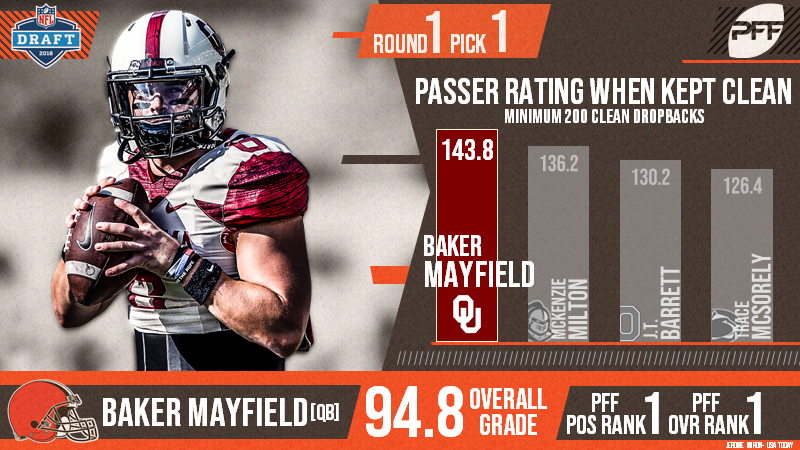 Mayfield ranked first among draft-eligible quarterbacks (and the nation) in passer rating from a clean pocket in 2017 (143.8).
His overall season grade led the draft class in each of the past three seasons.
Mayfield also had the draft class' top passer rating on passes under pressure (111.6), with play action (154.3) and both on throws within 2.5 seconds (131.9) and 2.6 seconds or longer (139.1).
2018 NFL Draft – Round 1: 1 | 2 | 3 | 4 | 5 | 6 | 7 | 8 | 9 | 10 | 11 | 12 | 13 | 14 | 15 | 16 | 17 | 18 | 19 | 20 | 21 | 22 | 23 | 24 | 25 | 26 | 27 | 28 | 29 | 30 | 31 | 32