The dust has settled from the combine in Indianapolis, meaning it's back to the big boards for NFL teams – and us here at PFF. The tests are more of a check than anything else, but the numbers impact our perception of players whether we like it or not. Below are the guys who weren't locks to go high in this draft, but passed their combine tests with flying colors and are now moving up the PFF draft board.

TE Noah Fant
Fant stood head and shoulders above this tight end class athletically. His 4.5 40, 39.5" vertical, 10-7 broad jump, and 6.81 cone were all elite times for the position. Now he just needs to work on his hands. The Iowa tight end dropped 11-of-80 catchable passes over the past two seasons.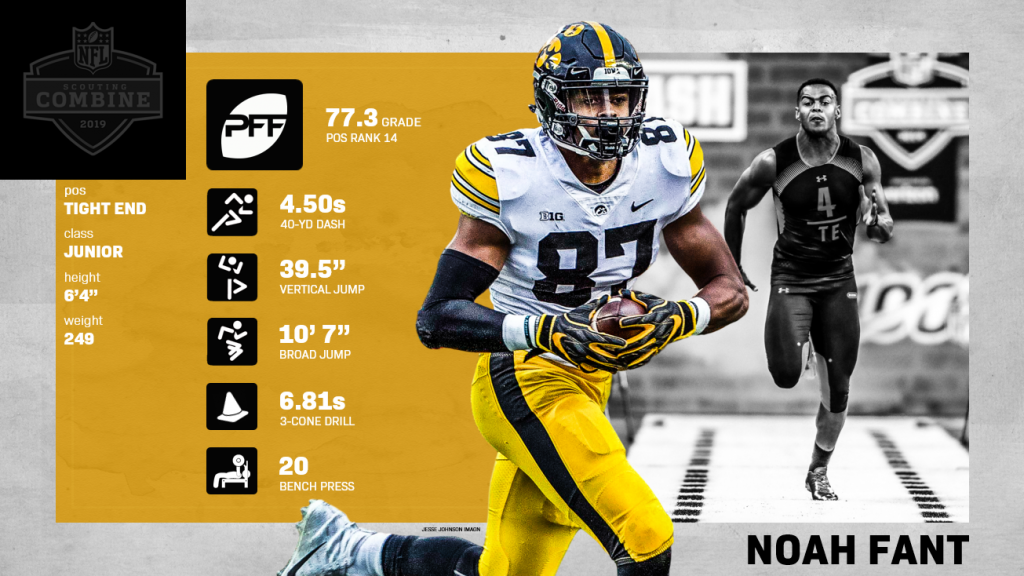 LB Devin Bush
Bush looked like an explosive athlete on tape then came to Indy and proved it. His 4.43 40, 40.5" vertical, 10-4 broad jump, and 6.93 cone were all absurd times and span a number of different skillsets. Bush is a modern linebacker who bridged the gap between himself and Devin White with his performance.
EDGE Brian Burns
Burns was supposedly playing under 230 pounds as recently as 2017, so when he showed up weighing 249, that was already a big W for him. When he maintained that absurd athleticism he had when he was 20 pounds lighter, it ticked boxes that even we here at PFF still needed to see ticked. He ran a 4.53 40, had a 36" vertical, 10-9 broad jump, and 7.01 cone. Those numbers well exceed any sort of threshold you might have at the position.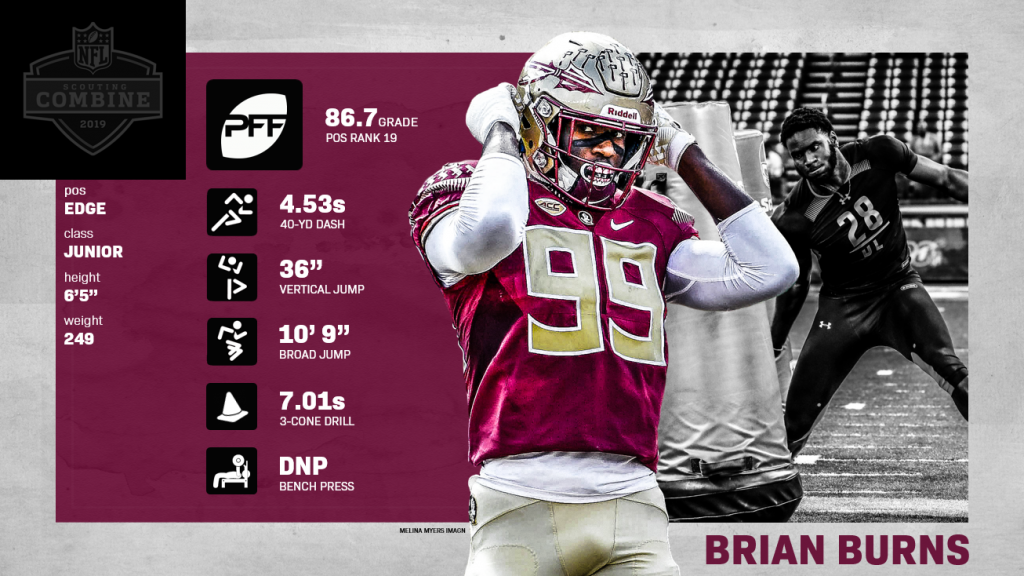 DI Jerry Tillery
In a loaded interior defensive line class, nobody tested as well over a broad number of tests as the Notre Dame defensive tackle. He showed his explosion with a 1.69 10-yard split, then aced the change of direction drills with a 7.45 cone and 4.33 shuttle. Add in his 6-6, 295-pound frame with 34 ¼" arms, and you have a guy that shouldn't make it to Day 2.
WR Andy Isabella
You don't have to watch much film on Isabella to realize he has speed, but just how much was the question heading into Indy. As it turns out, he has as much as anyone in this class. He blazed what was tied for the fastest 40 (4.31) with a tie for the fastest 10-yard split (1.45). Isabella then finished with the sixth-best cone (6.95) and sixth-best shuttle (4.15). You can't ask for much more from Isabella from a production and athleticism standpoint.
CB Jamel Dean
Dean often looked more like a linebacker on tape at Auburn rather than a cornerback, but he showed up at the Combine at 206 pounds and tested off the charts. He blazed the fastest 40 among all corners (4.30) and jumped out the gym with a 41" vertical and 10-10 broad jump. There aren't too many corners in the class – or the NFL for that matter – that can match Dean's combination of size and athleticism.
CB David Long
In recent seasons, many of the Michigan cornerbacks who have done well from a grading perspective have come to Indy for the combine and underwhelmed. That's not the case with Long. His change of direction drills were quite literally off the charts. He ran the fastest cone (6.45), and fastest shuttle (3.97) among all players invited to the combine. Those are legit numbers for a man who gave up all of nine catches in the entire 2018 season.
WR Parris Campbell
Athletically, Campbell is as good as it gets at the position. There wasn't a drill he didn't knock out the park this past weekend. His 4.31 40, 40" vertical, 11-3 broad jump, and 4.03 shuttle are all elite figures for the position. Campbell is a bit of a projection, as he took 88.3 percent of his routes from the slot last year and saw only 21 targets 10+ yards down the field, but he has the athleticism of an NFL deep threat.
S Juan Thornhill
With more and more safeties playing regularly in the box, explosiveness has trumped long speed as the most important trait at the position. There was no more-explosive safety in Indy than Thornhill. The Virginia safety led the position with a 44" vertical and 11-9 broad jump. He topped it off with a 4.42 40 and 21 bench reps. That's absurd athleticism for a man with five picks and six pass breakups last season.
LB Blake Cashman
Cashman wasn't quite at the level of the Devins, but he wasn't too far behind. If those two didn't exist, there's a good chance Cashman would have been the talk of the combine. His 4.5 40, 37.5" vertical, 10-4 broad jump, 6.95 cone, and 4.12 shuttle are all freakish for the position. Cashman has the production to boot with two seasons with 90.0-plus grades on his resume.