Just outside of our top 15 wide receivers for the 2019 NFL Draft, former Buffalo WR Anthony Johnson made big waves during his first year with the Bulls in 2017 before suffering through injuries and personal matters during his final season in Western New York.
Still, Johnson offers a big target with crisp route-running ability, great speed and reliable hands at the catch point. His 2018 season with Buffalo saw his overall grade dip from a 90.9 overall a year prior to an 83.4 overall grade, and he was limited to just 577 total snaps, compared to the 712 he logged in 2017. Johnson still saw 96 targets come his way and went over 1,000 yards with 11 touchdowns as he also cut down on drops, shaving that figure from six drops in 2017 to just three in 2018.
His career baseline during his two seasons at Buffalo is >1,000 yards at exactly 17.7 yards per reception and double-digit touchdowns, fully taking advantage over some lesser competition in the MAC, game in and game out. Today, we look at his strengths at the next level.
[Editor's Note: To view all of Pro Football Focus' advanced stats and grades for draft-eligible players, check out our 2019 NFL Draft Guide. All EDGE and ELITE subscribers already have access to the guide, and for those who don't, you can get your copy for as low as $9.99!]
Strength: contested catch ability
Attempting to quantify Johnson's ability at the catch point as best we can, he finished with the draft class' fifth-highest contested catch rate among qualified receivers. On 14 contested targets, he hauled in nine receptions or 64.3% of the contested passes thrown his way.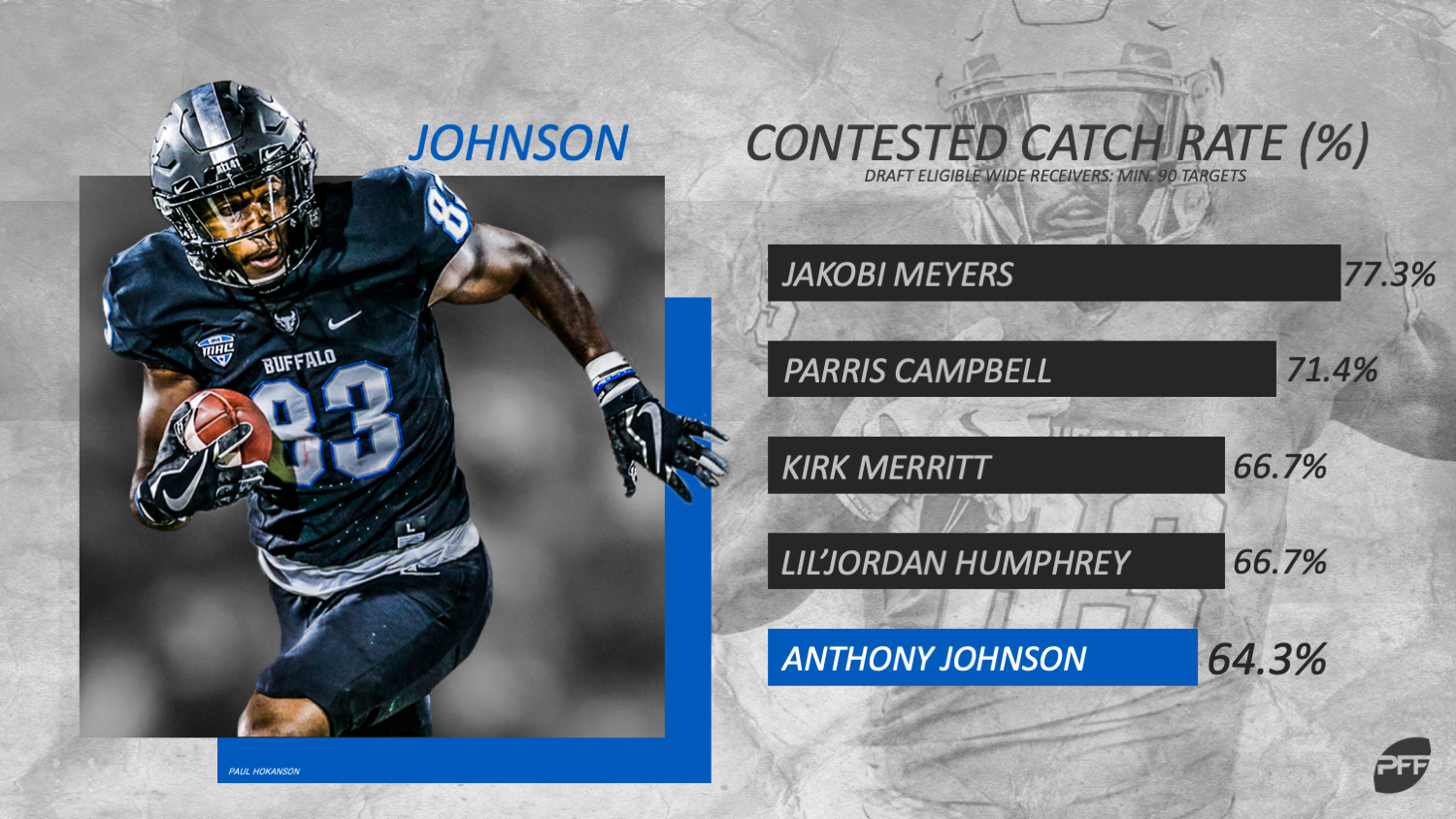 Strength: after-the-catch ability
For such a big man at 6-foot-2, 210 pounds, Johnson's after-the-catch ability is seemingly uncanny. He can move like that of a shorter, shiftier receiver and forced a whopping 31 missed tackles on his career 134 receptions at Buffalo. He averaged 6.1 yards after the catch per reception and gained 813 of his 2,374 career receiving yards after he hauled in the pass. Although those numbers took a slight dip in 2018, he has more than shown his ability to be a real threat with the ball in his hands. Those 31 missed tackles forced over the past two seasons rank fifth in the class.
Strength: a deep threat
Johnson was targeted 41 times on deep passes during his final season at Buffalo, giving him 79 total deep targets over the past two seasons – a figure that leads the draft class. All he did on those 79 deep targets was finish with 31 receptions for 1,189 yards and 31 combined first downs and touchdowns, all of which also led the draft class. He recorded 30 explosive plays of at least 15 yards and even hauled in 72.1% of the catchable passes thrown on deep targets despite a ridiculous 32.1 average depth of target.
Strength: making the most of his snaps in route
If Andy Isabella and Marquise Brown are lauded for their ability to make the most of their snaps in route, Johnson should be up in that discussion as well. Among draft-eligible receivers with at least 600 snaps in route over the past two seasons, Johnson's 3.48 yards per route run average since 2017 is second only to Brown, while A.J. Brown (3.10, 3rd), Isabella (3.02, 4th) and Diontae Johnson (30.1, 5th) round out the top five. That proven track record of making his snaps in route count shows his reliability on a down-by-down basis.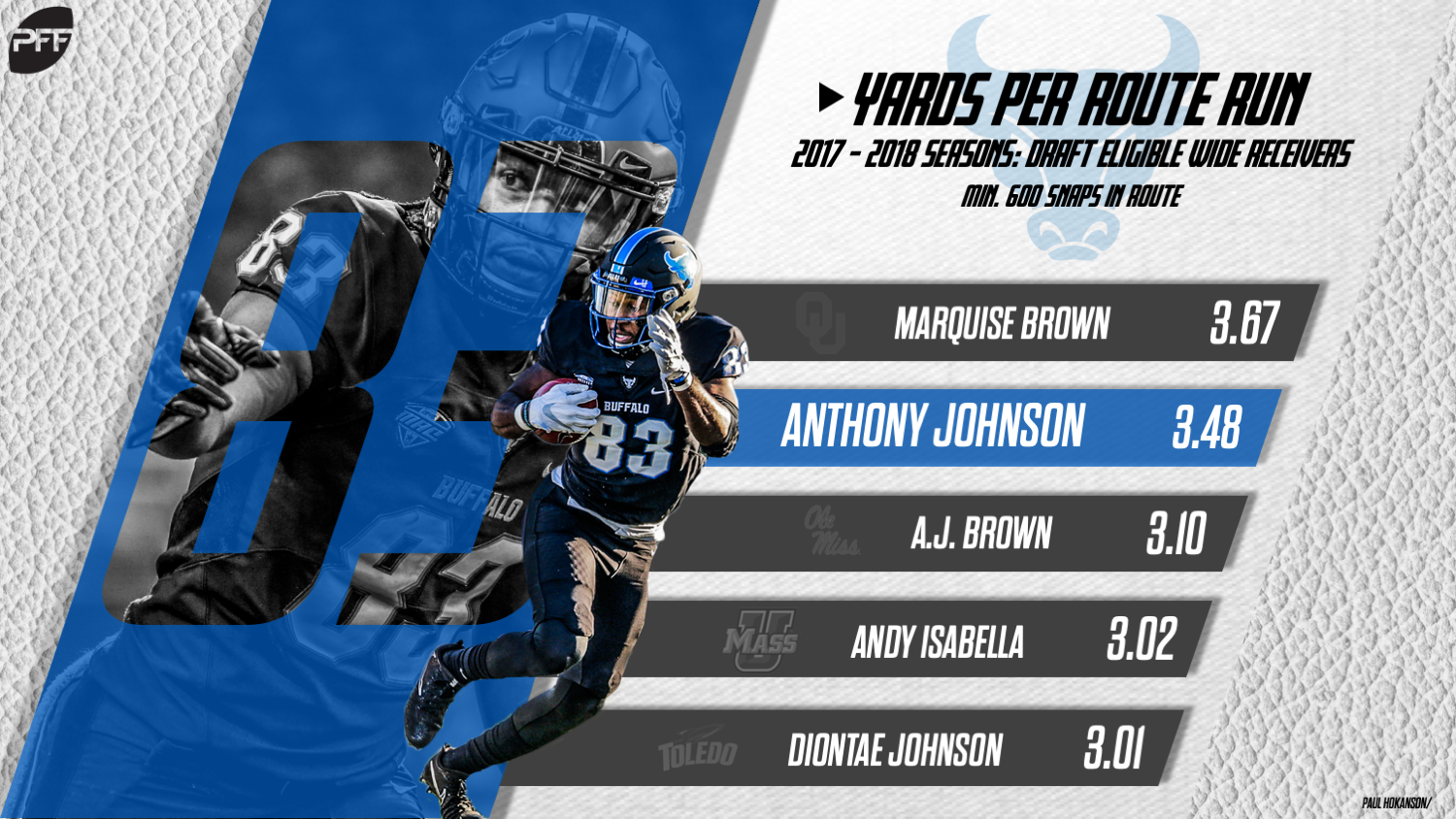 Strength: success across the route tree
It didn't seem to matter where or when Johnson was targeted, he finished with top-30 receiving grades when bucketing routes into two categories. On in-breaking routes, Johnson finished with the draft class' 25th-highest receiving grade, converting either a first down or a touchdown on each in-breaking reception. On out-breaking routes, he finished with the class' 26th-highest receiving grade and hauled in 26-of-27 catchable passes. He also finished 16th in terms of yards on fly routes as well, rounding out his ability along the route tree.
Weaknesses: question marks
There were numerous question marks along the way for Johnson after his 2018 campaign and his subsequent 'not-running' of the 40-yard dash at the combine, however, the consensus from multiple scouts in attendance was that he ran a 4.50 at the Buffalo Pro Day just two weeks later, a figure that means he is more than capable of landing on an NFL roster. He checks all the measurables but did seem to suffer when Tyree Jackson wasn't the quarterback and vice versa, as Jackson seemed to suffer when Johnson wasn't in the lineup. The other question mark for Johnson has to be if he can prove it wasn't just lesser competition in the MAC that saw him benefit and if he can continue to dominate against bigger, faster cornerbacks at the next level.
Bottom line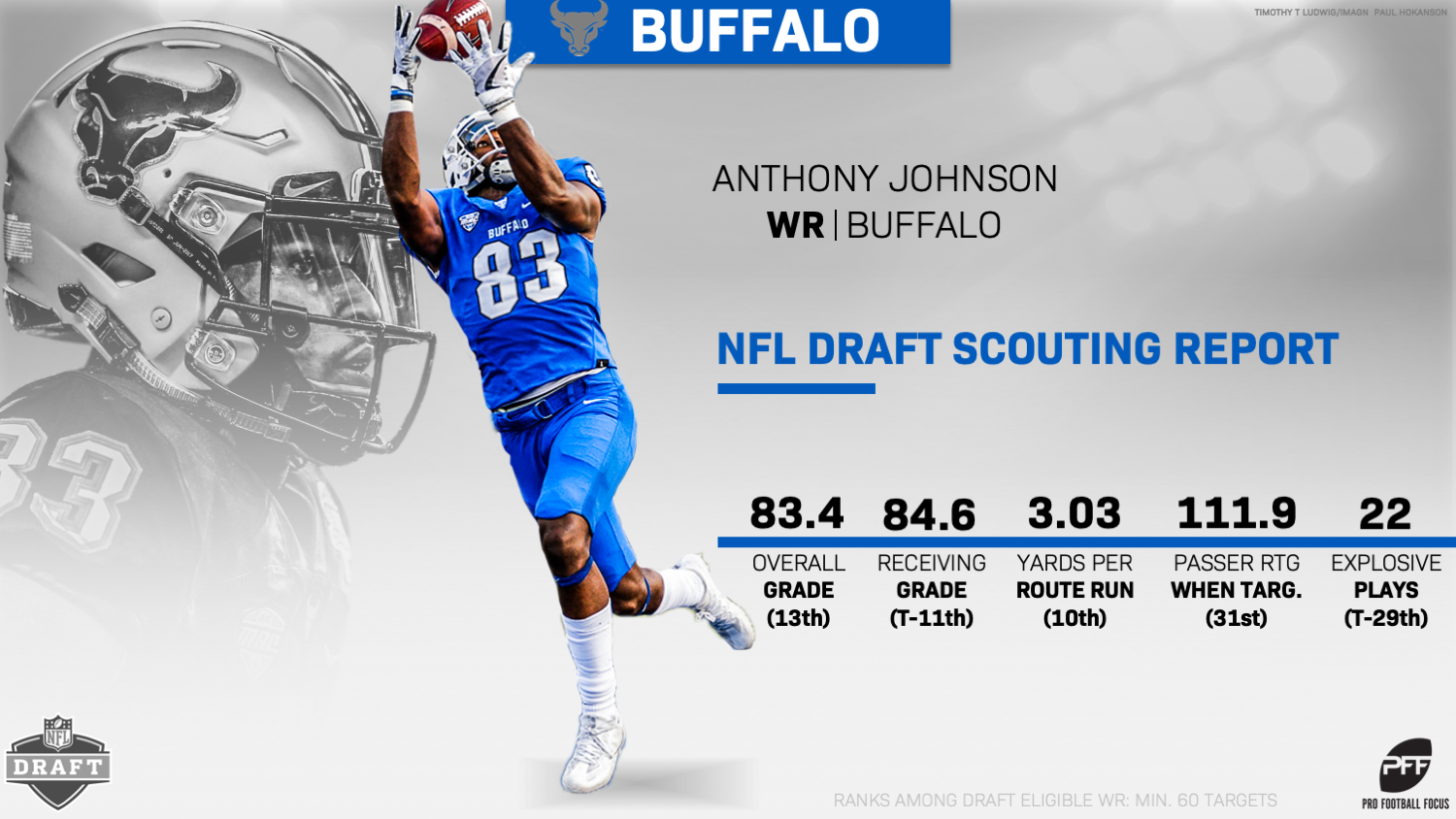 Johnson can win all over the field and make defenders miss after the catch. He can come down with contested catches, and he finished with the draft class' fifth-highest grade on throws in which the coverage was tight or closing in on him. The jury is out on whether he was just a two-year star among lesser competition while at Buffalo but the positives in his game seem to be able to translate to the next level.