The same way actors get typecast in Hollywood via previous roles, prospects can get pigeonholed based on certain traits that others before them had in the lead up to the NFL draft. A 5-foot-9 wide receiver is going to be called a slot. That's why when Andy Isabella — the NCAA's leading receiver from this past season — went to Mobile for the Senior Bowl, the Raiders' coaching staff didn't have him take a single rep in the one-on-ones outside. While he certainly could succeed there, calling Isabella a slot-only guy is lazy and quite frankly, bad scouting. Receivers with similar athletic profiles to Isabella have not only been able to hold up on the outside, but they've also been among the best downfield threats in the game. With his combination of production and athleticism, Isabella is a top-30 player on PFF's draft board.
[Editor's Note: To view all of Pro Football Focus' advanced stats and grades for draft-eligible players, check out our 2019 NFL Draft Guide. All EDGE and ELITE subscribers already have access to the guide, and for those who don't, you can get your copy for as low as $9.99!]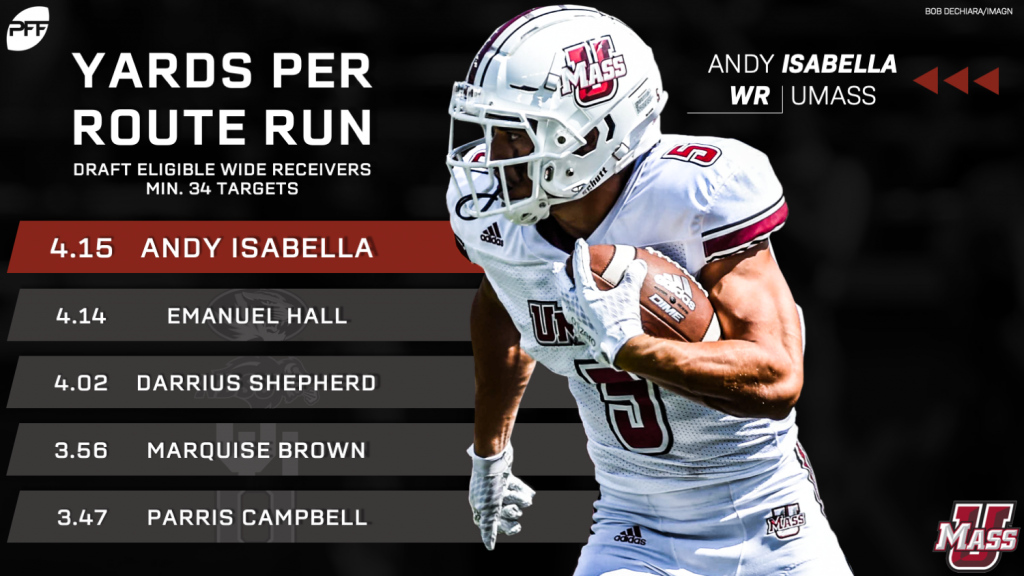 The worry when projecting undersized wide receivers from college to the NFL is always press coverage. All things being equal, a 210-pound man is going to be slowed by a punch much less than a 180-pound man. That's simple physics. Over the years though, there have been a number of players who have overcome such deficiencies, and pretty much all have one thing in common: elite athleticism. Below is the list of receivers who stand 5foot-10 or shorter and 190 pounds or lighter who have had multiple 1,000-yard seasons since the year 2000:
Antonio Brown
Brandin Cooks
Tyreek Hill
T.Y. Hilton
DeSean Jackson
Steve Smith
Wes Welker
Derrick Mason
Santana Moss
Everyone on that list except Antonio Brown (4.57), Derrick Mason (4.43) and Wes Welker (4.65) ran their 40-yard dashes during the draft process in under 4.4 seconds. Welker, by far the slowest of the bunch, is also the only one who took a majority of his routes from the slot. In fact, among the active receivers on that list, Hill was the only one who took even one-third of his reps from the slot (44.8%).
The reason is simple, those receivers may be more susceptible to press lined up out wide, and they may be manhandled at times because of their stature, but the corner across from them will be playing a risky game by going for a kill shot. If they don't get a clean jam or whiff completely, the corner simply can't make up the ground. That's why it's no surprise that even in the NFL, six of the top-11 receivers in deep receiving yardage (20+ yards downfield) last season were 5-foot-10 or under and 190 pounds or lower.
All this is a roundabout way of saying that Isabella isn't undersized – he's the new prototype for deep receivers. Whether it's the increase in emphasis on illegal contact penalties downfield or the new rules disallowing big hits – speed, and separation down the field has become king. And after running a 4.31 40-yard dash at the combine in Indy, Isabella proved that no receiver in this draft class has more speed than him.
That would be one thing if he were merely a track star dropped on the football field, but no one produced more in college football last season either. His 4.15 yards per route was the second-highest figure in the nation and the highest of anyone in the draft class. Isabella averaged that despite every defense they faced knowing the ball was going his way. His 1,696 yards accounted for 47.7 percent of UMass' passing yards on the season. The 5-9 dynamo also collected an absurd 705 deep yards (third) despite having only 21.9% of his targets come 20-plus yards down the field (174th-highest rate out of 231 qualifying receivers).
So he fits the mold of receivers having success downfield in the NFL and has elite production, but many still aren't sold. Understandable. A 5-foot-9 wide receiver from UMass had better break records to warrant a first-round pick. Let's take a look at the tape to figure out exactly where Isabella's strengths and weaknesses lie.
Strengths
The first thing that jumps off the tape is, unsurprisingly, his speed. He not only gets up to speed at an elite clip, but he also has another gear down the field. Below is an out-and-up at the Senior Bowl where their cornerback goes from in phase to five yards behind in the blink of an eye.
If you don't get your hands on Andy Isabella, you're toast pic.twitter.com/XGWMe3KVG6

— Mike Renner (@PFF_Mike) January 24, 2019
That speed is great in a vacuum, but if you can't maintain it through contact and the course of a route, it's meaningless. Getting so wide open down the field that there's no contact somewhere along the route or catch point is far more rare in the NFL than it is in college football. While Isabella is short, he's still a well-built 188 pounds and maintained speed well through arms.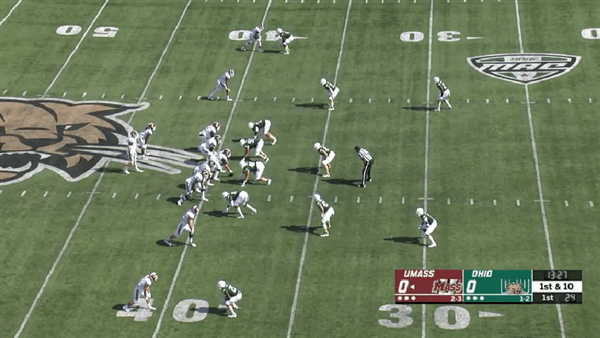 The corner's outstretched arm is rebuffed with a swing from Isabella and all of a sudden the rep is over. Isabella has a step, and there's no chance of making it up. From there, you see him track the ball well over his shoulder – a trait we repeatedly saw at UMass. He's already been battle tested in contested situations, hauling in 9-of-25 a season ago. That's a fair rate compared to rumored first-rounder Marquise Brown, who caught only three-of-nine.
Weaknesses
Isabella is an interesting 'case study' type of prospect because his strengths and weaknesses are so well defined. Whatever grade or round valuation you put on him is going to come down to your weightings of each. For as high as I am on Isabella, I'm not going to act like him facing press coverage in the NFL doesn't terrify me, as he's simply not there yet from a technique or experience standpoint. However, seeing the progress that he's made from being a 2-star recruit at running back to the NCAA's leading receiver, I'm willing to bet on him getting there.
Below is the type of rep that simultaneously scares me and inspires hope.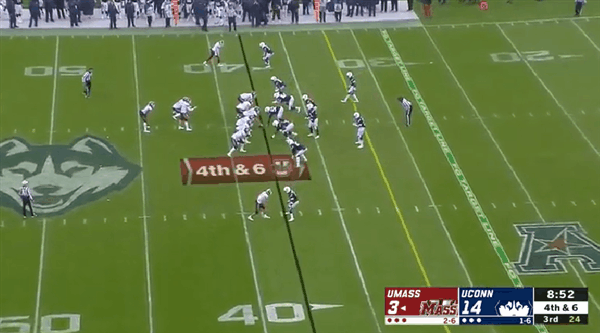 Here, Isabella gets beaten badly at the line of scrimmage. The corner rides him from the hashmark to over halfway to the numbers as Isabella can't get clean;  it's undoubtedly a bad release. What you can barely see just before both leave the screen though is Isabella duck his shoulder into the DB's chest, give a subtle shove, and immediately stack with his speed advantage. That ability to still win late after not getting a clean release is what separates the Brandin Cooks and Desean Jacksons from the Tavon Austins.
I get that Isabella won't be for everyone. He's never going to be a true 'X' receiver that you line up on the line out wide snap after snap and you can go to in any situation. His catch radius is about as small as it gets in the league. That's fine. That's not the future of the NFL. Modern offenses are trending more and more towards movable chess pieces that can bring a defense to its knees. That's Isabella. His speed, route running, and ball skills have to be accounted for by defensive coordinators on any given play. He may not be a complete receiver, but for what he brings to the table, Isabella is an easy projection to the next level.
All of PFF's 2019 NFL Draft Profiles can be viewed here or on PFF's YouTube Channel. Follow along as we go through all the top prospects in the draft.