A former five-star recruit with long arms and above-average athleticism, Christian Miller is a high-ceiling prospect with untapped potential having played 150-plus defensive snaps in just one year (2018) at 'Bama. He, however, isn't as raw as his experience (or lack thereof) would indicate; he's a bit more polished than that.
"I take pride in being technical," Miller said in a March interview with Pro Football Focus. "I take pride in my bend. I feel like some of those things go unnoticed… I just like to work on my craft. I like to study the things I do well and the things I can work on.
"I think the hand combat is really important. It all starts with a good get-off; that's one of the biggest things. But the hand combat helps me out a lot. I have violent hands, and I know how to use them really well."
And Miller's technique, bend, and violent hands all showed up on tape.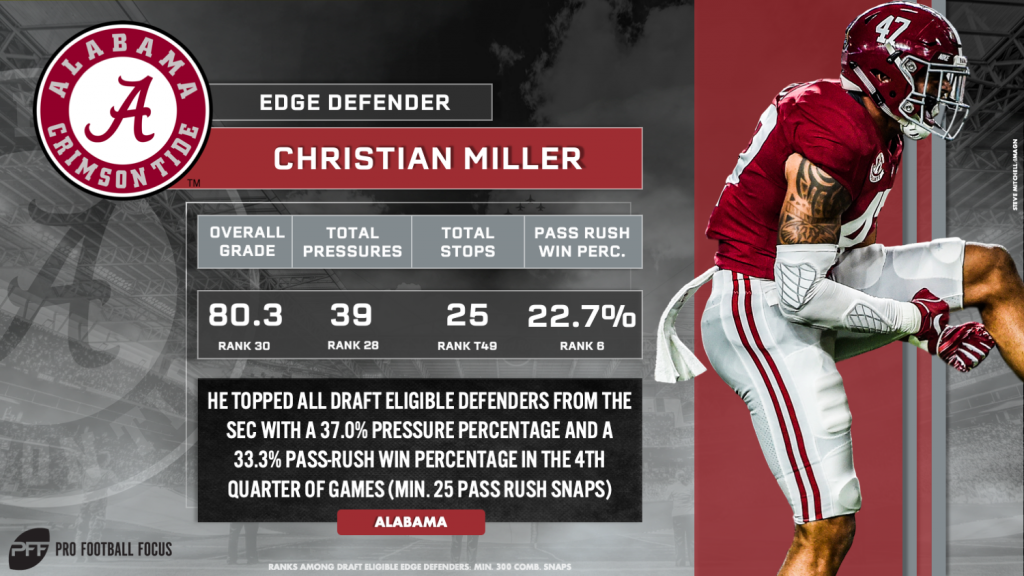 After rushing the passer fewer than 70 times in each of his first four seasons in Tuscaloosa, Miller earned an impressive 79.7 pass-rush grade across his 214 pass-rush snaps in 2018, tying for 18th in the class. His 22.7% pass-rush win percentage and 19.2 pressure percentage both rank sixth in the class, as well.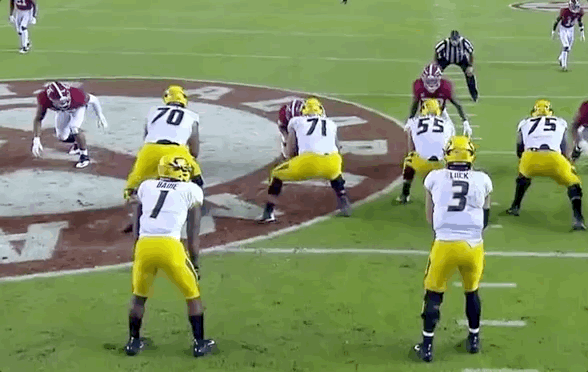 Miller brings heavy hands when he sets his sights on the quarterback, as seen in the play above against Missouri. And here it is (below) again against Oklahoma's Bobby Evans, as Miller brings a heavy-handed inside-arm chop and turns the corner for a Kyler Murray sack.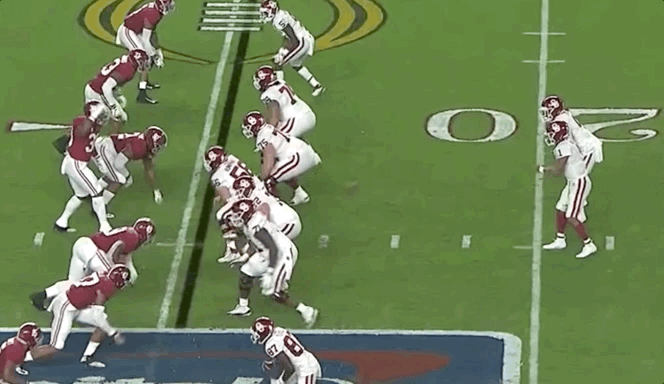 Alabama's coaches didn't always have Miller pinning his ears back, either. He spoke at length about how his coaches emphasized the importance of remaining disciplined within the scheme and refraining from rushing upfield unless told otherwise. But when he was given the opportunity late in games, he delivered.
Miller led all draft-eligible edge defenders in fourth-quarter pass-rush win percentage (33.3%), recording nine wins across 27 opportunities.
NFL teams like Miller for more than just his pass-rush, however. He played 92.4% of his defensive snaps at edge defender this past season, but his 6-foot-3, 247-pound frame and 35 1/8" arms have teams interested in playing him at multiple positions at the next level. 
"They see me as a really effective pass-rusher," Miller said. "They really like my physical tools, my height, my length, my athleticism. But I think the biggest thing that they really like is that they can plug me in and play me anywhere… I've been getting a lot of good feedback on my versatility, my technique and just the way I play the game."
Miller, though his best play has been rushing the passer along the edge, is willing if not eager to play wherever he's asked to play in the NFL and continue to add to his technique and experience.
"I feel like I can just offer it all," Miller said. "I think that's what a lot of teams see, and I think that's what a lot of teams like. They enjoy the fact that I can play multiple positions and do a pretty good job at each thing.
"In my head, I feel like I'm the whole package. Any team that gets me is lucky."