The 2023 NFL Draft will finally get underway in a little over two days. From Thursday to Saturday, 259 prospects will hear their names called as the NFL welcomes its newest influx of new stars.
Below, you can find pros, cons, bottom-line analysis and player comps for PFF's top 100 prospects. For a more in-depth analysis of these players, download PFF's 2023 NFL Draft Guide.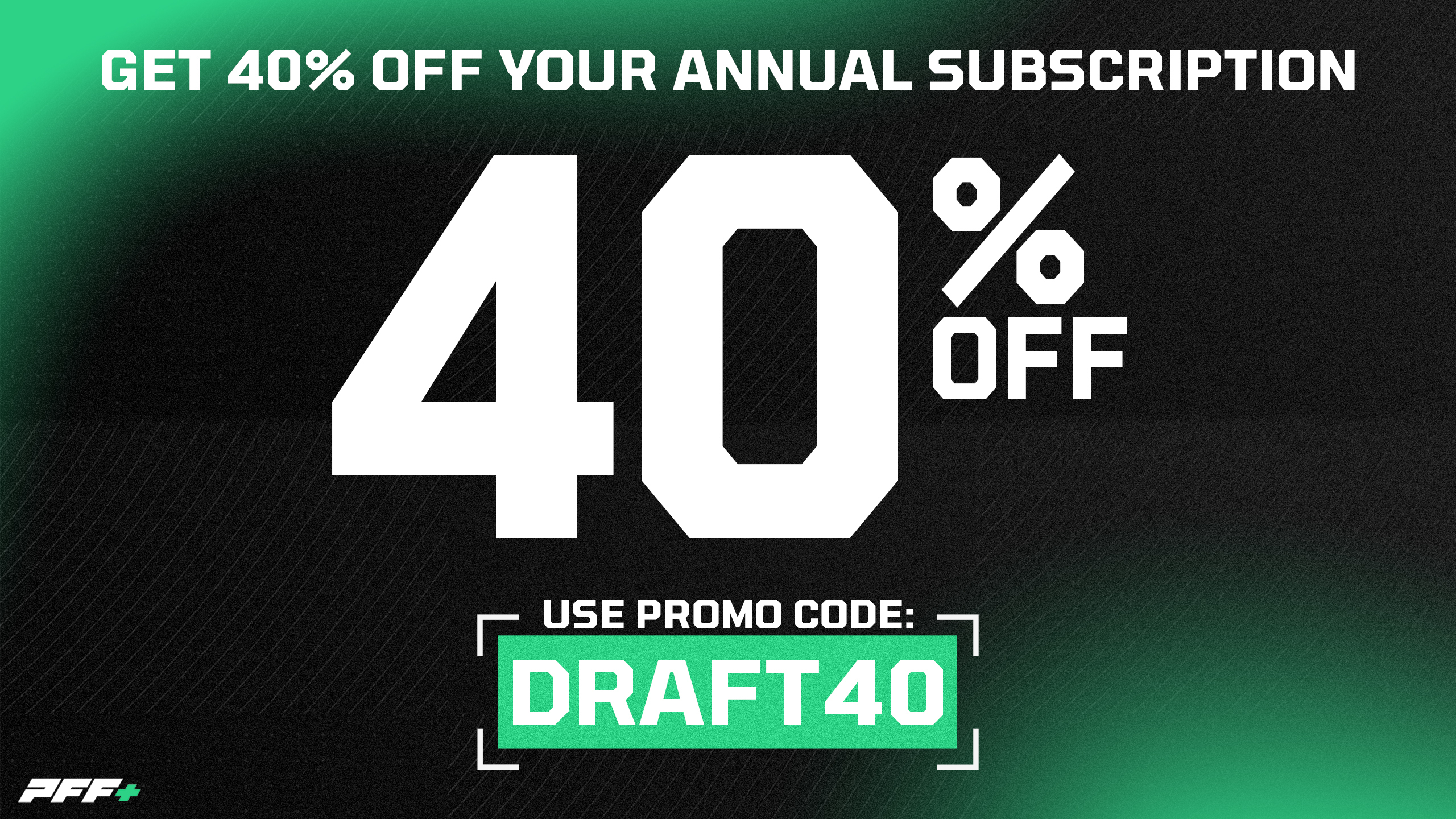 Pros
• Off-the-charts playmaking ability. Has uncoachable subtle pocket movements and creativity throwing receivers open.
• Unphased under pressure. Always cool, calm and collected.
• Whippy throwing motion that has much more zip from all platforms than you'd expect from a quarterback his size.
Cons
• Size, size, size, size. Have you heard he's small?
• Sits deep in pocket, presumably for sightlines. Makes life harder on tackles in the NFL.
• Suffered a shoulder injury this past fall. Missed a game and a half.
Bottom line: An offensive coordinator will have to do some things to scheme around Young's height, but it's a small price to pay for everything else he brings to the table.
Player comp: Smaller Deshaun Watson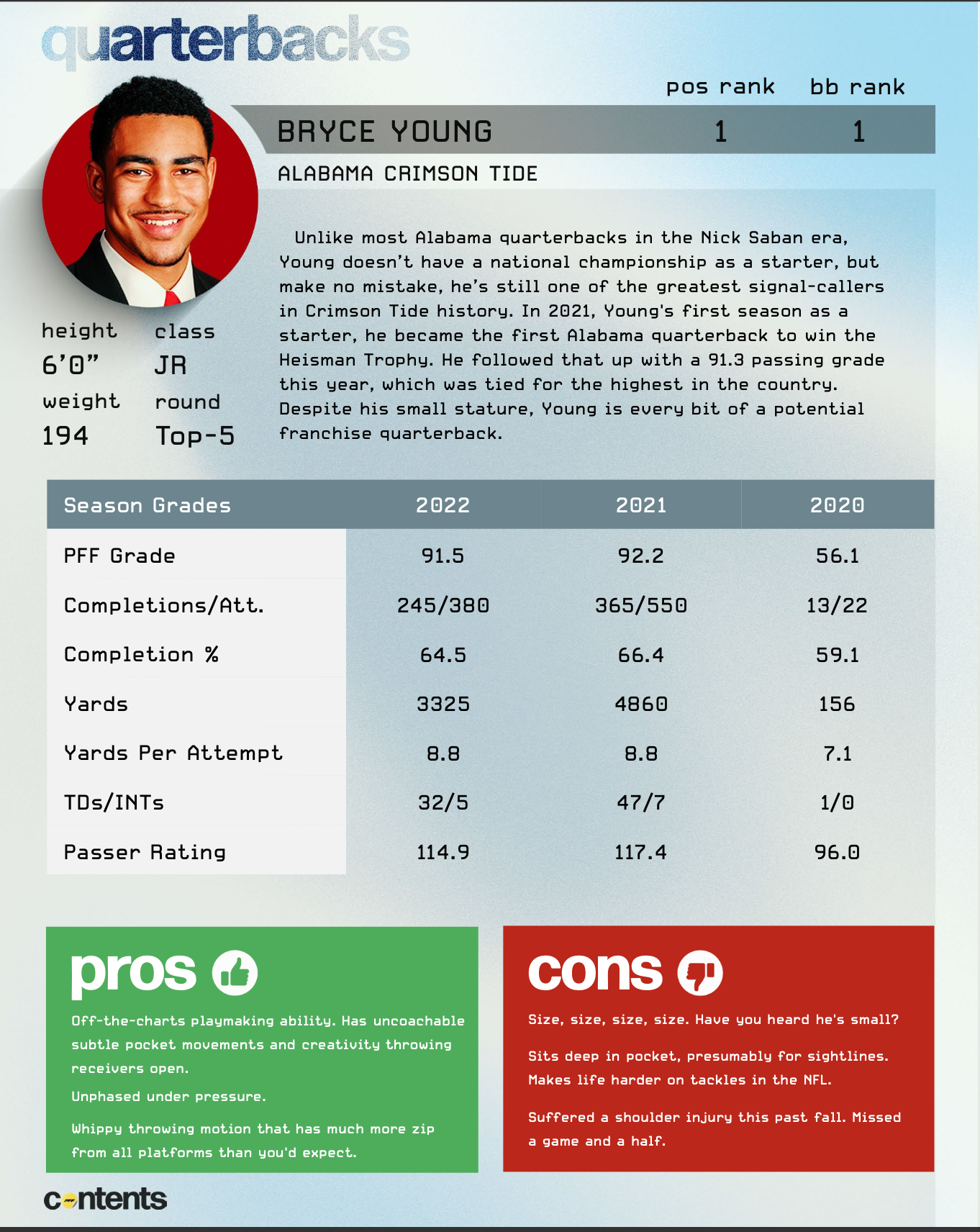 Pros
• Unparalleled pop in his hands. Tosses 300-plus-pounders with one of his mitts.
• Does everything quickly. Does not move like a defensive tackle.
• Footwork is tremendous. Weaves around blocks like a linebacker.
Cons
• His frame on the thinner side for a defensive tackle. Still could add to it.
• Can get a little out of control when shedding, which leads to balance issues.
• Plays upright into contact a lot.
Bottom line: Carter is as good a DT prospect as we've seen since we started grading college in 2014. A complete prospect.
Player comp: Kawann Short
---
Pros
• Elite first step. Gets off the line like a wide receiver.
• Flexibility that makes life so much easier on the edge.
• Doesn't need to come off the field and production won't dip. Averaged 734 snaps per season.
Cons
• Pass-rushing toolbox is limited. Didn't need many moves to be successful.
• Not particularly versatile. Unlikely to kick inside.
Bottom line: Elite production and elite tools. That's an easy combination to draft highly.
Player comp: Stronger Randy Gregory
---
Pros
• Fiesty playstyle. A nuisance to every receiver lined up across from him.
• Elite click-and-close ability. Springy out of breaks.
• Ability to diagnose routes is second to none in the class. Heady corner.
Cons
• One season of high-end production. Pre-2022 tape was nowhere near Round 1 caliber
• Only 180 pounds. Still on the thin side for an NFL corner.
• Grabby and needlessly aggressive at times. Will get flagged more in the NFL.
Bottom line: Witherspoon may not have an elite physical skillset for the position, but his senior year tape was as good as we've seen in our nine years of college grading.
Player comp: Darius Slay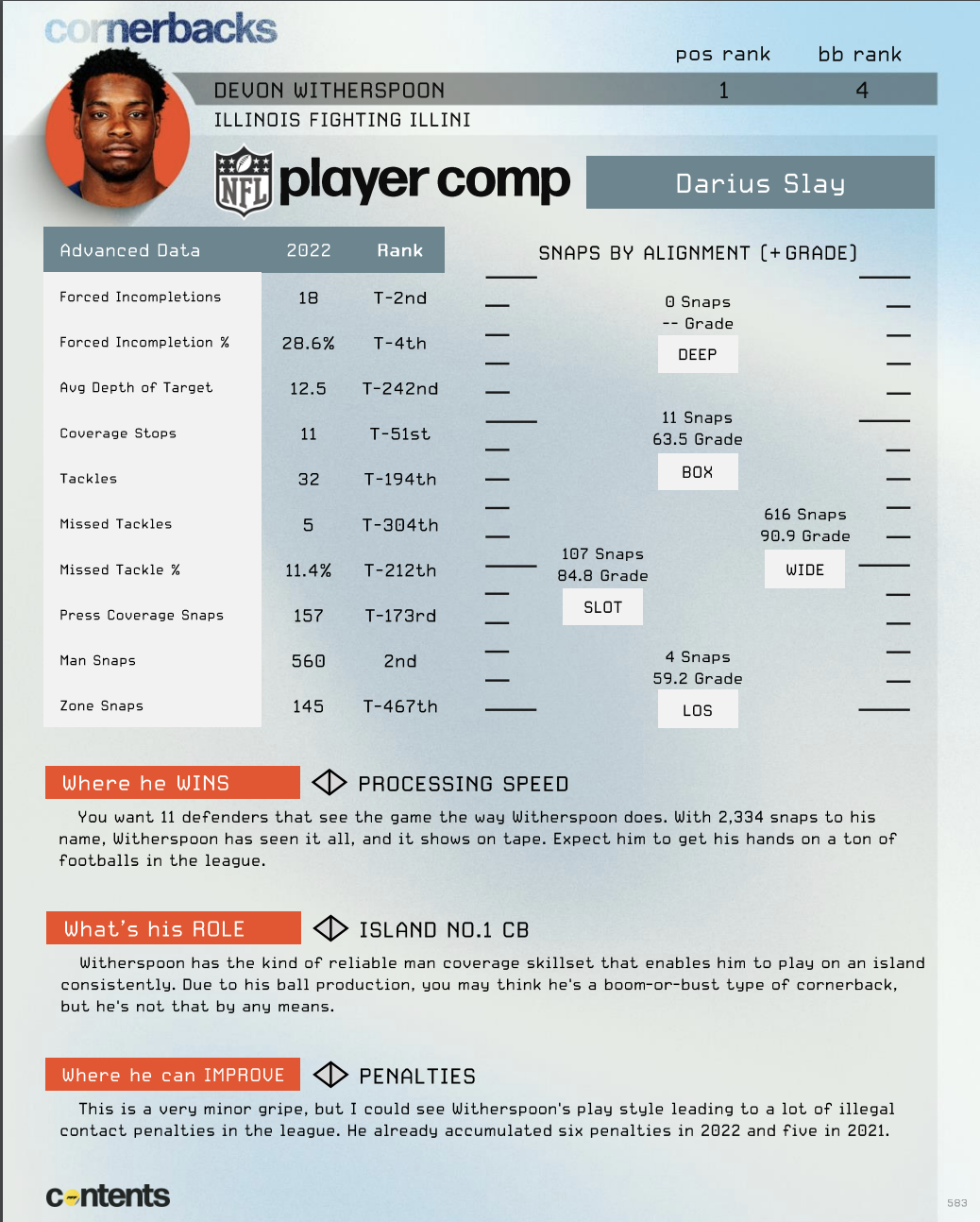 Pros
• Technician. Already knows how to use his hands at a high level.
• Extraordinary feet. Quick and nimble in his sets and in space.
• Experienced with obvious year-on-year improvements on tape. On an upward trajectory.
Cons
• Arm length below a lot of thresholds for offensive tackles.
• Play strength just OK. Was much more of an issue in 2021.
Bottom line: Skoronski has the highest floor of any offensive lineman in the draft class. It may just come at guard, though.
Player comp: Justin Pugh
---
Pros
• Accurate to every level of the football field.
• Feathery touch. Does a beautiful job layering balls over the middle of the field.
• Quick processor from the pocket with anticipation throws littered all over his tape.
Cons
• Performance under pressure was rough this season. That is worrisome, considering how big his pockets were in 2022.
• Arm talent is nothing special, and it suffers when he's on the move.
• Escapability in the pocket is a concern. Doesn't always feel the rush well.
Bottom line: As a passer, Stroud is nothing like the other two first-round quarterbacks who came out of Ohio State before him. And that bodes well for his NFL prospects.
Player comp: Ryan Tannehill
---
Pros
• Flamethrower arm strength. Has claimed he can throw it 80 yards, and I believe it.
• Unwavering under pressure. Delivers strikes in tight pockets. Third-lowest TWP rate in FBS under pressure in 2022.
• Weapon on QB sneaks! Converted 22-of-23 short-yardage sneaks in his career.
Cons
• Short-arm release makes touch throws inconsistent. He looks uncomfortable altering release.
• Spotty ball placement. Good for a duck or two per game.
• Feet are terribly inconsistent. Does not throw from a consistent base.
Bottom line: Levis' tape has so much to like from a tools and NFL-readiness standpoint, but his accuracy — or lack thereof — is borderline untenable at this point.
Player comp: Jake Locker
---
Pros
• One of the most gifted athletes you'll see at the running back position.
• Capable of making cuts you see only from sub-200-pound backs (he's 220).•
• Like another receiver when split wide. Very natural receiver.
Cons
• Can get a little too dancey at times when the situation calls for lowering his shoulder.
• Suffered back, elbow, shoulder and neck injuries in three seasons (although all were minor besides elbow).
• Raw-yardage production not quite on par with others given "generational" label.
Bottom line: Robinson is about as well-rounded a back as you'll see in the draft. He's one of the highest-floor players in the class.
Player comp: LaDanian Tomlinson
---
Pros
• Gets "it." His attention to detail is well beyond his years on sophomore tape.
• Carries mass in lower half. Won't go down with arm tackles after the catch.
• Ultra-reliable. The kind of receiver QBs build rapport with quickly.
Cons
• Lackluster top speed. Won't run away from safeties.
• Largely a ground player, limiting windows over the middle of the field. Not really a jump-ball threat.
• Played all of 60 snaps in 2022 due to hamstring issues.
Bottom line: If you don't have a well-defined slot role in your offense, JSN isn't worth a first-rounder. If you do, he should be your WR1.
Player comp: Julian Edelman
---
Pros
• Looks like a receiver who just so happens to be tight-end-sized. Very easy mover.
• Attacks the ball in traffic the way you wish everyone would. The ball is his.
• Very willing blocker despite his size. Gets after it.
Cons
• Still doesn't have ideal tight end size. Would be one of the league's smallest starters.
• Not an elite athlete by any means despite being undersized.
• Older prospect. Will turn 24 years old as a rookie.
Bottom line: You'd like him to be a little bigger to make defenses respect him as a blocker, but he's the best receiving tight end in the class.
Player comp: Dennis Pitta
---
Pros
• Elite arm talent. Can really spin it.
• Built like a tight end. Will get contacted in the pocket at times and it's like he doesn't even feel it.
• Explosive in everything he does. A real threat to house it as a runner from anywhere on field.
Cons
• Feet are all over the place. Adjusting at all in the pocket can cause him to miss wildly.
• Such limited experience. Only took 455 dropbacks in his college career.
• Only lasers. Hasn't quite mastered the art of when to take something off a throw.
Bottom line: High-end play wins Super Bowls, and no one has a higher end in this class than Richardson. Now, what are the chances he reaches that or even comes close?
Player comp: Josh Allen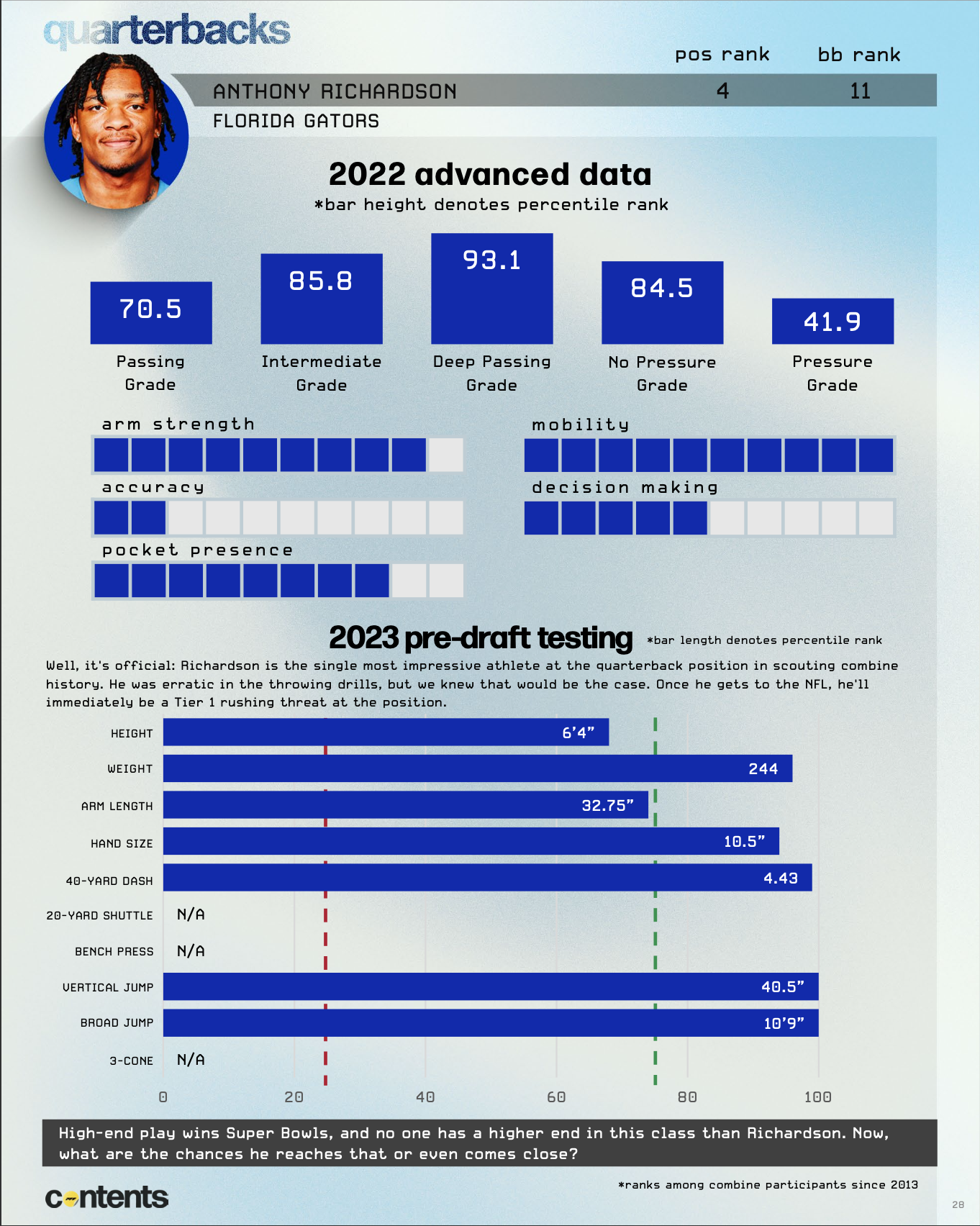 Pros
• Effortless movement skills for his size. Always looks under control.
• Size and athleticism to line up anywhere in the secondary and still be effective.
• Well-proportioned with long arms. Does not get pushed around on tape whatsoever.
Cons
• Missing some killer instinct. Could really impose his will more than he does.
• Too many losses at the catch point. Often content to play hands instead of attacking the ball.
• Urgency needs to improve in zone coverage. Late to abandon pedal to pick up receivers.
Bottom line: Gonzalez is the total package physically. He's got all-pro tools but just needs a little refinement to get there.
Player comp: Dominique Rodgers-Cromartie
---
Free for 7-days. Subscribe to continue reading and unlock
All premium content with the best insights + analysis in the game
NFL Draft Guide, Big Board + Mock Draft Sim
Fantasy Draft Kit and Nathan Jahnke's award winning rankings
Bet smarter with PFF player mismatches and expert betting insights
NFL and CFB player grades and premium stats
Unlock all PFF data trusted by all 32 NFL teams
Already have a subscription? Log In