• Primary needs entering offseason: With capable contributors such as Anthony Brown, Leighton Vander Esch, Noah Brown, Connor McGovern, Dalton Schultz and Johnathan Hankins scheduled to enter unrestricted free agency, the Dallas Cowboys could certainly seek replacements at cornerback, linebacker, wide receiver, guard, tight end and nose tackle during the first three rounds of the 2023 NFL Draft.
• Eschewing history to grab a DT: The Cowboys don't typically spend high-value picks on defensive tackles who spend their time in the A-gaps, but Michigan defensive tackle Mazi Smith's profile as a dominant run defender with an immense amount of untapped pass-rushing potential makes him the perfect prospect to change Dallas' mind.
• Finding CeeDee Lamb's future running mate: Wake Forest wide receiver A.T. Perry profiles as the type of receiver who can complement Lamb for years to come.
Estimated reading time: 9 minutes
---

"Change" is the word that will epitomize the Dallas Cowboys' 2023 offseason. From parting ways with offensive coordinator Kellen Moore and offensive line coach Joe Philbin to hiring Brian Schottenheimer and Mike Solari as their replacements, the Cowboys' coaching staff has already been significantly altered.
Next up will be the roster, with improvements set to materialize through both free agency and the 2023 NFL Draft. If history is any indication, the Cowboys will look to the draft to upgrade the roster, as Dallas routinely bargain shops the free-agent market, declining to pursue the big-money free agents who could make substantial impacts immediately. Therefore, it's paramount that Jerry Jones and company nail the draft.
With that in mind, let's dive into our attempt to do just that.
---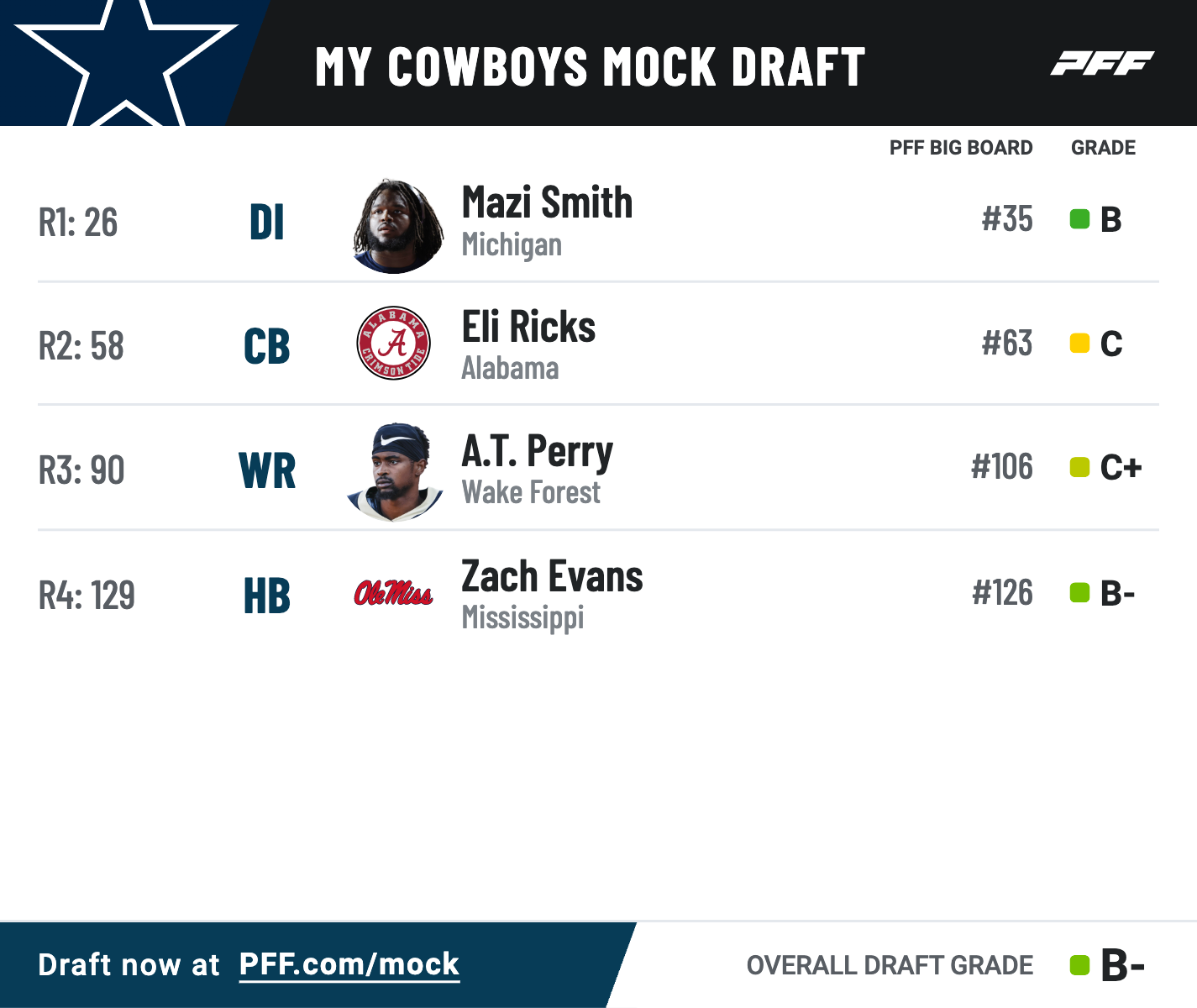 Size: 6-foot-3, 337 pounds
2022 PFF Grade: 79.9
While this pick may seem like a reach today, most will probably think it's a value selection after the combine. Despite being listed north of 335 pounds, Smith is one of this draft class' premier athletes, regardless of position, as evidenced by the fact that he ranked No. 1 on Bruce Feldman's "College Football Freaks List" prior to the 2022 season. Of course, Smith is prone to feats of strength on and off the football field, but his agility may be what blows up the combine in early March, as Feldman reported that Smith ran a blistering 4.41-second short shuttle and a 6.95-second three-cone drill — both of which would have led defensive tackles at the combine last year — prior to the season.
While that's all fine and dandy, it wouldn't matter if Smith didn't pair that freakish athleticism with impressive game tape. And with back-to-back 75.0-plus-graded seasons, Smith checks that box with no problem.
Mazi Smith working against one of my favorite Gs in this class – Steve Avila.

Aligned as a 2T, Smith does well to initiate contact with good pad level & roll his hips to maximize his leverage/power at the POC. From there, he stacks and sheds quickly to generate the run stop. pic.twitter.com/elM4uiwgR9

— John Owning (@JohnOwning) February 14, 2023
Impressively, Smith plays with good pad level despite his size, enabling him to leverage his massive lower half to hold his ground at the point of attack and swallow up gaps against the run. The former four-star recruit pairs that lower-body strength with Deontay Wilder-esque power in his hands, as he routinely bludgeons offensive linemen on contact, putting himself in a great position to stack and shed blocks with ease against the run. Smith's 11.6% run-stop rate ranked 15th among all interior defensive linemen in college football in 2022.
Many will lament Smith's delayed get-off as a reason to deflate his draft stock, but that ignores the fact that Smith was playing a read-and-react role as a head-up defender on a majority of his snaps — instead of firing out of the ball and penetrating his gap as a shaded defender, he was tasked with mirroring and controlling blocks to help Michigan fit all the necessary gaps while playing with light boxes. Put Smith in Cowboys defensive coordinator Dan Quinn's scheme, and the Michigan defensive tackle's athleticism will enable him to shine.
Furthermore, while he has yet to become an effective pass rusher, Smith's rare athleticism indicates that he has an immense amount of untapped potential in that area — and Quinn's hands-on approach could be the Konami Code that unlocks the 337-pounder's pass-rush potential.
Call it wishful thinking if you must, as the Cowboys haven't invested this much into a 300-plus-pound defensive tackle in quite some time, but given Dallas' lack of talent at the nose tackle position in addition to Smith's current skill set as a dominant run defender who has a ton of untapped potential as a pass-rusher, this is the perfect opportunity for Dallas to right the wrongs of its past and finally take a defensive tackle in the first round of the NFL draft.
---
Size: 6-foot-2, 190 pounds
2022 PFF Grade: 69.9
After Ricks's outstanding freshman season (82.8 overall grade on 482 snaps) in 2020, most draft analysts probably identified him as a "lock" to be selected in the top five of the 2023 NFL Draft.
Eli Ricks flat-out bullying John Metchie at the LOS as a freshman before showing off his length to stick his hand in the pocket and break up the pass pic.twitter.com/I4LDR3nevv

— John Owning (@JohnOwning) February 10, 2023
Unfortunately for Ricks, those 482 snaps he played as a freshman proved to be, by far, his career high, as he dealt with head, back and shoulder injuries that spanned the rest of his time at LSU (2020-21) and his lone season at Alabama (2022).
Soft-shoes the receiver off the line, matches the break, expert hand-fighting to not allow the receiver to create separation with a push off, and the then length to reach around a break up the pass.

LOVE pic.twitter.com/AgTNYD2aD4

— John Owning (@JohnOwning) February 10, 2023
Nonetheless, whenever healthy and on the field, Ricks showcased the same impressive skill set that made him one of college football's top cornerbacks as a freshman. Listed at 6-foot-2 and 190 pounds with long arms, Ricks thrives in press-man coverage, as his patience and ability to disrupt receivers at the line of scrimmage enable him to consistently blanket his man. Moreover, while most cornerback prospects struggle to stick with receivers in and out of their breaks, Ricks thrives, as his ability to read a receiver's hips enables him to anticipate breaks against quicker pass-catchers while his competency as a hand fighter enables him to stay tight against more physical receivers. Among FBS cornerbacks, the junior allowed the lowest completion rate and tied for second in yards allowed per coverage snap in 2022.
Unsurprisingly, given his physical style of play, Ricks may have some slight issues adjusting to the NFL's stricter contact rules in coverages. And while Ricks isn't a poor athlete by any means, he doesn't have the kind of reactive athleticism that enables him to recover quickly when beaten deep.
The Cowboys in this mock are able to capitalize on Ricks' frustrating last couple of seasons and grab one of this draft class' most talented cornerbacks late in the second round. Ricks' presence will give the Cowboys one of the most impressive young cornerback groups in the NFL alongside Trevon Diggs and DaRon Bland.
---
Size: 6-foot-3, 195 pounds
2022 PFF Grade: 83.4
Michael Gallup's 2022 struggles after returning from the torn ACL that ended his 2021 season puts the Cowboys' receiver corps in a scary position. While CeeDee Lamb proved worthy of the WR1 moniker, the Cowboys' offense was often derailed because it lacked a definitive No. 2 pass-catcher that could take advantage when defenses focused on Lamb.
The Cowboys would be wise to find an immediate contributor at receiver in free agency (*cough* Odell Beckham Jr. *cough*), and even if they do, it should not preclude them from drafting a receiver inside the top 100 picks in this year's draft. And if Dallas opts to grab players at other positions in the first two rounds, then Perry would be the ideal target in the third round.
Dallas typically prefers receivers taller than 6 feet, and at 6-foot-3, Perry checks that box with ease. Moreover, his body type is eerily reminiscent of Lamb, who measured in at 6-foot-2 and 198 pounds with 32 3/4-inch arms and 9 1/4-inch hands at the 2020 NFL Scouting Combine (Perry measured in at 6-foot-3 and 195 pounds with 33 3/4-inch arms and 9 1/4-inch hands at the East-West Shrine Game).
Perry shows impressive flexibility in and out of his cuts, enabling him to run snappier routes than most receivers his height. He leverages those same traits to effectively defeat press coverage at the line of scrimmage, giving him a skill set that can win on the outside in the NFL — something that's important for any receiver Dallas adds this offseason due to Lamb's dominance from the slot.
Perry does have a bad habit of elevating his pad level going into his breaks, telegraphing his routes for the more astute cornerbacks, and suffered eight drops during the 2022 season. His ability to manipulate the pace of his routes to set up the cornerback without disrupting the timing of the passing concept should enable him to routinely create separation once he gets accustomed to the speed and physicality of the NFL.
Perry's outside skill set makes him a perfect complement to Lamb in Dallas' offense for the next decade.
---
Size: 6-foot, 215 pounds
2022 PFF Grade: 77.3
The Cowboys have a lot of decisions to make at running back this offseason — namely whether to restructure or release Ezekiel Elliott's contract and if Tony Pollard should be franchise-tagged. While it wouldn't be surprising if Dallas brought both back for some reason, it's way more likely that at least one will be playing for another team in 2023. Therefore, Dallas will likely look to grab a running back at some point during this year's draft.
Due to Dallas' proximity to the Texas Longhorns, many are longing for the Cowboys to grab the ultra-talented Bijan Robinson in Round 1; however, in this scenario, Dallas wisely waits for Evans in the fourth round.
Here's an example. Wide zone read concept, so with the playside OT/OG sealing the edge, Evans knows he's going outside. BUT he makes sure to help pin the playside LB (arrow) inside by pressing the interior gap, causing the LB to fire downhill, which creates more space on the edge pic.twitter.com/kiKQBOpNnx

— John Owning (@JohnOwning) February 15, 2023
Evans is an incredibly smooth runner who expertly toys with second-level defenders to set up his blocks and create big potential gains. Evans' patience and burst enable him to consistently maximize his gains on zone runs, as he knows when to put his foot in the ground and burst vertically to take advantage of the defense's inferior angles of pursuit. Evans' 6.1 yards per attempt in 2022 ranked sixth among running backs in this year's draft class.
Evans' lack of production as a pass-catcher likely deflates his value some, but the Cowboys are able to take advantage and grab one of the most talented pure runners in the class. With some seasoning, Evans can become the bell cow in Dallas' backfield in Years 2-4.