Not a single defensive tackle heard his name called in the first round of the 2021 NFL Draft, but that's unlikely to be the case in 2022.
Texas A&M's DeMarvin Leal enters the 2021 college football season as PFF's lone first-round defensive tackle prospect as things stand right now, as there's not too much in the way of productive all-around defensive tackles in this draft class.
Here's the way we see what could be another lackluster defensive tackle group.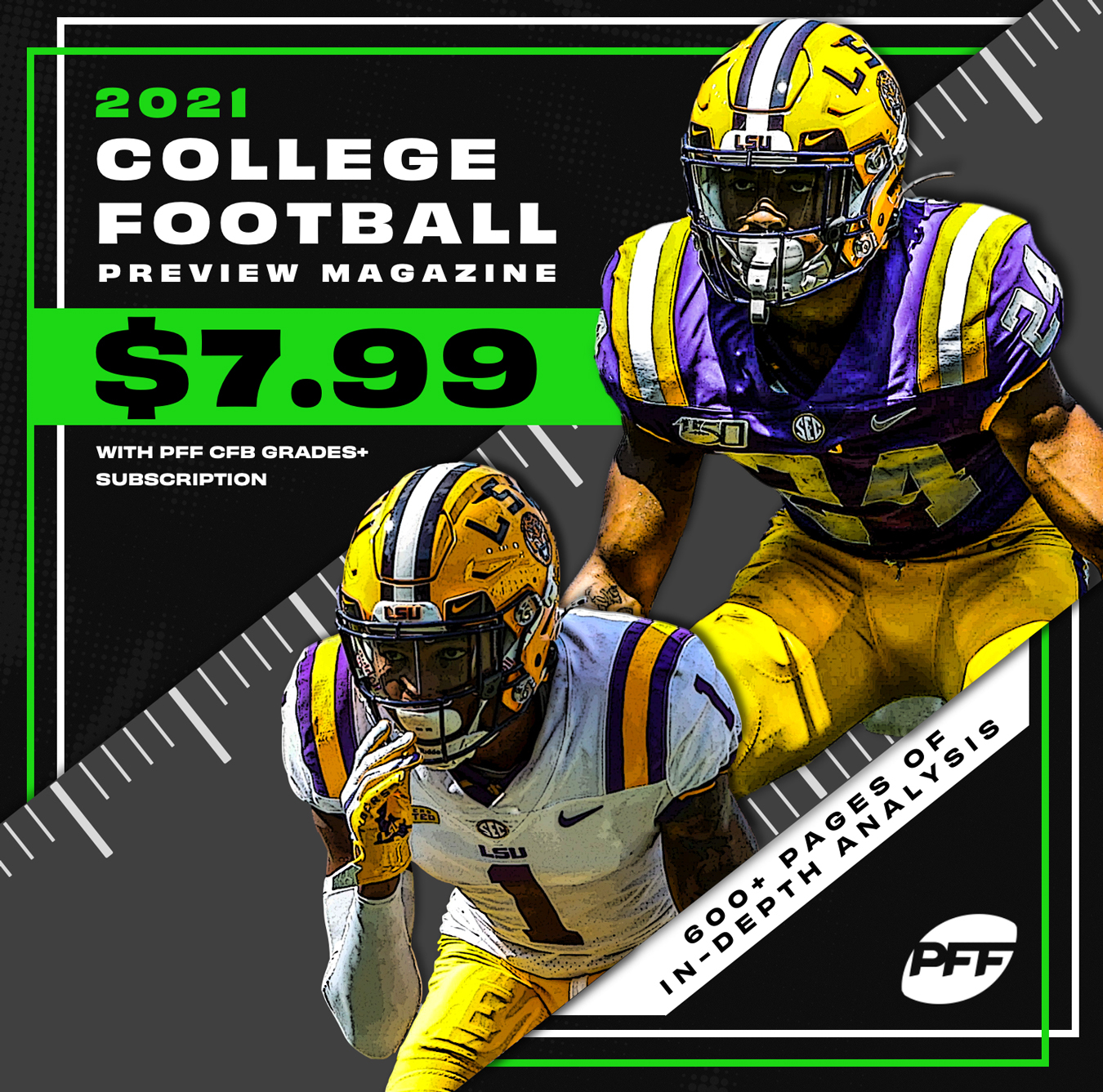 Leal is in his own tier at the position in this class, and there may even be a few tiers between him and No. 2 on this list. He possesses just about every physical trait you could want when projecting a defensive tackle prospect. Length, power, explosiveness, flexibility — Leal's got it all. He has the potential to be an every-down playmaker at the next level.
Texas A&M's DeMarvin Leal is going to light it up in 2021 and beyond.

The former 5⭐️ was 1 of 5 Power Five edge defenders with a grade above 80.0 vs the run and as a pass-rusher in 2020. A lot of power, twitchy for a man his size and good hand usage with a deadly push-pull. pic.twitter.com/k6qvaL5qlT

— Anthony Treash (@PFF_Anthony) February 16, 2021
Arguably the biggest blip on his prospect profile at the moment is that the 6-foot-4, 290-pounder doesn't technically even play defensive tackle at the moment. He's predominantly an edge in Texas A&M's scheme and logged only 109 snaps between the tackles last season.
At his size, it's difficult to imagine him playing a full-time edge role at the NFL level and not at least splitting time heavily inside. Texas A&M has no problem playing him off the edge, though, because he doesn't move like he weighs 290 pounds — it's why he finished his true sophomore season with an 88.3 overall grade after racking up 31 pressures in his final eight games.
It's somewhat of an indictment of this defensive tackle class that a solely run-first defensive tackle checks in at No. 2 on this list. It also is indicative of just how good Davis can be in the run game. He's one uniquely built defensive tackle at 6-foot-6 and 330 pounds, and he has tree trunks for arms. Watching him bench press guards and centers is a thing of beauty.
Jordan Davis and Devonte Wyatt need more buzz! Physical and nasty iDL for Georgia

Wyatt has more pass rush upside, explosive first step

Davis is an absolute building. Can't move him in run game. Collapser in pass rushes pic.twitter.com/HQrV4Z5swm

— Ben Fennell (@BenFennell_NFL) October 4, 2020
The problem is how hot and cold he runs. You would regularly see him manhandle a guard — like on the play above — and then play pattycake the next few plays; it's why he only earned an 81.1 run-defense grade and 60.5 pass-rushing grade last season, even with those absurd physical tools. There's not much nuance to his game at the moment, which is likely why he didn't declare for the draft last year. But once he gains more of a Plan B, Davis has the physical tools to dominate even NFL interior linemen in the run game.
Lole is never going to be a super-highly touted NFL prospect. Listed at 6-foot-1 and 310 pounds, he doesn't quite possess the body type or the length that NFL teams usually covet. That doesn't mean he can't be a high-end impact player once he gets there, though. Whether it's Aaron Donald, Geno Atkins, Grady Jarrett, Mike Daniels or Poona Ford, etc., there's a track record of "undersized" defensive tackles still dominating the league. What all of those guys have in common is plus athleticism — plus, plus, plus athleticism in Donald's case — which Lole certainly possesses.
Love seeing the short area quickness and hand use from Jermayne Lole – hoping to see more these plays finished next season… Top 50 potential. @PFF_College #2 iDL coming into 2021 pic.twitter.com/xdJVOSpf3S

— Ben Fennell (@BenFennell_NFL) May 27, 2021
There were reps on tape where opposing offensive linemen didn't even touch him. While you'll see that sometimes on the edge, that's rarely seen in the tight quarters on the interior. And it's not solely quicks that he wins with, as Lole's base is a difficult move for opposing offensive linemen. It's why he racked up 13 run stops and 18 pressures in only four games last season. With a full year in 2020, Lole may very well have been one of the higher-drafted defensive tackles last year. Now he'll get that chance.
Winfrey broke onto the scene in 2020 in his first year with the Sooners after transferring from junior college. He stands out right away before you even see him move, solely because of how he carries himself. He's a rocked-up 6-foot-3 and 297 pounds with far less bad weight on his frame than your typical defensive tackle. Unsurprisingly, he also doesn't move like your typical defensive tackle.
Now this is how you start a game! Watch this 2-play sequence from Oklahoma DT Perrion Winfrey to open the game vs Texas

Love seeing the hustle/effort/motor from a nearly 300lb NT… I don't know if he caused that fumble or not – but when you chase the ball, good things happen! pic.twitter.com/T33r4CzlRr

— Ben Fennell (@BenFennell_NFL) May 20, 2021
While the traits are obvious, Winfrey still has a good deal to improve upon. He's still a very linear player and doesn't flash much wiggle to his game. Improving his block recognition will be massive, too, as he struggled when he faced more creative run schemes and wouldn't even see the field on most run downs. Still, for his first year of major college football, there was far more good than bad.
With the depth along the Ohio State defensive line in recent years, there's no shame in the fact that it took until Garrett's redshirt junior year in 2020 to crack into the starting lineup. It was most certainly worth the wait because Garrett was one of the most impactful defensive tackles in America last season. He's a slightly undersized defensive tackle at 6-foot-2, 299 pounds, and looks likely to be a 3-technique at the next level. With his quicks and the way he uses his hands, Garrett can succeed in such a role.
Ohio State DT Haskell Garrett is a wound-up defensive lineman… Quick twitch 1st step that can get vertical/penetrate immediately. Tough to pull OL in front of him expecting a pin back – he's too quick

Garrett can lined up at 1T, 3T, 5T on any given play pic.twitter.com/IrmJYkUOHu

— Ben Fennell (@BenFennell_NFL) June 21, 2021
While we don't have too many questions about him impacting the passer after putting up an 88.9 pass-rushing grade in 2020, the question will be how he holds up in the run game. He cedes ground far too frequently, even in one-on-one situations. It's why, even at Ohio State, he only took six snaps at the nose all last season. That will scare off some teams who covet more versatile linemen.
Kancey isn't your typical defensive tackle prospect. Last year, as a redshirt freshman, he was listed at only 6-foot and 270 pounds and still played exclusively between the tackles. And everyone knows if you're listed at only 6-foot by your college website, the chances are you're 5-foot-11 at best. Hut on 398 snaps at that size, Kancey still earned an 81.7 run-defense grade and 79.7 pass-rushing grade.
Pitt Freshman DT Calijah Kancey from the West. The little bit I saw he's a better against the run. Him & dude he beat on this play kinda got into before this lol & the OL got ACC player the week early this season???? pic.twitter.com/defFbpjslD

— Pessimistic Cane ???? (@MikeJ21_OT) October 16, 2020
Obviously, he's going to need to put on around 20 more pounds to even sniff the NFL on the interior, but the leverage and violence he plays with is one heck of a starting point.
Prospects to Watch
The top true nose tackle in the class, Sweat is a stout 6-foot-4 and 348 pounds. While that size obviously conjures up some images of the type of player Sweat is, he's far more than simply a blob in the middle of the Texas defense. He is even more of a threat to quick swim than someone like Jordan Davis, who made our top five. We just need to see fewer nothing reps from him to prove he can handle an NFL-level workload at his size.
After cutting his teeth as a solid two-gapper early in his career, Mathis added a little pop as a pass-rusher in 2020. At 6-foot-4, 312 pounds, he's extremely stout at the point of attack and can stack and shed with the best of them. He's nothing too special athletically, though, and his pass-rushing moves are nearly identical to his block destruction moves in run defense at this point.
We had high hopes for Durden heading into 2020 after he led all defensive tackles in pressures (45) in 2019. Like much of the Florida State roster, Durden fell far short of those expectations. He earned a 52.7 overall grade in his seven games and looked like a completely different player in a scheme that didn't give him as much freedom to attack. It went so south that he transferred to N.C. State after the year. He's got an ideal NFL body at 6-foot-5, 315 pounds, but his balance issues are going to be scary if not fixed.
Davis is looking for a strong bounce-back season after an ankle injury hampered him considerably as a sophomore in 2020. Back in 2019, he enjoyed an outstanding true freshman campaign that saw him earn a 79.6 overall grade with 31 total pressures. He doesn't quite have ideal traits at 6-foot-2, 300 pounds, but that rarely shows as an issue on tape. Davis possesses the type of quicks and power to be a first-rounder, but we're going to have to see a considerable step forward first.
The top Group of Five defensive tackle prospect, Hall is the runner-up for the "wild card" designation. That's because he plays defensive tackle for the Cougars at 6-foot-6 and 260 pounds. He was a terror lining up next to first-rounder Payton Turner at near-identical size, except Hall was playing 3-technique. He finished with a 90.2 pass-rushing grade, but it remains to be seen what his best position will be in the NFL.
Superlatives
There aren't a lot of edge defenders, let alone defensive tackles, who can get off the ball like this:
DeMarvin Leal's first play in Texas A&M's Bowl Game last season ????

(via @Scouters_Anon)
pic.twitter.com/KQr7wB548m

— PFF College (@PFF_College) June 14, 2021
We can't wait to see what Leal puts on tape this season.
You won't find a more powerful defensive tackle in the country. Even when his technique isn't perfect, Davis still easily resets the line of scrimmage.
The immovable object that is Jordan Davis owns the middle – allowing the Bulldogs to play with a lighter box on early downs. https://t.co/XO4SM4xHbh https://t.co/GwuuHEE0bX pic.twitter.com/JlpMexdnRj

— Brent Rollins (@PFF_Brent) May 14, 2021
His type of size and length can play in run defense anywhere along the line of scrimmage.
We've already covered exactly why this is. Leal is primarily an edge for the Aggies, though he's effective from the interior, as well. It will be interesting to see how Leal's body develops and if he bulks up or slims down from his current 290 pounds.
DE DeMarvin Leal tossing big Evan Neal around

That wind-up (watch elbows flare back) from Neal is slow and exposes chest…. Then he's off balance and it's over

Leal is one of my favorites heading into 2021 for @AggieFootball pic.twitter.com/06qiMdD0H8

— Ben Fennell (@BenFennell_NFL) April 13, 2021
Garrett flashed all of the following pass-rushing moves on the 18 pressures in eight games last year: swim, high swipe, push-pull, bull and spin. To make matters more impressive, his breakout season came only months after he was shot in the face breaking up a fight last offseason.
Haskell Garrett (OSU, IDL) has a ton of appealing traits. He was quite disruptive last season. #BlueChipSummer pic.twitter.com/O7sd1DdMWd

— Dante Collinelli (@DanteCollinelli) May 21, 2021