The 2022 edge class is already shaping up to have a few more polished draft prospects than we saw in 2021. The headliner will be Oregon's Kayvon Thibodeaux, who isn't too far off from the Myles Garrett/Chase Young tier of freaks at the position, but the talent doesn't stop there.
Several other edge defenders have the tools to ultimately end up as top-10 picks. For many of the guys we saw break out last season, we just need to see more than the limited season they were dealt due to COVID-19.
Here are the top edge defenders in the 2022 NFL Draft.
Thibodeaux is that type of uber-athlete who pops from the first play on tape to the last. His blend of explosiveness, bend and length at 6-foot-5, 250 pounds is tailor-made to win off the edge in the NFL. He threatens offensive tackles so much with his get-off that it makes him a deadly weapon as a bull-rusher.
Kayvon Thibodeaux gets the blocker's shoulders turned & counters with power. @kayvonT8 long arms the OL back to the QB & gets the sack! #passrush #goducks pic.twitter.com/Sg9XZJLN1G

— DLineVids (@dlinevids1) December 6, 2020
Oregon's scheme doesn't quite allow him the freedom to attack as much as some others around college football, but he still averaged nearly five pressures a game as a true sophomore last season. Even though he's relatively slim and should feasibly pack on 10-20 more pounds of muscle before he hits the league, Thibodeaux can still set a strong edge and is one of the best run defenders in college football.
Enagbare is a violent 6-foot-4, 260-pound edge rusher who can win with quicks or pure power. He was one of the biggest breakout performers in the SEC last season, going from a 68.4 pass-rushing grade in 2019 to 89.2 in 2020.
Enjoyed studying #SouthCarolina DE Kingsley Enagbare (ee-NAG-bar-ee) this morning.

Athletic, high-effort rusher who is still getting better at the top of the rush.

Twitchy, loose, versatile, competitive. Led team in sacks last year, expecting similar production in '21. #SpursUp pic.twitter.com/3ET9M6EboE

— Fran Duffy (@EaglesXOs) June 22, 2021
Aside from the obvious physical tools Enagbare possesses, his biggest selling point is simply the way he plays the game. The defensive end plays with his hair on fire snap after snap, and it's not uncommon to see him tracking down quarterbacks outside the pocket or downfield.
We only got to see eight games out of him in 2020, so he's a player we need to see more of to be truly sold. Enagbare is only scratching the surface of what he can be with more consistency.
Bonitto is the purest speed-rusher in the class. He thrives with his get-off and quicks, routinely putting college offensive tackles in bad positions. Bonitto possesses some of the best reactive moves of any defensive lineman in the country and works his moves off what opposing linemen throw his way. It's why he led the country with a 93.6 pass-rushing grade last season.
Unfinished business…. Sooner nation we coming for number 8???????? pic.twitter.com/ZCb7HT68Gy

— . (@nikkkkbonitto) January 11, 2021
With undersized rushers like Bonitto barely scraping into the 240-pound range, you want to see a couple of things to believe they can continue to succeed at the next level: the ability to play physical football and high-end athleticism.
Bonitto's film shows both. What he did to former Florida tackle Stone Forsythe showed he can still give fits to tackles who possess NFL-caliber size, length and feet. While he won't face too many top tackles in the Big-12 this season, just showing he can add more muscle to his frame could be all he needs to get into the first-round conversation.
Hearing "6-foot-6, 265-pound former five-star defensive end at Ohio State" quite obviously conjures up some lofty expectations in your head. Harrison is there athletically, but he has nowhere near the natural feel for the position that the Bosas or Chase Young did. It really wasn't until the final few games of 2020 when you really started to see his timing or pass-rushing plan really look like second nature. He collected 19 pressures over his final four games last year and earned an 86.6 pass-rushing grade on the season. If he can build off that throughout 2021, he could be a top-10 pick.
Get-Off
Active Hands
Bend
Finish the play

Zach Harrison DE Ohio State #PartyInTheBackfield

— Mike Rittelmann (@MRitt9140) May 21, 2020
Hutchinson may not be the athlete many others on this list are, but no one plays a more consistently powerful brand of football. He's the definition of a pocket collapser and a line-of-scrimmage resetter. Even more impressively, Hutchinson has been that guy ever since his true sophomore year.
Kwity Paye (19) gets the sack, but it was Aidan Hutchinson (97) with pressure off the edge that forced the QB to step up in the pocket. Michael Dwumfour (50) with the counter spin #GoBlue pic.twitter.com/hrBBgu2Men

— DLineVids (@dlinevids1) November 30, 2019
At 6-foot-6 and 269 pounds, Hutchinson has an old-school 3-4 defensive end type of body, although he's shown no issue playing off the edge and in more space. Hutchinson would have been in the first-round mix last season had he not broken his leg against Indiana only a few games into Michigan's season in 2020. It's scary to think what he'll be doing to opposing offensive linemen this season with another year in the weight room under his belt.
No edge in this class has been more proficient rushing the passer than Anderson over his career. And frankly, it's not even close. The problem is that in three years at Georgia, we've only seen him rush the passer on 197 total snaps. While he generated pressure on 51 of those, he's never done anything other than rush in sub-packages.
On 3rd & 4th down over the past 3 seasons, #UGA's Adam Anderson is:

– #1 in Power 5 in pressure rate (27.0%)
– #3 in Pass Rush grade (91.2 – only behind Chase Young and Javon Kinlaw)

But can be a true 3-down player? Examining that question this week on @UGASportscom pic.twitter.com/DIFIBwyklY

— Brent Rollins (@PFF_Brent) May 17, 2021
Listed at only 6-foot-5, 235 pounds, Anderson obviously still needs to fill out to get serious early-round consideration from the NFL. But even at that size, he flashes one of the best bull-rushes in the country with the way he can convert speed to power. Georgia's scheme stresses run defense over everything, which is why he's struggled to see the field. Still, his pure pass-rushing prowess will get more play in the league.
Names to Watch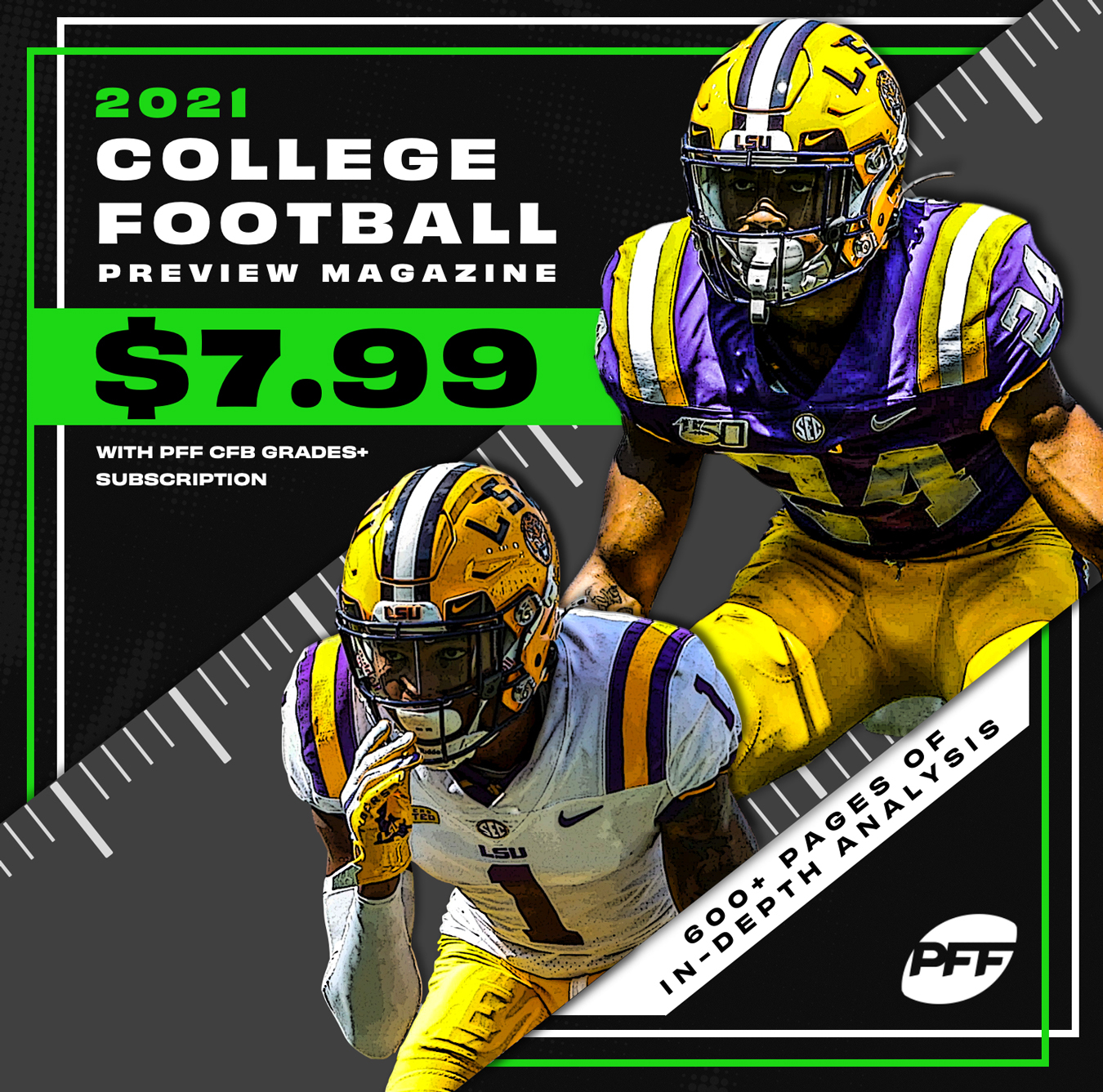 Cox started his career at Georgia before he was removed from the team for multiple off-field issues. He landed at Florida and broke out with 48 pressures in his first year with the Gators in 2020. Cox has one of the prettiest spin moves in college football but runs a little hot and cold throughout games. You see his high end and wonder why he can't sustain those flashes more.
Karlaftis burst onto the scene in 2019 with one of the most productive true freshman seasons we've seen from a defensive lineman. He collected 55 pressures and played a ridiculous 843 snaps that season. Unfortunately, we only got to see three games of him as a sophomore between injury and COVID protocols. He's a big base end at 6-foot-4, 270 pounds, with the ability to play inside, as well.
Sanders was a bit of a surprise to return to the Bearcats — he already proved that he could clown lesser competition by earning a 90.1 pass-rushing grade in 2020. He's got an ultra-long NFL-ready frame at 6-foot-5, 258 pounds, and can play hand up outside or hand down over tackles. We'd like to see him play more under control in 2021, as he tends to get off-balance and struggle to finish plays.
Jackson is still more athlete than pure pass-rusher, but it's that high-end athleticism that can't be taught. He's got fantastic bend for a 6-foot-4, 255- pounder and can corner linemen with ease.
USC DE Drake Jackson is going to be getting lots of buzz/attention this fall #2022NFLDraft

Trimmed down to 255lbs in 2020, after coming to USC & playing 2019 at nearly 275lbs

Can win in a variety ways as a rusher – love the inside moves (spin/rip) & then a 3-tech win 1on1 vs OG pic.twitter.com/ueNVwehHd2

— Ben Fennell (@BenFennell_NFL) May 16, 2021
Still, those athletic tools resulted in a 66.6 pass-rushing grade across six games last year. He is a breakout candidate who could very easily move into the first-round conversation with a big year.
Tupuola-Fetui would have likely been a top-five edge on the PFF board were it not for an Achilles tear suffered in mid-April. Now his 2021 season is in jeopardy. Tupuola-Fetui was one of the Pac-12's biggest breakout stars in limited action last season, putting up an impressive 20 pressures in only four games. He was the most consistent bull-rusher in the country last year as he overpowered tackles at 6-foot-3 and 280 pounds.
There was a time when Thomas was thought to be "the guy" in last year's class. As a true freshman in 2018, Thomas put up an 84.2 pass-rushing grade and 26 pressures as a rotational player on the vaunted Clemson defensive line that featured three first-rounders. Thomas hasn't come close to that level of effectiveness since, however, and was a shell of himself in limited snaps after complications with COVID-19. He's a true 4-3 power defensive end at 6-foot-2 and 270 pounds, but he needs to show he's got another gear.
The 2022 edge class doesn't quite have as many athletic marvels as the 2021 version, but Mafe certainly qualifies as that. He was fifth on Bruce Feldman's Freaks List heading into the 2020 season for his 40.5-inch vertical and 4.57-second 40-yard dash at 6-foot-4 and 260 pounds. But even in Year 4 at Minnesota last year, Mafe still looked very much like a work in progress. His move set is extremely limited, and he relies mainly on his distinct athletic advantage. Hopefully, we at least get to see a full body of work from him in 2021, as his 259 snaps played last year were the most he's seen in any single season of his career.
Superlatives
He's got an ideal two-gapping frame and just enough juice to make plays on the opposite side of the line of scrimmage. He's seen his run-defense grade go up every single season and had eight run stops in just two games last year.
Aidan Hutchinson (@aidanhutch97) strikes & resets the LOS by knocking his block back. Ends up making the tackle. Hutchinson's play gives me JJ Watt vibes! #stoptherun @LanceZierlein pic.twitter.com/HiKVyCtVQ6

— DLineVids (@dlinevids1) June 3, 2021
Watching Anderson and second-rounder Azeez Ojulari explode off the line in obvious passing situations last year, it was Anderson who regularly got upfield faster. Yes, it obviously helps that he's the size of some NFL wide receivers, but he has the frame to continue to fill out while maintaining that explosiveness. Kayvon Thibodeaux is also firmly in the mix here, but I could say that about almost all of these superlatives.
UGA EDGE Adam Anderson hasn't started due to the team's depth, but he's got a bright NFL future. His quickness is outstanding, as is his length. Agile enough to operate in space, as well, making him a 3-4 DC's dream. Should have a big year. #SnapScout22 pic.twitter.com/FXlDJLA3OW

— Chad Reuter (@chad_reuter) May 24, 2021
To quote Leon Taylor in Playmakers, "It's not one move, it's a way of moving." That's how it feels watching Thibodeaux's tape. The way he's able to consistently play low at 6-foot-5 is not something you see every day. His bend is going to be a problem for NFL tackles for a while.
#USC LT Alijah Vera-Tucker had no chance against #Oregon EDGE Kayvon Thibodeaux. His speed and athleticism turning the corner is deadly.

Vera-Tucker has played well this season but Thibodeaux is an elite talent.pic.twitter.com/us1mi6PJmW

— Devin Jackson (@RealD_Jackson) December 19, 2020
Bonitto put on a speed-rushing clinic almost weekly last season. Whether it was the ghost move, rip, spin, euro-step or even speed-to-power, Bonitto can throw the kitchen sink at you. It's why he generated 49 pressures last season on only 186 pass-rushing snaps.
Inside the tackles. Outside the tackles. Three-point stance. Two-point stance. You name it, Karlaftis has likely done it for the Boilermakers. In his true freshman season, he spent 183 snaps inside the tackles, 422 outside with his hand in the dirt and 238 outside standing up. The fact that he was doing that at 18 years old and still productive is quite the accomplishment.
George Karlaftis III with the long arm rush. Finishes with an arm over for the sack. All about leverage, hand placement, strength & leg drive. @TheGK3 earned frosh All-American honors this past season! #PassRush #BoilerUp pic.twitter.com/6lxKz5iowP

— DLineVids (@dlinevids1) February 18, 2020