We took a look at the top-five players at each offensive position just last week, so now we turn our attention to the defensive side of the ball. Highlighted by Ohio State's Chase Young and backed up by notable names like Jeffrey Okudah and Isaiah Simmons, this draft class is stocked with plus talent at valuable positions.
Taken from our updated top-100 draft board, here are the top-five players at each defensive position through 13 weeks of college football. 
[Editor's Note: All EDGE and ELITE subscribers have access to PFF's 2020 NFL Draft Guide. Subscribe today to download your copy!]
Edge Defender
1. Chase Young, Ohio State
The two-game suspension only made Young mad. He came back with a three-sack, two-hurry performance this past week against Penn State to push his pass-rushing grade to a PFF record 97.1. He's the best non-QB in the class.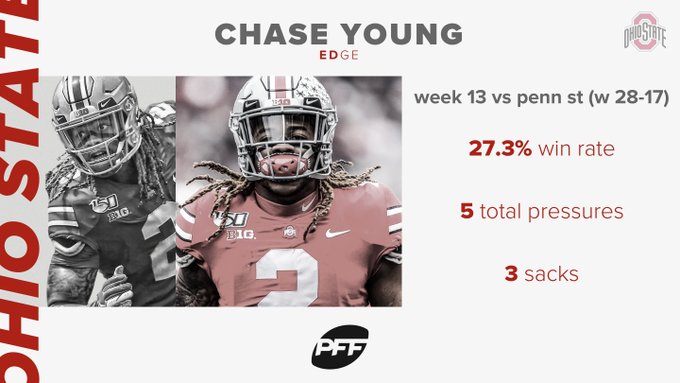 2. A.J. Epenesa, Iowa
Epenesa has been on a tear of late, with 14 pressures in his last two games. His blend of size (6-5, 280 pounds) and athleticism is rare at the position. His versatility to win inside and outside will be coveted at the next level, as well.
3. Curtis Weaver, Boise State
Weaver is the country's most productive edge rusher not named Chase Young. After 55 pressures a year ago, Weaver already has 57 pressures for Boise State this season. His 27 combined sacks and hits are the most in the country. 
4. Julian Okwara, Notre Dame
Okwara suffered a leg injury earlier this year in Notre Dame's win over Duke that's already ended his season. Okwara ran a little hot and cold this year with three or more pressures in only four of the nine games he played in. He's the most gifted athlete in the class after Chase Young, though, and he is already a proficient bull-rusher despite his size.
5. Carlos Basham Jr., Wake Forest
Basham has a limited pass-rushing toolbox, but the good lord only made so many 6-5, 275-pound men with his explosiveness. With that prodigious athleticism, we've seen him improve by leaps and bounds every year. His pass-rushing grade went from 58.6 in 2017 to 67.4 last year to 88.0 this year.
Interior defensive linemen
1. Derrick Brown, Auburn
Brown is one of the most physically dominant defensive tackles you'll ever see in college football. He dictates the terms of every single one-on-one interaction along the line of scrimmage. The concern is whether or not he can produce on a large workload as a pass-rusher, and he's answering that to some degree with a 90.4 pass-rushing grade this season.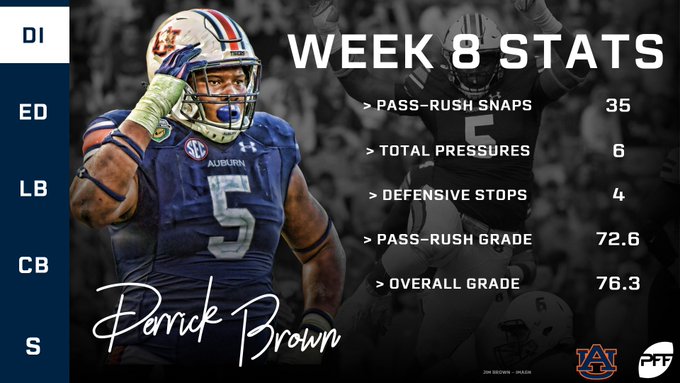 2. Javon Kinlaw, South Carolina
Kinlaw has the kind of size (6-6, 310 pounds), athleticism and production (91.1 pass-rushing grade) that get you excited about. He had the highest pass-rushing grade in the defensive tackle class in 2018 (88.7) and has the highest this season, as well.
3. Marvin Wilson, Florida State
The top three are all very close on the PFF draft board. Wilson was dominating out the gate, with three straight games with 90.0-plus pass-rushing grades. It's concerning how much he's slowed as of late, though. The junior has only six pressures in his last five games.
4. Jordan Elliott, Missouri
Elliott came out of nowhere to have two dominant performances towards the end of 2018, and he's carried that over to this season. He's the only defensive tackle in the country to have 90.0-plus run-defense and pass-rush grades. 
5. Neville Gallimore, Oklahoma
Gallimore shed weight throughout the offseason, and it's done wonders for his on-field play. His overall grade has jumped from 82.2 in 2018 to 90.0 this season. However, he's another defensive tackle whose performance has slowed down the stretch here, with only five pressures in his last five games.
Linebacker
1. Isaiah Simmons, Clemson
Simmons is the new wave of versatile coverage defenders who can seamlessly shift between multiple roles. Clemson splits Simmons' time fairly evenly between the box, the slot and deep. He has shown capable in each role, with only 134 yards allowed in his coverage all season.
2. Willie Gay Jr., Mississippi State
We still believe in Gay, but he seems like a longshot to declare at this point. He's earned a coverage grade over 90.0 for his career but has only managed to see the field for 88 snaps this season. 
3. Troy Dye, Oregon
Dye has the size and length that defensive coordinators love over the middle of the field. He can shut down passing windows as well as stick with backs and tight ends. He's played over 3,000 snaps in his career and earned an above-average coverage grade in all four seasons.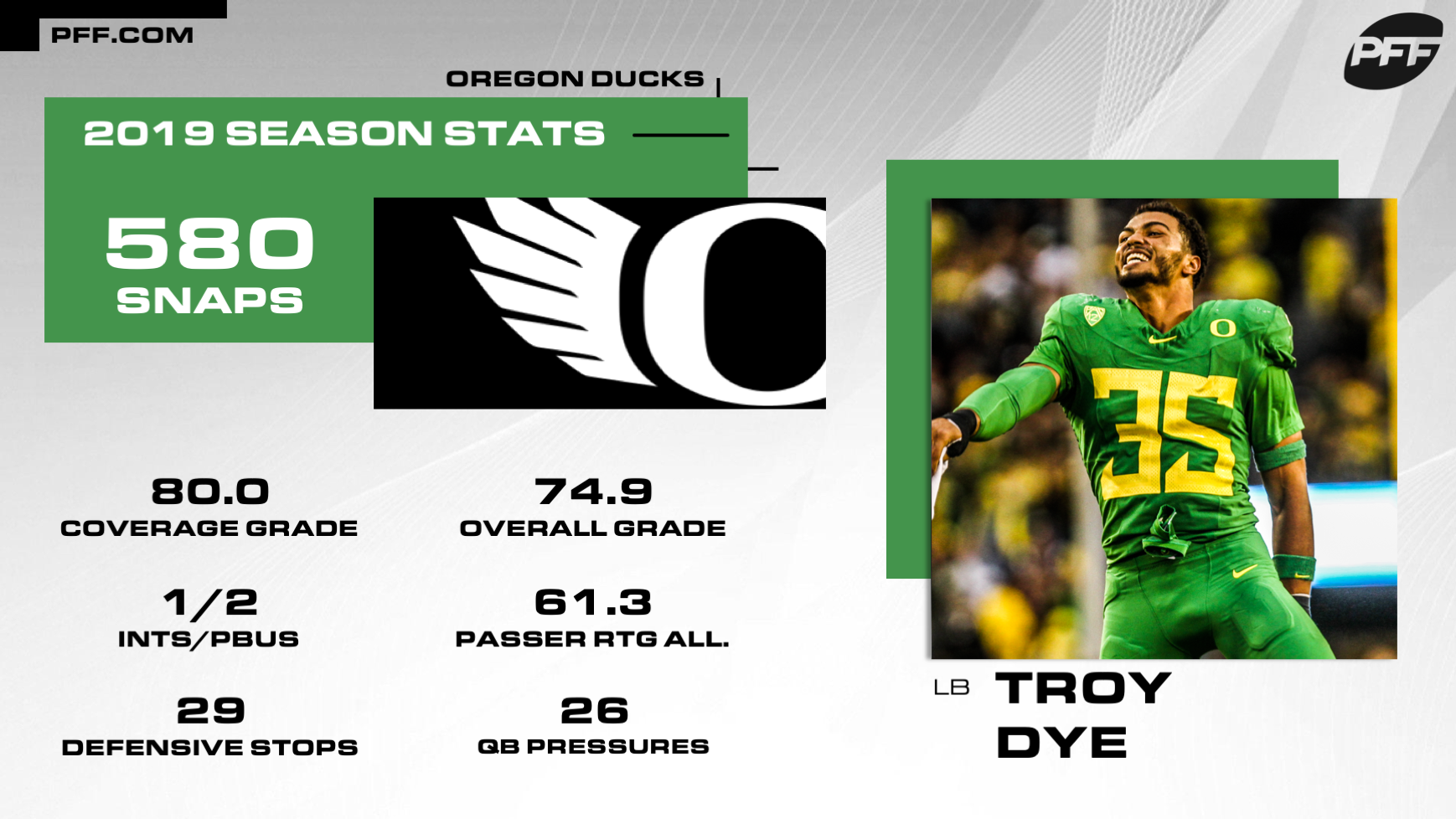 4. Zack Baun, Wisconsin
Baun is technically an edge defender at the moment, but at only 230 pounds, his chances of staying there in the NFL seem slim. He's dropped into coverage on 80-plus snaps in each of the past two seasons and shown very well there with an 81.3 coverage grade in 2018 and a 90.0 coverage grade this season.
5. Francis Bernard, Utah
Bernard has been balling in coverage ever since he earned an 87.8 coverage grade at BYU as a freshman back in 2016. This year, he's allowed a passer rating of only 54.4 in his coverage and is confirmed to be in Mobile for the Senior Bowl.
Cornerback
1. Jeffrey Okudah, Ohio State
Okudah hasn't allowed 50-plus yards in a game all season and has yielded only 450 yards on 37/87 targets since the start of 2018. He's also yet to commit a penalty so far this year. He's got all the physical traits you could want from a top-flight corner.
2. Kristian Fulton, LSU
Fulton has been dominant for LSU during SEC play so far this year. He's earned an 89.6 coverage grade against SEC opponents and only allowed receptions on 13-of-27 targets for 153 yards in seven games.
3. C.J. Henderson, Florida
After allowing only 249 yards all season as a sophomore, Henderson has given up far more big plays than ever before this year. Injuries have played a role in that, but he's allowed four catches of 40-plus yards on the year. There's a bit of flukiness to those, though, and his ability to consistently stick with receivers in man coverage is still there. 
4. Trevon Diggs, Alabama
Diggs' size (6-2, 207 pounds) and length are freaky for the cornerback position. He got roasted at times during the LSU game but hasn't allowed a catch on four targets in two games since. His 89.9 coverage grade on the season is the second-highest of any Power-5 cornerback.
5. Bryce Hall, Virginia
Hall's season ended after only six games due to an ankle injury. He led the country with 23 forced incompletions last season, yet had only one this season. Still, it's not as if he was getting torched. On 22 targets, he allowed only six first downs.
Safety
1. Grant Delpit, LSU
Delpit's been playing hurt as of late and had the two lowest-graded games of his career because of it. It's very concerning that Delpit has 19 missed tackles on 67 attempts so far this season. However, we'll trust the coverage ability that he's shown in the two-and-a-half years prior will translate to the next level.
2. Ashtyn Davis, California
Davis' range is right up there with any safety in the country. He's played primarily deep for the Golden Bears, with 386 of his 623 snaps this season coming 8 or more yards off the line of scrimmage. After an 89.3 coverage grade last season, he's earned a 74.1 this year. 
3. Antoine Winfield Jr., Minnesota
Winfield has shown some incredible ball skills this season en route to an FBS-leading seven interceptions. He's only allowed 10 catches from 20 targets for 130 yards in his coverage all season.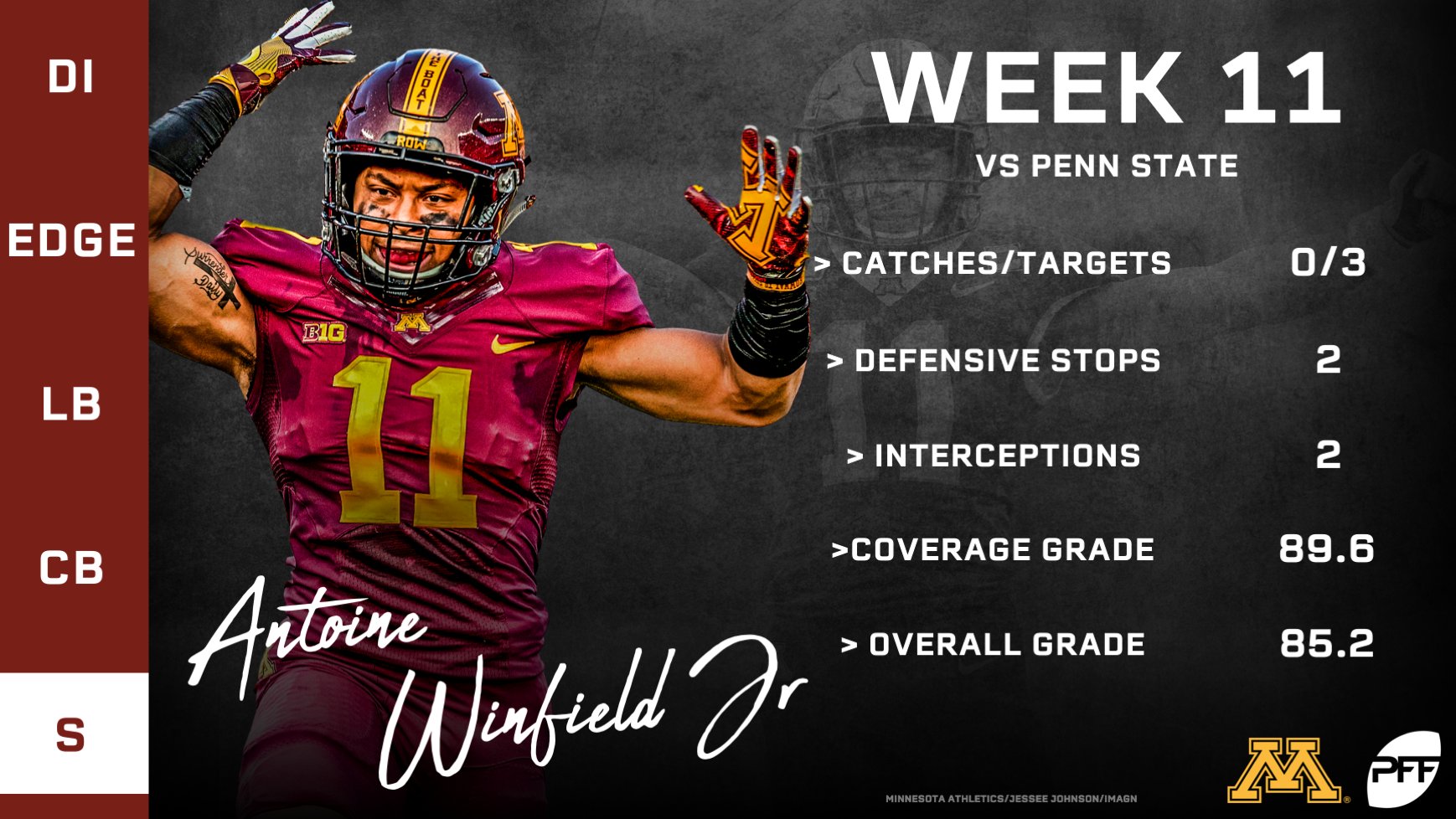 4. Hamsah Nasirildeen, Florida State
At 6-4, 215 pounds, Nasirildeen toes the line between linebacker and safety. He could legitimately play either at the next level with his physicality and athleticism. He's allowed only a 47.7 passer rating in his coverage so far this season.
5. Levonta Taylor, Florida State
Taylor is a converted corner who excelled on the outside but was a longshot to hold up there in the NFL at 5-10, 190 pounds. He's been an exceptional tackler throughout his career, with only seven misses on 89 attempts.