We're into draft week! After months of speculation, it's almost time to know where everyone is going before football moves into its summer of slumber.
One of the heaviest hitters in all of football media, Peter King (who will be on the PFF Forecast tomorrow), wrote in his very good Football Morning in America column today that there is a rumor that Henry Ruggs III is on the Super Bowl Champion Kansas City Chiefs' radar for a trade up. The obvious draw from those rumors is: "Good Lord, imagine the speed on that offense." The drawback, however, is that the Chiefs only have five draft picks — and none in the top 31 — to work from.
[Editor's note: Check out PFF's 2020 Mock Draft Hub, NFL Draft Big Board and NFL Mock Draft Simulator. PFF Elite subscribers can also download the 1,100-page 2020 NFL Draft Guide.]
This brings me to a player I've written about a couple of times this offseason, defensive interior Chris Jones. The Chiefs owe Jones a little bit over $16 million via the franchise tag, while Jones is rumored to want a contract in a similar range as the recently acquired DeForest Buckner of the Indianapolis Colts.
This is for good reason. Only three defensive linemen have generated more wins above replacement than the former Mississippi State star since he entered the league in 2016. Taken with the 37th overall pick in 2016, Jones has had the value of more like the 17th pick during his time with Kansas City — a great value indeed.
But the Chiefs don't have the cap space (currently $329k, per our friends at OverTheCap) to sign Jones to a Buckner-like deal, give MVP Patrick Mahomes a Buckner-like contract and build a roster where the defense is antifragile enough to erect and maintain a dynasty that many think they are capable of in the Reid-Mahomes era.
They also don't have enough draft capital (27th, per our draft guide) to make a realistic play at moving up to where Ruggs is projected to go (his prop is currently 13.5 on BetOnline) without trading future picks, which is something an established general manager and head coach are less likely to do.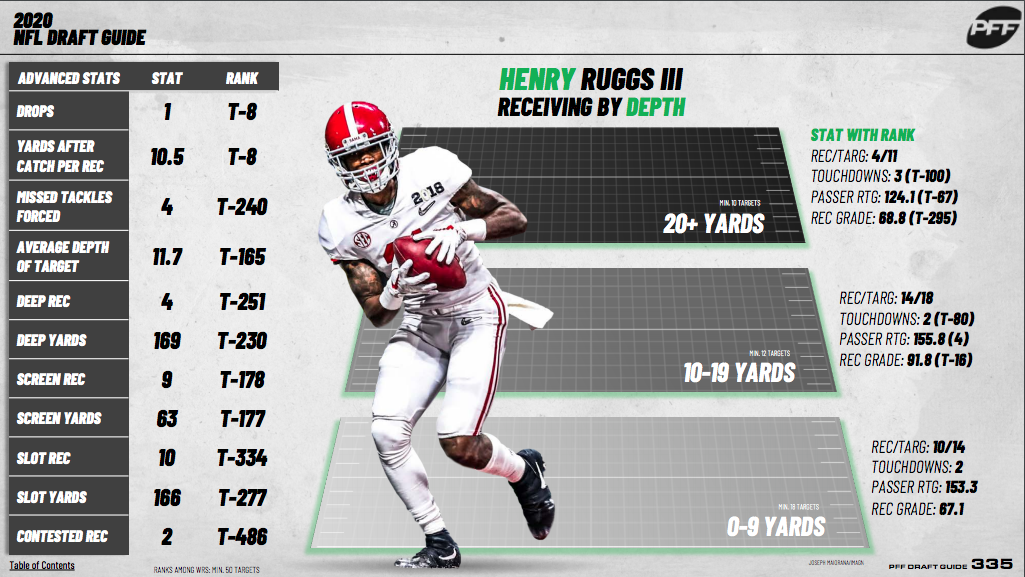 Thus, conditioned on moving up for Ruggs, Chris Jones appears to be the fulcrum. While he's very, very likely to be a better player than Javon Kinlaw and Derrick Brown over the next four years, it makes some sense for certain cash-strapped teams who want an interior player to opt for the player on a rookie deal. But once those two players are off the board, Jones could be a good option.
The Cleveland Browns are reportedly looking to trade back from pick 10, and given the sheer number of quality tackles on the board this year, they could pair Jones with Sheldon Richardson for a pretty stout interior rush. The San Francisco 49ers just opted not to pay Buckner, so they are less likely to make a run for Jones at pick 13, but Tampa Bay at 14 is clearly in "win-now" mode and, strangely, does not have a ton of pressing needs on its roster (though it would need to make room under the cap). Dallas and Miami also make sense if Ruggs falls further than expected, as well.
Henry Ruggs is a polarizing figure in this draft, but Reid's Chiefs have done a pretty good job of extracting high-end outcomes from non-perfect players on the offensive side of the ball (Mecole Hardman in 2019, for example, led the NFL in yards per target).
While Jones has been a great player for the Chiefs, trading him makes too much sense, given where they want to be in the future. The Buckner trade put a wrench in those plans, but recent rumors about Ruggs clarify them a bit. It will be interesting to see if they materialize.