Everybody loves a good player comp, and we're no different here at PFF.
A player comparison is a valuable tool used to envision a player's path to success, optimal role or ideal scheme fit at the next level. However, it's important to remember that they're just that. These aren't death knells to anybody's pro prospects; rather, these are just my opinions on who each prospect reminds me of in terms of on-field skill set.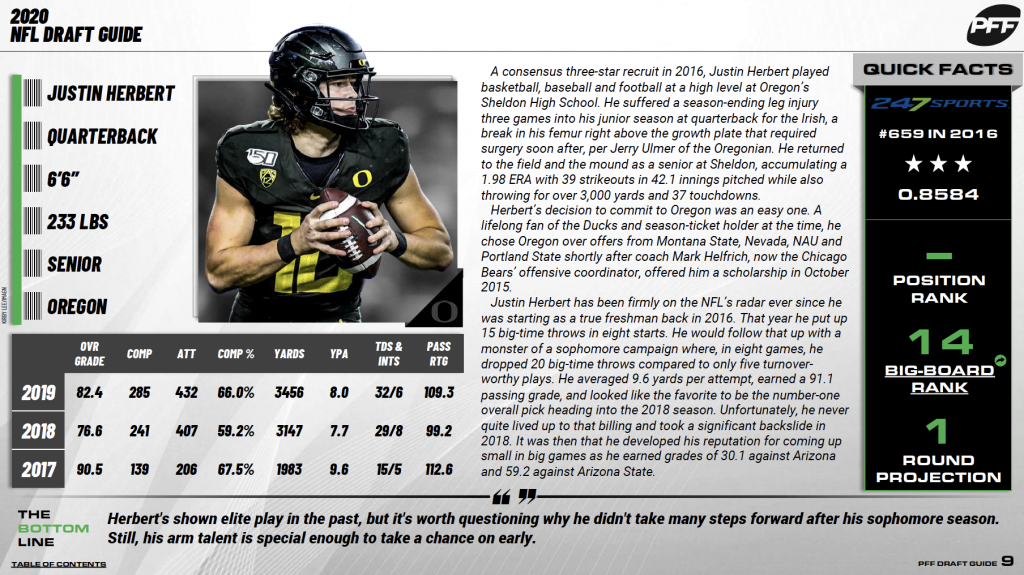 Anytime you're talking about a rare prospect like Burrow, there's rarely going to be a great one-to-one comp. It's difficult to see Burrow's elite accuracy and escapability in the pocket and not think of Tony Romo, though. The Cowboys quarterback peaked with a 77.3 adjusted completion percentage in 2010, good enough for third best in the league that year. Burrow finished second in the country in that regard last year at 81.9%.
While their body types and athleticism couldn't be more different, the way they play the QB position is extremely similar. The ability to manipulate tight pockets and throw with anticipation are both Tua and Matt Ryan's biggest strengths. Neither will ever win any arm strength contests but have enough touch and accuracy to be effective deep-ball throwers. Tua had a 50.0-plus adjusted completion percentage on deep passes in every season of his career at Alabama.
There's not a better comp on this entire list. Both players have plus mobility (Herbert ran a 4.68 at the combine), but you'd never know it from the way they react to pressure in the pocket. Both have the arm to make all the throws, but somehow it never translates consistently downfield (Herbert finished 34th in the FBS in big-time throws last year with 21). The light switch may very well flip on for Herbert at some point as it did for Ryan Tannehill. Until then, he'll likely continue to leave us wanting more.
Obviously, this isn't the most flattering of comps, but Chase Daniel has been hanging around the league for over a decade now. The reason Daniel has lasted for as long as he has is his ability to operate within an offense. Both he and Fromm can get the ball where it needs to go on time. Now, will it get there accurately? Maybe. Will they do much more than that? Usually not. But that kind of reliable skill set can win games in the league.
The two are on opposite sides of the spectrum when it comes to pocket presence, but simply in terms of what they bring to the table as throwers, they're very similar. Both have the ideal size with easy, quick releases, and some of the throws they make are jaw-dropping and make you fall in love. Both players even had similar college career arcs, as DeShone Kizer took a massive step backward after a big 2015.
Both Gordon and Kirk Cousins alternate between some gunslinging tendencies and game-manager decisions from week to week. The way Gordon will consistently take what's underneath some games and then push wildly into coverages the next (Utah) is reminiscent of what we've seen from Cousins throughout his career. Add in the fact that both play from the pocket with middling arm strength, and it's not too farfetched.
Bryce Petty and Eason both "look the part" from a size/arm perspective. Both had serious concerns projecting to the NFL outside of that, the most notable of which was their performance under pressure. Petty's grade went from a 91.3 in a clean pocket his final season at Baylor to 46.9 when under pressure. Eason's struggles have been even more exaggerated at 92.1 when clean to 37.5 under pressure. Those are massive gaps for quarterbacks who have performed that well in a clean pocket.
From the rushing ability to their penchant for holding onto the football, Hurts will need a similar offense to what Tyrod Taylor had in Buffalo to see success in the NFL. Trying to consistently operate a dropback passing game within structure is where both have struggled. That may sound harsh, but Taylor led two top-12 offenses in his time in Buffalo.