When we talk about sleepers, it's important to offer at least a loose definition of what "sleeper" really means. Some view sleepers simply as small school players, while others describe players who aren't necessarily discussed among the top-rated prospects. For me, I lean towards the latter. Prior to the combine, I would have considered guys like Fresno State guard Netane Muti, Memphis RB Antonio Gibson and Mississippi State LB Willie Gay Jr. as sleepers, but all made names for themselves in Indy. The guys listed below all are likely to go on Day 3, but I believe they offer far more to work with than your average player drafted in that range.
1. G Jonah Jackson, Ohio State
He may not have the ideal body type or the quickest feet or the most powerful frame, but Jonah Jackson is a broken record in pass protection. He ends more pass pro reps at the line of scrimmage than any other guard in the draft class. His short sets are impeccable, and he's so quick to get his hands on guys and lock them up. Jackson won 58% of his reps in the one-on-ones in Mobile despite splitting his time between all three interior positions.
2. S Geno Stone, Iowa
Stone is never going to be confused for Isaiah Simmons at safety physically, but his instincts are on par with any other defensive player in this draft class. He broke on more passes in 2019 without having to see the QB physically throw the pass than any safety I've ever seen in a single season. It's a big reason why he's earned coverage grades of 84.5 and 89.8 the past two seasons. (PFF's Eric Eager just published this analysis of Stone's statistical projections and agrees that he is a solid prospect.)
.@HawkeyeFootball S Geno Stone has some of the best instincts in this class. He's got such a big vision head start on so many plays and really trusts what he sees.

Stone creates big plays with his instincts.pic.twitter.com/mMd4ZvZblv

— Austin Gayle (@PFF_AustinGayle) March 3, 2020
3. Edge Trevis Gipson, Tulsa
Gipson qualifies as a project because of how raw his set of pass-rushing moves is, but at the same time we like projects who are already grading out well. He earned an 89.7 pass-rushing grade at Tulsa last year despite lining up over tackles as a 3-4 defensive end on most snaps last year. With ideal length at 33 ⅞-inches and good bend, Gibson has the traits to get the job done in the NFL.
One of the latest @seniorbowl invites – Tulsa Edge Trevis Gipson – has some pretty elite bend pic.twitter.com/Yde4pfFu54

— Mike Renner (@PFF_Mike) January 10, 2020
4. T Jack Driscoll, Auburn
Way back in 2017, Driscoll put himself on the map by only allowing 14 pressures on 530 pass blocking snaps at UMass. That offseason he transferred to Auburn and, despite the uptick in competition, has only graded out better in pass pro since. He has allowed 22 total pressures on 829 pass-blocking snaps in his Auburn career. Then he went to the Combine and tested out as one of the best athletes outside the top group of tackles. Productive and athletic is a good combo.
5. WR K.J. Hill, Ohio State
Pound-for-pound the best route-runner in the entire draft class, Hill creates separation on the underneath route tree like no other. That still plays in the NFL. He doesn't have good speed (4.6 40 at the Combine), doesn't have a big catch radius and is likely stuck in the slot, but I have no doubt he'll be a productive NFL receiver. He won all but one of his routes in the one-on-ones during the Senior Bowl practices, and his ability to get off the line of scrimmage is already incredibly advanced. Throw out the yardage totals in the Ohio State offense — Hill gets open.
6. WR Darnell Mooney, Tulane
Think K.J. Hamler, but for far less draft capital. Mooney blazed a 4.38 40 time at the Combine, but you don't need a stopwatch to know he's explosive. He showed that on tape weekly for the Green Wave. At 5-foot-10, 176 pounds, he doesn't look like much, but Mooney broke 18 tackles on 96 catches over the past two seasons and averaged 17.6 yards per catch over that span. The issue is his hands. He's dropped 23 balls on 177 catchable targets in his career. I still believe he attacks the ball alright — he actually went 11-for-19 in contested situations this past season.
7. DT McTelvin Agim, Arkansas
Productive and athletic, Agim has flown surprisingly under the radar in this defensive tackle class. He earned the ninth-highest pass-rushing grade of any Power-5 defensive tackle this past season (81.5), was the highest-graded defensive tackle in the one-on-ones at the Shrine Game practices and was the third-highest graded defensive tackle at the Senior Bowl one-on-ones the very next week. Oh, and then he went to the Combine where he put up a sub-5.0 40 at 309 pounds. That's a solid all-around profile.
8. QB Josh Love, San Jose State
The league is likely not going to look favorably upon the 6-foot, 200-pound Love as a prospect, but I'm a believer. Go watch him light up Arkansas for over 400 yards this past season and you may come away one as well. He has improved drastically over the course of his career at San Jose State and down the stretch this season was playing some of the best football of any quarterback in the country. What I love about him is his fearlessness in the pocket. He converted pressure to sacks at the lowest rate in the country last season (9.0%) while also earning a 68.6 passing grade while under pressure (ninth best in the country). Here he stares down the barrel the very first play of the game against the Razorbacks and delivers an in-stride dime: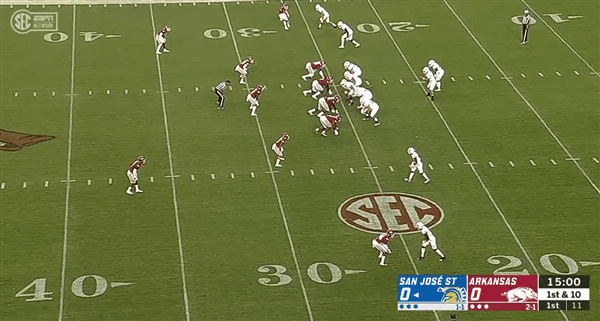 9. CB John Reid, Penn State
Reid has some of the best feet at the line of scrimmage in the entire draft class. The only problem is, Penn State rarely let him show it off. He spend the majority of his snaps moving out into a cover-3 or quarters look for the Nittany Lions. On 97 snaps in man coverage last year, though, Reid allowed receptions on only 6-of-18 targets for 58 yards while picking off a pass and forcing incompletions on five others. He may be a tad undersized (5-foot-10, 187 pounds), but he's a terrific all-around athlete who had the fastest short-shuttle (3.97) of any player at the Combine.
10. RB J.J. Taylor, Arizona
Yet another player who isn't going to do it all in your respective offense, but what Taylor does, he does darn well. The 5-foot-5, 185-pounder will be a nightmare for linebackers. Whether it's on swing screens, angle routes or wide runs, trying to get a hand on Taylor in speed is a scary proposition. His lateral agility is silly and he bounces in and out of his cuts with ease. And even if you do catch him cleanly, that doesn't necessarily mean you're taking him down…
— — (@VideosNfl) March 19, 2020