After a tough two-game road trip, USC returns home on Friday to face Mike Leach's Washington State Cougars and their high-flying passing attack. These two programs have gifted college football fans with another marquee contest on a Friday night and the Trojans are out for revenge under the magnified stage. If Martin Stadium's transformation into "Woodstock" ignited a WSU victory, the Trojans will hope their fans can turn the Coliseum into Coachella.
Let's dive into a few in-game matchups.
This feature on USC is brought to you by Eckrich, the Official Smoked Sausage and Deli Meat of the USC Trojans.
USC Pass Defense Must Play Well
USC will need their coverage unit on their 'A' game against a Washington State aerial attack that had an FBS-leading 795 quarterback dropbacks last season. The spotlight will be on senior cornerback Iman Marshall (79.5 overall grade, fourth Pac-12 cornerbacks) who has impressed once again this season. Marshall has been very sticky in coverage, allowing just 0.52 yards per cover snap (eighth) and a 57.3 passer rating (13th). Receivers in Marshall's coverage have caught just three balls for a measly 37.5 percent catch rate and 29.3 cover snaps per reception, third best among Pac-12 cornerbacks.
Quarterbacks are beginning to recognize Marshall's coverage prowess, shying away from receivers his direction. Marshall's cover snaps per target are trending upwards: 5.5 in Week 1, 14.0 in Week 2 and 19.0 in Week 3. He is blanketing receivers to the tune of 11.0 cover snaps per target for the season, the third-best in the conference.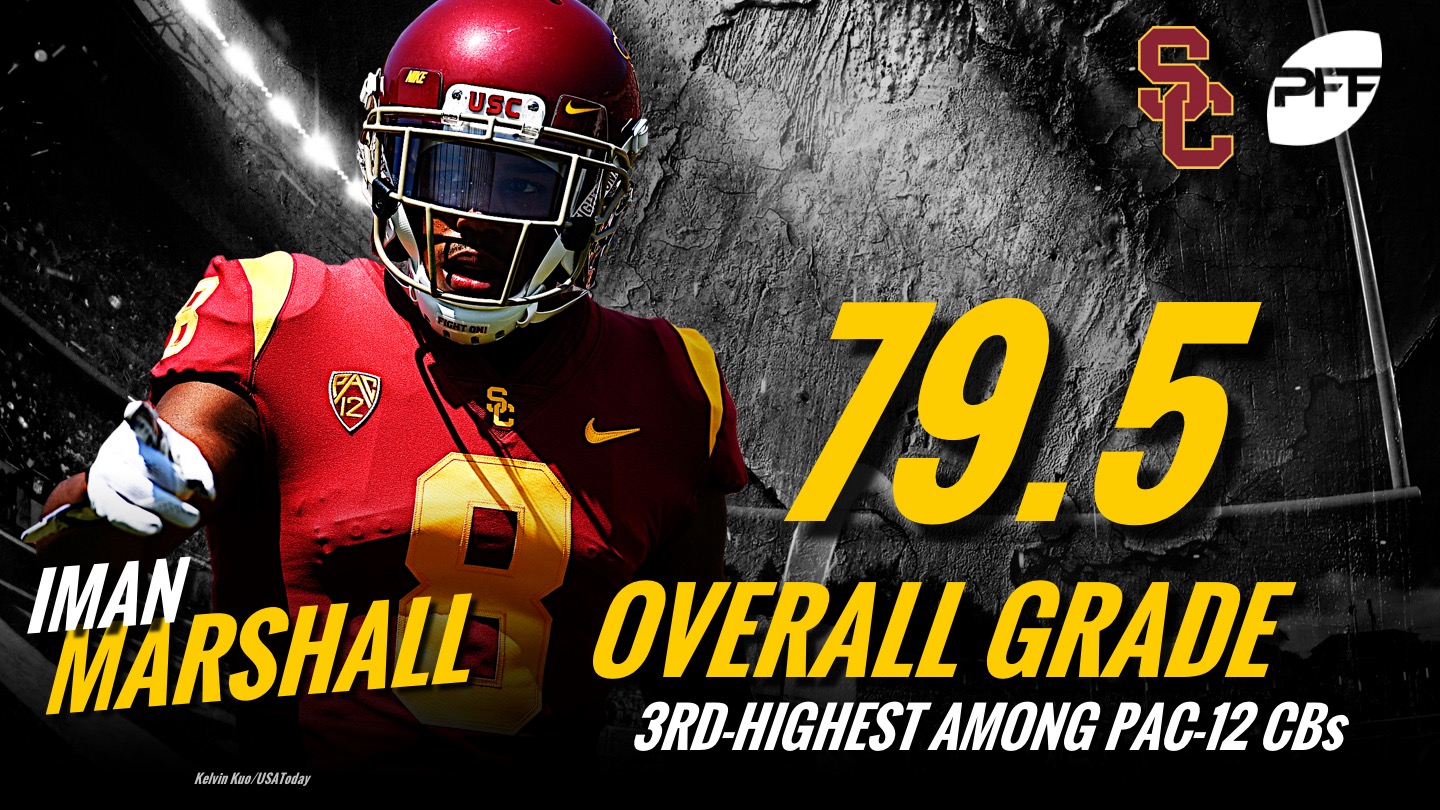 Marshall lines up at right cornerback on 89 percent of snaps, where he will likely battle the Pac-12's most heavily used receiver in Davontavean Martin (99 percent of snaps wide left WR). While Martin's 161 routes run and 35 targets both lead the Pac-12, he has only put forth an overall grade of 64.6 (20th) and just 1.75 yards per route run (21st).
The slot will feature another key battleground between USC corner Ajene Harris and WSU receiver Jamire Calvin. Harris has been a rock at the slot corner position for over a year but had a rough game last week against Texas. Harris will have to shrug off the poor performance and regain last year's form, where he allowed a 68.2 passer rating on throws into his slot coverage. Calvin is a reliable chain-mover in the slot, catching 14-of-18 passes for 2.48 yards per route run (10th) with zero drops and a 109.7 passer rating.
Finally, USC must find a way to cover WSU HB James Williams out of the backfield. Williams has forced nine missed tackles on receptions this season, the most by any running back in the entire nation. USC LB Cameron Smith has been solid in coverage (71.7 coverage grade) and has yet to miss a tackle this season and will have to pick up the slack left by the first-half suspension of Porter Gustin.
Final word
Though the last two games have been a struggle for USC, Friday night represents a prime opportunity to bounce back in the friendly confines of Memorial Coliseum. Can the USC defense limit the vaunted Washington State air raid passing attack?
At home with their backs against the wall, look for them to step up to the challenge.