A lot of talk last offseason, well, in any college football offseason, was focused on recruiting and early favorites for starting jobs as true freshmen across the country entered their first seasons at their respective universities. Specifically, this past offseason's talk was all about the true freshman quarterbacks who dominated the tops of all the major recruiting lists and how many snaps, if at all, would fans get to see their blue-chip recruits in action in 2018.
Flash forward now through the end of the regular season and officially into bowl season, and we can look back at those true freshman and their performances to see just how they performed, all starting with Clemson's Trevor Lawrence and his record-breaking season.
Time is running out to register for the Eckrich $1 Million Dollar Challenge! Register now for your chance to win. Eckrich – Official Sponsor of the College Football Playoff.  
1. Trevor Lawrence, Clemson, 87.4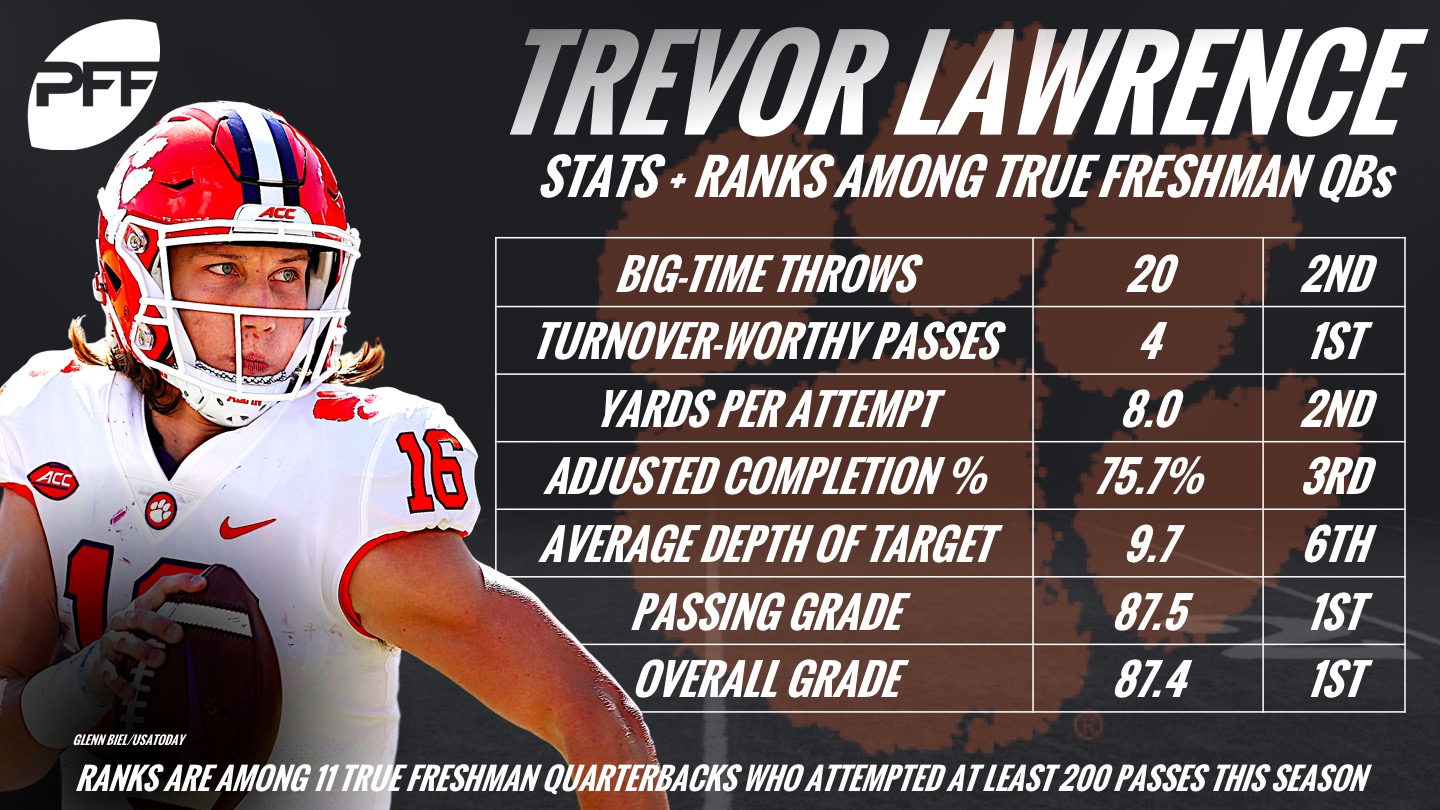 Lawrence recently got the full treatment here from us, being selected as the ACC Player of the Year and while it need not be said much more, what he did in 2018 was impressive. He went from QB controversy to bonafide superstar in a matter of 13 games, leading the Tigers to a 13-0 record and a matchup against Notre Dame in the College Football Playoff. Riding the successful Clemson rushing attack, and with the benefit of a play-action fake, Lawrence completed 61-of-92 play-action pass attempts for 1,044 yards and 14 touchdowns en route to a 135.1 passer rating that was the ninth-highest nationally among all quarterbacks. Lawrence, however, was no slouch on his own, completing 63.7% of his non-play-action attempts for 1,556 yards and a 10-to-2 touchdown-to-interception ratio. Basically, no matter which way you split the numbers, Lawrence was at or around the top of all major PFF advanced statistics and has the highest-graded season from a true freshman quarterback in PFF College's history, a sign of even better things to come for the face of the program.
2. Brock Purdy, Iowa State, 86.9
.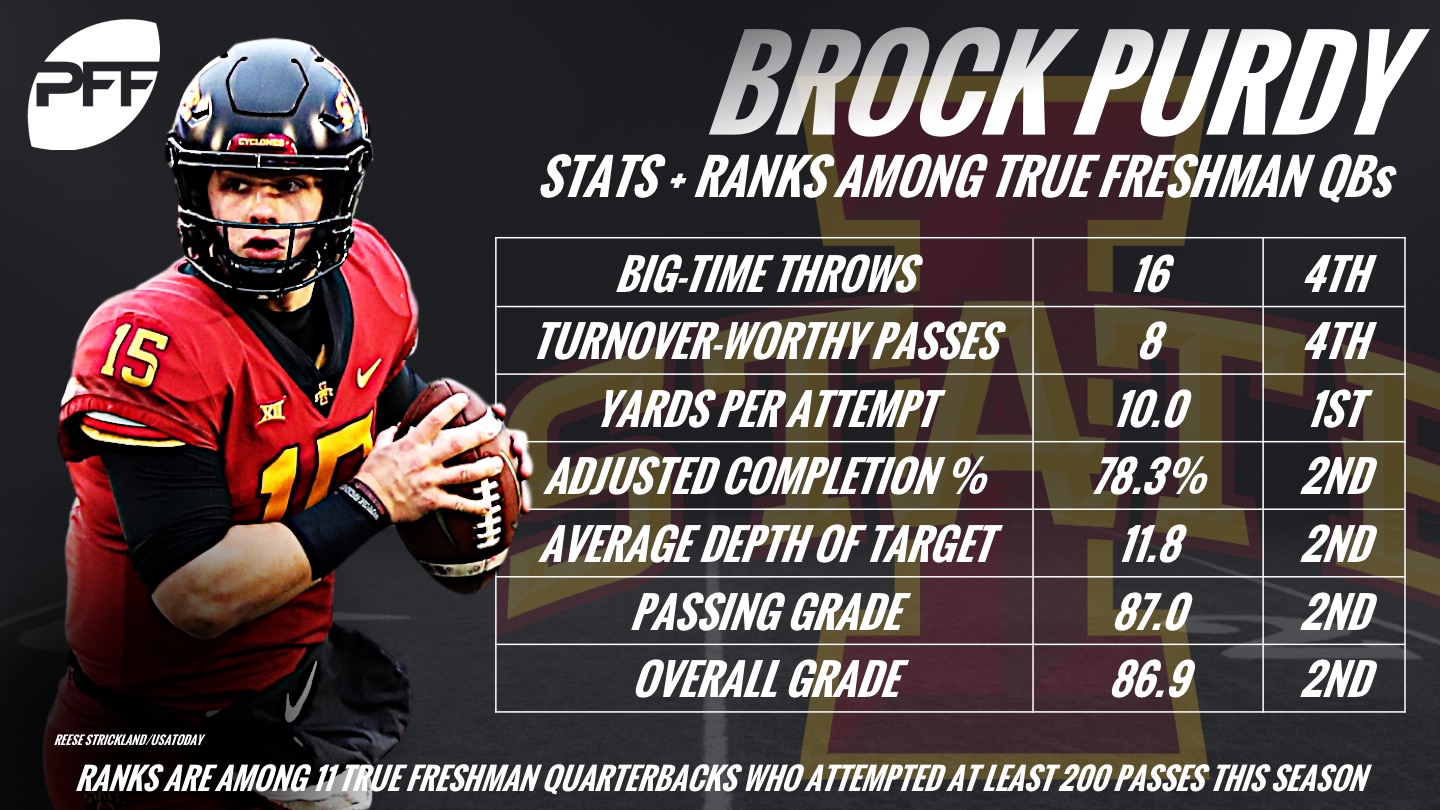 Simply put: Purdy was something special this season and Ames has their future after David Montgomery. The best part about that news is, Purdy and Montgomery share the same backfield for at least one more game this season and if Montgomery were to come back for his senior season, they'd share it for an entire year in 2019. Purdy was dominant at the helm of the Cyclones, once given control, demonstrating an uncanny ability to keep plays alive, throw accurate deep passes and handle pressure just about as well as anyone. In fact, on pressured dropbacks, Purdy led all true freshman signal-callers with a 109.6 passer rating, completing 30-of-58 passes for 516 yards, six touchdowns against just one interception and a 75.5% adjusted completion percentage. That number ranks third among all FBS quarterbacks, and higher than that of Heisman Trophy winner, Kyler Murray (109.1).
3. Alan Bowman, Texas Tech, 80.7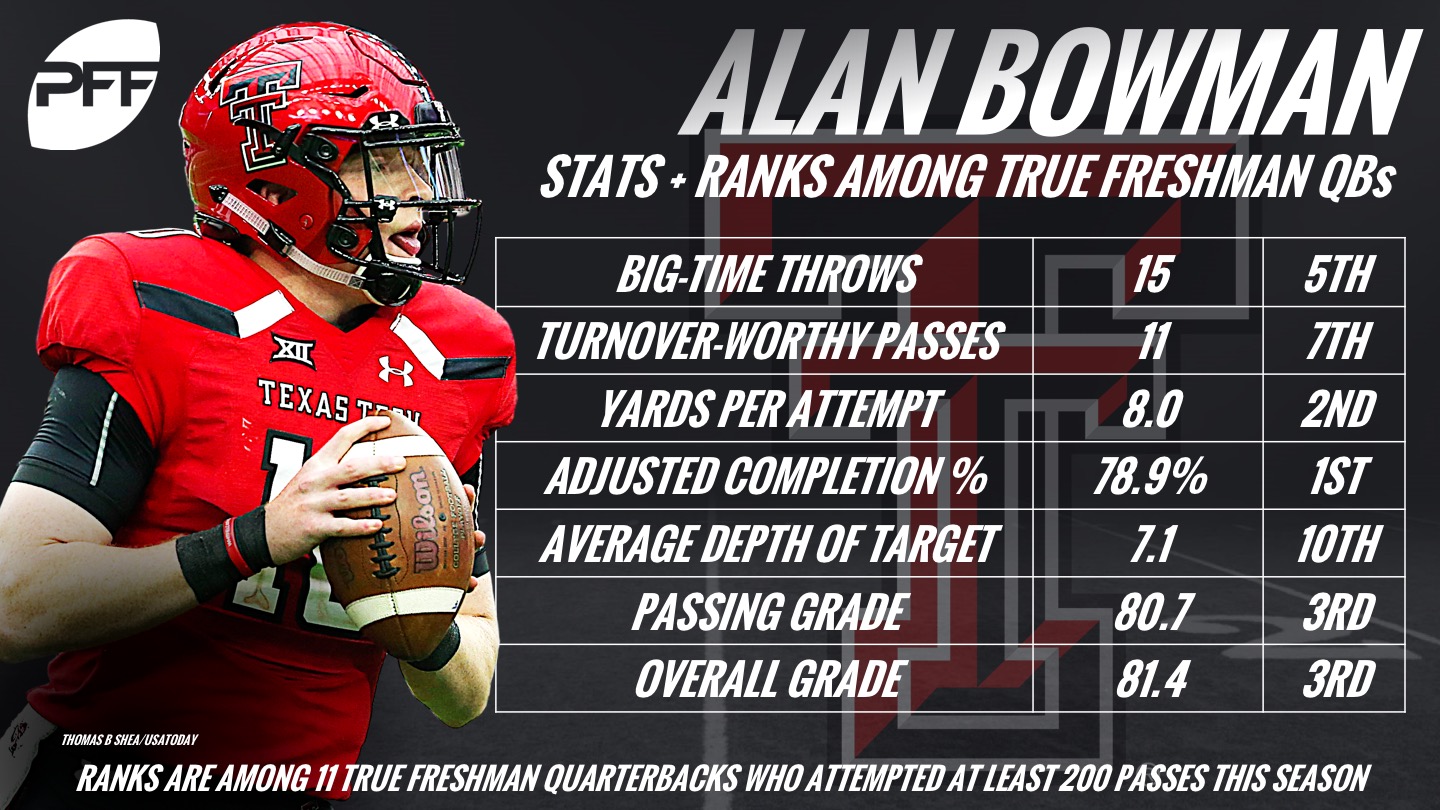 Plenty can be said about the Texas Tech offense this season but with Bowman at quarterback, the Red Raiders have something special. Not even the starter when the season began, Bowman entered the lineup and with his performance, despite injuries that limited him to eight games, has as solid a case as any quarterback on the roster to be the incumbent starter in 2019. He finished the season with the highest adjusted completion percentage among true freshman quarterbacks, unleashing an accurate pass on 78.9% of the time. He had 13 passes dropped, 24 throwaways, two batted balls at the line of scrimmage and another incompletion as he was hit in the pocket, accounting for 40 of his 104 incompletions this year.
4. Sam Hartman, Wake Forest, 77.6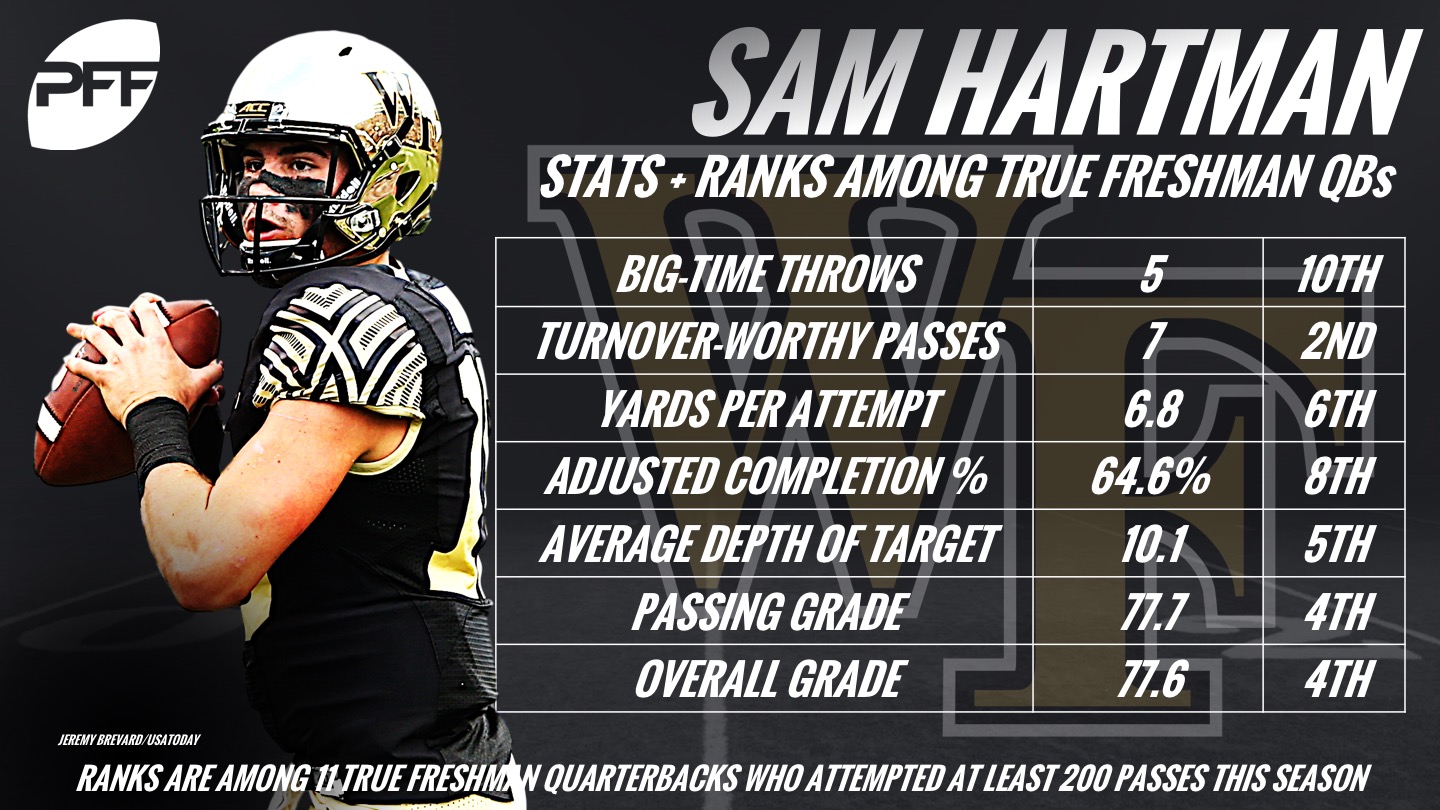 Hartman took the ACC by storm through the first five weeks but battled through injuries and finished the year with a few lackluster performances against the meat of their ACC schedule. Still, though, Hartman finished the season as the fourth-highest graded true freshman quarterback among qualifiers this year as he put forth four games of over 79.5 game grades and had two game grades to qualify in our elite stratosphere. Despite playing in a limited number of games, Hartman still led all freshman signal-callers with seven touchdowns when under pressure as he didn't let pressure affect him much this year. Hartman should be good to go come spring ball for the Demon Deacons, and if he can keep up the level of play he started his career with, Wake Forest is set at quarterback.
5. Adrian Martinez, Nebraska, 74.6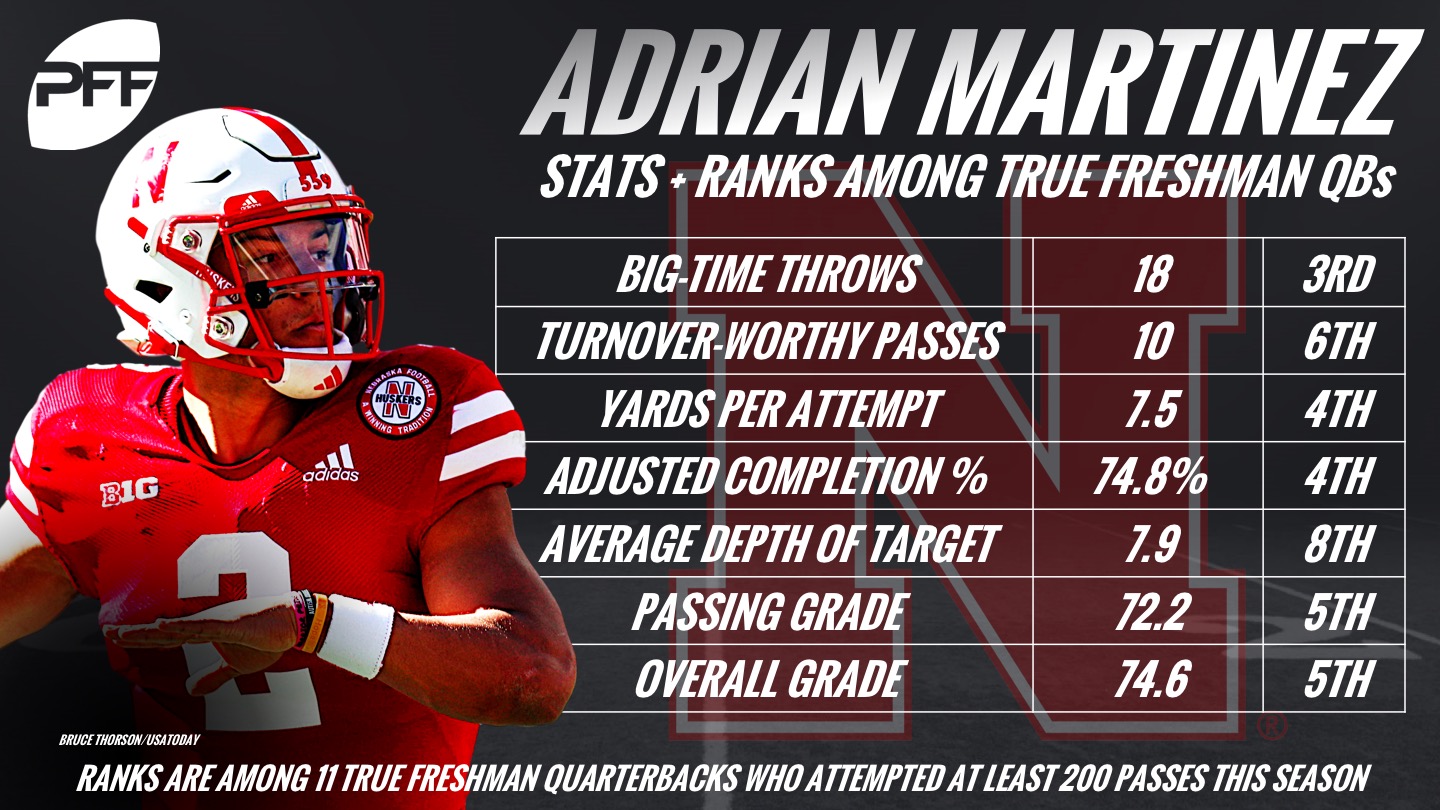 It seemed like once the Cornhuskers got that pesky first win out of the way, Martinez and Nebraska could let it fly and run the Scott Frost-led offense with much better success. Martinez uncorked 18 of our big-time throws, yet took admirable care of the ball despite several games in which conditions were against him when defenses had enough of a lead that they knew Nebraska and Martinez would have to push the ball downfield and attack through the air. He finishes the season with the fourth-highest adjusted completion percentage among true freshman quarterbacks and also accounted for 132 combined first down and touchdowns with his arm and his legs, the second-most behind only Bowman.
OTHER TRUE FRESHMAN QUARTERBACKS OF NOTE
Holton Ahlers, East Carolina, 69.7
Ahlers shined from a clean pocket, tossing six touchdowns compared to no interceptions.
Tyler Vitt, Texas State, 62.0
Vitt struggled under pressure in 2018, tossing four of his interceptions compared to just one touchdown.
JT Daniels, USC, 61.4
Daniels and Amon-Ra St. Brown continued their connection from high school to USC but Daniels finished tied for second-most interceptions among true freshman QBs.
Zack Annexstad, Minnesota, 59.7
Annexstad had a myriad of good throws this season but couldn't quite put it all together for a game grade above 71.2 this year.
Dorian Thompson-Robinson, UCLA, 59.2
DTR compiled just 66 combined first-down and touchdown passes, the second-fewest among true freshman quarterbacks with at least 125 attempts.
Artur Sitkowski, Rutgers, 27.3
Sitkowski led not only true freshman quarterbacks but tied the national lead with 18 interceptions this season.