The Pac-12 Conference has long been home to some of the best defensive backs in the nation. Between Troy Polamalu, Richard Sherman, Marcus Peters and beyond, the Pac-12 churns out playmaking cornerbacks and safeties at a rate that matches any conference in the country. As the 2018 season marches on, the next crop of standout defensive backs continues to announce themselves to the nation.
After releasing our rankings of the highest-graded slot cornerbacks in the Power-5, a list that was dominated by Pac-12 defenders, today we analyze the Pac-12's top 10 graded defensive backs through Week 8 and examine the advanced metrics on what makes these players special.
This list is brought to you by Eckrich, the Official Smoked Sausage of the College Football Playoff.
1. Byron Murphy, CB Washington – 87.9 overall grade
The title of top PAC-12 defensive back currently belongs to Murphy as the leader of Washington's third-ranked coverage unit in the country. Murphy is an iron man on the field, leading all conference cornerbacks with 531 defensive snaps. He rarely gets beaten for a big play, allowing a long reception of just 18 yards and a total 34 yards after the catch. Quarterbacks test Murphy often, targeting him 34 times, but have only managed to complete 16 passes for a measly 47.1% catch rate. Among the 26 Pac-12 cornerbacks with at least 27 targeted passes their way, only two are permitting a sub-50% catch rate.
2. Taylor Rapp, S Washington – 86.2 overall grade
Rapp, another member of the vaunted Washington secondary, is a versatile chess piece used all over the field. He lines up deep as a free safety (55% of snaps), in the box as a linebacker (26%), as a slot corner (15%) and even on the outside of the defensive line (4%). Rapp is a Swiss army knife that excels in all facets: he leads Pac-12 safeties with a 20.5 pass-rushing productivity, 0.09 yards per cover snap allowed and an 88.5 coverage grade. Rounding it out, he has also missed just one tackle attempt this season.
3. Paulson Adebo, CB Stanford – 82.4 overall grade
Adebo is not only the premier playmaking defensive back in the Pac-12 but also the country. He has made a play on the ball with a pass breakup or interception 15 times (14 PBUs, 1 INT), the most in the entire nation. Adebo leads the conference with 50 targets yet is only allowing a 50% catch rate. Passes thrown to Adebo have generated a 58.3 passer rating (sixth) and Adebo and has not given up a single touchdown this season.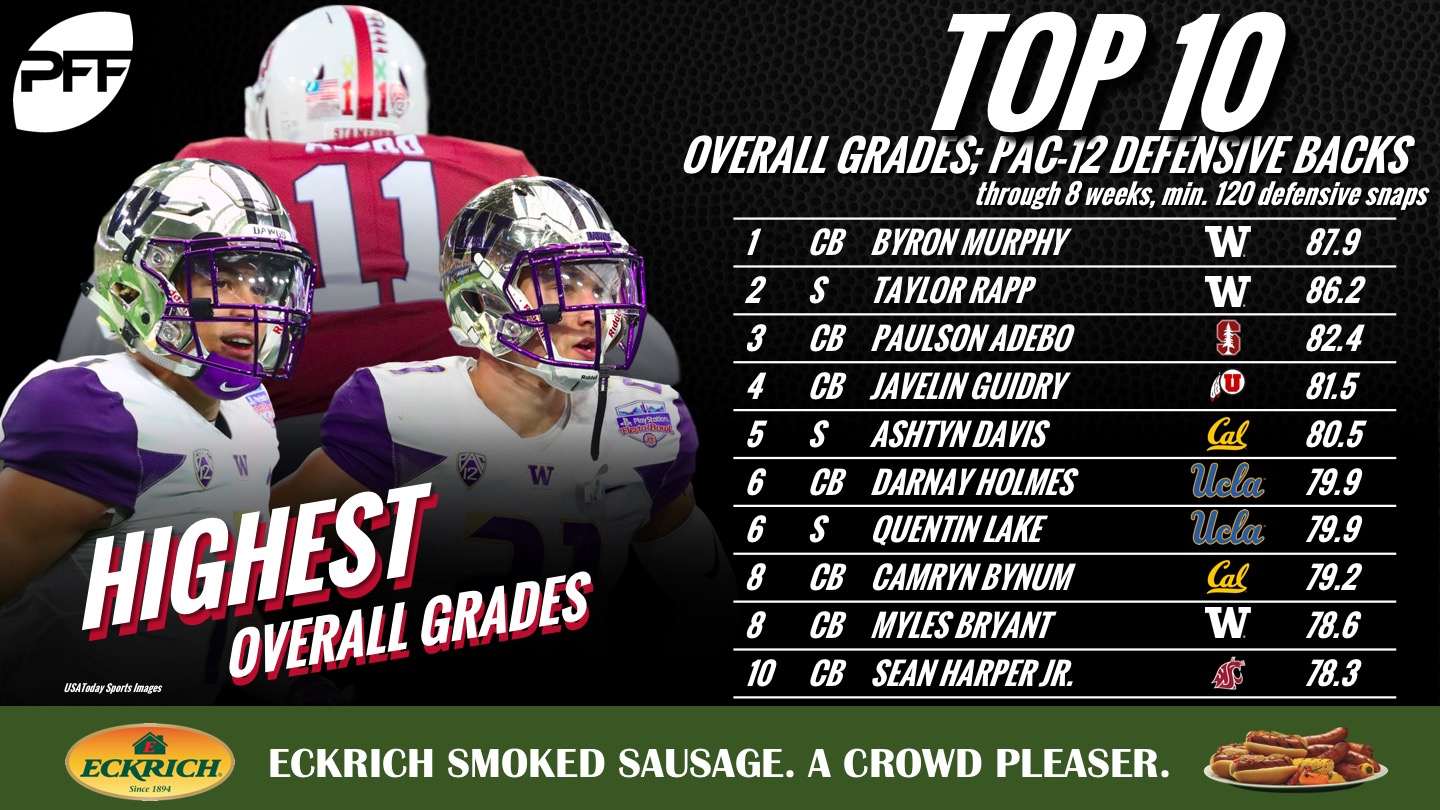 4. Javelin Guidry, CB Utah – 81.5 overall grade
Guidry is the nation's premier slot cornerback and is allowing 0.71 yards per slot coverage snap (third in Pac-12). He is always around the football with 13 defensive stops (tied for the most) and is allowing just 6.7 yards per reception (second). Guidry's 83.8 coverage grade is second among corners to only Murphy.
5. Ashtyn Davis, S California – 80.5 overall grade
Davis leads the Golden Bears' ninth-ranked coverage unit in the nation and acts as the deep safety blanket, lining up 10 or more yards beyond the line of scrimmage on 69% of snaps (second most). As such, he is rarely tested in coverage and has been targeted just 11 times, allowing eight catches for 91 yards, one touchdown and two interceptions.
6. Darnay Holmes, CB UCLA – 79.9 overall grade
The immensely talented Holmes has had a tumultuous season thus far, alternating stretches of elite and mediocre play. Through the season's first two weeks, Holmes was the Pac-12's top-graded corner (85.4) and allowed a perfect 0.0 passer rating. Weeks 3-6 were a bit of a struggle for Holmes as he graded as just the 32nd-ranked cornerback in the conference (57.9). He has returned to form over the last two weeks and has graded as the Pac-12's top cornerback over that stretch (81.7).
6. Quentin Lake, S UCLA – 79.9 overall grade
Lake is another defensive chess piece that can line up anywhere on the field. He is featured in the slot (40% of snaps), in the box (28%), a deep free safety (24%) and even on the defensive line (8%). Lake is coming off the best game of his career against Arizona (83.0 weekly grade, first in Pac-12) where he picked off his first pass and did not allow a catch on two targets.
8. Camryn Bynum, CB California – 79.2 overall grade
Bynum has been scorching hot in coverage over the last three weeks. In 78 cover snaps, Bynum has only been targeted four times, allowing two catches for no yards and a measly 16.7 passer rating (first). For the season, Bynum is only allowing 0.81 yards (10th) and 14.8 receptions (eighth) per snap in coverage.
9. Myles Bryant, CB Washington – 78.6 overall grade
While Bryant is rock solid in coverage, allowing 1.02 yards per coverage snap (13th), his pass-rushing ability makes him a true difference-maker. He has rushed the passer 16 times and racked up five total pressures (first among Pac-12 corners) for an astounding 31.3% pressure rate (first) and 76.1 pass-rushing grade (second).
10. Sean Harper Jr., CB Washington State – 78.3 overall grade
Harper Jr. has been sticky in coverage this season, allowing a 51.9% catch rate (ninth) with 14 receptions on 27 targets. He has four pass breakups and is allowing a reception every 10.7 cover snaps (18th) with a 91.0 passer rating (22nd). He dominated against Oregon State in Week 6 (80.0 grade, first), but missed last week's Oregon game with an injury.