We are now officially into Week 6 after Thursday night's action and while neither game pitted any Power-5 teams against one another, we figured now is the best time to unveil the highest-graded players from each Power-5 conference on both offense and on defense.
PFF grades every player on every play of every game – read more information on how the grades are compiled – at the NFL and FBS level. Our grades are compiled on a per-play basis and are converted to a 0-100 scale based on several factors.
This list of top grades by conference is brought to you by Eckrich, the Official Smoked Sausage of the College Football Playoff.
Before we get into the action of Week 6 with Friday Night Football – here are the top-five graded offensive players in every Power-5 conference through five weeks of football:
SEC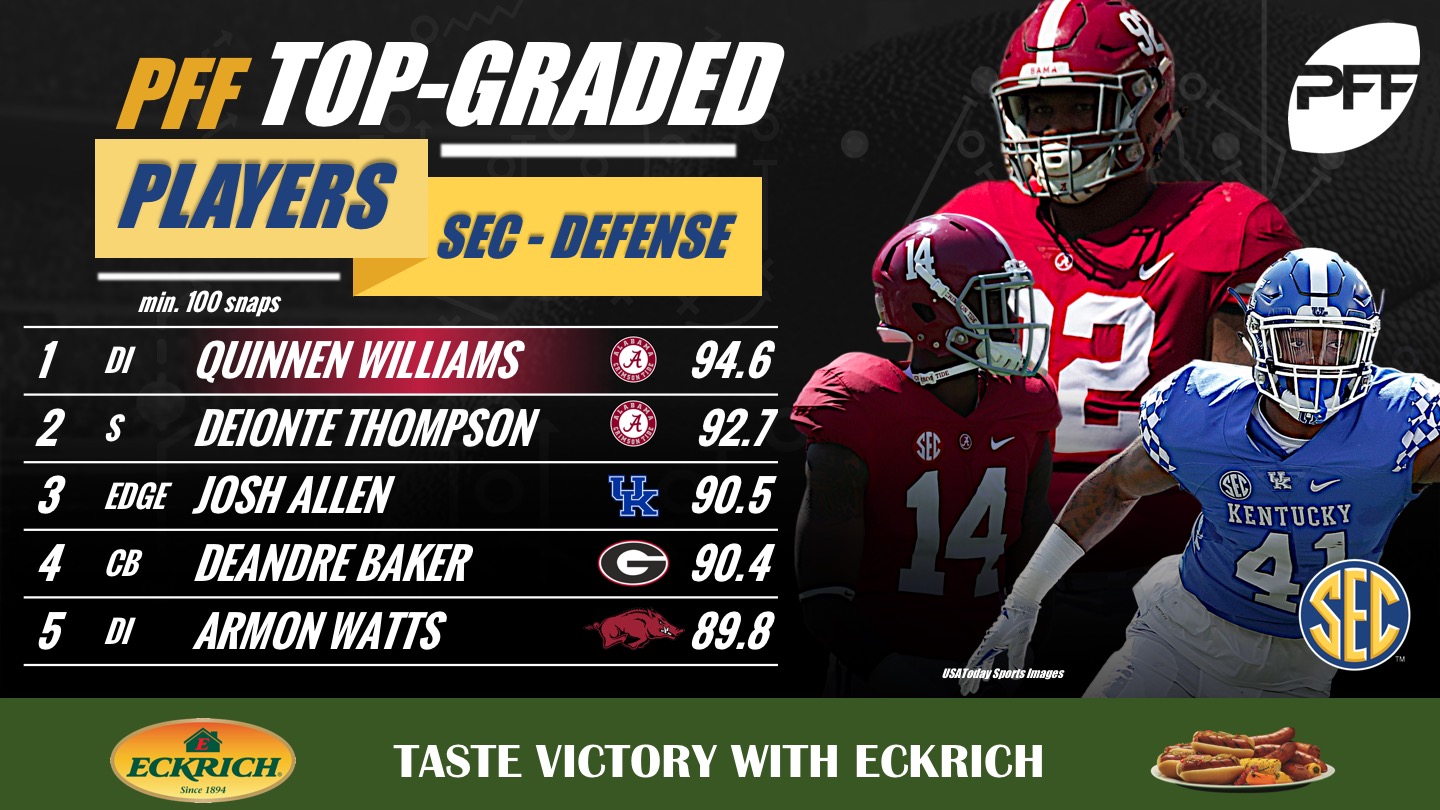 1. Quinnen Williams, DI, Alabama
2018 season grade: 94.6
Williams is the highest-graded player in the entire country as he's proven unstoppable in each facet on defense. His run-defense grade of 95.3 is 4.2 grade points clear of second in the SEC at any position while he's racked up 12 pressures already from the defensive interior.
2. Deionte Thompson, S, Alabama
2018 season grade: 92.7
As mentioned when he cracked our Heisman rankings, Thompson makes all the plays you'd expect and the splash plays you'd want. Not quite up to the level of Derwin James, yet, but Thompson's pass-rushing, tackling, run defense and coverage have been stellar so far this season. In coverage, Thompson has been targeted 14 times already, coming down with two interceptions and four more pass breakups, making more plays on the ball (5) than receptions allowed (4).
3. Josh Allen, Edge, Kentucky
2018 season grade: 90.5
A force off the edge, Allen has 16 hurries which would rank him tied for fifth place in total pressures in the conference. He adds to that with six sacks and seven QB hits to give him 29 total QB pressures this year – 11 more than the next closest SEC defender.
4. Deandre Baker, CB, Georgia
2018 season grade: 90.4
Baker has been tested in coverage 20 times this season, allowing 12 receptions for just 14 total yards after the catch. He's broken up five passes and intercepted two more all for a passer rating of 29.0 when targeted.
5. Armon Watts, DI, Arkansas
2018 season grade: 89.8
Not who you were expecting to round out this list? Watts has been a force to reckon with, registering 12 QB pressures including four sacks to tie for the lead among SEC interior defensive linemen. He's totaled 10 tackles including eight defensive stops and has done so without missing a single tackle.
Big 12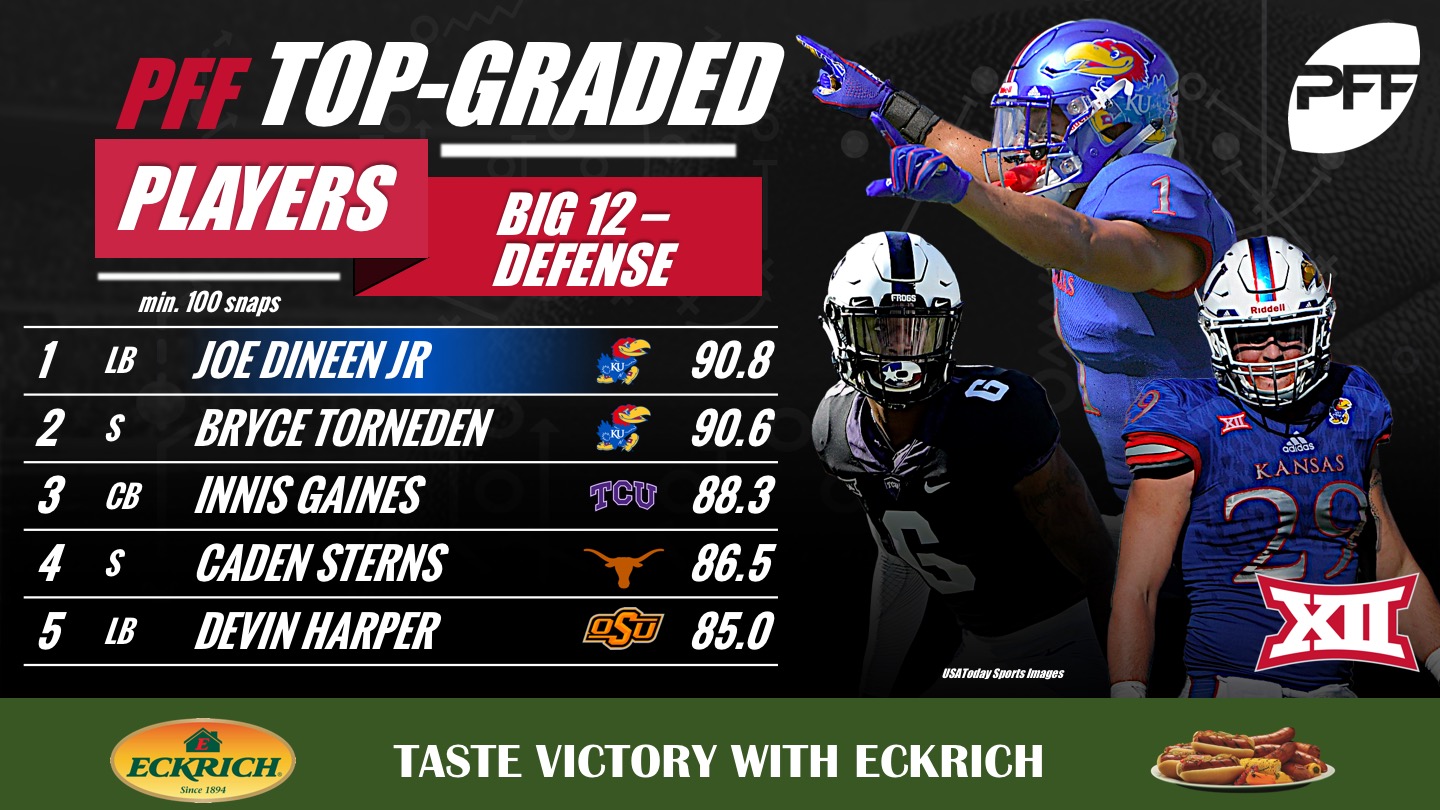 1. Joe Dineen Jr., LB, Kansas
2018 season grade: 90.8
Dineen has long since been a run-stopping machine at linebacker and this year is no different except he's getting it done all over the field. He has five QB pressures from just 13 pass-rushes, has allowed just 35 yards on 10 targets in coverage and has a whopping 35 defensive stops, 12 more than the next closest Big 12 defender.
2. Bryce Torneden, S, Kansas
2018 season grade: 90.6
Joining his teammate atop this list, Torneden has recorded an interception this season in coverage but saved his best work for blitzing. On just seven pass-rushing snaps, he's recorded a sack, two additional QB hits and another hurry.
3. Innis Gaines, CB, TCU
2018 season grade: 88.3
Gaines has allowed just six receptions as the primary coverage defender this season, for just 25 yards. He's broken up four more and added an interception of his own.
4. Caden Sterns, S, Texas
2018 season grade: 86.5
The true freshman has broken out in a big way and leads all conference defenders with three interceptions. He's caught more targeted passes than he's allowed receptions (2) and sports a 0.0 passer rating when targeted.
5. Devin Harper, LB, Oklahoma State
2018 season grade: 85.0
Less-heralded than some other Big 12 linebackers, Harper has excelled this season. He's brought in seven QB pressures on just 18 pass-rushes while he's made 21 tackles and just missed one tackle attempt.
ACC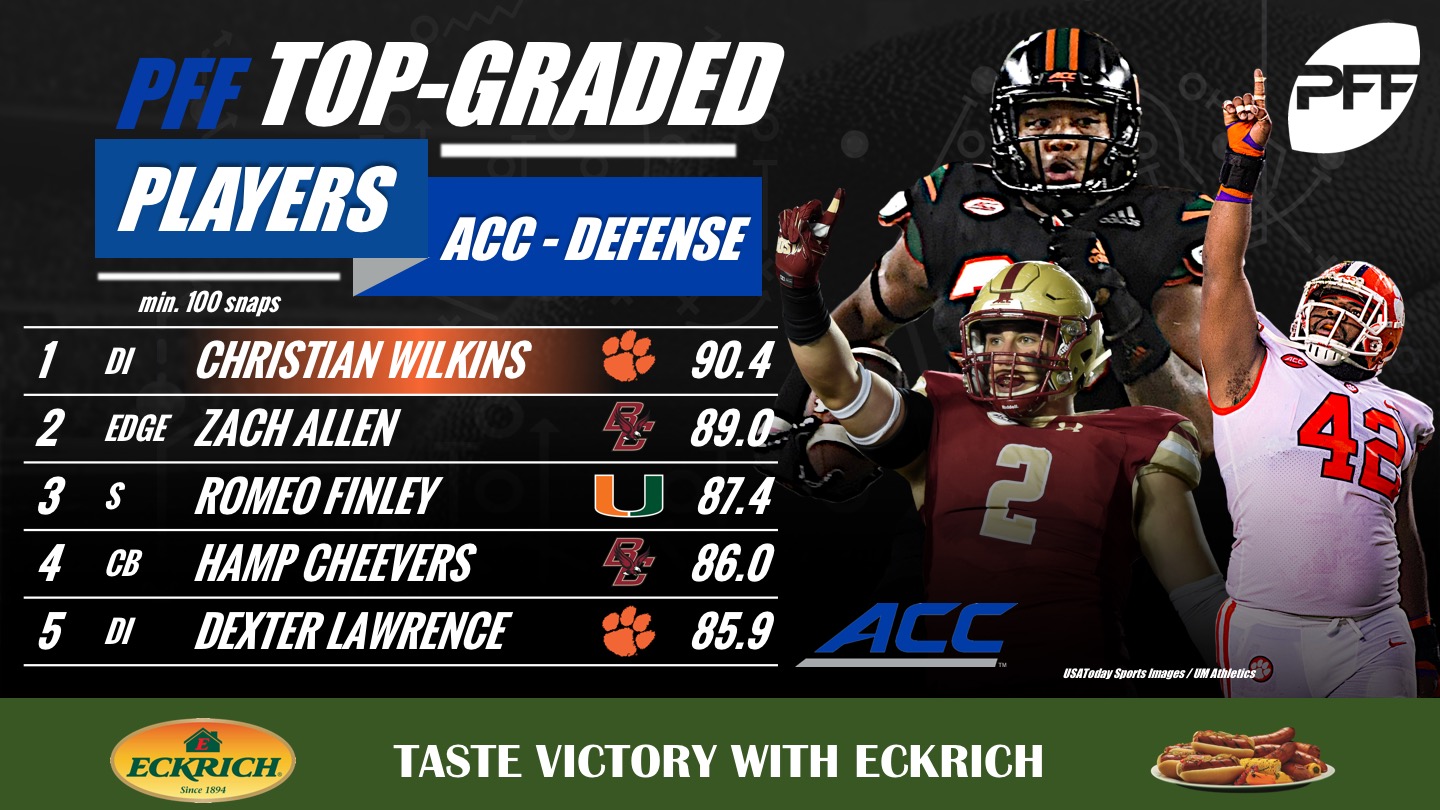 1. Christian Wilkins, DI, Clemson
2018 season grade: 90.4
All the preseason hype was on the Clemson defensive line as they've more than lived up to the billing. Wilkins has added a solid pass-rushing resume to his game this season, bringing in 11 pressures on his 92 pass-rushes including a sack and two QB hits. Currently, his 81.8 pass-rushing grade is a career-high.
2. Zach Allen, Edge, Boston College
2018 season grade: 89.0
Allen has lived in Harold Landry's national shadow long enough. Despite two solid years of production, Allen has stepped up his game in 2018. He already has 28 QB pressures including three sacks and 10 QB hits, which ties for his career-high.
3. Romeo Finley, S, Miami
2018 season grade: 87.4
Making waves with his Pick-6 last Thursday night against UNC, Finley now has seen four targeted passes and recorded an interception and two pass breakups.
4. Hamp Cheevers, CB, Boston College
2018 season grade: 86.0
Cheevers has been targeted 26 times already, with not much success from opposing quarterbacks. He's allowed just 46.2% of passes thrown his way to be caught while he's intercepted three balls and recorded three pass breakups.
5. Dexter Lawrence, DI, Clemson
2018 season grade: 85.9
One of the big-three along the Clemson defensive line, Lawrence has had three triumphant years of grading with the Tigers. While his pass-rushing numbers declined a year ago and he may be without a sack so far this season, his 14 total pressures are just four short of the 18 he managed all of last year.
Big Ten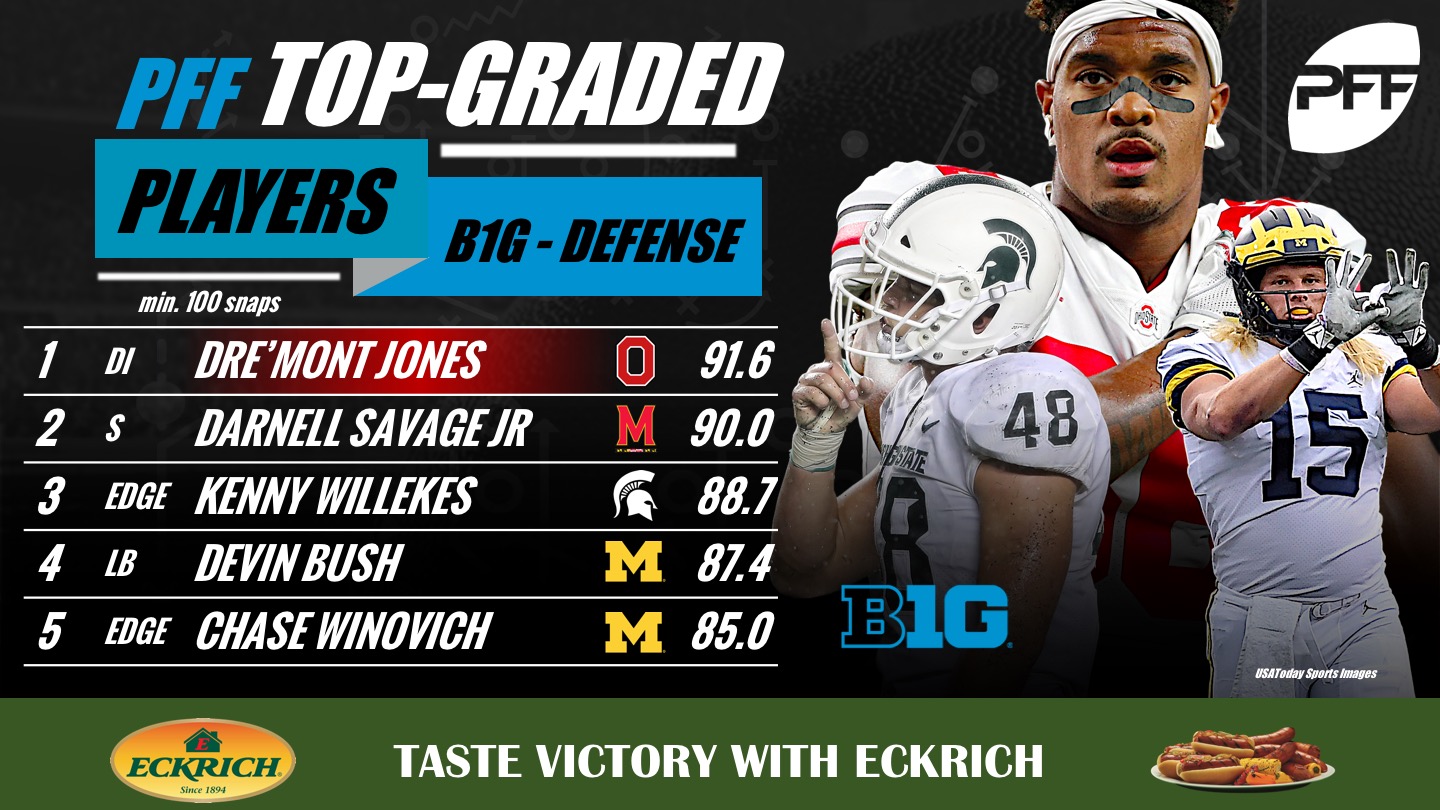 1. Dre'Mont Jones, DI, Ohio State
2018 season grade: 91.6
Nick Bosa would be atop this list had he been healthy enough and in action recently. Still, it's a Buckeye to grace the top-graded defensive players in the Big Ten with Jones sporting the top mark. He's recorded 12 total QB pressures this season and also made one of 2018's highlight-reel moments with his Pick-6 against TCU.
2. Darnell Savage Jr., S, Maryland
2018 season grade: 90.0
Savage has spent 112 snaps in coverage, seeing 13 targeted passes as the primary coverage defender. He's allowed just six receptions for only 16 yards, an average of just 2.7 yards per reception allowed and only 0.14 yards per snap in coverage.
3. Kenny Willekes, Edge, Michigan State
2018 season grade: 88.7
Willekes leads the Big Ten with his 10 QB hits as he's also recorded four sacks and 13 additional hurries. His 27 total pressures are good enough for second this season.
4. Devin Bush, LB, Michigan
2018 season grade: 87.4
Bush has been outstanding in coverage for the Wolverines this year. He's been targeted 12 times and despite allowing 10 receptions, he's only given up 23 yards. Limiting receivers to just 2.3 yards per reception is great no matter which position you play on defense.
5. Chase Winovich, Edge, Michigan
2018 season grade: 85.0
Winovich has been unblockable this season. On 142 pass-rushing snaps, he has recorded the conference's best 28 QB pressures.
Pac-12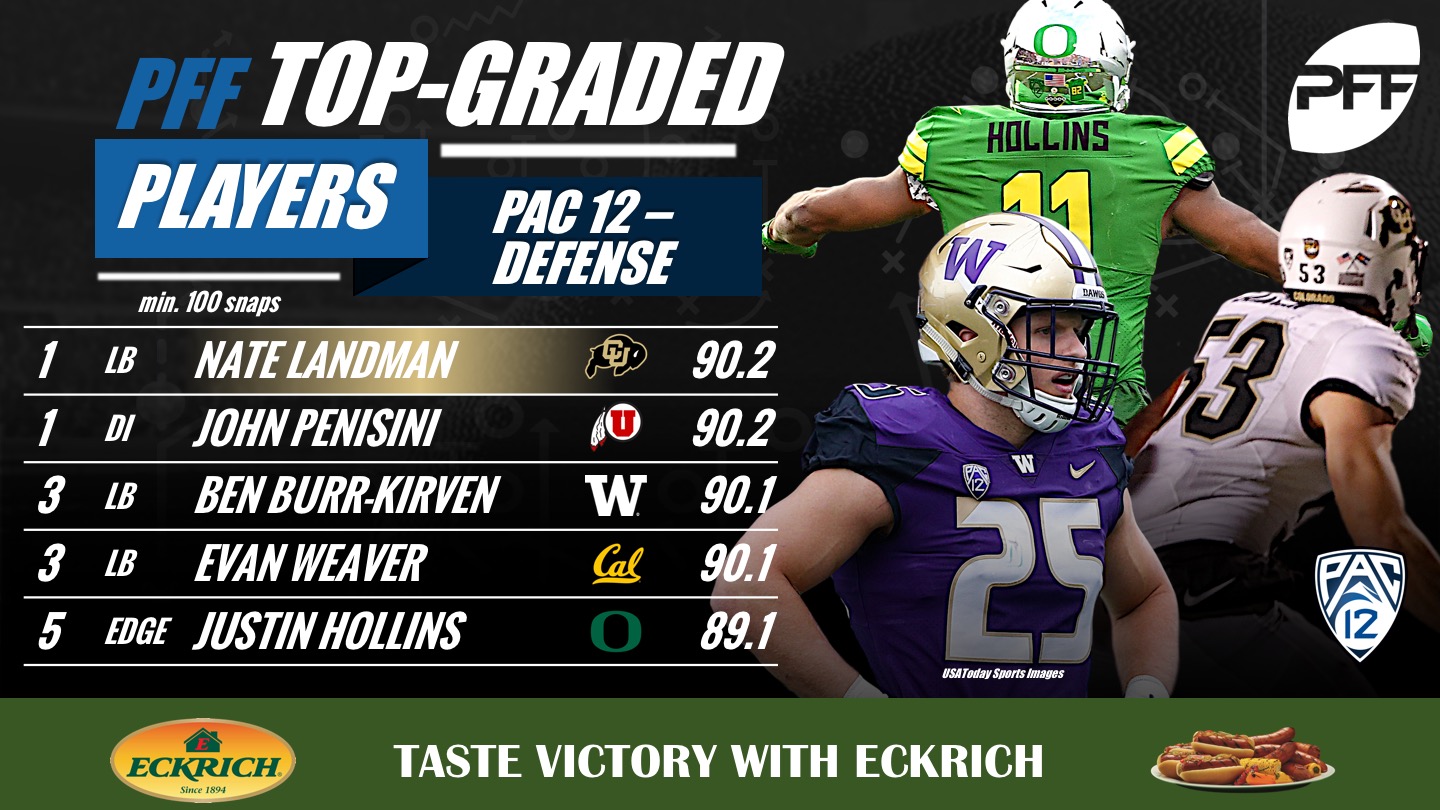 1. Nate Landman, LB, Colorado
2018 season grade: 90.2
Landman tops the charts in the conference here, tying with Penisini of Utah on the heels of strong all-around play. He's brought in two pressures on seven pass-rushes, 21 defensive stops and also allowed just two receptions while intercepting two passes of his own.
1. John Penisini, DI, Utah
2018 season grade: 90.2
Penisini has recorded 11 total pressures this season – on just 63 pass-rushes from the defensive interior. He's also been a sure-tackler, recording 15 total tackles and only missing one.
3. Ben Burr-Kirven, LB, Washington
2018 season grade: 90.1
Solid all-around play is the name of the game for Burr-Kirven as he's recorded four QB pressures and a conference-leading 59 total tackles. His 25 defensive stops are good enough for third as he has missed only a single tackle attempt this season.
3. Evan Weaver, LB, Cal
2018 season grade: 90.1
Keeping pace with Burr-Kirven, Weaver has been solid across the board but been incredibly strong in run defense. His 14.8% run-stop percentage is second only to Landman as he's made 19 stops against the run.
5. Justin Hollins, Edge, Oregon
2018 season grade: 89.1 
Coming in just behind teammate Jalen Jelks (17 pressures), Hollins has recorded 16 total QB pressures this season. He wins with his array of pass-rushing tricks and has also shown a penchant for dropping back into coverage, to the tune of an interception and a pass breakup on three targeted passes.