The college football season is over for several teams across the country as those teams who played their final game this past weekend and failed to make their conference championship game or obtain bowl eligibility have closed the pages on the 2018 season. It is with that in mind that we look at each of those team's highest-graded player or pull out an interesting statistic from the wealth of PFF's play-by-play grading of every player on every play of every FBS game this season.
This list of superlatives is brought to you by Eckrich, the Official Smoked Sausage of the College Football Playoff.
[Editor's note: There is always that random occurrence or sneaky way a 5-7 team could get into a bowl game, but for all intents and purposes here, we've decided to go strictly based off records of teams with losing records in an attempt to shine a light on the good from the 2018 season.]
American Athletic Conference
East Carolina (3-8)
Holton Ahlers, QB 
The true freshman quarterback came on strong over the back-half of the season, including two games above the 90.0 game grade threshold (vs Houston, vs UConn). In total, Ahlers completed 95-of-165 pass attempts from a clean pocket for six touchdowns and no interceptions.
Connecticut (1-11)
Travis Jones, DI
Another true freshman to impress in the AAC, Jones finished as the highest-graded defensive player for the Huskies, finishing with eight pressures from the interior of their defensive line. He made 42 total tackles despite just two misses.
Navy (3-9)
Jarid Ryan, CB
Ryan was targeted 60 times in coverage, allowing just 36 receptions while making three interceptions and breaking up six more. His coverage grade of 75.8 sees him finish second on the team.
SMU (5-7)
James Proche, WR
Proche ranks 19th among all FBS receivers with 788 receiving yards from the slot. He ran 68.9% of his snaps in route from an inside alignment in the Mustangs offense, hauling in 63 targets against just two dropped passes from the slot this season. His eight touchdowns from the slot rank tied for seventh nationally.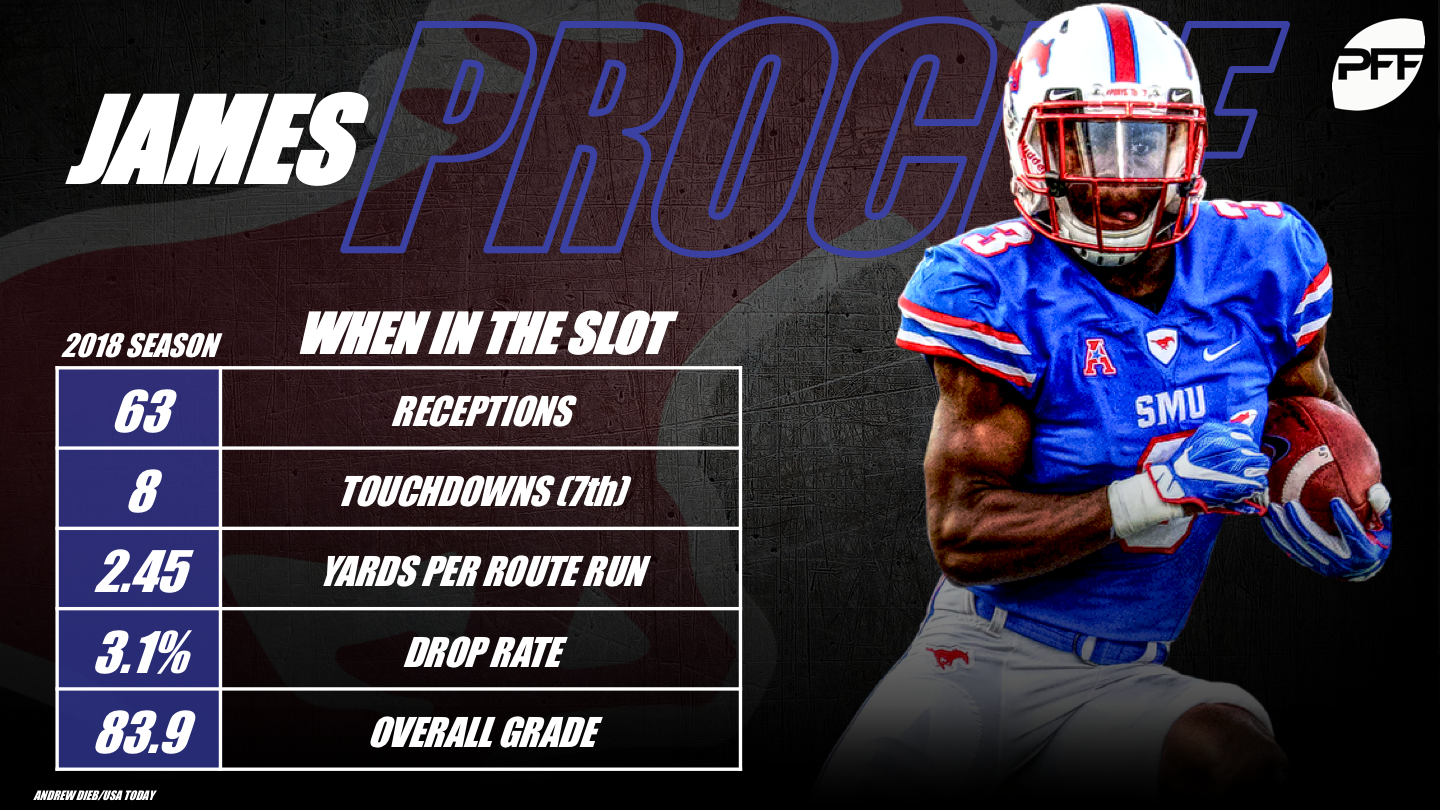 Tulsa (3-9)
Shamari Brooks / Corey Taylor II, RB
The combination of Brooks and Taylor ran for 967 and 846 yards, respectively, this season, combining for 18 touchdowns and 86 additional first-down carries. As a duo, they gained 1,076 yards after contact and forced 66 missed tackles.
Atlantic Coast Conference
Florida State (5-7)
Tamorrion Terry, WR
Terry hauled in multiple receptions in all but one game this season, starting all but one game as well. He caught the game-winning touchdown against Boston College in dramatic fashion and finished the season with 35 receptions for 744 yards and eight touchdowns including four receptions of over 40 yards. Of his 35 receptions, 26 of them went for either a touchdown or a first down.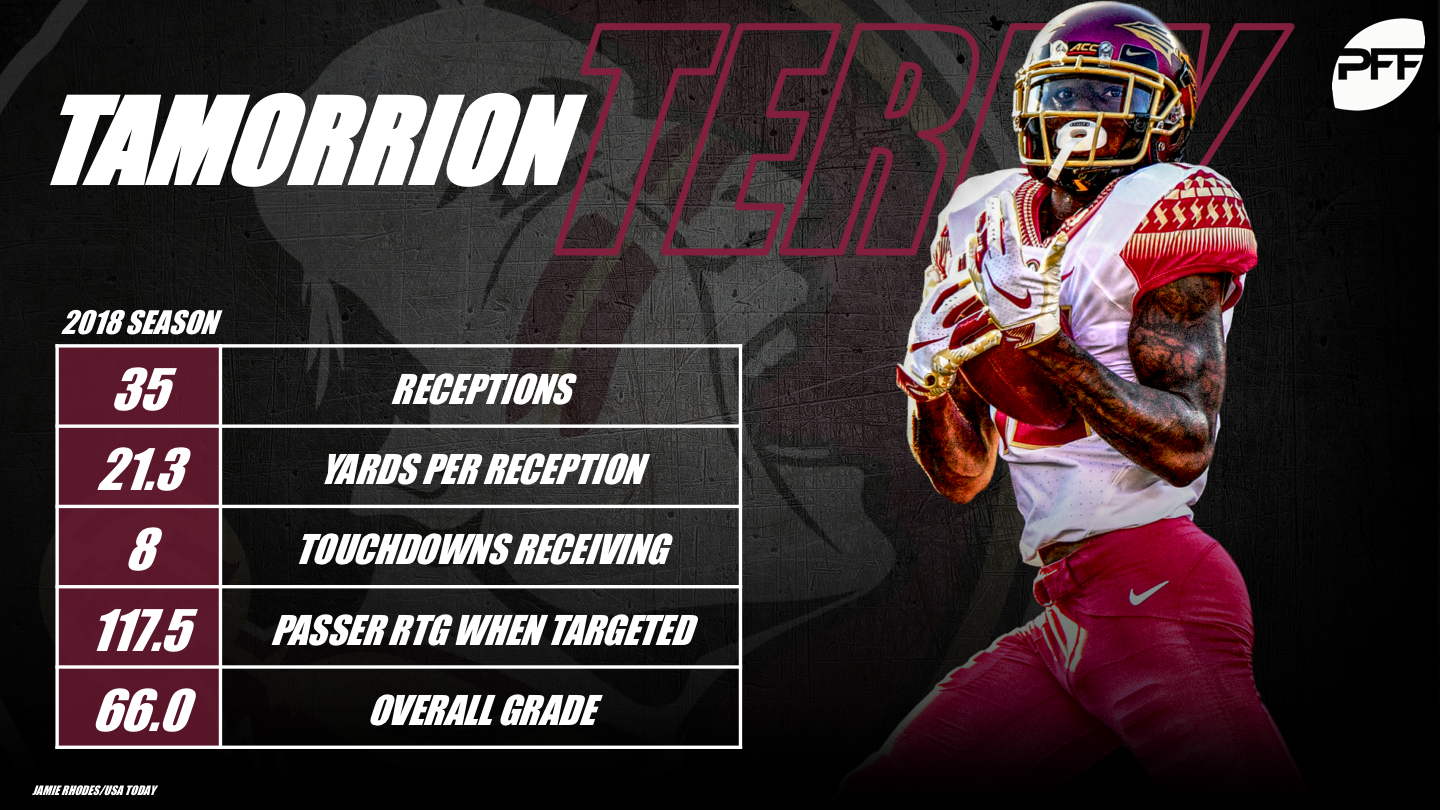 Louisville (2-10)
Mekhi Becton, OT
Aside from the penalties (of which he was called for five), Becton had an even better season than he did in his true freshman campaign a year ago. Through much trouble for the Cardinals this year, Becton allowed just seven combined sacks and hits while finishing with by far the highest run-blocking grade on the team.
North Carolina (2-9)
Malik Carney, Edge
Mack (Brown) is back in Chapel Hill as he inherits a Tar Heel team who has lost nine games in back-to-back seasons. He'll have to replace Malik Carney on the defensive line as the four-year letterer led the team in pressures, sacks and forced fumbles despite playing only eight games.
Big 12
Kansas State (5-7)
Dalton Risner, OT
For the first time in five years, the Kansas State offensive line will not see the name Risner on the back of one of their jerseys come opening day 2019. Over his incredibly productive four-year career in Manhattan, Risner never graded below 86.8 overall. On 2,377 career pass-blocking snaps, Risner allowed just 28 QB pressures and hasn't allowed a sack since Week 5 of the 2016 season.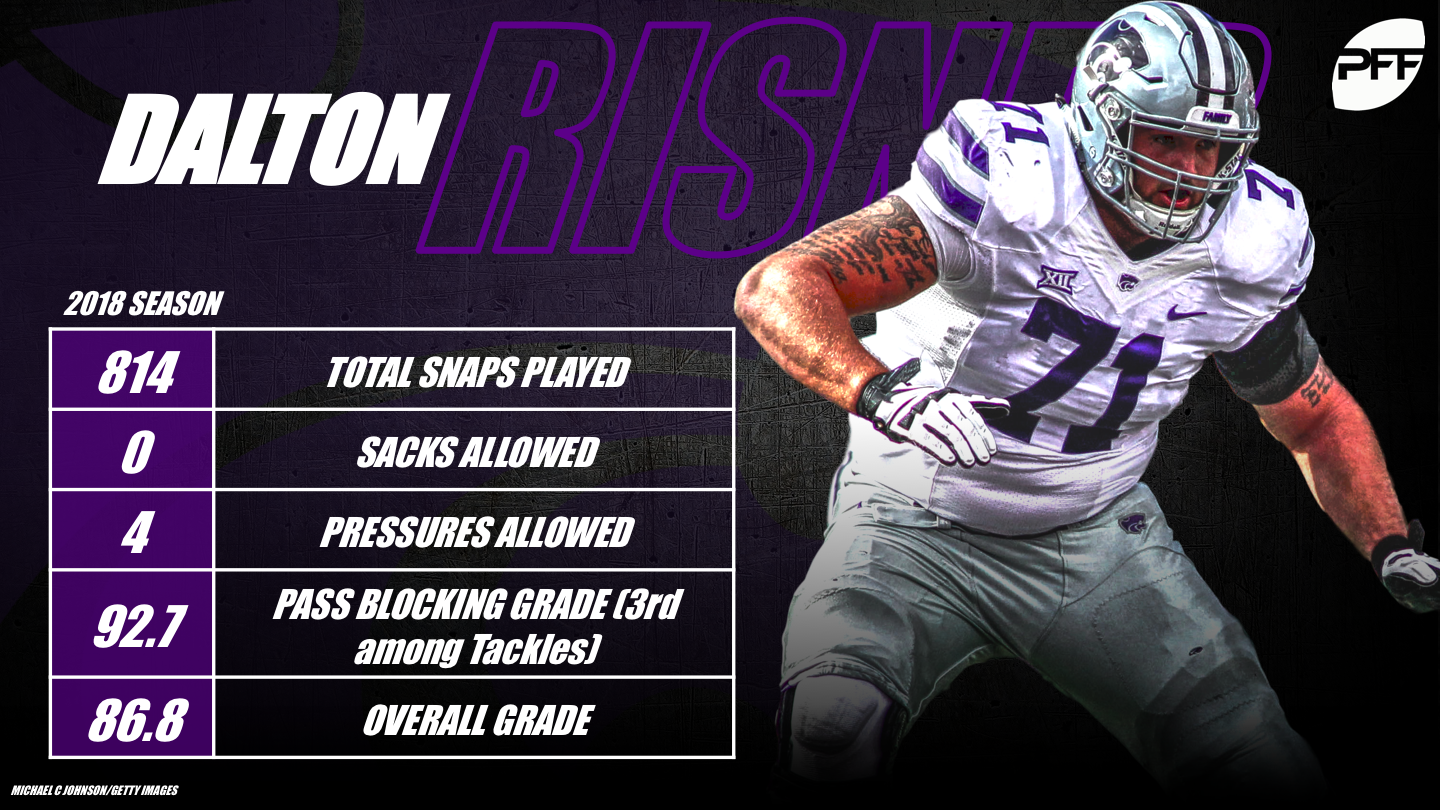 Texas Tech (5-7)
Dakota Allen, LB
Allen once again led the Texas Tech defense in overall grade this season, impressing as a pass-rusher, in coverage and against the run. He was targeted 23 times and didn't allow a touchdown while he blitzed the opposing quarterback just 48 times and came away with 14 pressures.
Kansas (3-9)
Joe Dineen Jr., LB
The Power-5 leader in defensive stops for two years running, Dineen was once again a tackling machine for the Jayhawks. He racked up 70 defensive stops, a year after he finished with 73 and ended 2018 with a career-high 89.2 overall grade.
Big Ten
Maryland (5-7)
Darnell Savage Jr., S
While Anthony McFarland is a name fans will remember after his performance against Ohio State, the star of the Maryland season was Savage on the backend of their defense. Across 681 snaps, Savage impressed in run defense, with his tackling and in coverage. His team-high 83.1 coverage grade saw just 28 receptions allowed without a touchdown and saw him come away with four interceptions, three pass breakups and just a 34.6 passer rating when targeted.
Indiana (5-7)
Wes Martin, G
Martin ends a four-year career with his second-highest graded season at 74.8 overall as he eclipsed the 3,500-snap count threshold. On 2,001 pass-blocking snaps in his career, Martin allowed just 56 pressures including just four sacks.
Rutgers (1-11)
Isaiah Wharton, CB
With 48 career starts under his belt, senior and captain Wharton graded higher when defending post routes than every other FBS cornerback this season. He was targeted four times and did not allow a single reception while coming down with an interception and another forced incompletion on those targets as he finished the season with a career-high 81.3 overall grade.
Nebraska (4-8)
Devine Ozigbo, RB
Ozigbo ended his tenure at Nebraska with the highest grade of his career by far. He averaged 4.52 yards after contact per carry, good enough for 12th nationally.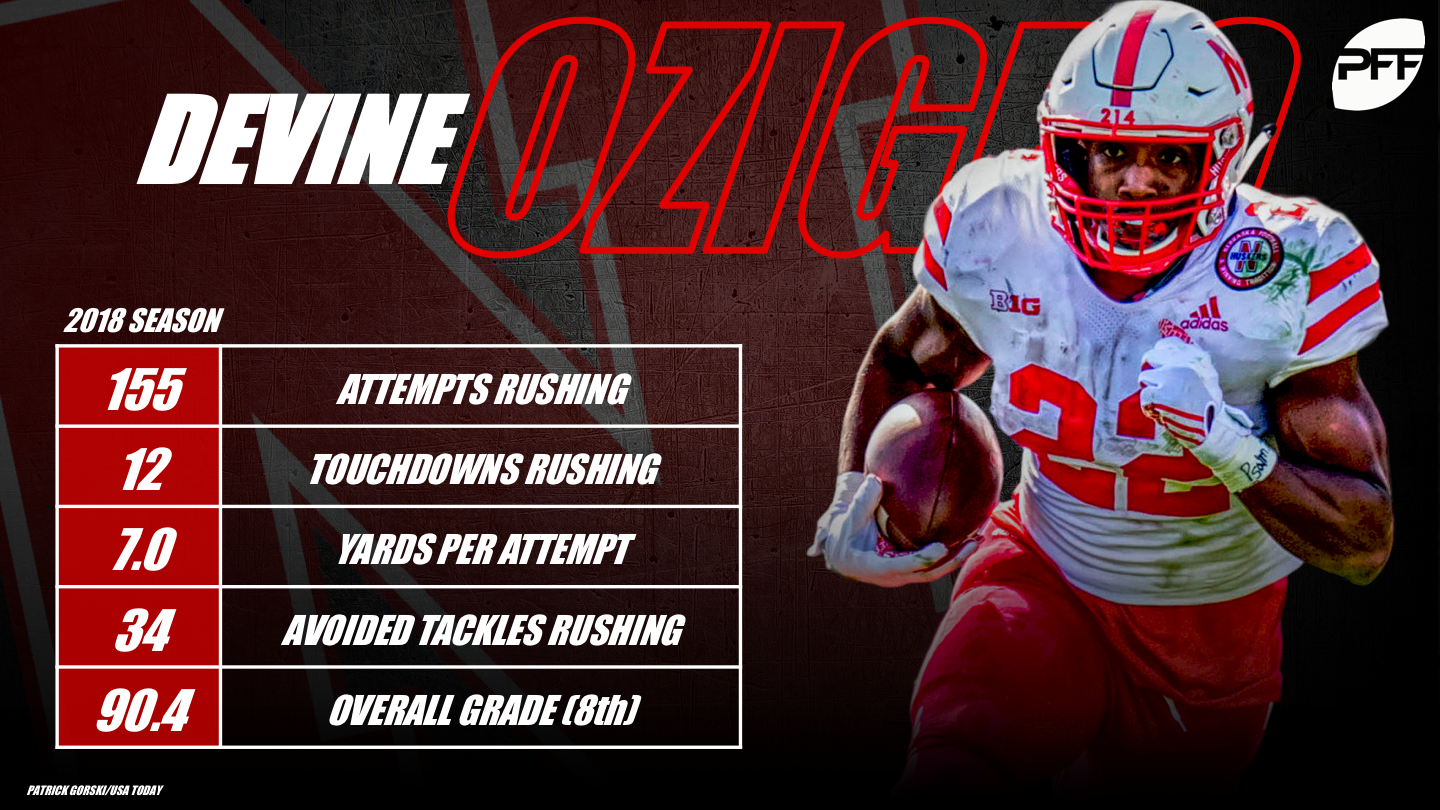 Illinois (4-8)
Alex Palczewski, T
A mainstay on our Big Ten Teams of the Week, Palczewski was impressive along the offensive line for Illinois this season. On 424 pass-blocking snaps, he allowed just 19 pressures that including just four combined sacks and hits.
Conference USA
Charlotte (5-7)
Benny Lemay, RB
Lemay finished 12th among the nation's running backs by forcing 47 missed tackles on his carries this season. He also gained 764 of his yards after contact, good enough to crack the top 10 among the FBS backs at ninth.
Florida Atlantic (5-7)
Devin Singletary, RB
The nation's leader in missed tackles forced this season, Singletary currently holds a 94-to-74 advantage over David Montgomery, who has two games left. While it's conceivable that Montgomery will force the 20 necessary to reach him, Singletary is in no danger of finishing outside the top two in terms of most missed tackles forced on carries this year.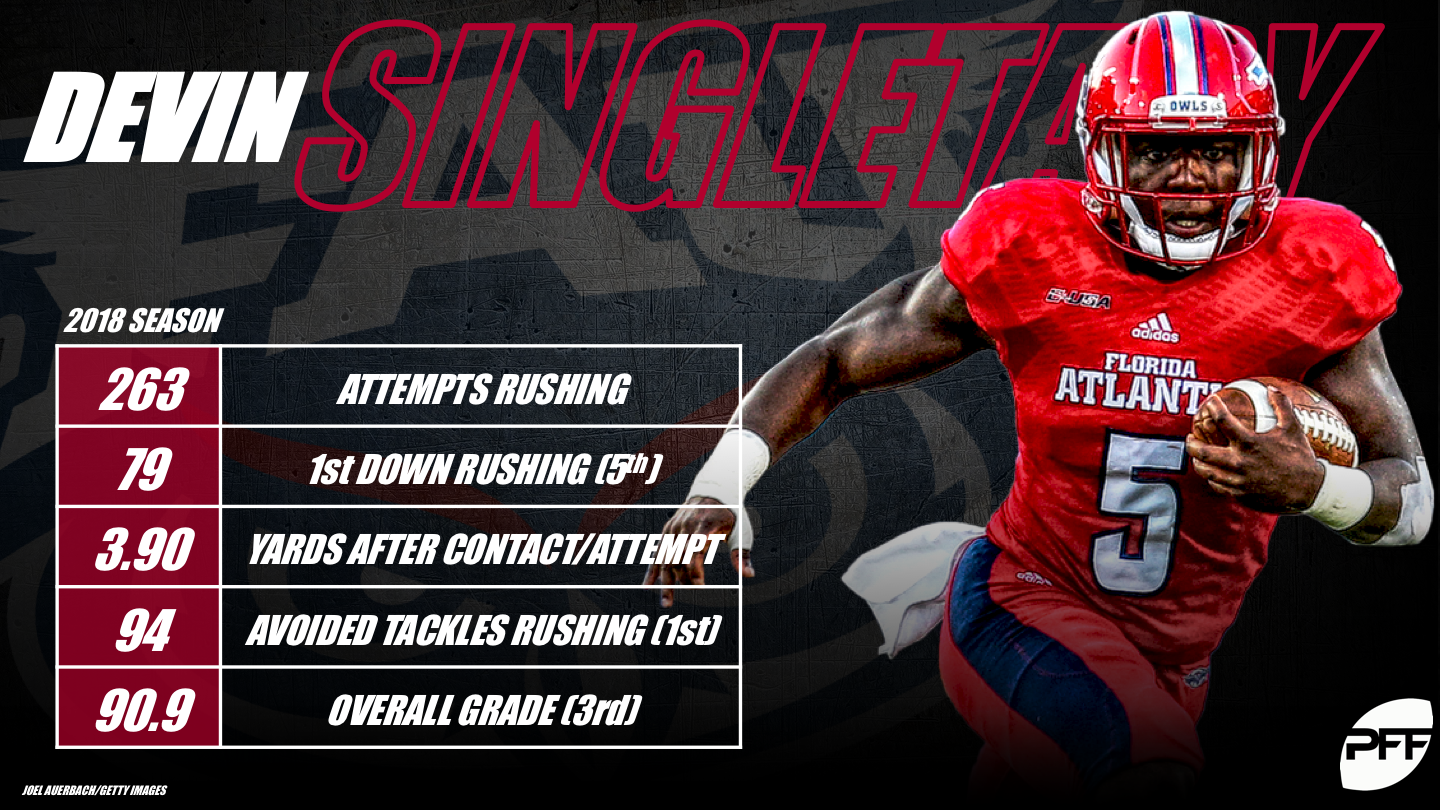 Old Dominion (4-8)
Oshane Ximines, Edge
The recipient of the highest overall game grade this season, Ximines was dominant on the edge for the Monarchs this year. His 99.9 overall grade against VMI is just a microcosm for his 2018 season as he finished the year with 55 total QB pressures on just 347 pass-rushes while recording 39 defensive stops.
Western Kentucky (3-9)
Ben Holt, LB
Holt finishes the year with the highest grade on either offense or defense at 80.9 and finishes second on the team with 19 total QB pressures despite just 75 pass-rushing snaps. In coverage, he was targeted 37 times as the primary coverage defender yet didn't allow a touchdown.
UTSA (3-9)
Josiah Tauaefa, LB
Replacing Marcus Davenport was going to be a tall task for the Roadrunners this season but Tauaefa did his best at linebacker to replicate the now-Saints defensive end's presence, especially when blitzing the passer. On just 69 pass-rushing snaps this year, Tauaefa recorded 21 pressures including a team-high five sacks.
Rice (2-11)
Zach Abercrumbia, DI
Abercrumbia was dominant in run defense for the Owls, recording 24 total defensive stops while also finishing tied for second on the team with 17 pressures coming from the interior of the Rice defensive line.
UTEP (1-11)
Jamar Smith, LB
Flying all over the field for UTEP this year, Smith finished second on the team with 44 defensive stops, 83 total tackles while he was targeted 14 times in coverage without allowing a touchdown.
Independents
UMass (4-8)
Andy Isabella, WR
The nation's highest-graded receiver, Isabella is a Biletnikoff Award finalist for good reason as he hauled in 101 receptions (second) for 1,696 yards (first) that included 68 combined first-down and touchdown receptions (first). His 93.1 overall grade and 93.7 receiving grade are each at least 3.0 grade points higher than the next closest FBS receiver.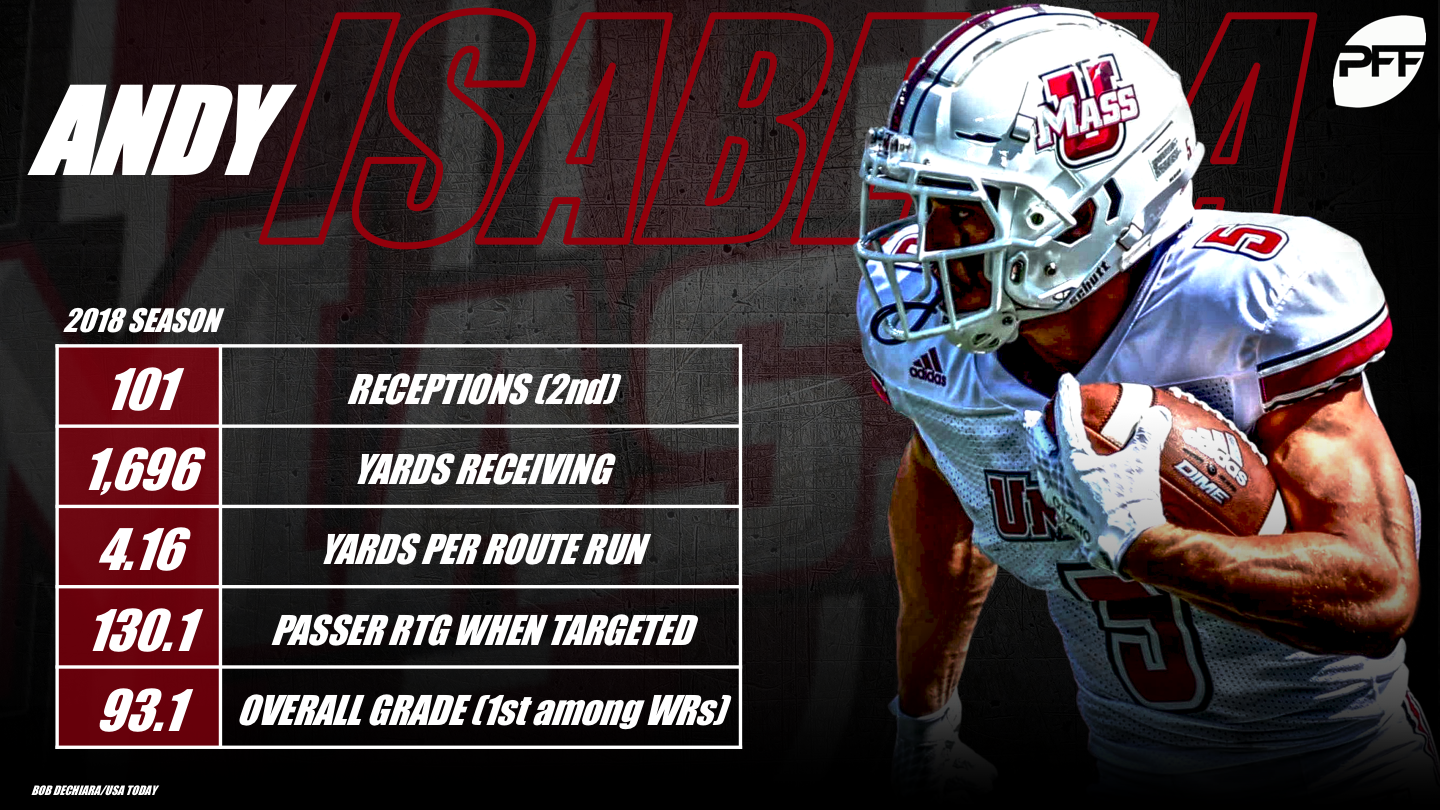 New Mexico State (3-9)
DeMarcus Owens, CB
Logging an incredible 948 snaps on defense this season, Owens played remarkably well in coverage despite the high volume. Of those snaps, 394 were spent in coverage and he was targeted 57 times. He allowed just 25 receptions (43.9%) and made two interceptions and four pass breakups.
Mid-American
Bowling Green (3-9)
Scott Miller, WR
Routinely featured making big-time catches, Miller was targeted 107 times this year, hauling in 70 receptions (26th) for 1,137 yards (11th). While he may not force as many missed tackles after the catch, Miller still averaged 5.7 yards after the catch per reception, a figure that still places him 16th among the 33 receivers with at least 69 catches.
Akron (4-7)
John Lako, LB 
Finishing as the 11th-highest graded linebacker, Lako registered 112 total tackles and 53 defensive stops. He impressed also in coverage, allowing just 187 yards on 234 snaps in coverage.
Kent State (2-10)
Theo Majette, DI
Majette led the Golden Flashes with 29 QB pressures as he racked up five sacks and three QB hits to go along with 21 additional hurries.
Ball State (4-8)
Ray Wilborn, LB
On 225 snaps in coverage, Wilborn was targeted 37 times. Despite allowing 31 receptions, he didn't allow a reception longer than 27 yards and kept opponents out of the end zone while intercepting two passes of his own.
Central Michigan (1-11)
Mike Danna, Edge
Danna finishes tied for 10th nationally with 54 pressures, tied with Northern Illinois' Sutton Smith (although Smith is likely to take the lead with two more games on his schedule). He racked up nine sacks, 10 QB hits and 35 hurries on 303 pass-rushing snaps, finishing with the nation's fifth-highest pass-rushing grade.
Mountain West
Air Force (5-7)
Jeremy Fejedelem, S
Fejedelem led the team in total tackles (99) and interceptions (3) as he flew all over the field for Air Force this season. He was targeted 38 times as the primary coverage defender and also broke up another pass.
Colorado State (3-9)
Preston Williams, WR
Williams finishes the season as the nation's most targeted receiver, seeing 166 passes thrown his way. He hauled in 97 passes and 14 touchdowns while finishing second in the nation with 65 combined first-down and touchdown receptions.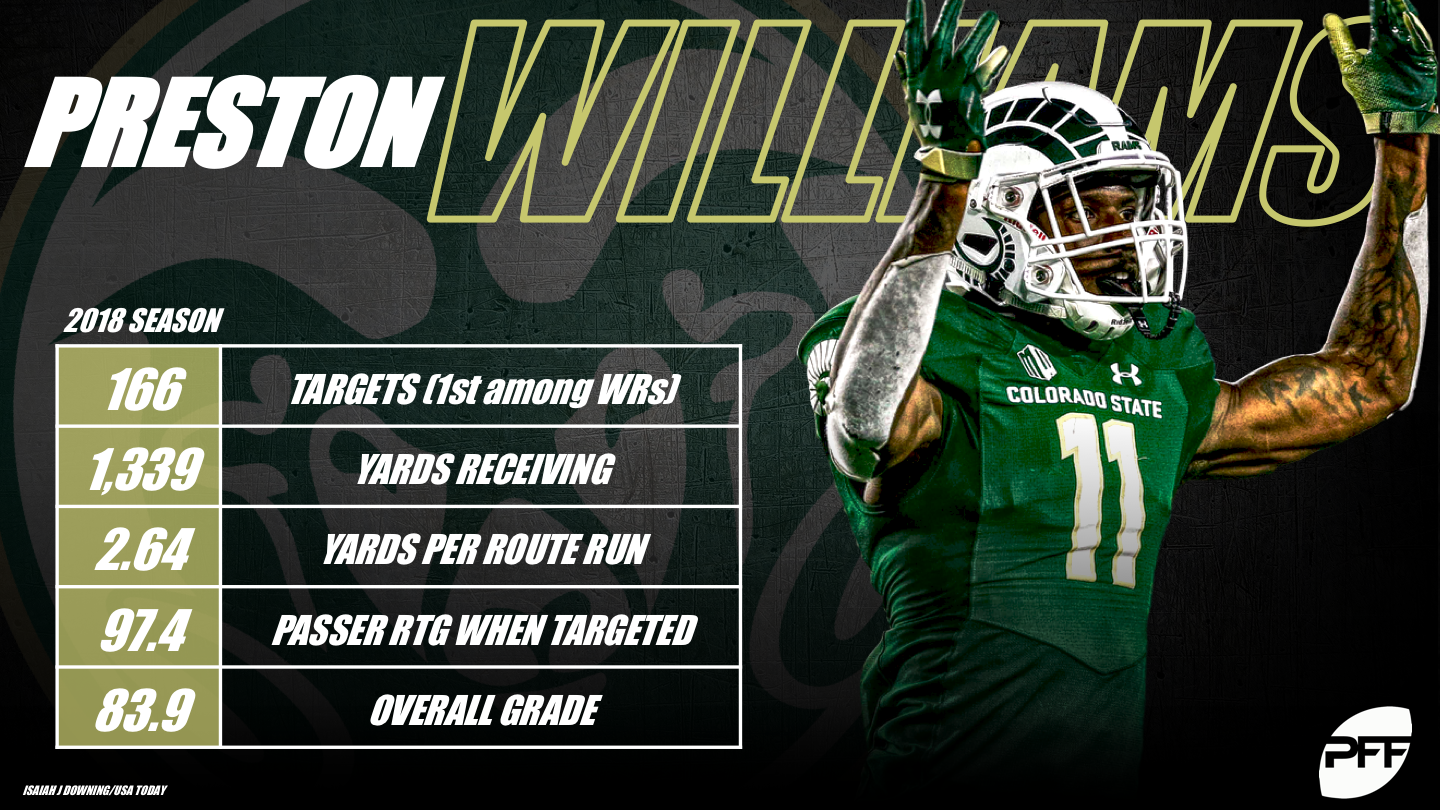 New Mexico (3-9)
D'Angelo Ross, CB
Leading the team in solo tackles is one thing, leading them as a cornerback is a complete other. Ross recorded 54 solo tackles this season as well as 15 defensive stops and did so with only three missed tackles to his name.
UNLV (4-8)
Farrell Hester II, LB
Hester was impressive both in run defense and in coverage this season, making 13 defensive stops for an offensive failure while also breaking up two passes despite being the primary coverage defender on just three targets.
San Jose State (1-11)
Josh Oliver, TE
Finishing the season as the most targeted tight end in the country with 99, Oliver hauled in 56 receptions for 709 yards and averaged a healthy 4.7 yards after the catch per reception. He forced eight missed tackles after the catch and had an additional 35 first-down receptions. We'd be at fault here if we didn't mention Boogie Roberts who finished his career with SJSU with a career-highs in QB pressures (42), overall grade (76.1) and pass-rush grade (80.2), the latter which ranked 14th among the nation's 488 qualified interior defensive linemen.
Pac-12
Oregon State (2-10)
Isaiah Hodgins, WR
While this spot could mention freshman running back Jermar Jefferson, Hodgins actually outgraded him and finished with a team-high 84.3 overall grade. He finished 46th nationally with 876 receiving yards as he hauled in a combined 45 first-down and touchdown receptions.
Arizona (5-7)
Colin Schooler, LB
Sure, Khalil Tate is deserving of love but Schooler was the Wildcats' highest-graded player in 2018. Despite rushing the passer on just 89 snaps, he finished fourth on the team with 25 pressures that included 13 combined sacks and hits to lead the team.
USC (5-7)
Iman Marshall, CB
Biggie Marshall may not have had an interception in his final season for the Trojans but he certainly did his part to limit receivers in his coverage. On 42 targeted passes, he allowed just 21 receptions and limited those to just 40 yards after the catch. He broke up an additional six passes and also made 13 defensive stops.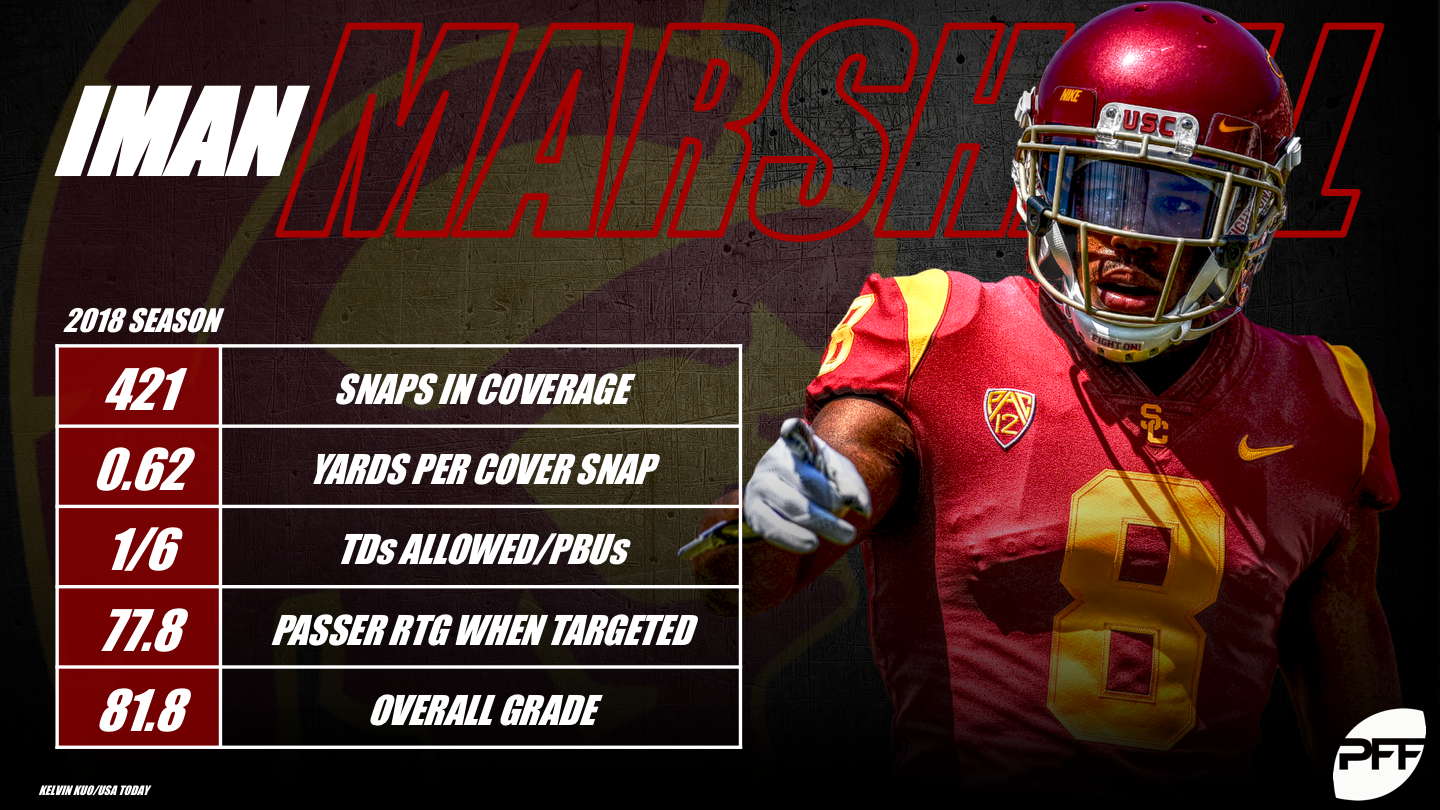 UCLA (3-9)
Caleb Wilson, TE
The nation's second-most targeted tight end, Wilson finishes as the country's fifth-highest graded at his position. His 965 receiving yards are by far the most in the country and his 467 yards after the catch and 42 combined first-down and touchdown receptions also lead the FBS tight ends.
Colorado (5-7)
Nate Landman, LB
While Laviska Shenault deserves as much credit as any for the Buffs first five wins, Landman was dominant at linebacker all season. He recorded 12 pressures on just 35 pass-rushing snaps while he also made a team-high 54 defensive stops and limited receivers in his coverage to just 50.0% catch rate and made two interceptions and three pass breakups without allowing a touchdown.
SEC
Tennessee (5-7)
Jarrett Guarantano, QB
From a clean pocket, Guarantano finished with a 91.0 grade, completing 118-of-178 passes for 1,435 yards. For the entire season, his highest-graded throws came when targeting the 10-19-yard range as he completed 22-of-35 passes for 432 yards and three touchdowns.
Ole Miss (5-7)
Jordan Ta'amu, QB
While he had arguably one of the nation's best group of pass-catchers, Ta'amu was able to light up the field at will, no matter who he threw to. When kept clean from pressure, he completed 69.5% of his attempts for 3,438 yards and combined for 139 first downs and touchdowns.
Arkansas (2-10)
Armon Watts, DI
Not a lot went right for the Razorbacks this season but the play of interior defensive lineman Armon Watts was certainly one that did. He recorded 24 total QB pressures to finish second on the team while his eight sacks led the way. He brought down 28 defensive stops and forced three fumbles.
Sun Belt
Coastal Carolina (5-7)
Malcolm Williams, WR
Williams had a bunch of 'did you see that' moments this season for Coastal Carolina and he finished first on the team in targets (71), receptions (47), yards (720) after the catch (253) and combined first-down and touchdown receptions (31).
South Alabama (3-9)
Tyree Turner, DI
Turner led the Jaguars with 22 total QB pressures from the interior of the defensive line as he also racked up 43 total tackles and just four missed attempts. He also led the team with 32 defensive stops for an offensive failure.
Texas State (3-9)
Keenen Brown, TE
While Bryan London (87.7) and Nikolas Daniels (86.5) each had very respectable seasons at linebacker, Brown is the nation's highest-graded tight end after hauling in 76.1% of his targeted passes for 580 yards and five touchdowns. His 24 missed tackles forced after the catch were more than double the next closest tight end (Trevon Wesco, 11).