The College Football Playoff is almost upon us as Alabama, Clemson, Notre Dame and Oklahoma will fight it out in a four-team playoff to be crowned the National Champion of the 2018-19 college football season. While we here at Pro Football Focus have documented the win probability for each team, today we looked through the bevy of our data from grading every player on every play of every game this season across all FBS and pulled out 10 key advanced statistics that could determine the outcome of not only the semifinal matchups, but the national championship itself.
Time is running out to register for the Eckrich $1 Million Dollar Challenge! Register now for your chance to win. Eckrich – Official Sponsor of the College Football Playoff.  
– Alabama QB Tua Tagovailoa (147.9) and Oklahoma QB Kyler Murray (147.2) recorded the two highest passer ratings of any quarterbacks in the PFF College era from a clean pocket (minimum 200 clean dropbacks). The only other quarterback to record a clean-pocket passer rating greater than 140.0 since 2014 was Baker Mayfield in 2017 – 143.9).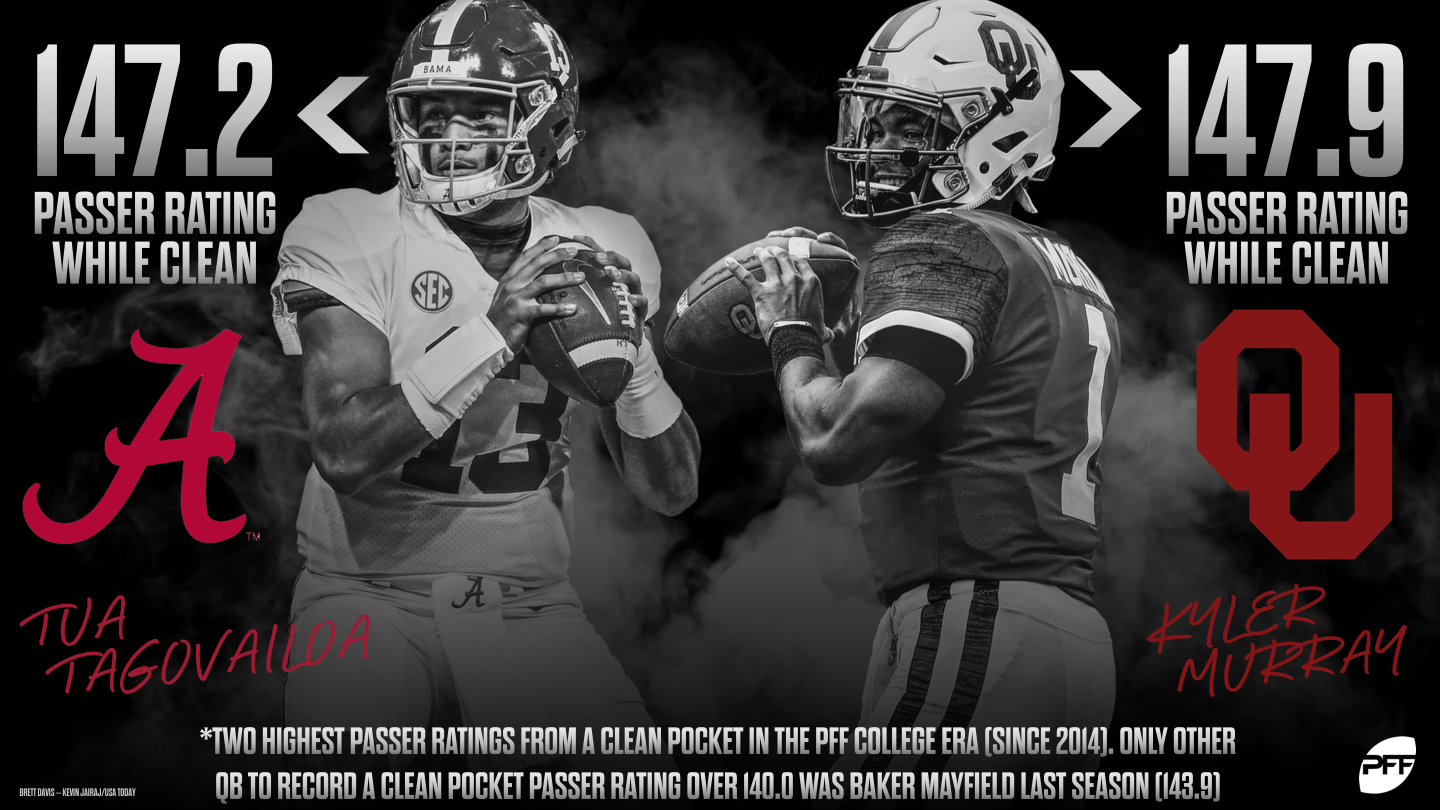 – In 2018, two teams recorded a quarterback pressure on over 40% of their defensive pass-rushing snaps. Both made the playoffs – Clemson (45.8%) and Alabama (40.6%).
– Clemson relies heavily on run-pass options with the second-most RPOs of any FBS school (390 behind only Wake Forest at 461). They are particularly effective running the ball out of the RPO, averaging 7.7 yards per attempt, which ranks among the top five teams in the country. No running back has more yards than Travis Etienne's 835 yards on run-pass options.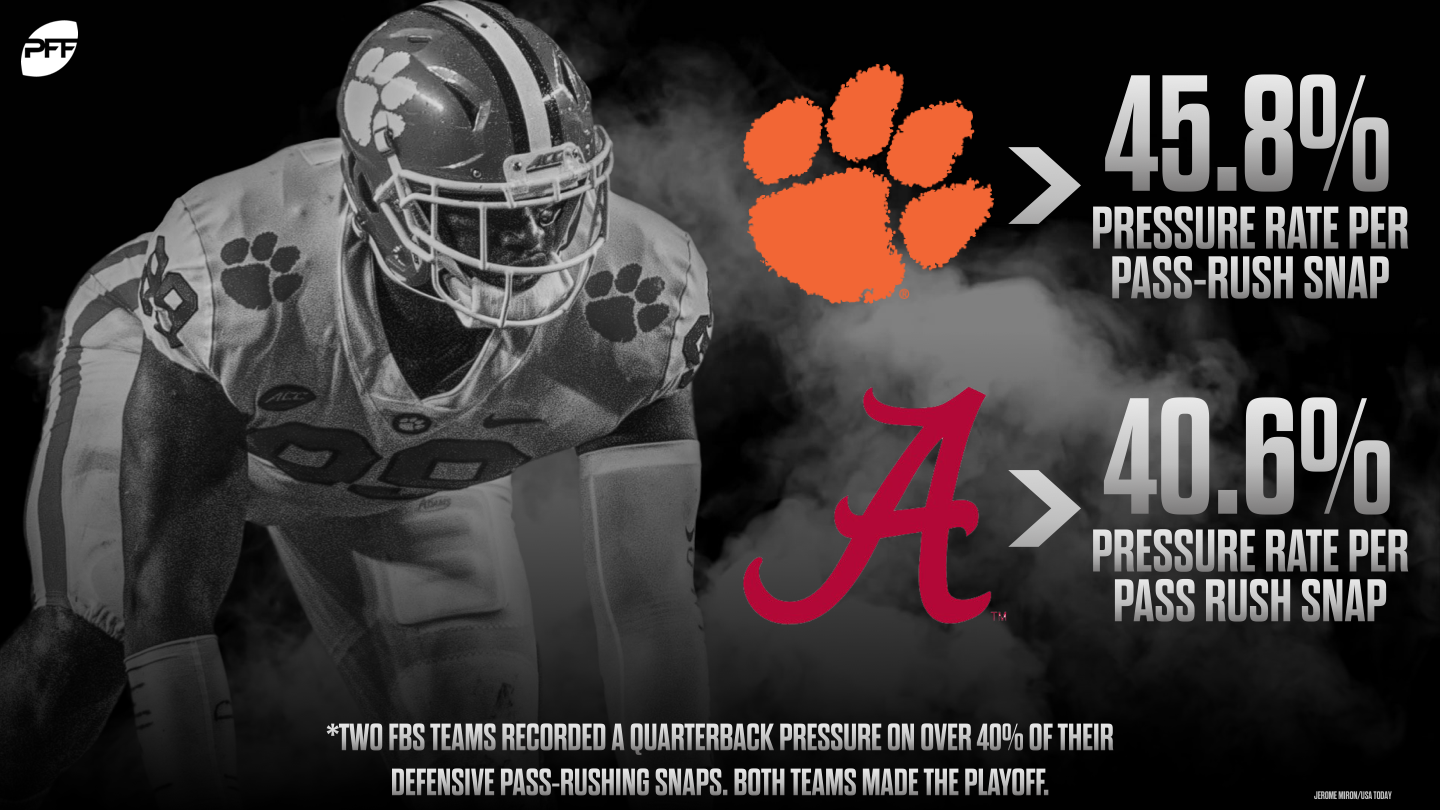 – Clemson was the only FBS team to allow fewer than one yard per rush attempt before contact was made on the ball carrier (0.9 yards before contact per attempt). Notre Dame ranks 37th out of 130 FBS teams with 2.5 rushing yards before contact per attempt.
– Julian Okwara has 35 pressures on 3rd and 4th down this season. That is five more than any other defender at any position.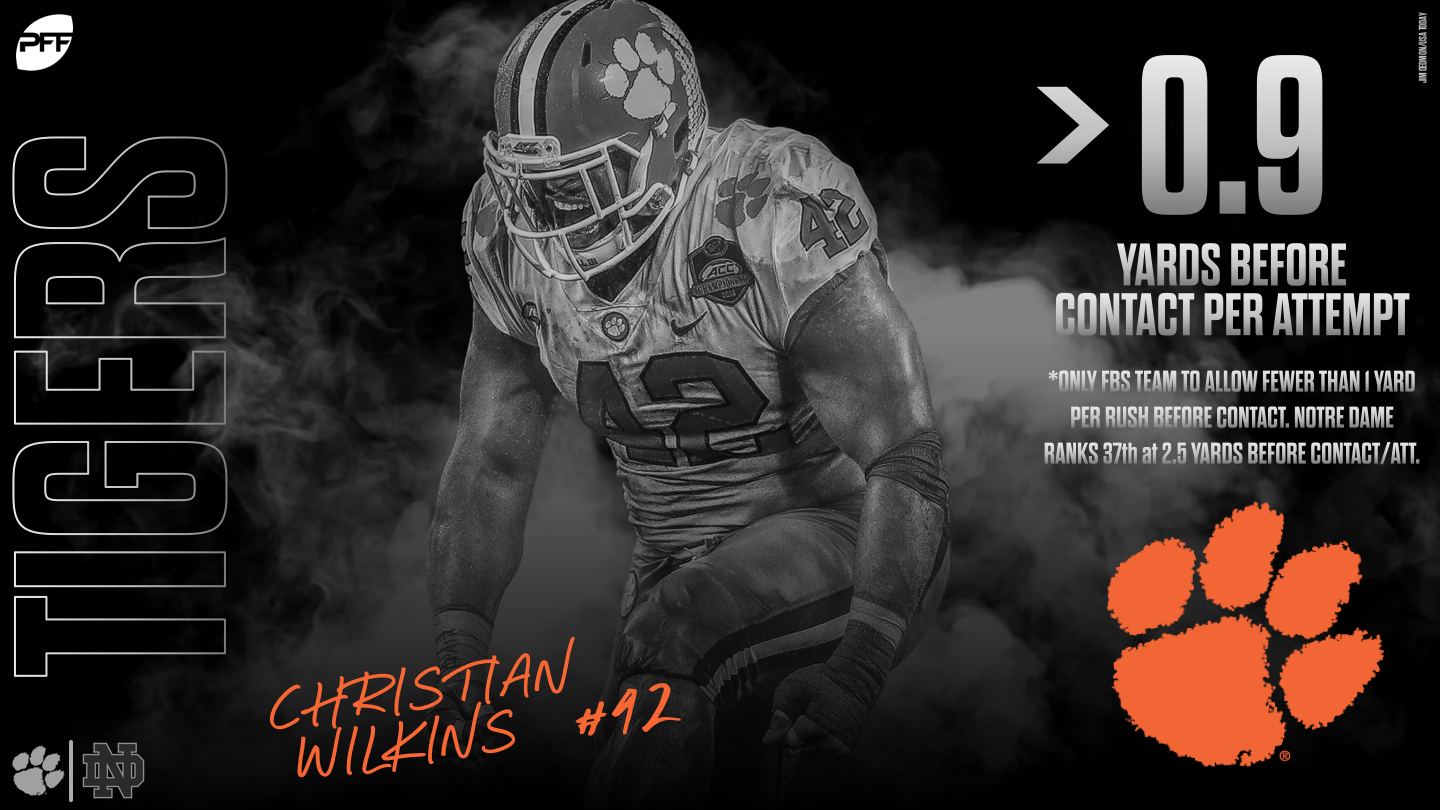 – Isaiah Buggs has been racking up sacks at an unsustainable pace this season. He has 12 sacks on the year despite having a pass-rush win rate below 10.0%. He is the only player to do that prior to the bowl games since 2014.
– Ian Book has been much better inside the pocket than out this season with a passing grade of 82.6 in the pocket and 48.2 outside the pocket. Despite that, Book has the 21st-most pass attempts of any FBS quarterback outside the pocket (68).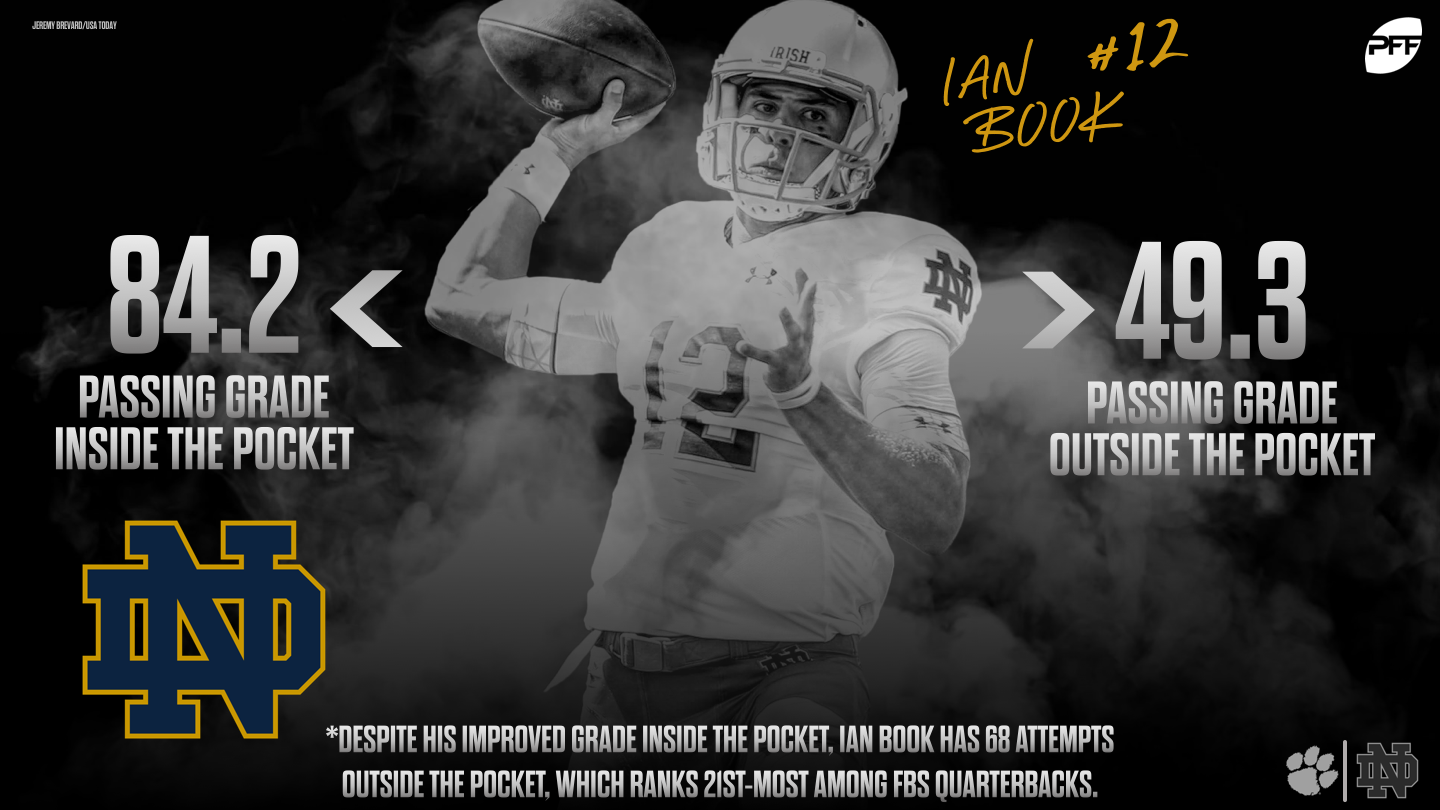 – Trevor Lawrence gets rid of the football quicker than nearly any other quarterback. His average time to throw of just 2.19 seconds is the second fastest of any Power-5 quarterback with 200 or more dropbacks. Over two-thirds of his dropbacks have been unleashed in 2.5 seconds or less, a number that leads all Power-5 quarterbacks.
– Kyler Murray was kept clean on 78.8% of his dropbacks (sixth highest in FBS) despite having an average time to throw of 2.76 seconds (tied for ninth highest in FBS).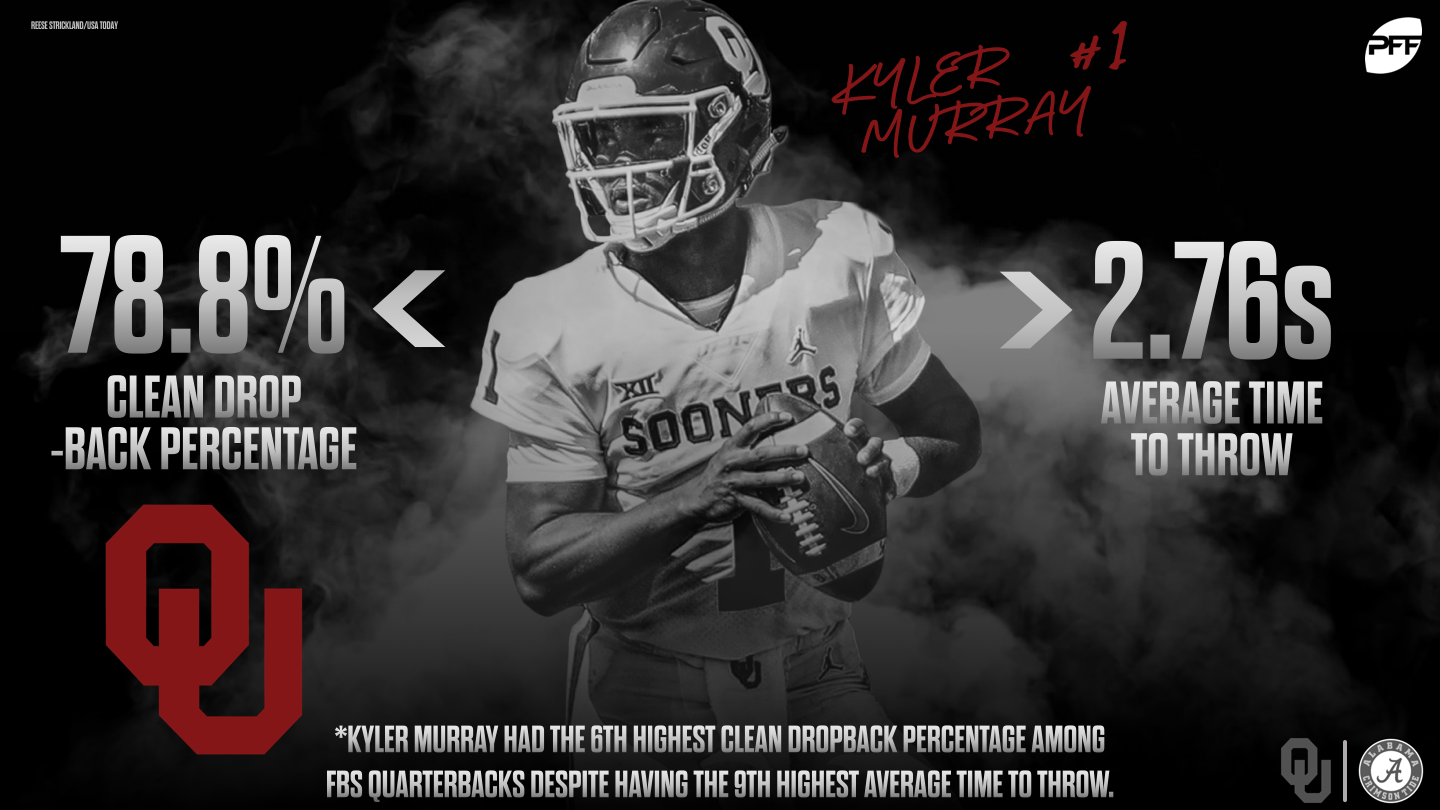 – Alabama allowed a 100-yard rusher at quarterback for the first time in the PFF College era against Kellen Mond of Texas A&M this season when 92 of his 129 rushing yards came on designed runs. This season, 642 of Kyler Murray's 943 rushing yards have come on designed runs where he is averaging 7.2 yards per attempt.