Four weeks into the college football season and conference play is really heating up, which provides the nation's best defensive backs even more of a platform to shine.
Here, we count down the highest-graded defensive backs from the first four weeks of action in college football.

Cornerbacks
1. Jaden Davis, Oklahoma – 90.3 Overall Grade
With Oklahoma on a bye last week, Jaden Davis maintains his perch as the nation's top cornerback. Davis is a true freshman, and incredibly, it's the first time in the PFF College era that a freshman has graced the top spot among corners after Week 4. We look back at what we said last week:
Opposing quarterbacks are attacking the youngster at a rate of one target every 4.1 cover snaps (fourth-most in Big 12). Yet, Davis is demonstrating his coverage chops – eight targets, five catches, 32 yards, one first down, an interception and a 31.3 passer rating.
2. Cencea Espinoza Jr., Liberty – 90.2 Overall Grade
Espinoza had a monster performance against Hampton, recording an elite 92.8 PFF grade that catapults him into the number two spot. His game-breaking play happened midway through the second quarter when he plucked a pass out of the air from just about the line of scrimmage and returned it 45 yards to the house. Espinoza Jr. usually lines up in the slot (58% of snaps) or in the box (32%).
3. Patrick Surtain II, Alabama – 89.5 Overall Grade
Surtain II had another solid performance against Southern Miss, allowing two catches for 12 yards on three targets. He continues to yo-yo between the slot (42% of snaps) and wide (53%). Quarterbacks are not shy about targeting Surtain II — he has seen 21 targets (seventh-most in SEC) this season while allowing 13 catches for just 80 yards and a 49.7 passer rating.
4. Christian Braswell, Temple – 86.4 Overall Grade
Braswell makes his first appearance on this list after a dominant performance against Buffalo (90.7 weekly PFF grade, second). In 64 cover snaps this season, Braswell has been targeted 10 times while allowing a measly catch for three yards. So far, he's allowed a 0.0 passer rating (first among FBS cornerbacks), 0.05 yards per cover snap (sixth), and he's averaged 64 cover snaps per reception (second).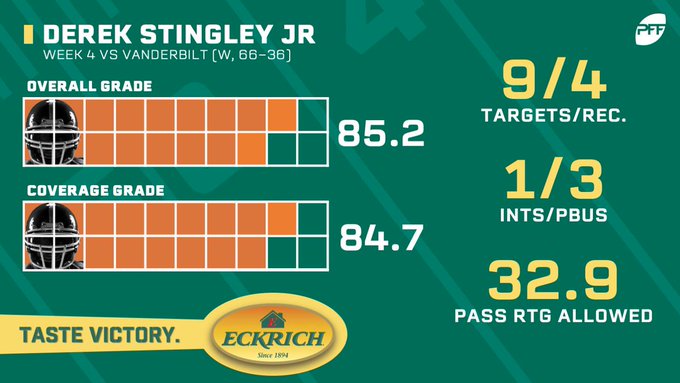 5. Derek Stingley Jr., LSU – 86.2 Overall Grade
Attacking Stingley Jr. in coverage is quite challenging — he leads the nation with nine pass breakups and is allowing just a 38.1% catch rate on 21 targets. Stingley Jr. put together his best performance of the season in Week 3 against Vanderbilt (88.2 weekly PFF grade, third) where he was targeted in coverage nine times and broke up four passes while picking off another.
Safeties
1. Eric Lee Jr., Nebraska – 90.1 Overall Grade
Lee did not play during Nebraska's win over Illinois. Here is what we wrote about Lee Jr. last week:
Lee maintains his perch as the nation's top-graded Safety for the third week in a row. His coverage grade remains an elite 90.5, and he is being used all over the field – 58% free safety, 23% in the box and 17% in the slot.
2. Antoine Winfield Jr., Minnesota – 89.7 Overall Grade
With Minnesota coming off a bye and gearing up for a conference matchup this week vs. Purdue, we look back at what we said last week about Winfield Jr.:
Another son of a former NFL superstar DB, Antoine Winfield Jr. not only has the bloodlines, but he also has the stats to back up his performance. Winfield Jr. is a versatile chess piece, lining up deep as a free safety (45%), in the box (39%) and the slot (16%). His highlight-reel moment came in Week 2 when Winfield Jr. emerged from the clouds to pick off the game-clinching pass that defeated Fresno State in double overtime. Don't sleep on Winfield's pass-rush skills — he has recorded five total pressures, fifth-most among all Safeties.
3. J.R. Reed, Georgia – 89.0 Overall Grade
Reed debuts on this list courtesy of a standout performance (90.3 PFF grade, third among safeties) in Georgia's electrifying victory over Notre Dame. In 50 cover snaps, Reed was targeted four times in coverage and allowed one catch for eight yards, while recording two pass breakups. He also stymied a promising Notre Dame drive in the fourth quarter by picking off a pass with a full-extension dive on the sidelines.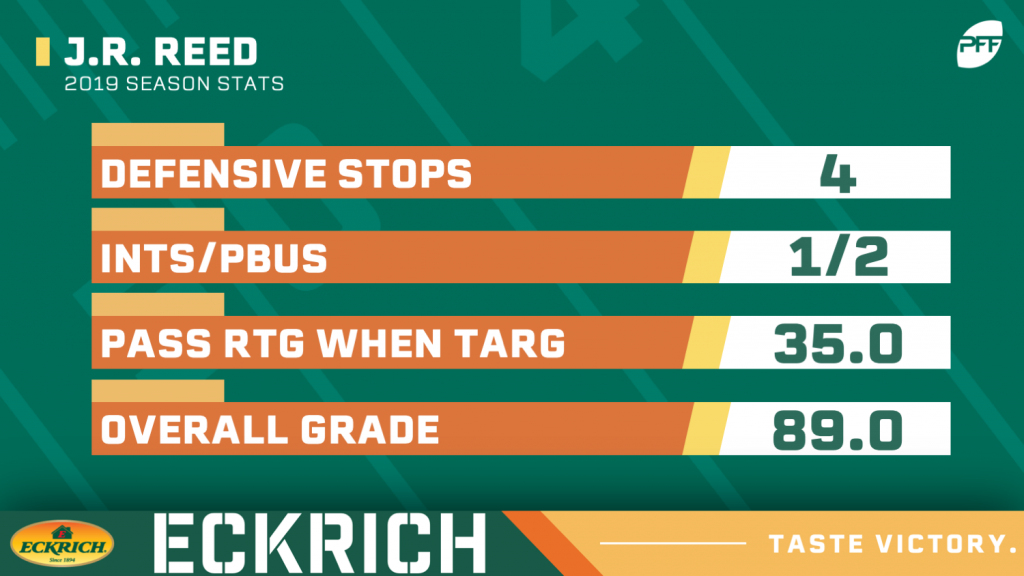 4. Kamren Curl, Arkansas – 88.4 Overall Grade
Curl is another versatile chess piece that lines up all over the field – deep at free safety (49%), in the slot (28) and in the box (22% of snaps). However, Curl is at his best when he lines up deep. His 90.3 coverage grade when lined up as a free safety ranks second in the nation, trailing only Eric Lee Jr., and both of Curl's interceptions this season have come when he lined up as a free safety.
5. Collin Wilder, Wisconsin – 87.4 Overall Grade
The Badgers had one of the weekend's loudest victories in their trouncing of Michigan, and Collin Wilder played a big role in shutting down the Wolverines' passing attack. Wilder was targeted in coverage six times, allowing just two grabs for 23 yards, while recording two pass breakups. He lines up at all depths of the field — in the box (35%), free safety (34%) and the slot (30%). While Wilder has only been on the field for 80 defensive snaps this season, he played a season-high 35 snaps against Michigan, and a performance like this could lead to a bigger role.