Three weeks into the college football season and the nation's best cornerbacks and safeties will get their first real test with familiar foes — it is finally the start of conference play! 
We count down the highest-graded defensive backs from the first three weeks of action in college football.

Cornerbacks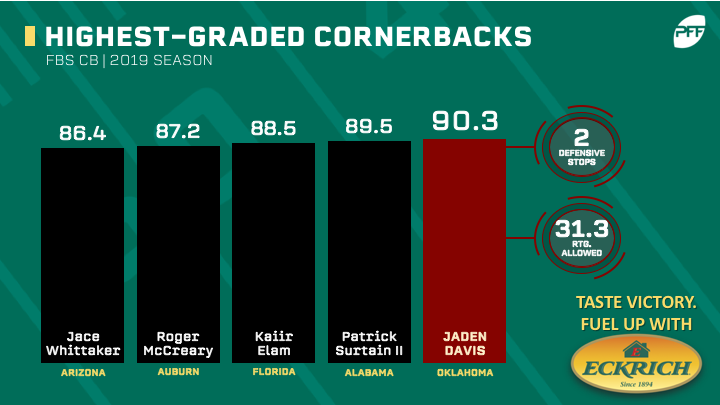 Jaden Davis, Oklahoma – 90.3 Overall Grade
We have a new number one cornerback this week as Jaden Davis ascends to the top spot — truly remarkable for a true freshman so early in the season. Opposing quarterbacks are attacking the youngster at a rate of one target every 4.1 cover snaps (fourth-most in Big 12). Yet, Davis is demonstrating his coverage chops. He's seen eight targets and allowed five catches for 32 yards, one first down, one interception and a 31.3 passer rating.  
Patrick Surtain II, Alabama – 89.5 Overall Grade
Surtain II had his busiest day yet against South Carolina, seeing a massive 18% target share of Ryan Hilinski's pass attempts, with 10 targets across 54 cover snaps (most among SEC cornerbacks). While Surtain II allowed eight catches, they only went for a combined 55 yards, and he had an SEC-most three defensive stops.
Kaiir Elam, Florida – 88.5 Overall Grade
Elam is this week's first new face, and he also happens to be another true freshman making an early impact. After seeing 17 snaps in his collegiate debut in Week 2, Elam fielded a full-time workload in Week 3, with 51 snaps. Elam more than held his own, allowing one catch for six yards on two targets while picking off a pass to clinch the game against Kentucky. For the season, throws in Elam's direction are generating a paltry 8.3 passer rating (second-best in SEC).
Roger McCreary, Auburn – 87.2 Overall Grade
Check out McCreary's stats against Kent State: four targets, three pass breakups (tops in nation) and one catch allowed for -1 yards. For the season, his five pass-breakups are tops among all FBS cornerbacks. After a performance like that, no wonder McCreary debuts on our top-graded cornerback list!
Jace Whittaker, Arizona – 86.4 Overall Grade
Whittaker is the other mainstay, making his third consecutive appearance as a top corner. He transitioned back to the slot against Texas Tech (64 snaps), where he was targeted four times and allowed two catches for nine yards, with zero going for a first down. 
Safeties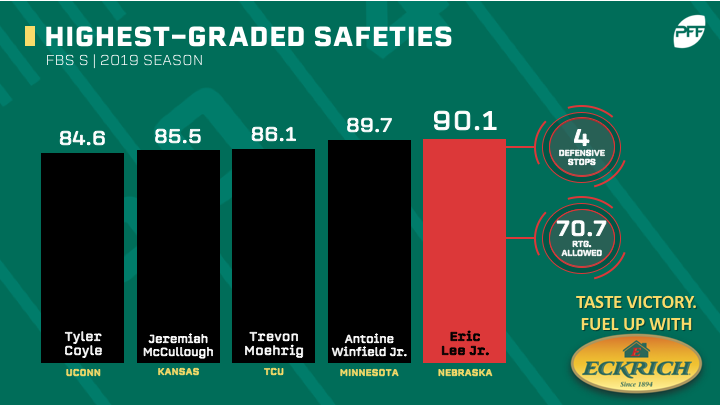 Eric Lee Jr., Nebraska – 90.1 Overall Grade
Lee Jr. maintains his perch as the nation's top-graded Safety for the third week in a row. His coverage grade remains an elite 90.5, and he is being used all over the field – 58% free safety, 23% in the box and 17% in the slot. 
Antoine Winfield Jr., Minnesota – 89.7 Overall Grade
Another son of a former NFL superstar, Antoine Winfield Jr. not only has the bloodlines, but he also has the stats to back up his performance. Winfield Jr. is a versatile chess piece, lining up deep as a free safety (45%), in the box (39%) and the slot (16%). His highlight-reel moment came in Week 2 when Winfield Jr. emerged from the clouds to haul in the game-clinching interception that defeated Fresno State in double overtime. Don't sleep on Winfield's pass-rush skills either – he has recorded five total pressures, fifth-most among all Safeties. 
Trevon Moehrig, TCU – 86.1 Overall Grade
Moehrig is another versatile chess piece in the backend, lining up deep (41%), in the slot (38%) and the box (21%). He is particularly dominant in slot coverage — across 28 slot coverage snaps, he has not allowed a reception on two targets, and he's recorded an interception. His breakout game came in Week 3 vs. Purdue, where Moehrig was targeted in coverage three times and broke up two passes and picked off another. For his efforts, Moehrig was our ninth-ranked Safety and jumps into the top-five for the season. 
Jeremiah McCullough, Kansas – 85.5 Overall Grade
McCullough is another new face on the heels of a strong Week 3 performance where he was our 11th-ranked safety. He spends most his time deep at free safety (76% of snaps) and has done his job on the back end, recording two pass breakups and one interception. 
Tyler Coyle, UCONN – 84.6 Overall Grade
Coyle is our fourth new Safety to break into the top tier this week, courtesy of the third-best coverage grade in the nation. He typically rotates between the box (49% of snaps) or deep (41%), while also moonlighting in the slot (10%). Coyle has racked up four defensive stops while being targeted in coverage five times, allowing three catches for 44 yards. Coyle has yet to leave the field this season and has been out there for all 122 of UCONN's defensive snaps.