After grading and analyzing every player on every play of every game during the 2018 college football season, it's time we unveil the 2019 Preseason PFF All-Sun Belt first team, second team and honorable mention for every position on offense and defense as well as for the first time ever, specialists.

The Preseason All-Sun Belt list may differ a bit from any year-end look back at the previous season as we project to the 2019 season ahead of us. Find out which of these athletes made the PFF All-American team as well.
First-Team Offense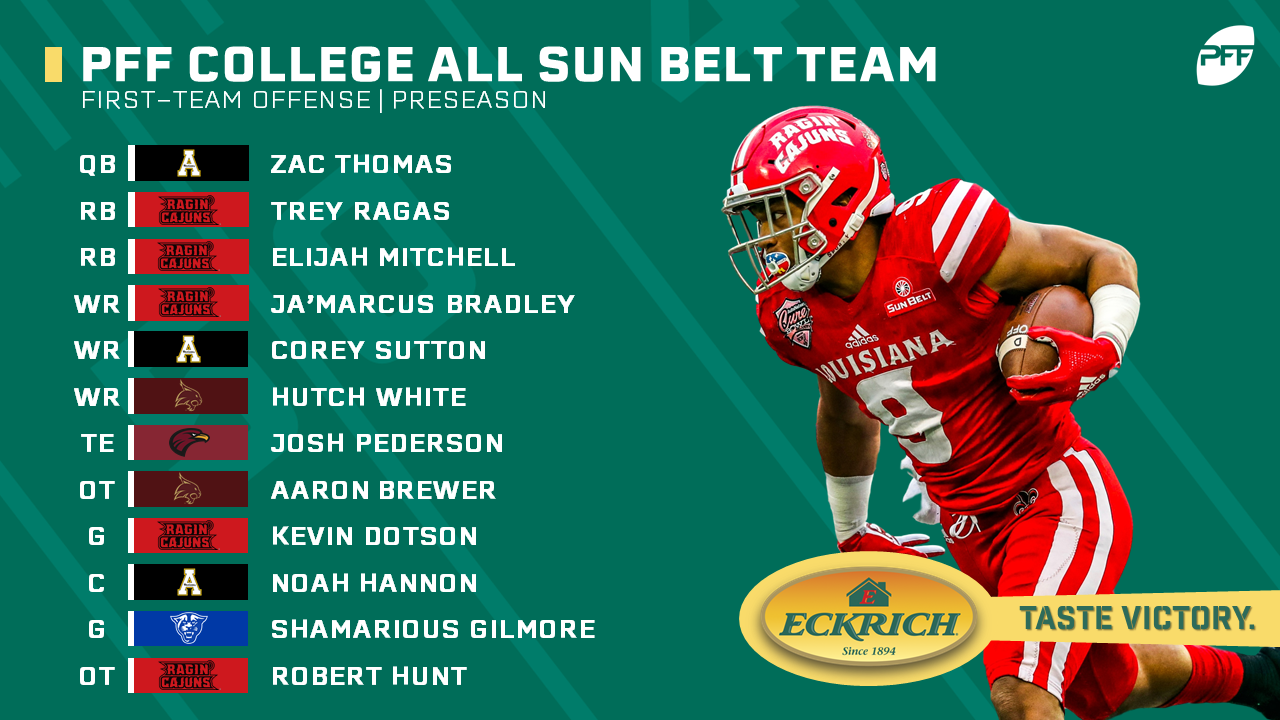 Louisiana's 1-2 punch at running back rivals the country's best and headline the offensive selections on the Sun Belt team. The Ragin' Cajuns return key players across the board but the conference's top quarterback spot belongs to App State's Zac Thomas. First-Team All-American Kindle Vildor highlights the defensive side of the ball in the Sun Belt.
QB
Zac Thomas, App State
Second-Team: Shai Werts, Georgia Southern
Honorable Mention: Levi Lewis, Louisiana
RB
Trey Ragas, Louisiana
Second-Team: Marcel Murray, Arkansas State
Honorable Mention: Tra Minter, South Alabama
RB
Elijah Mitchell, Louisiana
Second-Team: Darrynton Evans, App State
Honorable Mention: B.J. Smith, Troy
WR
Ja'Marcus Bradley, Louisiana
Second-Team: Malik Williams, App State
Honorable Mention: Kawaan Baker, South Alabama
WR
Corey Sutton, App State
Second-Team: Omar Bayless, Arkansas State
Honorable Mention: RJ Turner, UL-Monroe
WR
Hutch White, Texas State
Second-Team: Ky'Jon Tyler, Coastal Carolina
Honorable Mention: Jordan McCray, South Alabama
TE
Josh Pederson, UL-Monroe
Second-Team: Collin Reed, App State
Honorable Mention: Isaiah Likely, Coastal Carolina
OT
Aaron Brewer, Texas State
Second-Team: Hunter Atkinson, Georgia State
Honorable Mention: Ryan Alexander, South Alabama
OG
Kevin Dotson, Louisiana
Second-Team: Ryan Neuzil, App State
Honorable Mention: Tristian Crowder, Troy
C
Noah Hannon, App State
Second-Team: Bobby Reynolds, UL-Monroe
Honorable Mention: Cole Prudhomme, Louisiana
OG
Shamarious Gilmore, Georgia State
Second-Team: Baer Hunter, App State
Honorable Mention: T.J. Fiailoa, UL-Monroe
OT
Robert Hunt, Georgia State
Second-Team: Eastwood Thomas, UL-Monroe
Honorable Mention: J.L. Gaston, Troy
First-Team Defense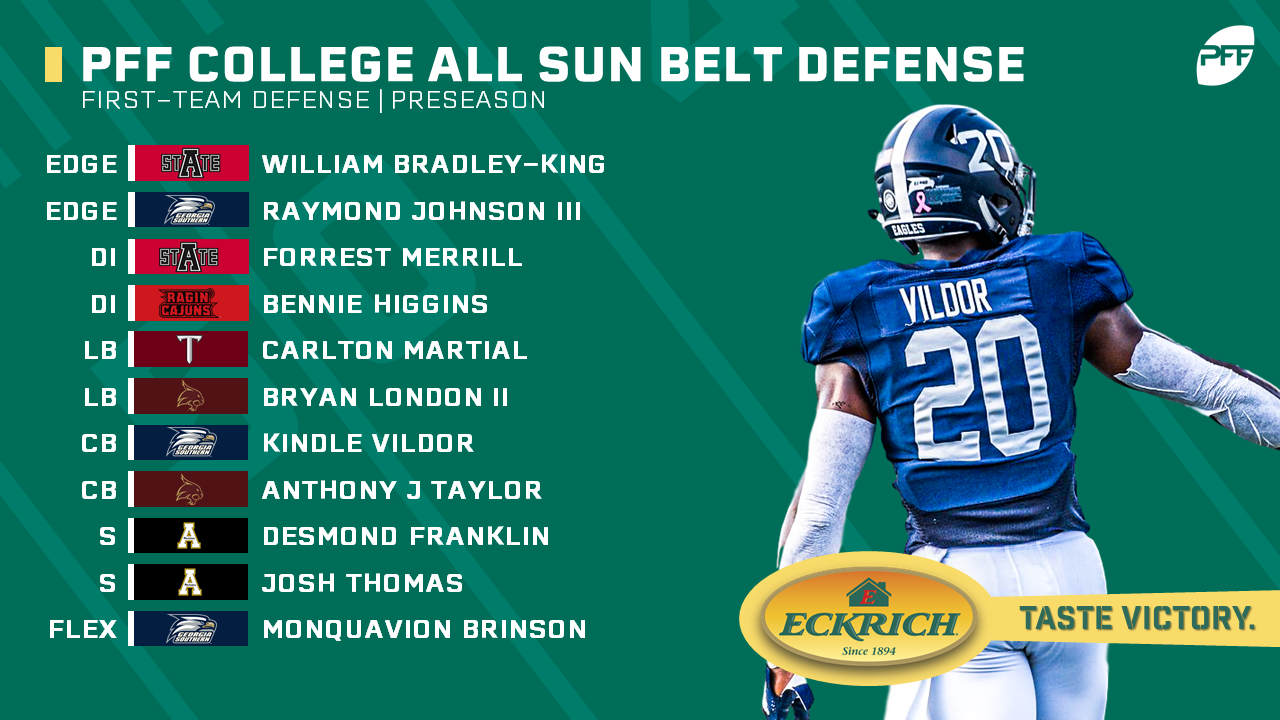 Edge
William Bradley-King, Arkansas State
Second-Team: Tarron Jackson, Coastal Carolina
Honorable Mention: Jarvis Hayes, Troy
Edge
Raymond Johnson III, Georgia Southern
Second-Team: Terry Thomas, Georgia State
Honorable Mention: Chauncey Manac, Louisiana
DI
Forrest Merril, Arkansas State
Second-Team: Larance Shaw, UL-Monroe
Honorable Mention: Kevin Thurmon, Arkansas State
DI
Bennie Higgins, Louisiana
Second-Team: Tyree Turner, South Alabama
Honorable Mention: Caeveon Patton, Texas State
LB
Carlton Martial, Troy
Second-Team: Tron Folsom, Troy
Honorable Mention: Akeem Davis-Gaither, App State
LB
Bryan London II, Texas State
Second-Team: Nikolas Daniels, Texas State
Honorable Mention: Tajhea Chambers, Arkansas State
CB
Kindle Vildor, Georgia Southern
Second-Team: Tyler Murray, Troy
Honorable Mention: Michael Jacquett III, Louisiana
CB
Anthony J Taylor, Texas State
Second-Team: Tobias Moss, South Alabama
Honorable Mention: Jeremy Smith, Arkansas State
S
Desmond Franklin, App State
Second-Team: Jashon Waddy, Texas State
Honorable Mention: Kenderick Duncan Jr., Georgia Southern
S
Josh Thomas, App State
Second-Team: Josh Newman, Texas State
Honorable Mention: Jabari Johnson, UL-Monroe
Flex
Monquavion Brinson, Georgia Southern
Second-Team: Marcus Jones, Troy
Honorable Mention: Kordell Rodgers, Texas State
First-Team Specialists
K
Tyler Bass, Georgia Southern
P
Cody Grace, Arkansas State