After grading and analyzing every player on every play of every game during the 2018 college football season, it's time we unveil the 2019 Preseason PFF All-C-USA first team, second team and honorable mention for every position on offense and defense as well as for the first time ever, specialists.

The Preseason All-C-USA list may differ a bit from any year-end look back at the previous season as we project to the 2019 season ahead of us. Find out which of these athletes made the PFF All-American team as well.
First-Team Offense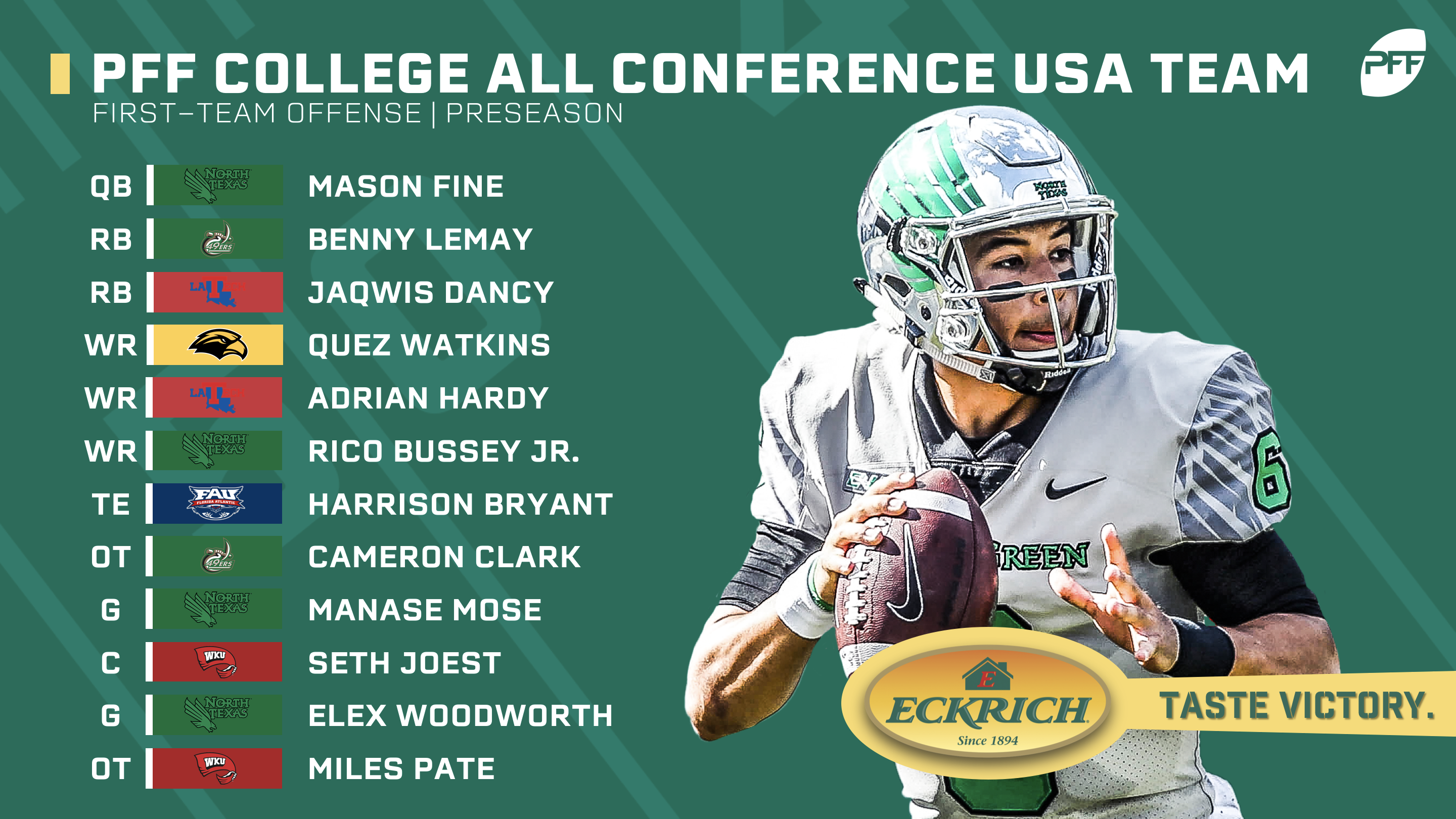 The first-team offense for the Conference-USA is headlined by Mason Fine, our No. 5 overall quarterback in the country to start the year. There are some talented guys across the board, including skillplayers and some stout defensive backs that should keep this season's C-USA slate competitive.
QB
Mason Fine, North Texas
Second-Team: Tyler Johnston III, UAB
Honorable Mention: J'Mar Smith, Louisiana Tech
RB
Benny Lemay, Charlotte
Second-Team: DeAndre Torrey, North Texas
Honorable Mention: D'Vonte Price, FIU
RB
Jaqwis Dancy, Louisiana Tech
Second-Team: Chaton Mobley, Middle Tennessee
Honorable Mention: Spencer Brown, UAB
WR
Quez Watkins, Southern Miss
Second-Team: Eric Kumah, ODU
Honorable Mention: Bryce Singleton, FIU
WR
Adrian Hardy, Louisiana Tech
Second-Team: Jaelon Darden, North Texas
Honorable Mention: Aaron Cephus, Rice
WR
Rico Bussey, North Texas
Second-Team: C.J. Worton, FIU
Honorable Mention: Austin Maloney, FIU
TE
Harrison Bryant, FAU
Second-Team: Jordan Myers, Rice
Honorable Mention: Kyle Fourtenbary, Western Kentucky
OT
Cameron Clark, Charlotte
Second-Team: Brandon Walton, FAU
Honorable Mention: Josh Dunlop, UTSA
OG
Manase Mose, North Texas
Second-Team: Tyler Witt, Western Kentucky
Honorable Mention: Ty Pollard, Southern Miss
C
Seth Joest, Western Kentucky
Second-Team: Sosaia Mose, North Texas
Honorable Mention: Kody Russey, Louisiana Tech
OG
Elex Woodworth, North Texas
Second-Team: Cain Madden, Marshall
Honorable Mention: Ethan Reed, Louisiana Tech
OT
Miles Pate, Western Kentucky
Second-Team: Tarik Adams, Marshall
Honorable Mention: D'Antne Demery, FIU
First-Team Defense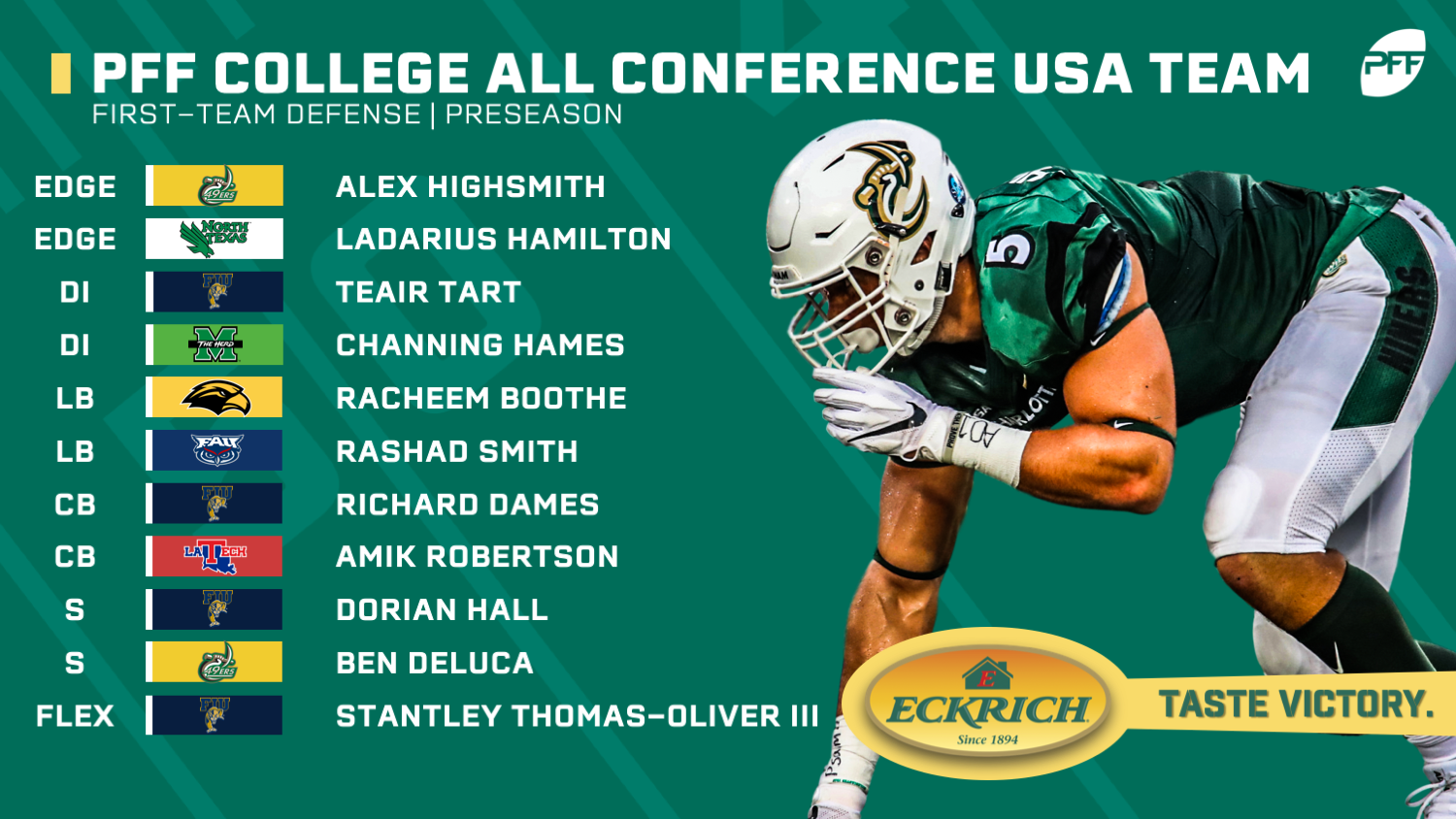 Edge
Alex Highsmith, Charlotte
Second-Team: Lorenzo Dantzler, UTSA
Honorable Mention: Deangelo Malone, Western Kentucky
Edge
LaDarius Hamilton, North Texas
Second-Team: Jacques Turner, Southern Miss
Honorable Mention: Jarrod Carter-McLin, UTSA
DI
Teair Tart, FIU
Second-Team: Dion Novil, North Texas
Honorable Mention: Bryce English, North Texas
DI
Channing Hames, Marshall
Second-Team: Myles Adams, Rice
Honorable Mention: Garrett Marino, UAB
LB
Racheem Booth, Southern Miss
Second-Team: Jeff Gemmell, Charlotte
Honorable Mention: Sage Lewis, FIU
LB
Rashad Smith, FAU
Second-Team: Kristopher Moll, UAB
Honorable Mention: Lawrence Garner, ODU
CB
Amik Robertson, Louisian Tech
Second-Team: Ta'Corian Darden, Western Kentucky
Honorable Mention: Rachuan Mitchell, Southern Miss
CB
Richard Dames, FIU
Second-Team: Joe Joe Headen, ODU
Honorable Mention: Nafees Lyon, Charlotte
S
Dorian Hall, FIU
Second-Team: Khairi Muhammad, North Texas
Honorable Mention: Reed Blankenship, Middle Tennessee
S
Ben Deluca, Charlotte
Second-Team: Ky'El Hemby, Southern Miss
Honorable Mention: Devon Key, Western Kentucky
Flex
Stantley Thomas-Oliver III, FIU
Second-Team: L'Jarius Sneed, Louisiana Tech
Honorable Mention: Chris Jackson, Marshall
First-Team Specialists
K
Jonathan Cruz, Charlotte
P
Alen Kenworthy, North Texas