The 2019 season begins this weekend and with that, the full set of 2018 data officially becomes history. We look ahead towards the top-graded players returning in each conference, keeping things going with the Sun Belt.

PFF grades every player on every play of every game and has done so since the 2014 season. The play-by-play grading creates a subset of advanced statistics that help depict the college game at a level deeper than ever. The grades below are from 2018 and not a projection towards this coming season.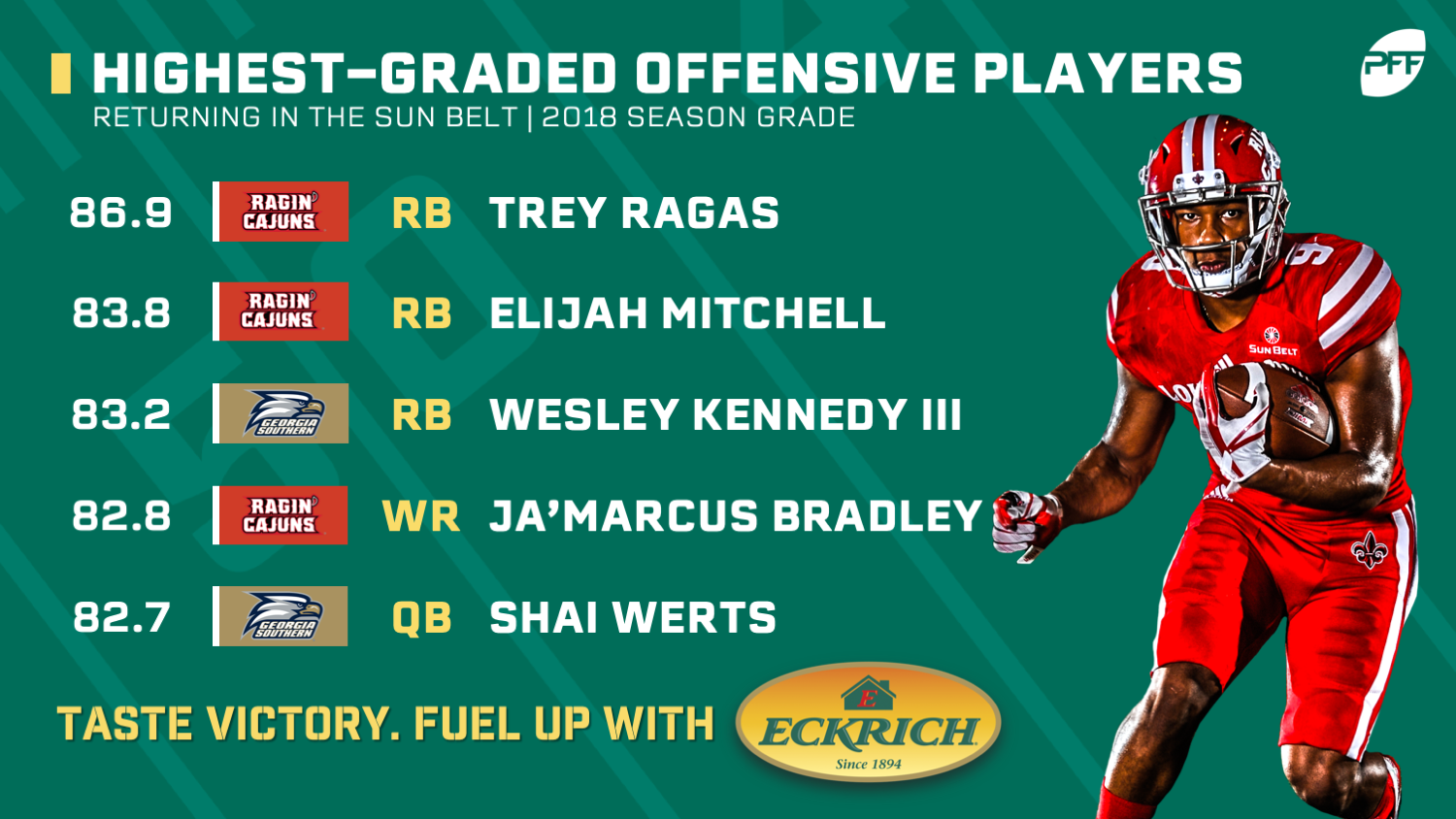 Offense
Quarterback
Shai Werts, Georgia Southern – 82.7
Levi Lewis, Louisiana – 79.6*
Zac Thomas, App State – 75.1
Werts will start the season after an offseason full of distractions as the top-graded quarterback in the conference from a year ago. Thomas is as accurate as they come in the Sun Belt while Lewis was awesome with his limited snaps last year.
Running Back
Trey Ragas, Louisiana – 86.9
Elijah Mitchell, Louisiana – 83.8
Wesley Kennedy III, Georgia Southern – 83.2
Marcel Murray, Arkansas State – 82.3
Raymond Calais, Louisiana – 81.3
The Ragin' Cajuns truly have one of not only the Sun Belt's best but one of the nation's top running back duos in Ragas and Mitchell while Calais also ran the ball for 743 yards including the long run in the conference last year at 92 yards. Ragas forced 55 missed tackles a year ago to lead the conference.
Wide Receiver
Ja'Marcus Bradley, Louisiana – 82.8
Corey Sutton, App State – 78.2
Hutch White, Texas State – 73.2
Jalen Virgil, App State – 71.1*
Malik Williams, App State – 70.5
Bradley tops the ranks after hauling in 40 catches for 608 yards that including 10 touchdowns and 20 more first-down receptions. Sutton is the returning leader in yards as he saw a ridiculously-high 122.4 passer rating when targeted.
Tight End
Isaiah Likely, Coastal Carolina – 67.8
Henry Pearson, App State – 66.6
Josh Pederson, UL-Monroe – 66.0
No returning tight end returns with more than 208 yards or more than 24 targeted passes their way from last season. Likely secured 80.0% of the passes thrown his way last year and a conference-high five touchdowns.
Offensive Tackle
Aaron Brewer, Texas State – 80.5
Robert Hunt, Louisiana – 75.6
Hunter Atkinson, Georgia State – 69.2
Eastwood Thomas, UL-Monroe – 68.2
Ryan Alexander, South Alabama – 66.9
Brewer is the leader in pass-blocking grade and run-blocking grade among tackles in the conference, having allowed just 16 pressures from left tackle and center a year ago, on 412 snaps in pass protection. Hunt was also dominant in pass protection, allowing nine pressures on 409 pass-blocking snaps.
Offensive Guard
Kevin Dotson, Louisiana – 75.5
Shamarious Gilmore, Georgia State – 72.3
Ryan Neuzil, App State – 70.0
Travius Harris, Troy – 67.7*
Baer Hunter, App State – 65.8
Dotson was a stalwart in pass protection, allowing just six pressures on his 403 snaps in pass protection. Gilmore returns with the highest pass-blocking grade among all guards in the conference.
Center
Noah Hannon, App State – 74.9
Bobby Reynolds, UL-Monroe – 71.1
Cole Prudhomme, Louisiana – 68.2
Reynolds allowed the fewest pressures among this group while Hannon's 75.2 run-blocking grade was the highest among returning centers by a long shot in the conference.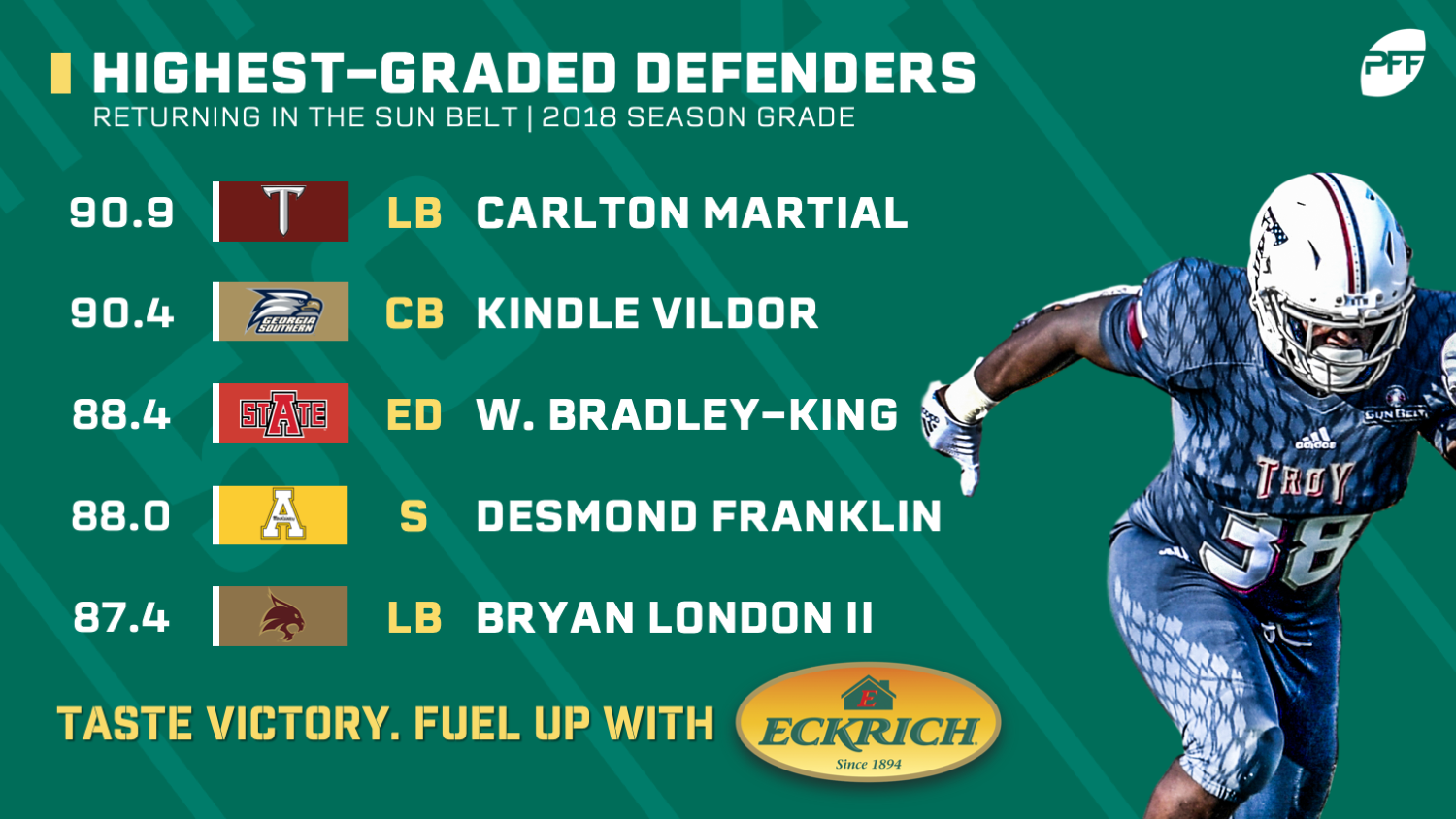 Defense
Edge Defender
William Bradley-King, Arkansas State – 88.4
Raymond Johnson III, Georgia Southern – 83.3
Chris Willis, App State – 80.8
Tarron Jackson, Coastal Carolina – 78.8
Terry Thomas, Georgia State – 78.7
Bradley-King is an incredible pass-rusher, recording 32 pressures on just 189 pass-rushes. He made a combined 14 sacks+hits while Johnson returns with 24 defensive stops and just five missed tackles on his combined 39 tackle attempts last year along the edge.
Interior Defender
Forrest Merrill, Arkansas State – 85.3
Larance Shaw, UL-Monroe – 82.7
Tyree Turner, South Alabama – 81.8
Bennie Higgins, Louisiana – 81.5
Kevin Thurmon, Arkansas State – 80.4
Thurmon leads the returning group of interior defenders with 31 QB pressures while Merrill's 37 defensive stops are the top mark in the Sun Belt. This is a deep group of interior defensive linemen returning to the conference.
Linebacker
Carlton Martial, Troy – 90.9
Bryan London II, Texas State – 87.4
Nikolas Daniels, Texas State – 86.0
Tron Folsom, Troy – 81.2
Justin Whisenhunt, Troy – 78.8
Martial finished with the conference's top overall and top run-defense grade, finishing with 17 pressures on just 63 snaps. He made 39 defensive stops and missed just six of his combined 67 tackle attempts last year, rounding out his overall game.
Cornerback
Kindle Vildor, Georgia Southern – 90.4
Anthony J. Taylor, Texas State – 83.3
Monquavion Brinson, Georgia Southern – 83.0
Marcus Jones, Troy – 81.8
Jerry Jacobs, Arkansas State – 80.6
Vildor is an All-American in our books as his prowess in coverage has not gone unnoticed. He allowed just 56.9% of his targeted passes to be caught, limited quarterbacks to a 52.5 passer rating and came away with 10 combined plays on the ball last season. Brinson has done it year in and year out for the Eagles and last season was no different.
Safety
Desmond Franklin, App State – 88.0
Kyler Knudsen, Troy – 86.6*
Josh Thomas, App State – 80.8
Jashon Waddy, Texas State – 78.4
Josh Newman, Texas State – 77.6
Franklin and Thomas form quite the duo as Franklin leads all returning safeties in coverage grade in the conference while Thomas' all-around grades warrant his place near the top of this list. Franklin saw just 16 targets as the primary coverage defender last season but came away with four interceptions and four more pass breakups.