The 2019 season begins this weekend and with that, the full set of 2018 data officially becomes history. We look ahead towards the top-graded players returning in each conference, keeping things going with the Big Ten.

PFF grades every player on every play of every game and has done so since the 2014 season. The play-by-play grading creates a subset of advanced statistics that help depict the college game at a level deeper than ever. The grades below are from 2018 and not a projection towards this coming season.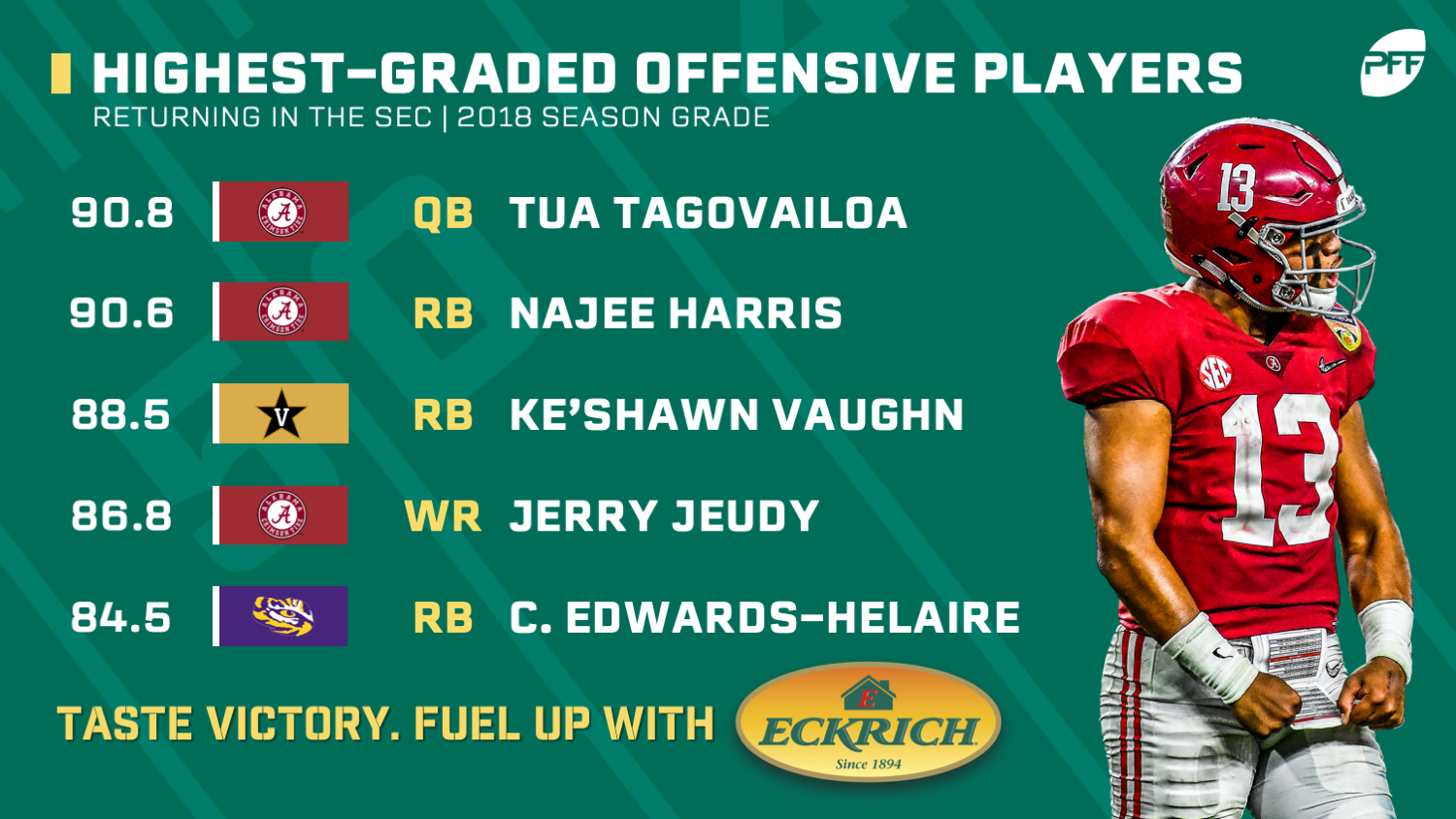 Offense
Quarterback
Tua Tagovailoa, Alabama – 90.8
Matt Corral, Ole Miss – 88.5*
Jake Fromm, Georgia – 82.8
Jarrett Guarantano, Tennessee – 82.4
Tagovailoa is the All-World QB from Alabama who even the casual college football fan knows seemingly everything about. Corral is slated to take the starting role at Ole Miss and looked great in limited snaps a season ago. Fromm and Guarantano each represent high-upside at their respective programs as Fromm has been the thorn in Alabama's side the past two seasons.
Running Back
Najee Harris, Alabama – 90.6
Ke'Shawn Vaughn, Vanderbilt – 88.5
Clyde Edwards-Helaire, LSU – 84.5
Lamical Perine, Florida – 83.8
Larry Rountree III, Missouri – 81.8
Harris is the class of running backs in the SEC this season as he dominated on just 117 carries in a talent-laden backfield. He gained 512 of his 783 yards after contact and 37 combined first-down and touchdown runs for the Crimson Tide. Vaughn, Perine, Rountree, CEH and D'Andre Swift return as arguably the most stacked running back conference in the nation.
Wide Receiver
Jaylen Waddle, Alabama – 89.7
Jerry Jeudy, Alabama – 86.8
Kadarius Toney, Florida – 83.5
Kalija Lipscomb, Vanderbilt – 81.1
Lynn Bowden Jr., Kentucky – 77.2
The Alabama receiving corps is the best in the nation by a mile as Waddle and Jeudy headline their group and also the SEC's highest-graded players at the position. Jeudy is the reigning Biletnikoff Award winner for a reason and he runs the best routes in all of college football. Waddle is a true after-the-catch threat and they're joined by Henry Ruggs and DeVonta Smith. Toney needs more touches in 2019 if the Gators are to succeed.
Tight End
Cheyenne O'Grady, Arkansas – 79.7
Jared Pinkney, Vanderbilt – 78.5
Albert Okwuegbunam. Missouri – 73.0
Pinkney is the class of tight ends this season but O'Grady out graded him by a slim margin on fewer snaps. Still, he is just as dangerous as he is reliable and we expect O'Grady to breakout while the proven Pinkney and Albert O are reliable for their new quarterbacks to feed the ball to.
Offensive Tackle
Prince Tega Wanogho, Auburn – 84.0
Andrew Thomas, Georgia – 80.6
Jack Driscoll, Auburn – 77.7
Isaiah Wilson, Georgia – 76.2
Tyre Phillips, Mississippi State – 73.6
Tega Wanogho returns as one of the nation's best pass-blocking tackles while Thomas is the best all-around one of the bunch. Thomas' ascension to the top ranks here is a testament to how well he took to the left tackle position after transitioning from right tackle in 2017.
Offensive Guard
Damien Lewis, LSU – 77.1
Solomon Kindley, Georgia – 75.9
Ben Cleveland, Georgia – 75.6
Jamaree Salyer, Georgia – 74.1
Logan Stenberg, Kentucky – 72.3
Kindley, Cleveland and Salyer explain the depth on the Georgia roster as Kindley is the best pass-blocking guard in the conference and we expect Cleveland to break out in 2019.
Center
Lloyd Cushenberry III, LSU – 77.1
Drake Jackson, Kentucky – 72.8
Donell Stanley, South Carolina – 69.1
Cushenberry is all set to be the class at center in the SEC this season and Stanley is taking his talents to guard for the Gamecocks. Jackson is a well-rounded player with top marks in both pass protection and run-blocking among this group as well.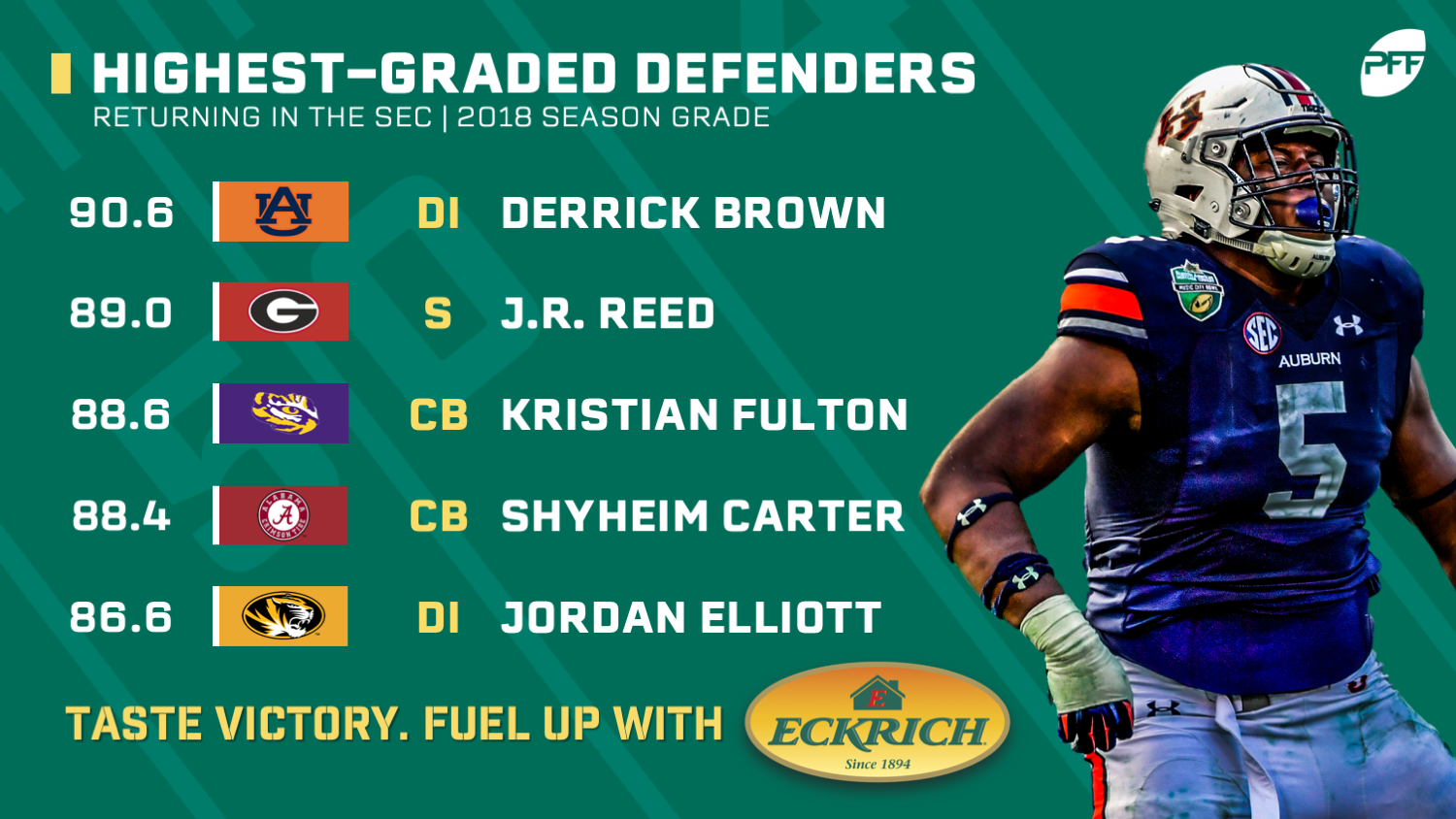 Defense
Edge Defender
Malik Herring, Georgia – 83.6
Michael Divinity Jr., LSU – 81.1*
Labryan Ray, Alabama – 78.9
Darrell Taylor, Tennessee – 78.2
Jeremiah Moon, Florida – 77.6
Divinity led the returning edge defenders in the conference with 43 total QB pressures while he dropped back to pass more than the others as well. In fact, on 10 targeted passes, he allowed just 58 yards and came down with an interception to boot. He'll rely on that coverage ability as he transitions to full-time inside linebacker in 2019. Herring and Ray played limited snaps but should see increased production this year as they graded well in 2018.
Interior Defender
Derrick Brown, Auburn – 90.6
Jordan Elliott, Missouri – 86.6
Javon Kinlaw, South Carolina – 85.0
Justin Madubuike, Texas A&M – 84.2
Josiah Coatney, Ole Miss – 82.0
This is just how strong the interior defensive line class of the SEC is as Brown leads the charge with 29 pressures and 34 defensive stops as a true three-down threat. Elliott is poised to break out as he had plus-grades in all three facets and should see an influx in snaps.
Linebacker
Cale Garrett, Missouri – 83.1
Chris Oats, Kentucky – 80.7
Erroll Thompson, Mississippi State – 79.9
Tae Crowder, Georgia – 76.0
Monty Rice, Georgia – 73.9
Garrett is the most well-rounded linebacker in the conference this season as he returns with strong run-defense grades, tackling grades and coverage grades. He recorded 15 pressures on just 62 blitzes to boot and has the conference's third-highest tackling grade after missing just nine of his whopping 122 attempts.
Cornerback
Kristian Fulton, LSU – 88.6
Shyheim Carter, Alabama – 88.4
Javaris Davis, Auburn – 82.6
Eric Stokes, Georgia – 82.2
Cameron Dantzler, Mississippi State – 82.0
Fulton made now-NFLer Greedy Williams an afterthought last season as he was dominant in coverage and all other facets. He was targeted 41 times and allowed just 17 receptions and 49 yards after the catch. Carter locked down the slot and Davis utilized his length to not allow a touchdown in coverage. The SEC is once again loaded at cornerback.
Safety
J.R. Reed, Georgia – 89.0
Daniel Thomas, Auburn – 86.0
Jamien Sherwood, Auburn – 85.4
Brad Stewart Jr., Florida – 84.8
Grant Delpit, LSU – 84.4
Our First-Team All-American safeties come from the SEC as Delpit and Reed take home those honors. Delpit, save for missed tackles, is the class of all safeties in the nation, dominant when blitzing, strong in coverage and more than capable in run defense. Reed is primed for a big year with the rest of the Bulldogs secondary.