The 2019 season begins this weekend and with that, the full set of 2018 data officially becomes history. We look ahead towards the top-graded players returning in each conference, keeping things going with the AAC.

PFF grades every player on every play of every game and has done so since the 2014 season. The play-by-play grading creates a subset of advanced statistics that help depict the college game at a level deeper than ever. The grades below are from 2018 and not a projection towards this coming season.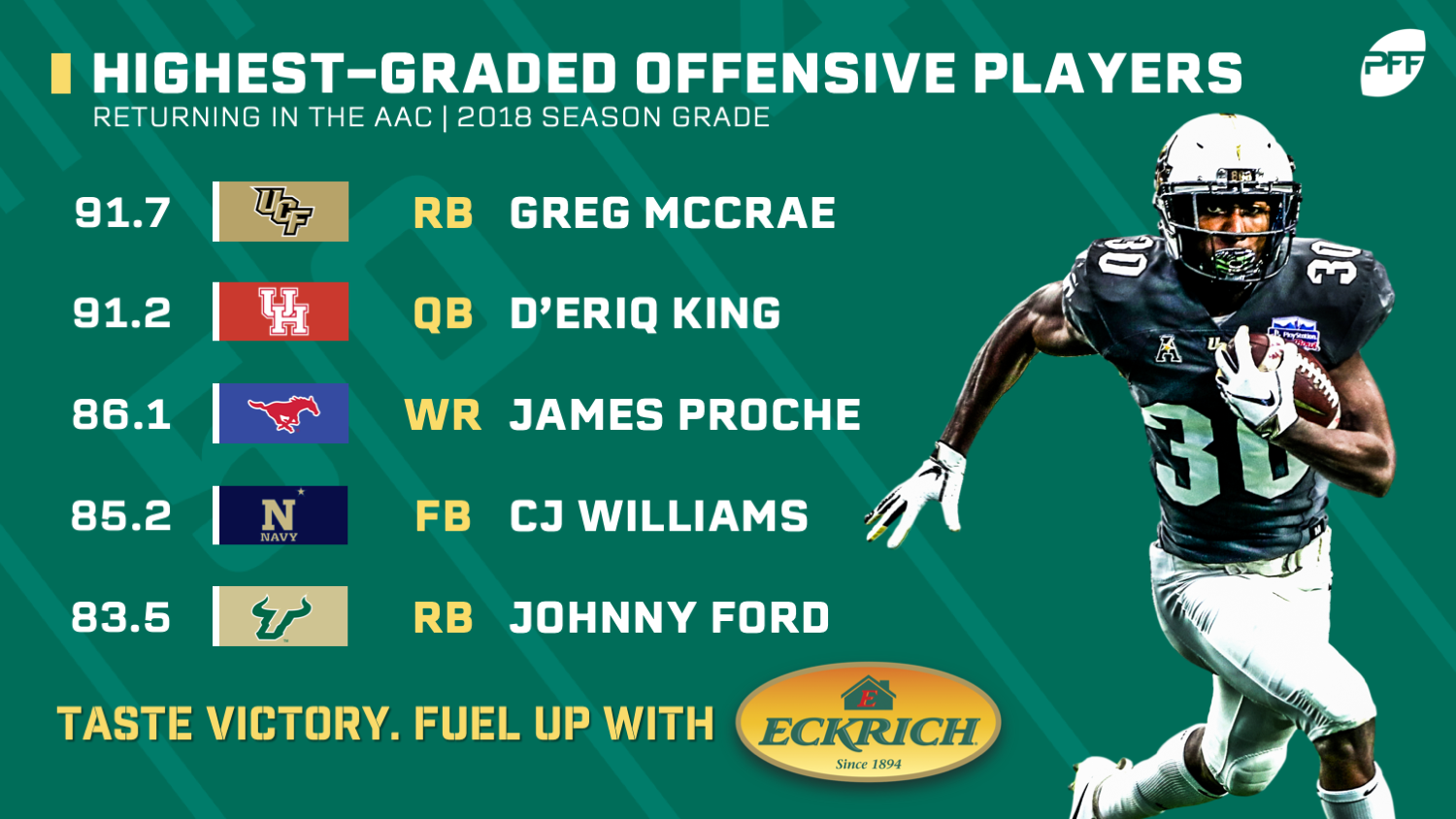 Offense
Quarterback
D'Eriq King, Houston – 91.2
McKenzie Milton, UCF – 83.7
Anthony Russo, Temple – 83.3
Obviously, Milton won't be returning to action this season after a tough knee injury late last season but his two-year grades are among the top quarterbacks in the country, not just the AAC. King is the known, Russo is more of the unknown as he'll look to capitalize on a top-notch 2018 season this year.
Running Back
Greg McCrae, UCF – 91.7
Johnny Ford, USF – 83.5
Tavion Thomas, Cincinnati – 81.8
Darius Bradwell, Tulane – 80.7
Patrick Carr, Houston – 79.7
CJ Williams, Navy (FB) – 85.2
The noticeably absent from this list is Michael Warren, who finished with a 74.6 overall grade mainly in part to five fumbles. Warren is still our Second-Team All-AAC running back for good reason but McCrae and Bradwell highlight this group after each ran for 1,100+ yards and over 1,200 combined yards after contact last year.
Wide Receiver
James Proche, SMU – 86.1
Damonte Coxie, Memphis – 81.8
Marquez Stevenson, Houston – 76.5
Jayshon Jackson, Cincinnati – 75.4
Jernard Phillips, USF – 73.2
Darnell Mooney, Tulane – 72.1
Proche, Coxie and Stevenson were each targeted well over 100 times last year and represent the only three returning receivers with 1,000+ yards from a year ago. All three are threats with the ball in their hands and gained over 440 yards after the catch while forcing double-digit missed tackles.
Tight End
Josiah Deguara, Cincinnati – 75.4
Joey Magnifico, Memphis – 74.1
Mitchell Wilcox, USF – 68.3
Deguara hauled in 38 receptions last season, averaging 12.3 yards per catch as 23 of those either moved the chains for a first down or scored a touchdown. Magnifico is the after-the-catch threat, gaining 210 of his 363 yards after making the reception while he forced nine missed tackles as well.
Offensive Tackle
Jarrid Williams, Houston – 77.4
Josh Jones, Houston – 71.9
Marcus Norman, USF – 69.0
Matt Peart, UConn – 68.1
Donovan Jennings, USF – 64.6
The bookend tackles at Houston should present King with ample clean pockets for him to work from. Last season, they combined to allow only 23 combined pressures on a whopping 1,098 pass-blocking snaps.
Offensive Guard
Dustin Woodard, Memphis – 80.3
Jovahn Fair, Temple – 75.1
Dylan Parham, Memphis – 74.2
Nino Leone, UConn – 70.8
Cam DeGeorge, UConn – 69.2
Woodard made our All-American Team as a Second-Team Guard for good reason. He allowed just two combined sacks and hits on 471 pass-blocking snaps and led the AAC in run-blocking grade a year ago. Fair is dominant in pass protection and the solid interior protection in the passing game for the Huskies should only get better this season.
Center
Ford Higgins, Navy – 77.5
Matt Hennessy, Temple – 76.9
Jordan Johnson, UCF – 75.6
Hennessy highlights this group as he actually has the nation's highest pass-blocking grade among returning centers. He allowed all of two pressures on his 381 reps in pass protection last year.
Defense
Edge Defender
Patrick Johnson, Tulane – 89.0
Trevis Gipson, Tulsa – 87.2
Kirk Livingstone, USF – 82.1
Joesph Dorceus, Memphis – 78.2
Quincy Roche, Temple – 77.4
Johnson returns as the conference leader in pressures and sacks from the edge position last year. His 44 total pressures rank in the top 20 among all edge defenders as he came on strong in his second season with the Green Wave.
Interior Defender
Alex Turner, ECU – 83.4
Travis Jones, UConn – 82.8
Tyarise Stevenson, Tulsa – 82.4
O'Bryan Goodson, Memphis – 81.4
Caleb Thomas, UConn – 77.8
Turner heads back to ECU with the conference's top run-defense grade while Goodson came away with the AAC's second-highest pressure total from the interior among returning players.
Linebacker
Aaron Ramseur, ECU – 83.0
JJ Russell, Memphis – 74.8
Perry Young, Cincinnati – 74.3
Shawn Burgess-Becker, UCF – 74.1
Sam Franklin, Temple – 72.9
Ramseur's strength is in coverage where he allowed just seven receptions for 41 yards on 238 snaps in which he dropped back. Young is a do-it-all linebacker who's sharp in all facets while Franklin returns with 20 QB pressures on just 105 pass-rushes from 2018.
Cornerback
Colby Gore, ECU – 80.0
Coby Bryant, Cincinnati – 77.6
Kevin Johnson, SMU – 77.2
James Wiggins, Cincinnati – 77.2
Mike Hampton, USF – 77.1
Hampton played more snaps than all but two returning cornerbacks in the conference yet he allowed just 43.9% of the passes thrown his way to be caught. Gore combined for five plays on the ball while Bryant flashed some elite-level potential in games, coming away with 11 pass breakups and two more interceptions.
Safety
Richie Grant, UCF – 89.7
Jacob Springer, Navy – 80.6
Darrick Forrest, Cincinnati – 76.8
Benny Walls, Temple – 76.2
Mekhi LaPointe, USF – 75.9
Grant is a stalwart in coverage just as he is in run defense. He tallied 33 defensive stops while not allowing a reception longer than 25 yards. He came away with six interceptions and four more pass breakups to tally a ridiculously-low 42.6 passer rating as the primary coverage defender.