We've moved quickly through the second week of the season after an incredible slate of games on Saturday that saw a new leader jump to the top of the race for the Heisman Trophy. After the second week of action, we take another look at who's in line for the Heisman in our weekly Heisman Watch.

1. Joe Burrow, QB, LSU
The nation's leader in adjusted completion percentage on passes targeted 10 or more yards downfield, Burrow put on a beautiful display of what the LSU offense brings to the table against Texas in prime time. He's completed 24-of-31 passes for 536 yards, seven touchdowns on throws at least 10 yards downfield, the latter of which leads the country as well. He's the nation's highest-graded passer on such throws and vaulted himself into the Heisman lead with his elite performance against Texas.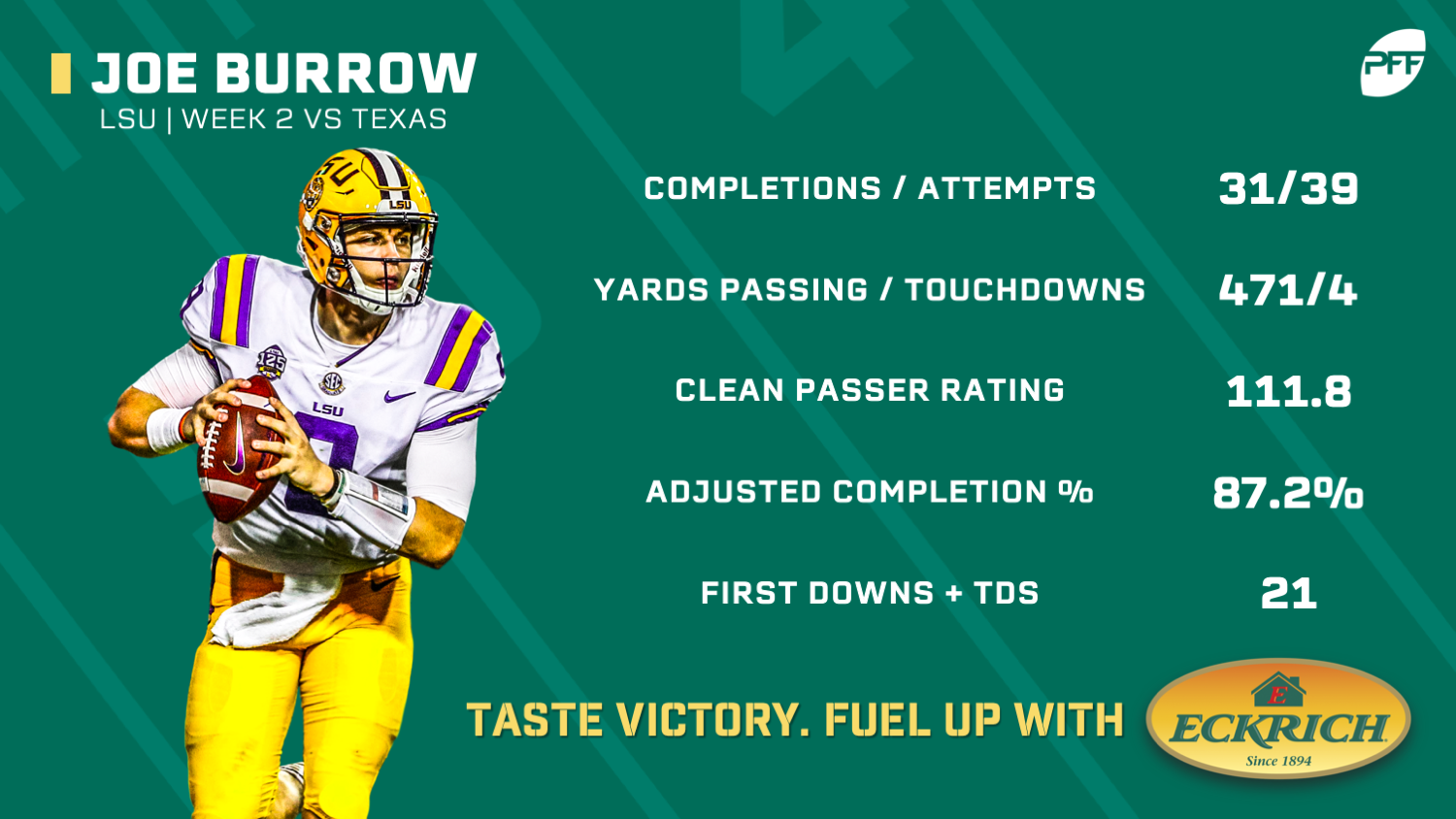 2. Jalen Hurts, QB, Oklahoma
Hurts did exactly what you'd want him to do in the Oklahoma offense against an undermanned South Dakota team. If he wants to keep his spot at the top of this list, he'll have to start uncorking some big-time throws as he's currently the only one of the nation's 15 highest-graded quarterbacks without one to his name. Still, he's found the open receivers with ease and done enough with his legs at this point to maintain a top-2 spot.
3. Jerry Jeudy, WR, Alabama
The Alabama offense in 2019 could essentially be titled 'Feed Jerry Jeudy' and there's nothing wrong with that at all. For just the second time in his career, he's seen back-to-back games with at least 10 targets as his 12 targeted passes in Week 2 were the second-most he's seen in a game ever. He's currently averaging 4.62 yards per route run, a figure that leads the nation's receivers with at least 17 targets by a handsome margin.
4. Tua Tagovailoa, QB, Alabama
Tagovailoa has taken remarkable care of the football once again as he currently doesn't have a turnover-worthy play to his credit and he's found the open receiver with accurate passes on 81.8% of his passes. He's had two relatively easy games to get going in 2019 and it doesn't look like he's slowing down anytime soon.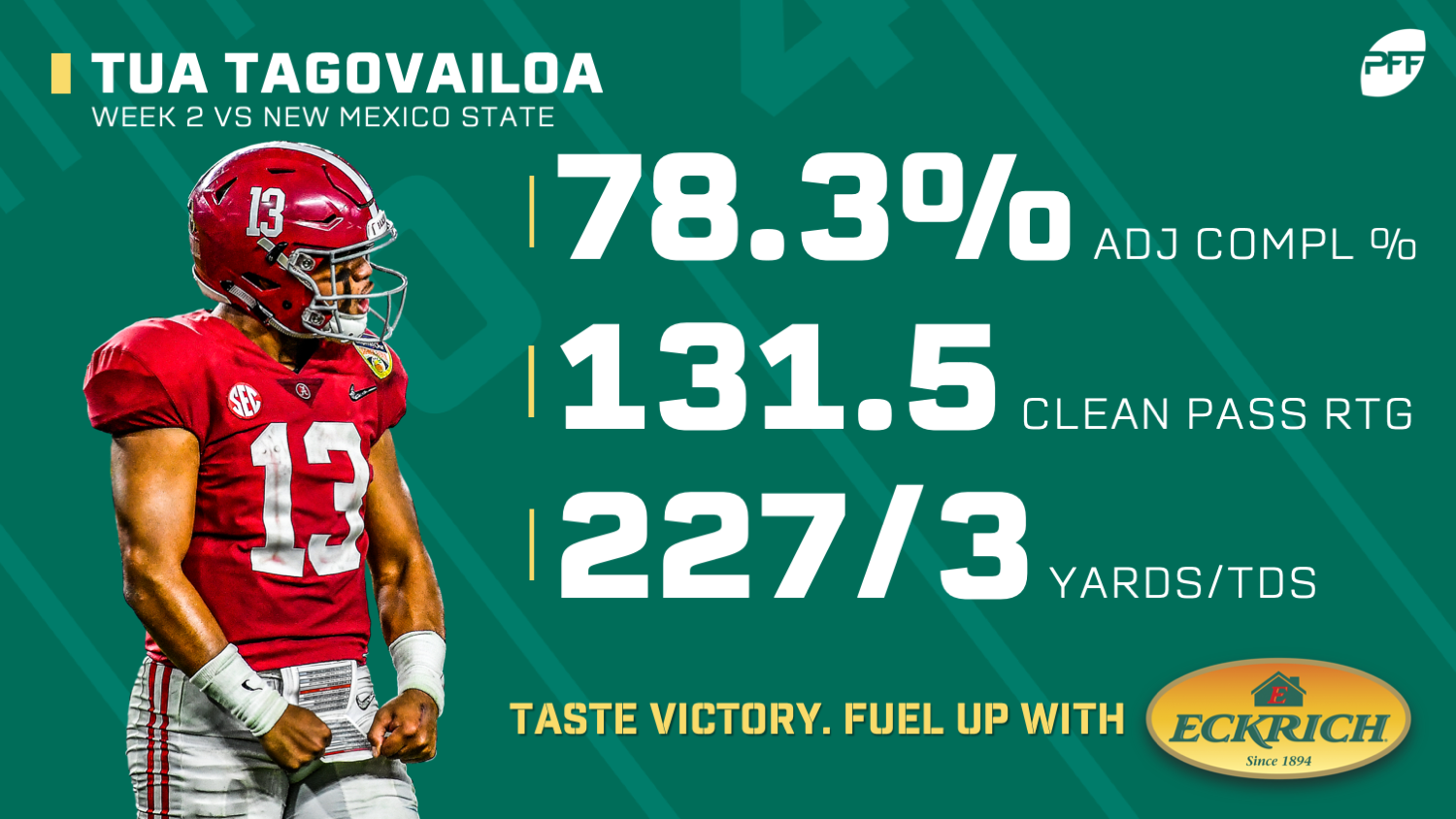 5. Trevor Lawrence, QB, Clemson
Bouncing back from a disappointing Week 1 performance, Lawrence maneuvered the pocket against Texas A&M and ran the Clemson offense to perfection at times. There were a few boneheaded decisions in this one as well but he was bailed out by his receivers against the Aggies and he's now made four turnover-worthy plays in 2019, just one shy of the total he reached ALL of last season. His progression in Week 2 compared to Week 1 bodes well for him going forward and into ACC play but he'll have to watch the turnover-worthy plays as he gets into conference play.
6. Justin Fields, QB, Ohio State
Fields followed up his Week 1 outing with a solid performance against Cincinnati, throwing for 224 yards on 20 completions as he is currently second in the country with a 90.9% adjusted completion percentage. He's accurate in the OSU offense and sharp with his legs as he's taken to his new team's scheme very well, very quickly. With his first intraconference road game on the horizon, whether or not we see him get tested and how he potentially handles his toughest opponent to date will be interesting as they travel to Indiana in Week 3.
7. Zack Moss, RB, Utah
No running back across the country has forced as many missed tackles on the ground as Moss has through two games, and it's not even close. His 27 missed tackles on his carries are a clear eight more than Jordan Mason at Georgia Tech and he's averaging a ridiculous 0.56 missed tackles per carry – a mark that would shatter the previous PFF College record for MT/att in a season (0.32 – David Montgomery, Iowa State).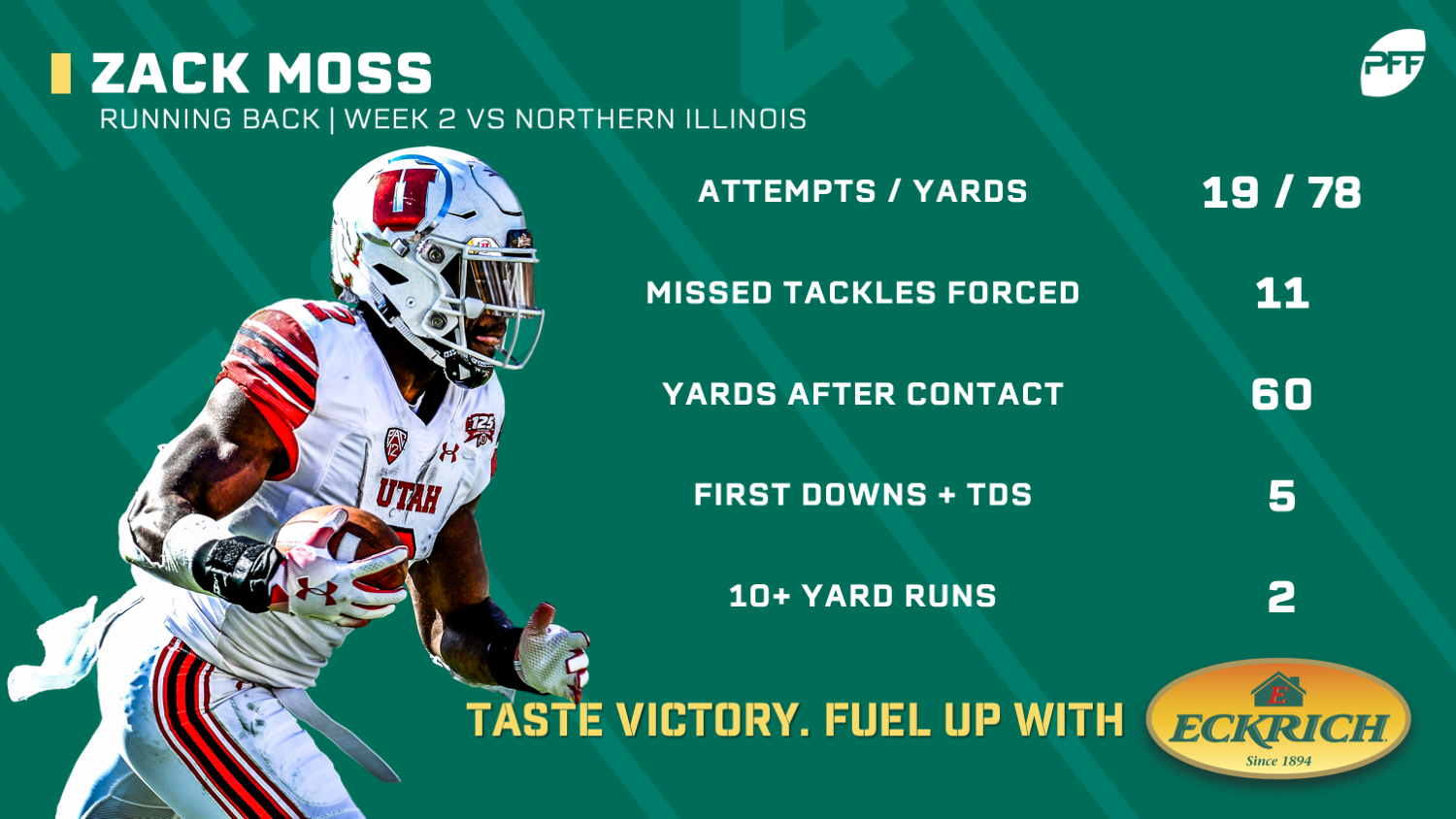 8. Rondale Moore, WR, Purdue
Moore will need more performances like his Week 2 outing if he were to truly compete for the Heisman all the way through December and the Boilermakers surely seem to know that. Only Hawaii's Cedric Byrd has more targeted passes than Moore as he also leads the country with 24 receptions and 342 yards through the air. He's gained 197 yards after the catch and forced six missed tackles as he weaves through defenders with ease.
9. Jonathan Taylor, RB, Wisconsin
It surely seems like the Badgers understood that the NFL is a passing game and a running back's value will depend heavily on his receiving ability as the feeding of Taylor in the passing game has increased dramatically in 2019. He has his first three receiving touchdowns of his career this season and has already surpassed his receiving yardage total from 2018 through just two games. That, and the fact that he's still remarkably consistent on the ground with 22 career games of at least 100 yards (out of 27 total games), Wisconsin is still in good hands with Taylor leading the way.
10. Kylin Hill, RB, Mississippi State
Hill already has a highlight-reel, Heisman-worthy moment to his credit as he was well on his way to a dominant performance in Week 2 before exiting with an injury. Still, his 15 missed tackles forced and 179 yards after contact are among the nation's best and he's a home-run threat every time he touches the ball. A healthy Hill for 12 games will only spell disaster for opponents and mean good things for his legitimate Heisman candidacy.