In one of the best back-and-forth battles you'll see, Oregon pulled off the 30-27 upset over Washington in overtime on Saturday. The game was tied at the end of each quarter, but the Ducks prevailed on a game-winning touchdown by CJ Verdell.
This recap is brought to you by Eckrich, the Official Smoked Sausage of the College Football Playoff.
Oregon QB Justin Herbert didn't have his finest game of the season but showed off his arm and athleticism with a #BigTimeThrow for a score just before the half.
#BigTimeThrow by Oregon QB Justin Herbert. Athleticism and arm strength on display pic.twitter.com/cvlqPxbCEx

— Steve Palazzolo (@PFF_Steve) October 13, 2018
Herbert finished just 1-for-5 on 20-plus yard throws for the game as wide receiver Dillon Mitchell was once again his favorite target, seeing 14 of Herbert's 28 targets, catching eight for 119 yards.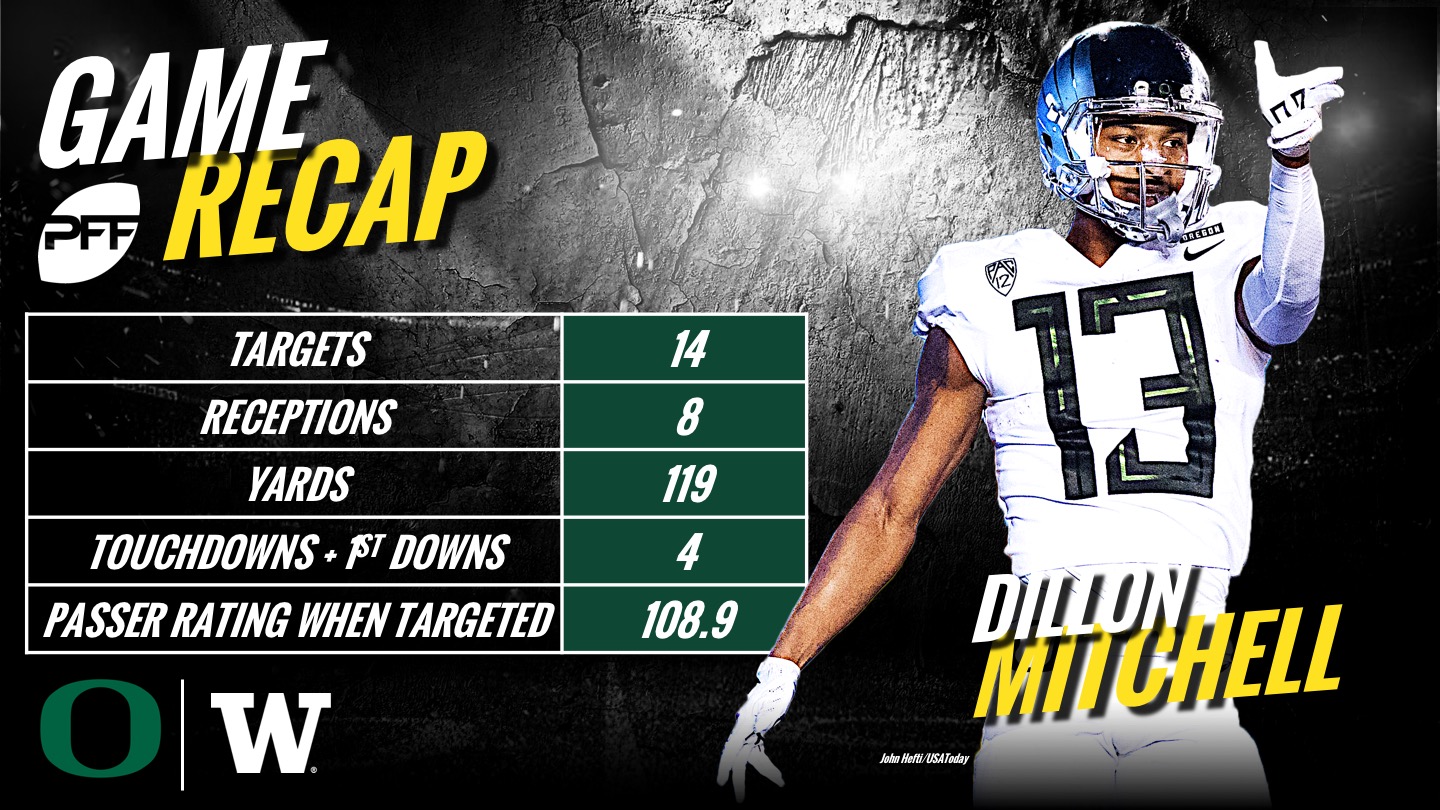 Mitchell forced the only two missed tackles among Oregon receivers. Up front, the starting offensive line allowed only four pressures as a group, but an injury to left tackle Penei Sewell brought Brady Aiello into the game as he allowed four pressures from right tackle. Herbert finished 4-for-9 for 39 yards and a score when facing pressure.
Defensively for Oregon, nose tackle Jordon Scott posted the highest overall grade at 83.6, including an 85.6 mark against the run. Scott finished with three defensive stops and two hurries on his 58 total snaps. LB Troy Dye finished with a team-high six stops, while CB Ugo Amadi was targeted four times, allowing only one catch for 20 yards.
For Washington, QB Jake Browning finished with a 60.6 overall grade, but it was his splits from a clean pocket (80.6) and under pressure (40.0) that tell the story. His decision-making under pressure was subpar, and he finished with a grade of only 27.2 to the intermediate range in between the numbers where he put the ball in harm's way. Browning was pressured on 15 of his 30 dropbacks after facing pressure on just 30.0% of his dropbacks coming into the game. It wasn't all on his offensive line as we charged Browning with five total pressures, including his two sacks.
Along the offensive line, the right side of guard Jaxson Kirkland and tackle Kaleb McGary combined to allow six of the eight pressures charged to the starting unit. Tight end Drew Sample was the leading receiver for the Huskies, catching four of his five targets for 79 yards. His 85.2 overall grade led the team as all four of his catches went for first downs.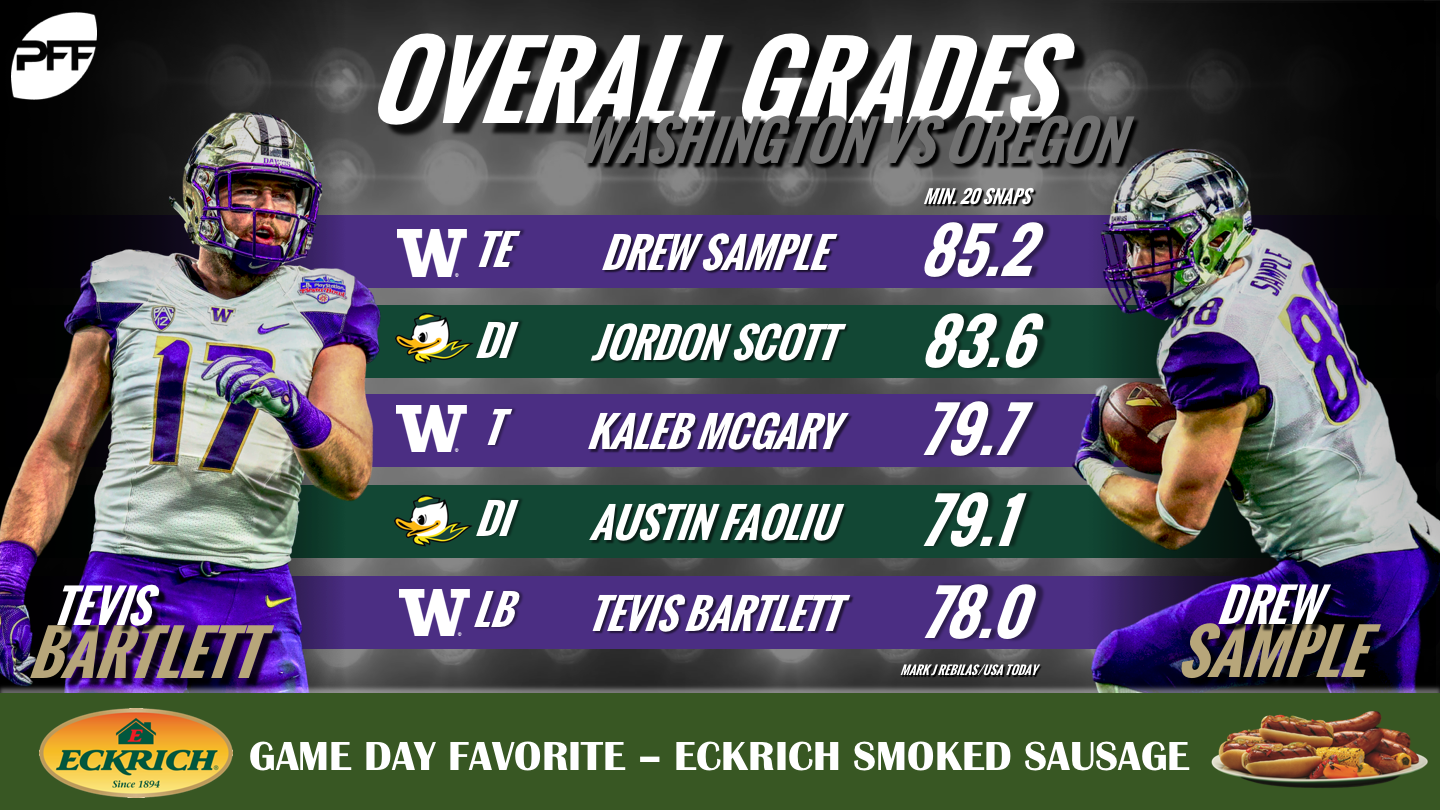 On the other side of the ball, Washington LB Tevis Bartlett posted the highest grade at 78.0 overall, including 10 tackles and five stops. LB Ben Burr-Kirven was all over the field with 16 tackles and a team-high six stops, grading at a solid 70.7 overall. Edge rusher Ryan Bowman had the top pass-rushing grade on the team at 73.3 as he tied for a team-high three pressures. In the secondary, CB Byron Murphy continued his strong season, allowing four catches for 36 yards on eight targets to go with two pass breakups.