Although it's hard to believe, we are already at the midway point of the 2018 college football season for the Florida Gators. The first six weeks have brought several surprises across the nation, such as Cincinnati and Kentucky, but did anyone really think the success that Dan Mullen would bring to Gainesville in his first season was possible?
The Gators currently sit at 5-1 and have the sixth-highest overall grade in the SEC at 91.1 and fifth-highest graded defense at 92.0. There hasn't been more excitement around this program in recent memory and for good reason. The Gators are doing several things right on the field and it has led to instant success thus far in 2018.
This Florida report is brought to you by Eckrich, the Official Smoked Sausage of the Florida Gators.
The Pass-Rush
There hasn't been a position group that has stood out more this season than the pass-rushers. The Gators field the second-highest graded pass-rush in the SEC at 79.4 and that also ranks seventh overall among Power-5 competition. This group of players is headlined by Jachai Polite, who has made a name for himself while tying Josh Allen of Kentucky as the highest-graded pass-rusher in the nation with a 91.5 pass-rush grade. On the season, Polite has accrued 21 total pressures, five sacks and two batted passes. Additionally, the coaching staff has been able to keep him fresh in games: he has only played 118 pass-rush snaps. He has tremendous bend and speed off the edge and is coming off his second-best game of the season against LSU where he had four pressures, two sacks, four total stops and a forced fumble.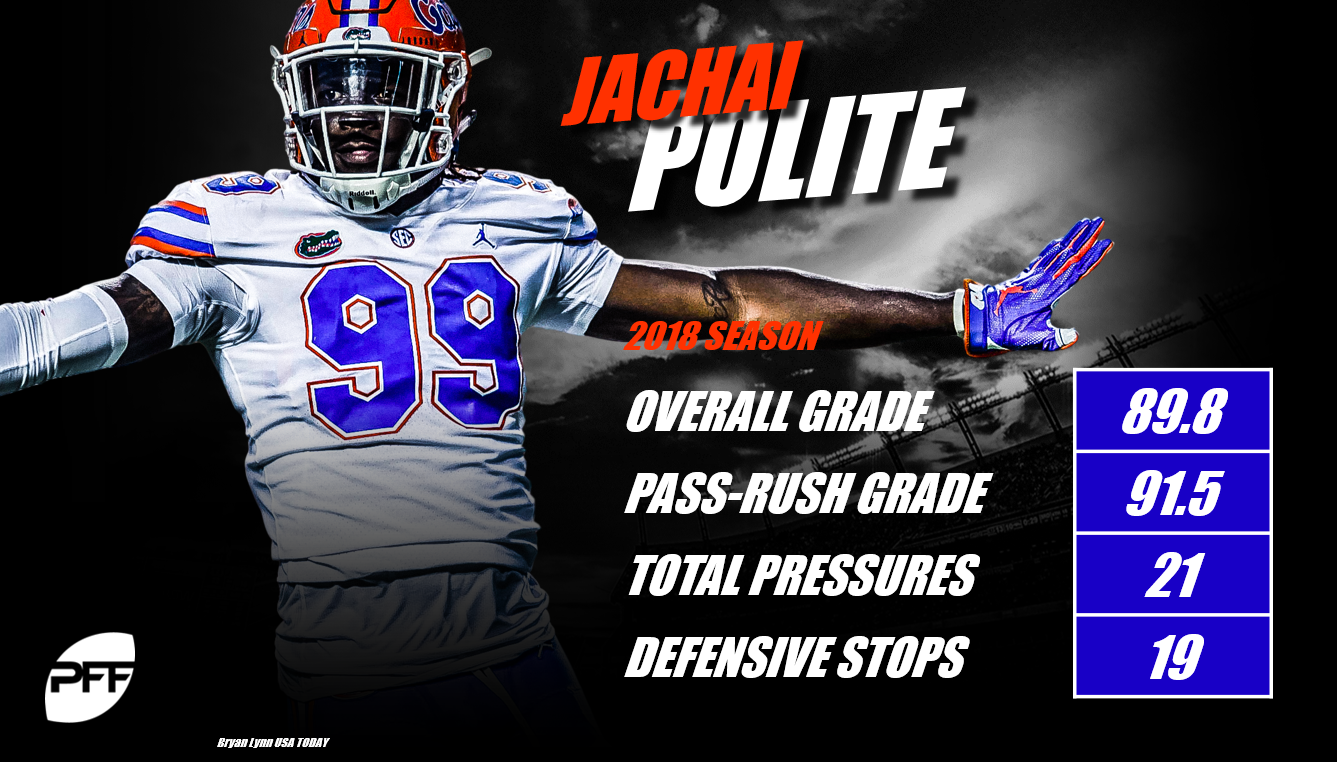 Second on the team in pressures is Jabari Zuniga, who has 16 including four sacks on 136 pass-rush snaps. Zuniga has teamed-up with Polite to create a vicious one-two punch for the Gators off the edge. Other members of the team that have helped get after the quarterback are Adam Shuler and Jeremiah Moon with eight pressures each, Vosean Joseph with six pressures, and Cece Jefferson with five pressures.
Feleipe Franks
The Florida offense has been stagnant, to say the least, for the better part of the past 10 years. What Mullen has done with this offense won't blow viewers away or light up the scoreboard, but they are efficient in many areas and it has started with QB Feleipe Franks. Through six games in 2017, Franks had a 50.4 overall grade, an 88.9 passer rating when kept clean and a 9:8 touchdown-to-interception ratio (280 dropbacks). In 2018, Franks has a 66.5 overall grade, a 109.1 passer rating when kept clean and a 13:4 touchdown-to-interception ratio (174 dropbacks). Additionally, Franks has utilized play action at a much higher rate. Through six weeks in 2017, he utilized play action 35.7% of the time and had a passer rating of 97.3. In 2018, he has utilized play action 48.3% of the time and has a passer rating of 110.9, which is eighth in the SEC. He has cut down on the mistakes and Mullen's system with quick passes and RPOs clearly suits Franks' skill set.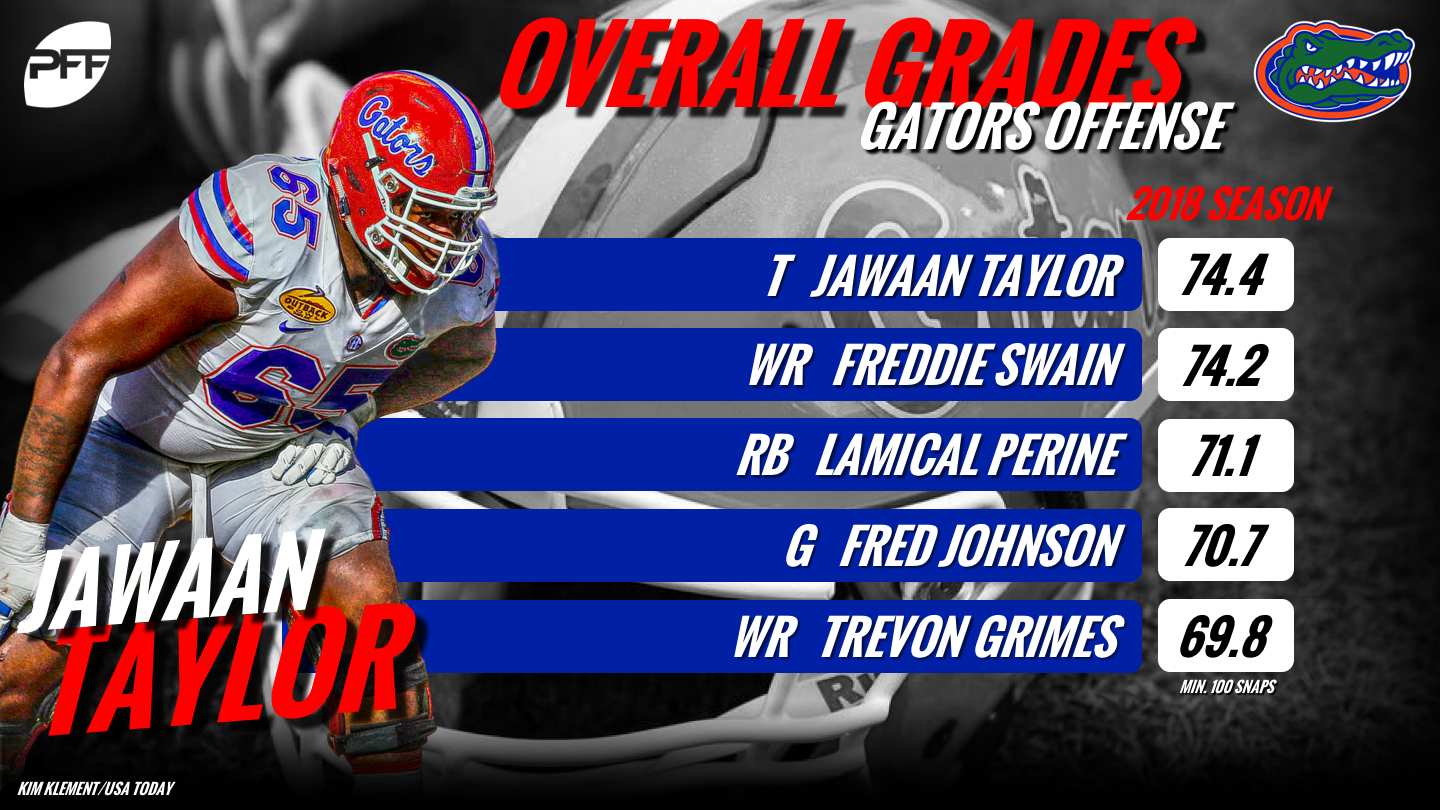 The Running Game
Another thing Mullen has done to relieve the pressure on Franks is getting the running game going early and often. Florida running backs are averaging nearly a yard more per attempt in 2018 at 5.88 as opposed to 4.93 in 2017. Although Malik Davis was lost to a foot injury, the running back room hasn't let up. Jordan Scarlett is tied for second in the SEC in missed tackles forced on carries with 24 and is averaging 3.91 yards after contact per attempt. The shiftier runner in Lamical Perine has a total of five breakaway runs (15-plus yards) as both of these running backs have played significant roles in Mullen's system. However, a running back is only as good as his offensive line and the Gators have two of the best in the SEC. Fred Johnson (77.5) and Jawaan Taylor (77.4) are both in the top 10 in the SEC in run-blocking grade among offensive linemen with at least 100 snaps. They have helped pave the way for Scarlett and Perine and need to continue to play at a high level.
Prowess in the secondary
Things looked bleak for the Florida secondary after Marco Wilson went down with a season-ending knee injury against Kentucky in Week 2. They were already thin and that injury brought their depth to the forefront. Fast-forward four weeks, and the Gators surprisingly have one of the best secondaries in the SEC. As a unit, they have a 91.4 coverage grade, which ranks fifth overall in the SEC and 14th among Power-5 competition. The group is led by CJ Henderson, who has allowed a passer rating of just 22.1 when targeted, third-best in the SEC. Trey Dean has stepped in for the injured Wilson and played nicely in replacement, yielding just 1.19 yards per cover snap. The most surprising member of the group is Brad Stewart Jr.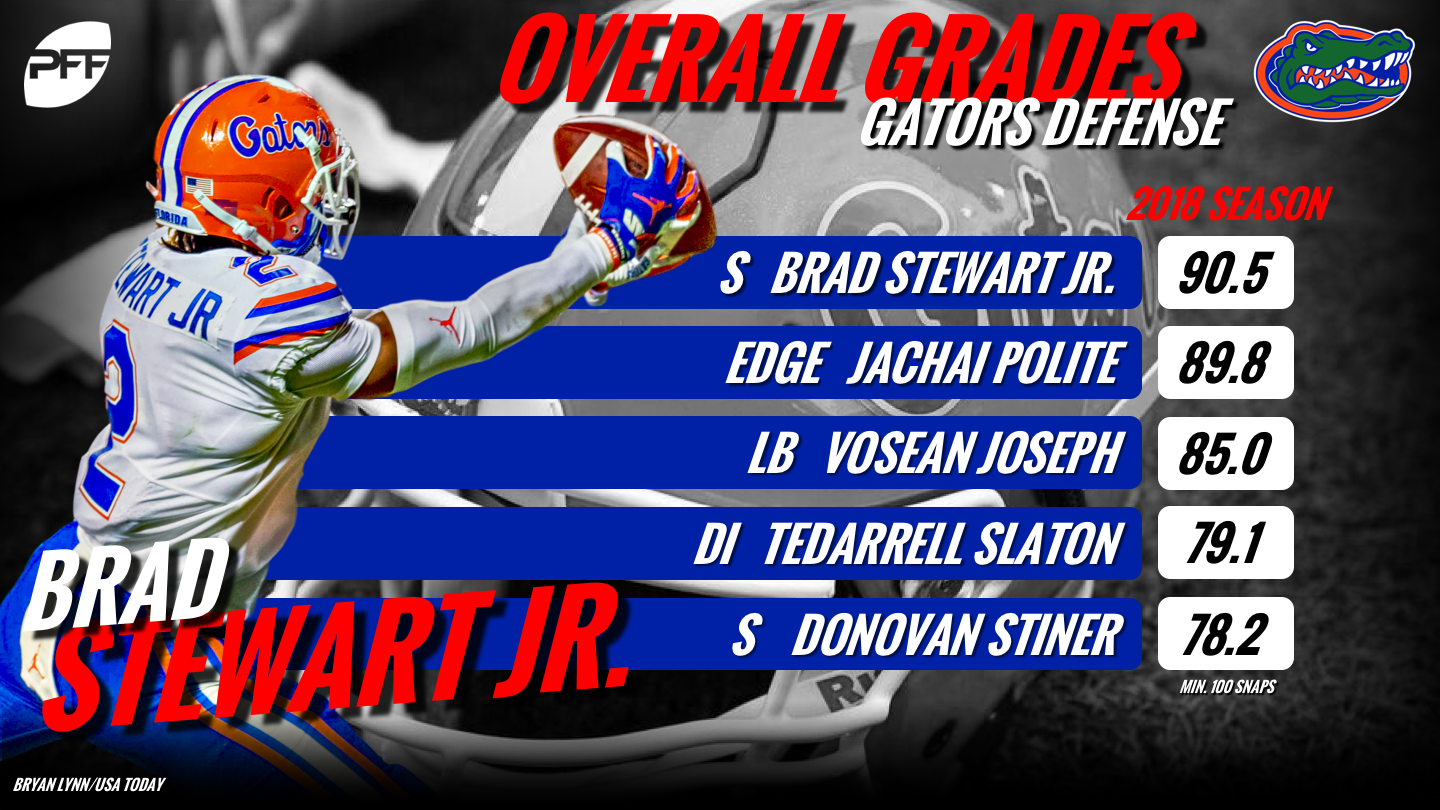 Stewart burst onto the scene against Colorado State with an 80.2 overall grade and hasn't looked back. Through the last four games, Stewart has allowed a 19.0 passer rating when targeted and has a 91.8 overall grade, both of which lead all SEC safeties during that span. Stewart is coming off his best coverage game of the season against LSU where he played 30 coverage snaps, not allowing a single catch while bringing in an interception and a pass breakup.
This Florida team is set up for a potential run in the SEC thanks to the things that they have done well through the first half of the season. The second half of the season will see some stiff competition as they face notables in Georgia, Missouri, South Carolina and Florida State. If they can continue their high level of play, they can compete on the with most of the teams on their second-half schedule.