The 19th-ranked Michigan Wolverines survived a scare in Evanston this past weekend with a 20-17 win over Northwestern. Is this a sign of trouble to come for a Michigan team that still has eyes on a Big 10 East champion title?
The Maize and Blue welcome Maryland this coming weekend, to take on the surprising 3-1 Terrapins, who dismantled Minnesota 42-13 this past weekend. In order to see if Maryland has a shot, let's take a look at what Northwestern did to put Michigan on upset alert.
This preview is brought to you by Eckrich, the Official Smoked Sausage of the College Football Playoff.
It's no secret that Michigan wants to run the ball. They have a predominantly traditional running offense that wants to enforce its will on the ground and then attack downfield off of play action. Quarterback Shea Patterson has thrown 41.5% of his passes with the aid of a play-action fake for an average of 10.0 yards per completion, a full 4.0 yards more than on normal pass attempts.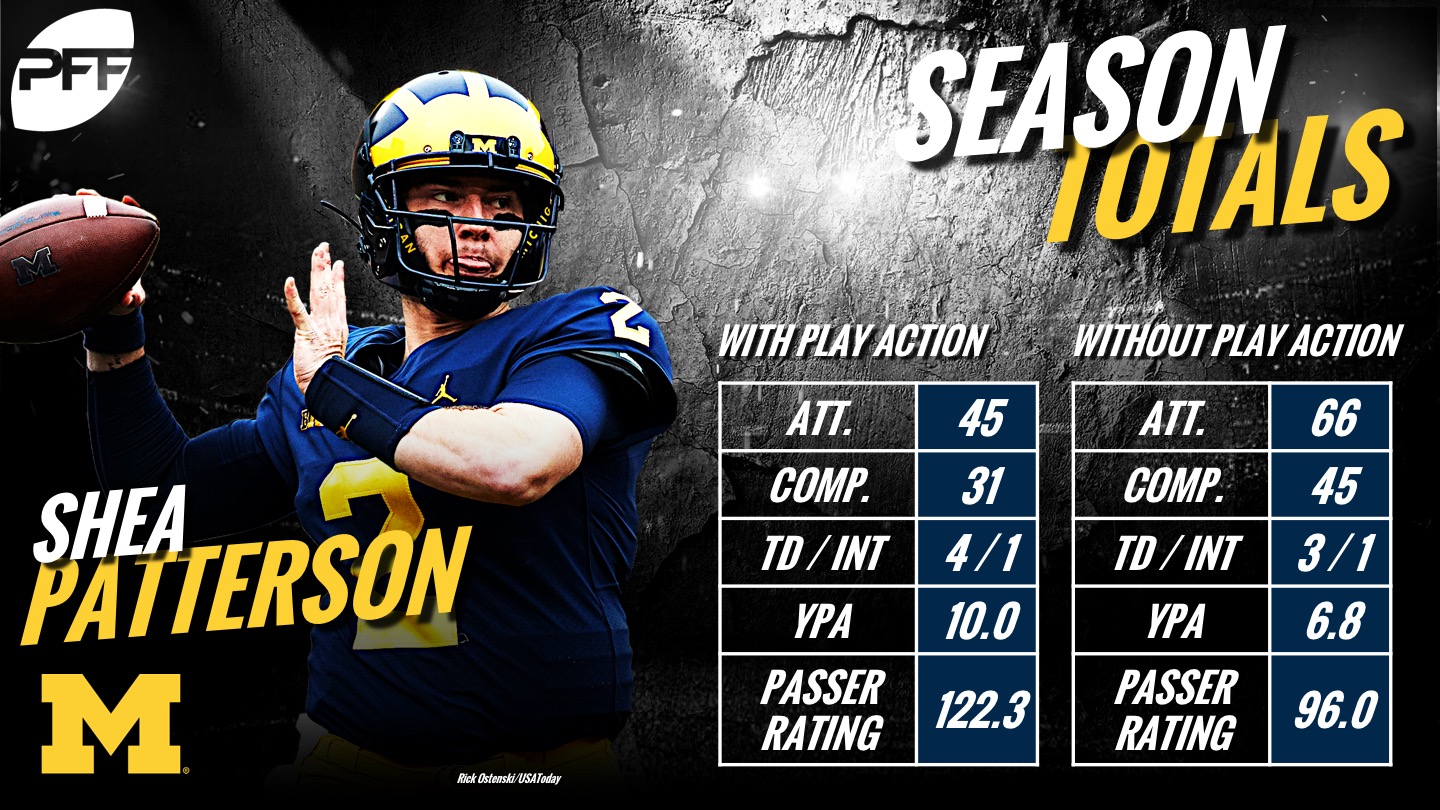 All of the explosion in the Michigan offense is based off the run and the threat of the run.
Northwestern was clearly built to stop teams like this. The Wildcats run defense has posted a run-defense grade of 90.5 on the season and is by far their best trait as a football team. This game started and ended as a battle of a traditional offense versus a traditional defense.
Unfortunately for Michigan fans, their offensive line has graded out as a better pass-blocking unit than run-blocking, as noted in our ranking of Big 10 Offensive lines through five weeks. Only two offensive linemen (Juwann Bushell-Beatty and Cesar Ruiz) have a run-blocking grade above 60.0.
That trend continued against the Wildcats. Not a single member of the Michigan offensive line posted a grade above 65.0 against Northwestern's stout front. Taking out quarterback scrambles and any form of trick-look carry, the Michigan offense ran 34 times for 134 yards and did not break a big run early, as they had in their previous victories this season.
A Slow Start
It should also be pointed out that Northwestern scored all 17 of their points on the first three drives of the game. QB Clayton Thorson was incredibly efficient on those drives, completing 10-of-12 passes, however, after those opening three possessions for Northwestern, the Michigan defense woke up as Thorson only completed six passes for the rest of the game.
On the flip side, the Michigan offense went three-and-out to start the game and then turned the ball over on downs on the second drive. In the blink of an eye, a schedule-based offense was down 17 points on the road. The Wildcats' downfall on defense was their inability to get pressure on Patterson as the Michigan offense eventually wore down Northwestern to eek out the victory, something likely to do them in against a more evenly-balanced team like the Terrapins.
Looking Ahead
The game against Maryland doesn't get any easier for the Michigan offensive line. Maryland has a run-defense grade as a unit of 91.0 on the season. The Terrapins have three players on defense whose run-stop percentage is at or above 10% as LB Tre Watson leads the team at 11.9%.
While it may be a tough task for Maryland to take down the Wolverines, it is entirely possible that  Maryland follows the blueprint that Northwestern showed to make this one all too close for comfort once again for Michigan fans.