As Week 11 of the college football season is closing in, we take a look at one of the week's premier bouts. The Big Ten has surprisingly nabbed three of the countries seven remaining undefeated teams, one of which will take their first loss of the season on Saturday. The weekend is led by the matchup between LSU and Alabama, but a close second is Penn State at Minnesota. This game not only decides the stake of the Big Ten, but it will most certainly knock off one team from playoff contention.

We dive into the PFF databases to pick out the battles that will determine one of Week 11's prime contests:
Penn State @ Minnesota
The game may not be the marquee matchup of the weekend, but it is in contention for second as both teams come in off bye weeks and with interchangeable 8-0 records, striving for their chance at not only a Big Ten title game but for a College Football Playoff berth. The contest will bring various stellar matchups of strength vs strength on both sides of the field.
Duel for slot supremacy between WR KJ Hamler and CB Chris Williamson
KJ Hamler has been the go-to receiver for quarterback Sean Clifford and the Nittany Lions offense thus far in his redshirt-sophomore season. He has quietly pieced together a stellar season that has not received the national attention it should. Most of his production this season has come from the slot, where he has lined up on 201 snaps. On those snaps, he has received 58 targets, reeling in 34 for 561 yards and eight touchdowns, fourth-most from the slot in the nation. Hamler has produced efficiently from the slot, netting a yards per route run figure of 2.79 which ranks second in the country among receivers with at least 200 slot snaps, as well as the second-best passer rating when targeted at 136.8, both of which are just behind LSU's star receiver Justin Jefferson. If he can keep the ball from hitting the turf (third-most drops from the slot) after hitting his hands, Hamler can torch the Minnesota secondary.
Minnesota's Chris Williamson has played 289 of his 412 total snaps from in the slot, more than any other player on the team. Although he has played the most snaps in the position, he has not been the most effective. Through 10 weeks of college football, Williamson has been targeted 29 times, allowing 21 receptions for 203 yards, one touchdown and 13 more first downs. He has six missed tackles, tied for second-most among cornerbacks with at least 140 slot coverage snaps, and a forced incompletion percentage – by way of interception, pass breakup or close coverage – of 3.5% that is tied for 42nd in the nation. Despite his missing tackles and not forcing incompletions, Williamson has allowed just 9.7 yards per reception from the slot which ranks eighth in the country. If he wants to smother Hamler in coverage, Williamson must not miss his tackles and continue to bend but not break in the slot.
Minnesota's vaunted trio of receivers vs Penn State's solid cornerback unit
The Golden Gophers currently hold the fourth-best receiving corps in the nation, just behind the likes of Oklahoma, LSU and Alabama. This is primarily due to their trio of Tyler Johnson, Rashod Bateman and Chris Autman-Bell who have all excelled thus far this season. All three have hauled in more than 14.0 yards per reception and 6.5 yards after the catch per reception, proving to be productive with the balls in their hands. The two leading receivers have been outstanding this season as Johnson has 625 yards, seven touchdowns and 19 first downs on his 44 receptions, while Bateman currently has 644 yards, six touchdowns 22 first downs on 31 receptions. Bateman has been the deep threat of the group, however, as he has nabbed 21 receptions of 15 or more yards, nine more than any other receiver on the roster, as his 16.8 average depth of target that is the nation's seventh-highest mark.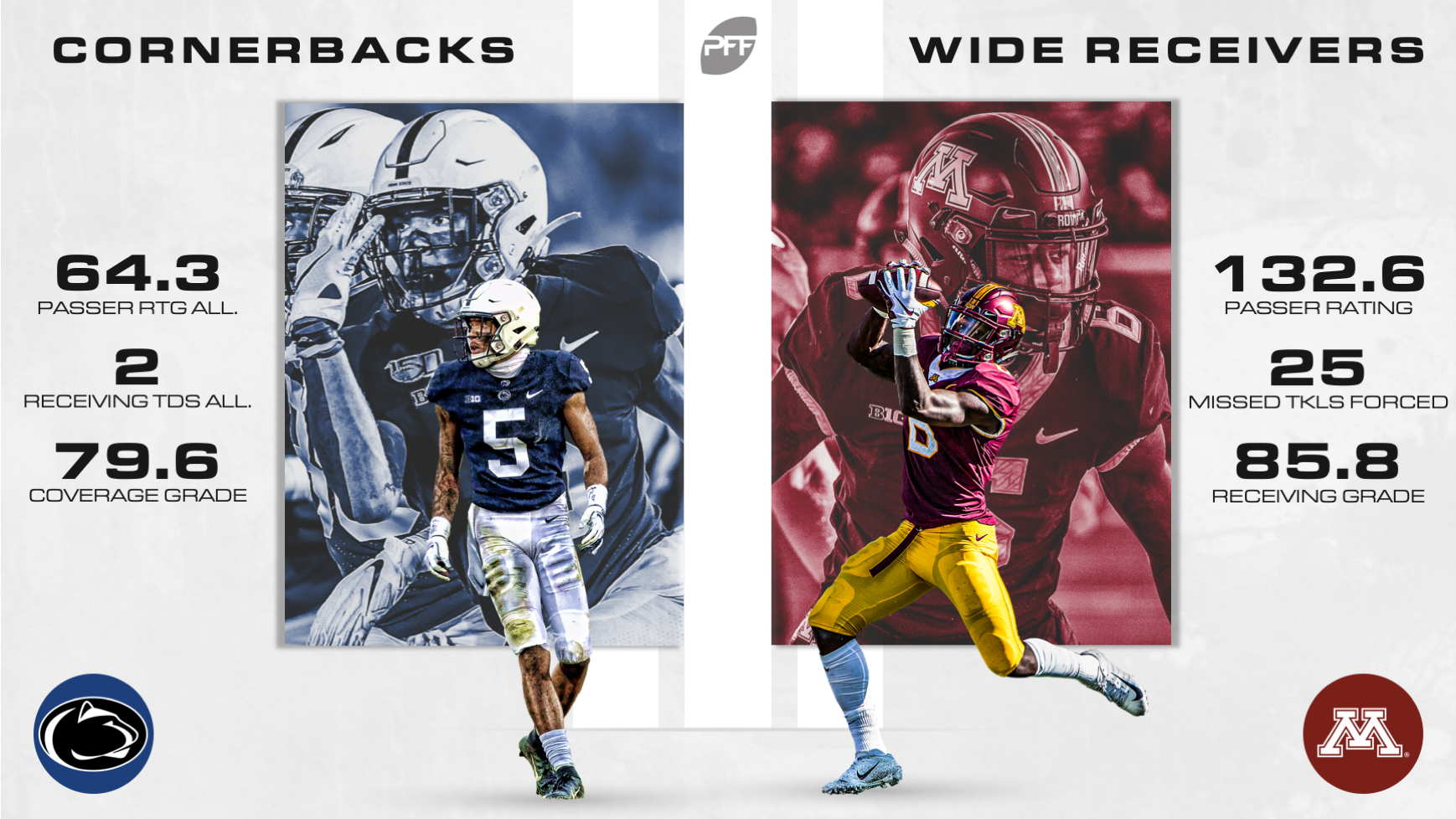 On the other side of the ball, Penn State's strong group of cornerbacks in the secondary have allowed just two touchdowns all season against four interceptions and 11 pass breakups. Tariq Castro-Fields has two of those interceptions as well as four pass breakups, allowing a passer rating of 50.5 when targeted. He is allowing just a completion percentage of 48.8% as he's conceded 20 receptions for 276 yards, 63 of those yards have come after the catch as he does have nine missed tackles in coverage. The cornerbacks will have their hands full with Minnesota's receivers, and it will be crucial to keep them out of the end zone like they've done to just about every opponent this year.
A key battle to watch within this matchup is Minnesota's receivers' success on deep targets and Penn State's cornerbacks' failure to be effective in covering the deep ball. Although the deep ball has not been a large component of their offense, Minnesota has been effective on their deep attempts.  On just 16 deep receptions, they have amassed 571 yards and four touchdowns. Bateman has enjoyed the most success on deep passes, receiving 16 targets, catching seven for 260 yards two touchdowns. Penn State has not played a receiving corps or quarterback who could torch them over the top like Minnesota can, but even then, they have allowed 12 receptions for 408 yards and their lone touchdown allowed in coverage on those targets 20 or more yards down the field.
Battle of Sophomore QBs: Sean Clifford vs Tanner Morgan
This is Clifford's first season as the starting quarterback of a college football team after spending a year behind Trace McSorley. He has played well as the starter and has been essential to Penn State's rise in the Big Ten. Morgan was a full-time starter his true-freshman season after beating out all other quarterbacks during training camp. He has improved in every facet so far in 2019 and will look to continue his upward climb in the battle of the signal-callers.
Adjusted Completion Percentage:
Clifford: 76.5% (21st)
Morgan: 75.3% (27th)
Deep Passing Passer Rating:
Clifford: 85.4 (92nd)
Morgan: 123.5 (16th)
Under Pressure Passer Rating:
Clifford: 96.6 (17th)
Morgan: 106.3 (11th)
Kept Clean Passer Rating:
Clifford: 154.4 (27th)
Morgan: 138.5 (7th)
Non-Play-Action Passer Rating:
Clifford: 105.0 (19th)
Morgan: 115.9 (9th)
Play-Action Passer Rating:
Clifford: 129.2 (15th)
Morgan: 127.8 (19th)
Quick Pass (<2.5 seconds) Passer Rating:
Clifford: 129.9 (10th)
Morgan: 138.5 (4th)
Long Pass (>2.6 seconds) Passer Rating:
Clifford: 95.3 (45th)
Morgan: 109.0 (15th)
Although Morgan has outplayed Clifford in many categories, both quarterbacks have led their schools to undefeated seasons and the chance to play in the Big Ten title game.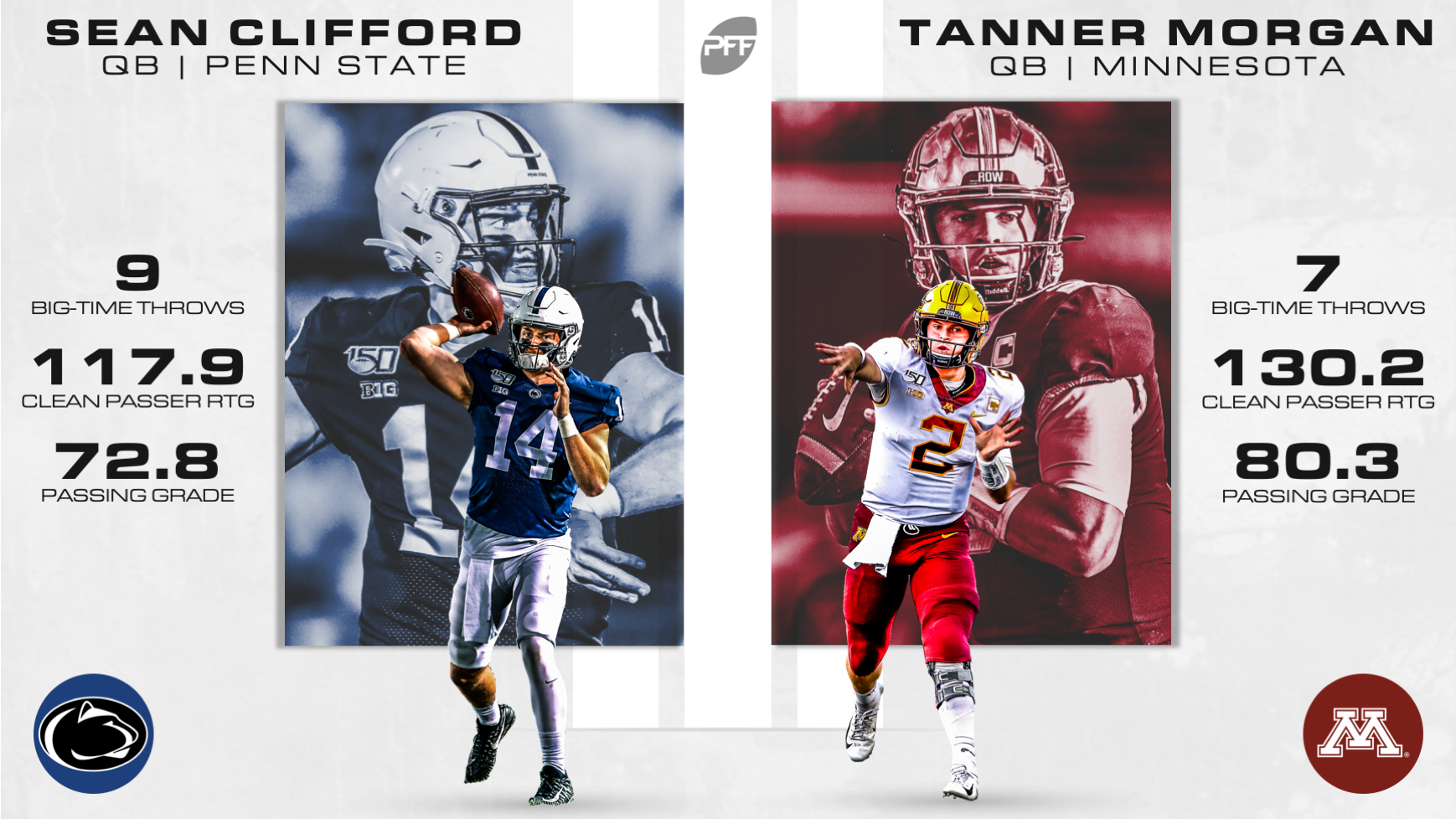 Who wants it more
Penn State @ Minnesota may come down to the wire, making every throw that much more important. This will be the largest game either quarterback will have participated previously in their young careers, but both Clifford and Morgan have shown to be solid in key situations thus far this season.
On third down, Morgan has completed 64.9% of his passes for 293 yards, five touchdowns and a passer rating of 128.7. Clifford has looked marginally worse on the money down, connecting on just 57.1% of his attempts for 446 yards, four touchdowns, one interception and a 99.3 passer rating.
In the fourth quarter, neither quarterback has thrown an interception, although Morgan has two turnover-worthy plays. Once again, Morgan's stats are better, albeit not by much, than Clifford's. The Minnesota QB has a completion percentage of 76.9%, compared to his counterpart's 60.0%. Morgan also has a higher passer rating (148.9 to 109.7) and yards per attempt (10.6 to 8.5) than the Penn State QB in the fourth, highlighting his ability to make the key throws when it matters at the end of games. If both parties continue to play as they have all season, Morgan will have the edge over Clifford in this one.
Carter Coughlin vs Yetur Gross-Matos off the edge
Coughlin has been burning tackles off the edge all season, generating pressure on 20.4% of his snaps for Minnesota. He has beaten his opponent across from him on an impressive 21.6% of his pass-rush snaps, generating 34 total pressures thus far. Of those pressures, five are sacks and seven are QB hits, showcasing his ability to finish the play once he enters the backfield. Coughlin will have his hands full with the Penn State offensive line that ranks 38th in pass-blocking in the FBS, but he has shown the ability to win at will.
Penn State is fortunate enough to have three edge defenders in the top-50 in win rate, the best being Gross-Matos at 21.4% which is ranked 17th in the nation. Although his pressure percentage hasn't been as high as it was a year ago, he has still been able to sack opposing quarterbacks seven times and lay another four QB hits. He may be in for a big day against the Minnesota offensive line that has allowed pressure on 32.2% of their snaps in pass protection.
The game's X-Factors
Each side of the ball for each team will have a true X-factor, as a player who must be schemed for, must be taken into account and must be watched at all times. Those players who should likely have a large impact on the game are as follows:
Penn State offense: TE Pat Freiermuth
Penn State defense: EDGE Jayson Oweh
Freiermuth has the most touchdowns out of all tight ends in the country, although he only has the 29th-most yards. He has become Clifford's favorite red-zone target and if Minnesota shifts their focus onto Hamler and the receivers, he will have the chance to have a huge game for the offense. Oweh boasts the 19th-best pass-rush win rate and is tied for the 16th-ranked pressure percentage among edge defenders with at least 100 pass-rush snaps. He is coming off a stellar Week 9 performance against Michigan State, generating five pressures and forcing two fumbles en route to an elite pass-rush grade on the day. Minnesota has the 87th-ranked pass-blocking grade in the FBS, which should provide Oweh opportunities to disrupt the Golden Gophers offense opposite Gross-Matos.
Minnesota offense: HB Rodney Smith
Minnesota defense: S Antoine Winfield Jr.
If Penn State focuses on stopping Minnesota's big three receivers, they will likely provide lighter box counts that Smith can take advantage of. He has already forced 36 missed tackles and has gained 3.86 yards after contact per attempt up to now. Winfield Jr. has five interceptions on the season which is second-most in the nation among all safeties as he's the nation's second highest-graded safety.
One of the first games to be played on Saturday includes stellar matchups all over the field, but we will not know until the final whistle, which matchup created the greatest impact on the concluding score.