The Oregon Ducks may have grabbed headlines with their marquee matchups but the Colorado Buffaloes were arguably the biggest surprise in the Pac-12 over the first half of the season. In doing so, two of the conference's headline players have grabbed Heisman Trophy consideration in Justin Herbert and Laviska Shenault.
Washington's defense continues to be one of the best while Utah is also well represented on our Midseason All-Pac 12 Team.
The PFF Midseason All-Pac-12 Team is brought to you by Eckrich, the Official Smoked Sausage of the College Football Playoff.
With that in mind and the reminder that there is plenty of football to be played this season, here are the Midseason All-Conference players at every position: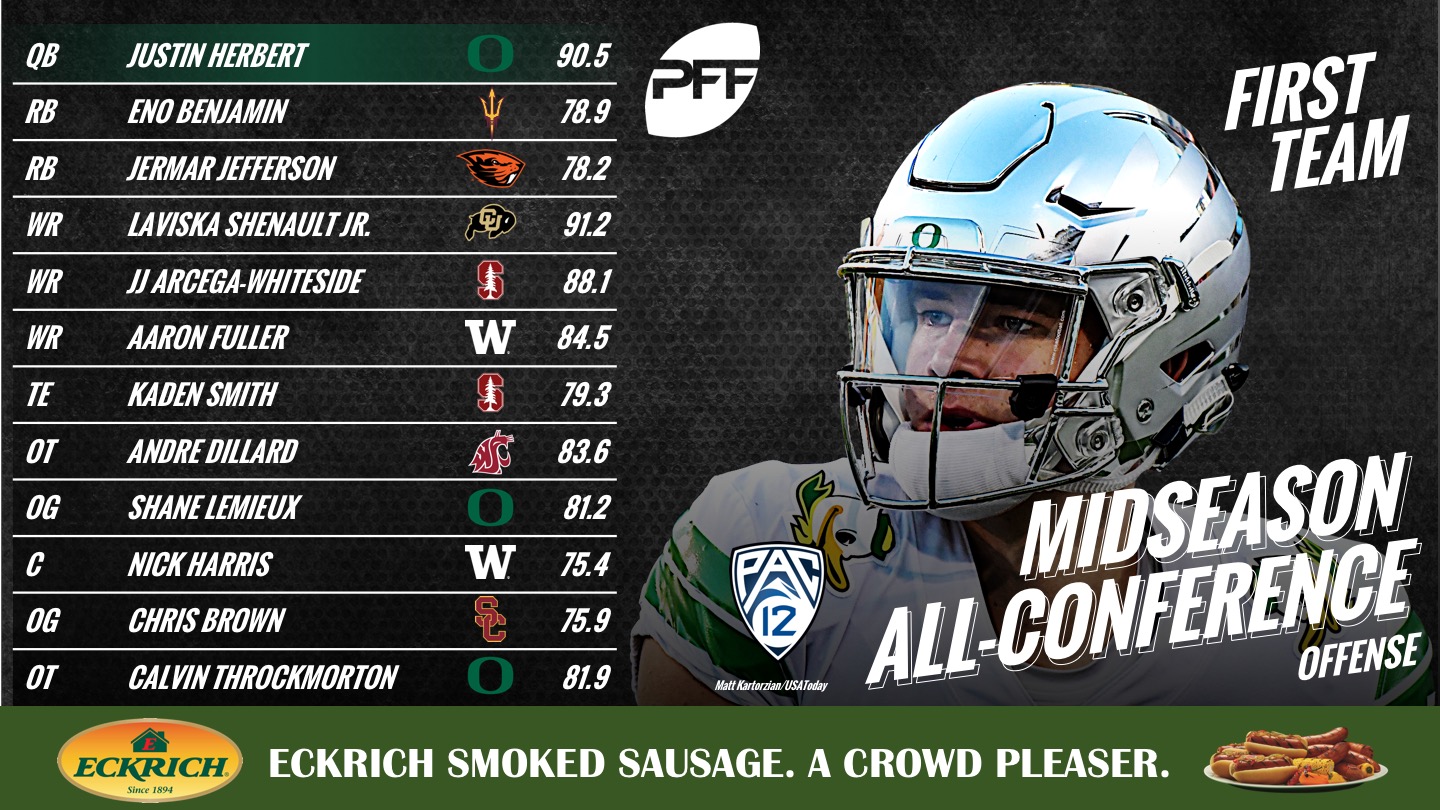 Quarterback
Justin Herbert, Oregon
2018 Season Grade: 90.5
Even with two lackluster performances this season, Herbert is the class of the Pac-12 at quarterback. Despite five drops on deep passes, He still leads the conference in adjusted completion percentage (63.9%) and touchdowns (8).
Running Back
Eno Benjamin, Arizona State
2018 Season Grade: 78.9
Benjamin broke out with his 20-missed tackles forced performance this season and he's been the conference's bright spot at running back. Benjamin is second in total rushing yards (715) but first in yards after contact (448) showing how hard he has to work for his yards this season.
Running Back
Jermar Jefferson, Oregon State
2018 Season Grade: 78.2
Speaking of first in yards – Jefferson leads conference backs with 859 on the ground while his 12 touchdowns are also a conference-best, by five touchdowns. He's forced 31 missed tackles this season and gained a healthy 420 yards after contact himself.
Wide Receiver
Laviska Shenault Jr., Colorado
2018 Season Grade: 91.2
What can't Shenault do? While we featured him prior to the USC game, Shenault has been a jack-of-all-trades for the Buffs this season. Just check his Heisman candidacy.
Wide Receiver
JJ Arcega-Whiteside, Stanford
2018 Season Grade: 88.1
Arcega-Whiteside started the season off hot and while the Cardinal WR has slowed down as of late, he still finds himself first in the conference with eight touchdowns. He has three games of multiple touchdowns but was held scoreless in Stanford's last outing against Utah, something he and QB K.J. Costello will look to rectify when they take the field in Week 8.
Wide Receiver
Aaron Fuller, Washington
Week 7 overall grade: 84.5
The talented Huskies receiver is QB Jake Browning's favorite target, seeing 55 on the season. He's hauled in 37 passes for 589 yards and gained 231 of those after the catch. He's forced seven missed tackles and accumulated 25 first downs on his receptions.
Tight End
Kaden Smith, Stanford
Week 7 overall grade: 79.3
Smith is barely holding off UCLA TE Caleb Wilson for first-team honors here, on the back of 382 yards, four missed tackles forced and his 18 first-down receptions.
Offensive Tackle
Andre Dillard, Washington State
Week 7 overall grade: 83.6
Sure, nine pressures sound like a lot of pressure to give up, but when you think about how many snaps the Washington State tackles are expected to pass-block, it makes more sense. Dillard has logged 360 pass-blocking snaps, 77 more than the next closest non-Cougar tackle in the Pac-12 and leads the whole lot with his 90.5 pass-blocking grade.
Offensive Guard
Shane Lemieux, Oregon
Week 7 overall grade: 81.2
Joined by his teammate in Calvin Throckmorton, Lemieux has impressed both in pass-blocking and run-blocking. He's allowed just four pressures while he's paced the conference's guards with his 81.4 run-block grade, a solid 7.1 grade points above the second-best.
Center
Nick Harris, Washington
Week 7 overall grade: 75.4
Allowing just four pressures on 187 pass-blocking snaps is good, leading the Pac-12 with a 72.7 run-blocking grade is even better.
Offensive Guard
Chris Brown, USC
Week 7 overall grade: 75.9
On 240 pass-blocking reps, Brown has allowed just four pressures, including just one hit and no sacks. Like his counterpart here, Brown also finds himself at the top of the run-blocking leaderboard, in second with a 74.3 grade.
Offensive Tackle
Calvin Throckmorton, Oregon
Week 7 overall grade: 81.9
Throckmorton has allowed a whopping three pressures (all hurries) on his 200 snaps in pass protection while also holding the conference's fourth-best run-blocking grade among tackles.
Defense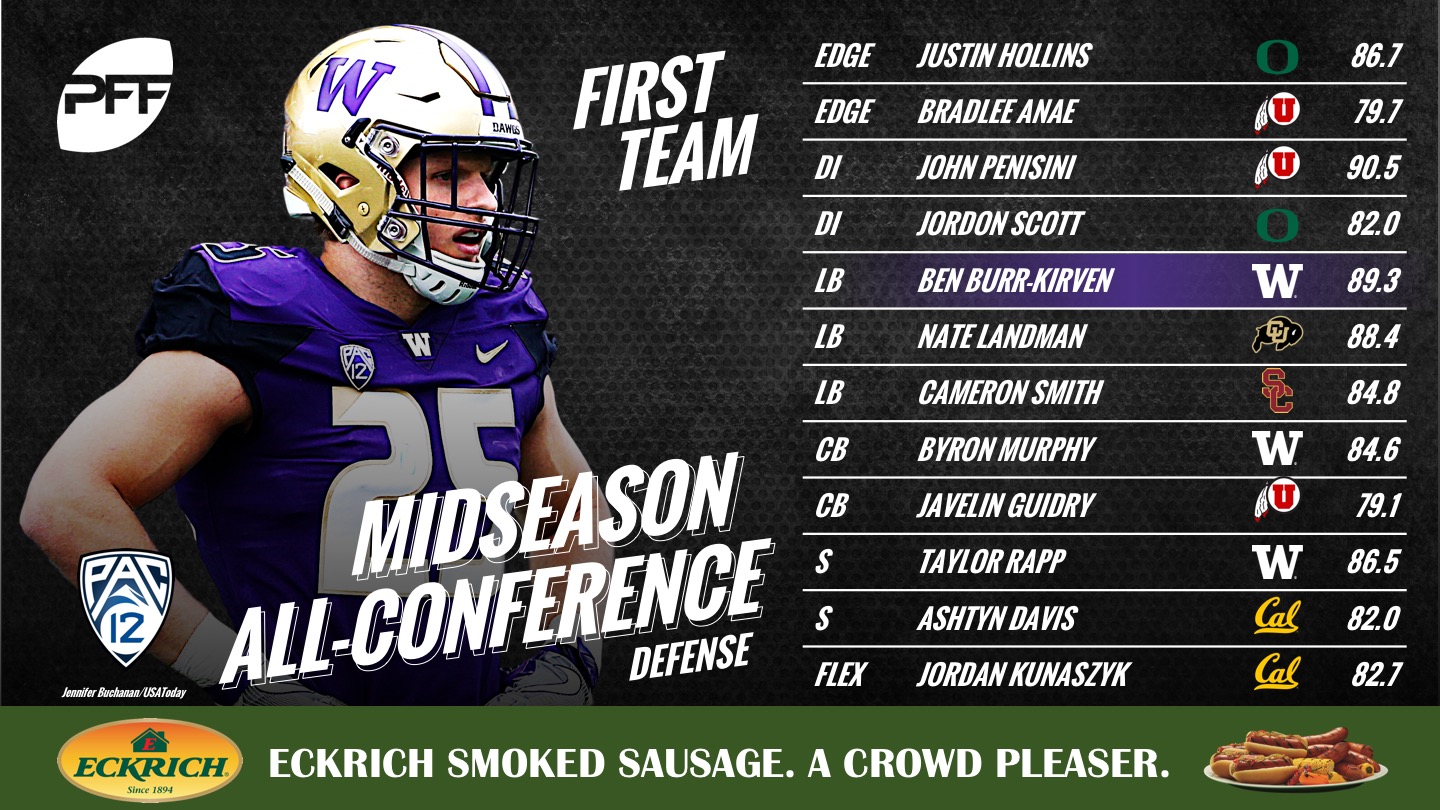 Edge Defender
Justin Hollins, Oregon
Week 7 overall grade: 86.7
Not only leading all edge defenders with his 86.7 overall grade, but Hollins' 90.4 pass-rush grade is also almost 15.0 total points higher than the second-best edge defender (Willie Taylor III, 75.8). He's racked up 20 pressures including four sacks and four hits and he's rounded it all out with an interception and pass breakup on 75 snaps in coverage.
Edge Defender
Bradlee Anae, Utah
Week 7 overall grade: 79.7
Anae matches Hollins' pass-rush total of 20, even if he needed 68 more pass-rushes to do so. Where Anae makes his impact felt most is against the run as his 81.1 run-defense grade is tied for second.
Interior Defensive Lineman
John Penisini, Utah
Week 7 overall grade: 90.5
A trouble to block in just about every game this season, Penisini has been extremely disruptive this season for the Utes. He's racked up 17 pressures and brought home 12 stops for an offensive failure, all on just 200 total snaps.
Interior Defensive Lineman
Jordon Scott, Oregon
Week 7 overall grade: 82.0
Scott hasn't offered much in terms of pass-rushing this season but he has dominated against the run. His 88.9 run-defense grade is tops among the position and his 17 stops in run defense are good enough for first at the position.
Linebacker
Ben Burr-Kirven, Washington
Week 7 overall grade: 89.3
A tackling machine, Burr-Kirven leads the conference with 85 total tackles by PFF standards. Despite the high volume, he's missed just three tackles attempts all season long. Any linebacker in the conference with a minimum of 46 total tackles has missed at least five.
Linebacker
Nate Landman, Colorado
Week 7 overall grade: 88.4
Landman is a versatile linebacker who's racked up 24 defensive stops and brought in two interceptions and a pass breakup on eight targets into his primary coverage. Like BBK, he's missed just three tackles this season, on 50 attempts.
Linebacker
Cameron Smith, USC
Week 7 overall grade: 84.8
He may have missed the Colorado game (and may miss more time than that coming up) but Smith is the heart and soul of the Trojans defense. He has brought in six pressures as a blitzer, recorded 28 defensive stops and allowed just 75 yards in coverage on 165 snaps and 15 targets as the primary coverage defender.
Cornerback
Byron Murphy, Washington
Week 7 overall grade: 84.6
Speaking of coverage, Murphy has broken up more passes according to PFF than any other Pac-12 cornerback this season. He's seen 36 targets into his coverage and recorded a pass breakup on 12 of them. He's also limited receivers to just 37 yards after the catch on 19 receptions.
Cornerback
Javelin Guidry, Utah
Week 7 overall grade: 79.1
Expecting someone else here? Guidry is the only other Pac-12 cornerback with a coverage grade above 80.0 as he's not allowed a single touchdown in coverage and also broken up five passes of his own.
Safety
Taylor Rapp, Washington
Week 7 overall grade: 86.5
Fitting into the mold of the new-age safety, Rapp flies around the field in all facets. He's recorded five pressures on 19 blitzes, racked up 11 defensive stops and allowed just four receptions on seven targets while intercepting or breaking up three more.
Safety
Ashtyn Davis, Cal
Week 7 overall grade: 82.0
Stingy in coverage, Davis has allowed just seven receptions for 67 yards into his primary coverage, recorded two interceptions and two pass breakups in the process.
Flex Defense
Jordan Kunaszyk, Cal
Week 7 overall grade: 82.7
Three linebackers weren't quite enough to fit Kunaszyk in here as he's impressed in all facets. Despite just 30 pass-rushing snaps, he's brought in nine pressures including two sacks and three hits and brought in 74 total tackles this season.
Second Team
QB – Gardner Minshew, Washington State
RB – James Williams, Washington State
RB – Zack Moss, Utah
WR – Dillon Mitchell, Oregon
WR – N'Keal Harry, Arizona State
WR – Trevon Bradford, Oregon State
TE – Caleb Wilson, UCLA
OT – Penei Sewell, Oregon
OG – Liam Ryan, Washington State
C – Lo Falemaka, Utah
OG – Gus Lavaka, Oregon State
OT – Patrick Mekari, Cal
Edge – Willie Taylor III, Washington State
Edge – Joey Alfieri, Stanford
DI – Mustafa Johnson, Colorado
DI – Greg Gaines, Washington
LB – Troy Dye, Oregon
LB – Evan Weaver, Cal
LB – Colin Schooler, Arizona
CB – Myles Bryant, Washington
CB – Sean Harper Jr., Washington State
S – Marquise Blair, Utah
S – Adarius Pickett, UCLA
FLEX – Chase Hansen, Utah