West Virginia needed a late defensive stand to hold off Texas Tech on Saturday afternoon but the impressive arm of QB Will Grier was on full display in the Mountaineers 42-34 victory over the Red Raiders.
This recap is brought to you by Eckrich, the Official Smoked Sausage of the College Football Playoff.
The Heisman Trophy contender completed 27-of-41 passes for 370 yards and three touchdowns on the afternoon, pacing both teams with a game-high 92.9 overall grade. As we've seen from him all season long, Grier was absolutely surgical when given a clean pocket to throw from, completing 22-of-31 for 294 yards and all three scores. He had four of those clean-pocket passes dropped by his receivers, fielding an adjusted completion percentage of 83.9%.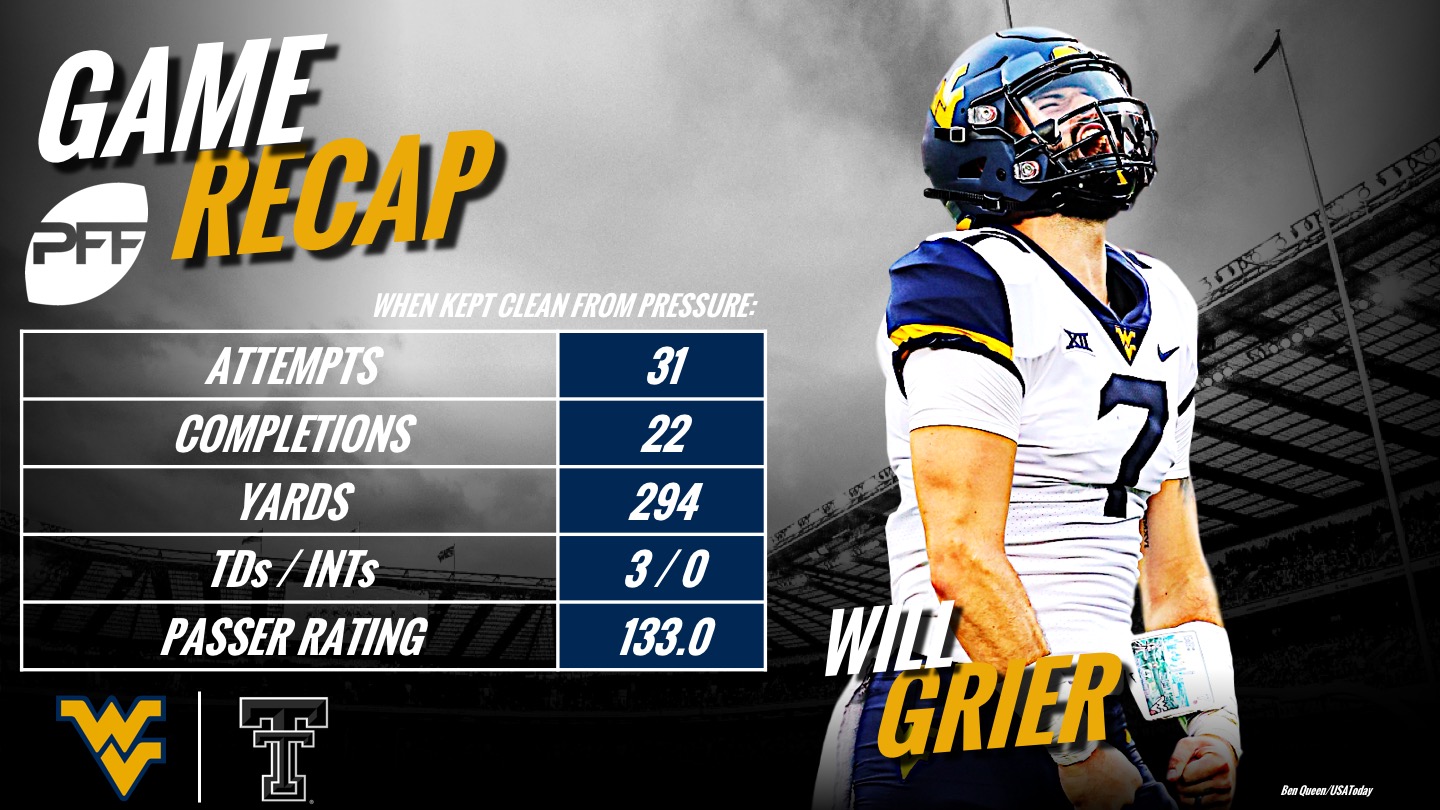 His deep passing numbers, although skewed by dropped passes, may have been down compared to his standards but Grier still was able to complete 12 passes targeted at least 10 yards downfield against Texas Tech's secondary. His three favorite receivers were nothing out of the ordinary as Marcus Simms, Gary Jennings and David Sills each saw at least seven passes thrown their way.
Simms led the way with nine receptions for 138 yards and a touchdown as six of his other catches went for a first down. Jennings hauled in two touchdowns on seven catches but was credited with two of Grier's drops on the afternoon, including one that tipped fortuitously into the hands of Sills. The nation's returning leader in touchdown receptions from a season ago, Sills hauled in three catches for just 37 yards on the afternoon, however.
On the other side of the field, true freshman standout Alan Bowman was knocked out of the game when he was converged on by two West Virginia defenders, forcing Texas Tech to turn to Jett Duffey at quarterback late in the first half. After an ugly start catapulted by a deep post route that was badly underthrown and intercepted, Duffey rebounded nicely to make it a game.
Down 35-10 entering the second half, Duffey utilized both his legs and his arm to rally off 17 straight points and get within one score, with the football late in the fourth quarter. However, as exciting as it may have been late in the game, his effort was undone with yet another ill-advised pass that was also intercepted, only this time, WVU CB Keith Washington returned it 51 yards for the game-clinching touchdown.
In total, Duffey finished the game 16-of-28 throwing for 172 yards, a touchdown and both aforementioned interceptions. He tallied 60 of his 94 rushing yards off scrambles and a team-high 87.8 overall grade followed his performance, despite the interceptions.
Defensively, the Mountaineers were paced by their secondary even with the 34 allowed points as Washington, interior defensive lineman Kenny Bigelow and safety Kenny Robinson each finished with a top-five game grade.
Bigelow recorded four QB pressures in the game while Robinson brought in two interceptions (one off Duffey and another off Bowman early). LB David Long Jr. led the way with 16 total tackles including 12 solo but also had a game-high six missed tackles, hurting his overall grade.
The Mountaineers will be in action again next weekend against Kansas, who will enter fresh off a loss to Oklahoma State. Grier will look to add to his Heisman candidacy as a season ago against Kansas, he threw for 347 yards and two touchdowns while running four another two scores in the game.