It's no secret that the Florida State Seminoles have had a rough year in 2018. Currently possessing a 5-6 record, this troublesome season comes on the heels of a subpar 2017 campaign marred by the exit of much-maligned former head coach Jimbo Fisher. New head coach Willie Taggert's hiring brought with him the optimism that the darkness of a 7-6 season that fans were treated to a year ago were gone for good. Darkness FSU fans in their late 20s/early 30s remember all too vividly after they were treated to the same mediocre team of the mid-2000s that we came to equate FSU football with.
Teams that barely scratched the surface of a winning record. Teams that lost to Wake Forest in Tallahassee.
Teams that coined expressions of 'Fire Jeff Bowden.' Teams that were so criticized that Peter Tom Willis was relieved of his duties from broadcasting games (h/t @PFF_Eric for the reminder on this one).
Teams that nearly lost to a Ryan Perrilloux-led Jacksonville State team. Teams that lost on goal-line fumbles against Georgia Tech.
In case you, the reader, couldn't tell, those dark ages are when I attended school at Florida State.
2018 was not supposed to be like this.
But, alas, here we are. Instead of fighting for a berth in the postseason tournament known as the College Football Playoff or preparing for the ACC Championship Game, FSU is fighting for a chance at a bowl game, a chance at getting to 6-6 and avoiding a losing season for the first time in over 40 years.
The only thing standing in their way, the Florida Gators.
FSU heads into their annual meeting with Florida, winners of their last game in a heroic effort against Boston College, scoring the game-winning touchdown with just 1:49 left when QB Deondre Francois hit WR Tamorrion Terry on a 74-yard touchdown to win 22-21.
Tamorrion Terry is a bonafide stud.

Oh, and a beautiful throw from Deondre Francois too. pic.twitter.com/Be3xfeT3BJ

— Cam Mellor (@PFF_Cam) November 18, 2018
Francois has had his ups and downs in 2018, but how he's dealt with pressure this season, has been anything but up. The worst part about his troubles with pressure is the fact that he has been under pressure on 36.1% of his dropback attempts this year, the third-highest percentage among ACC quarterbacks.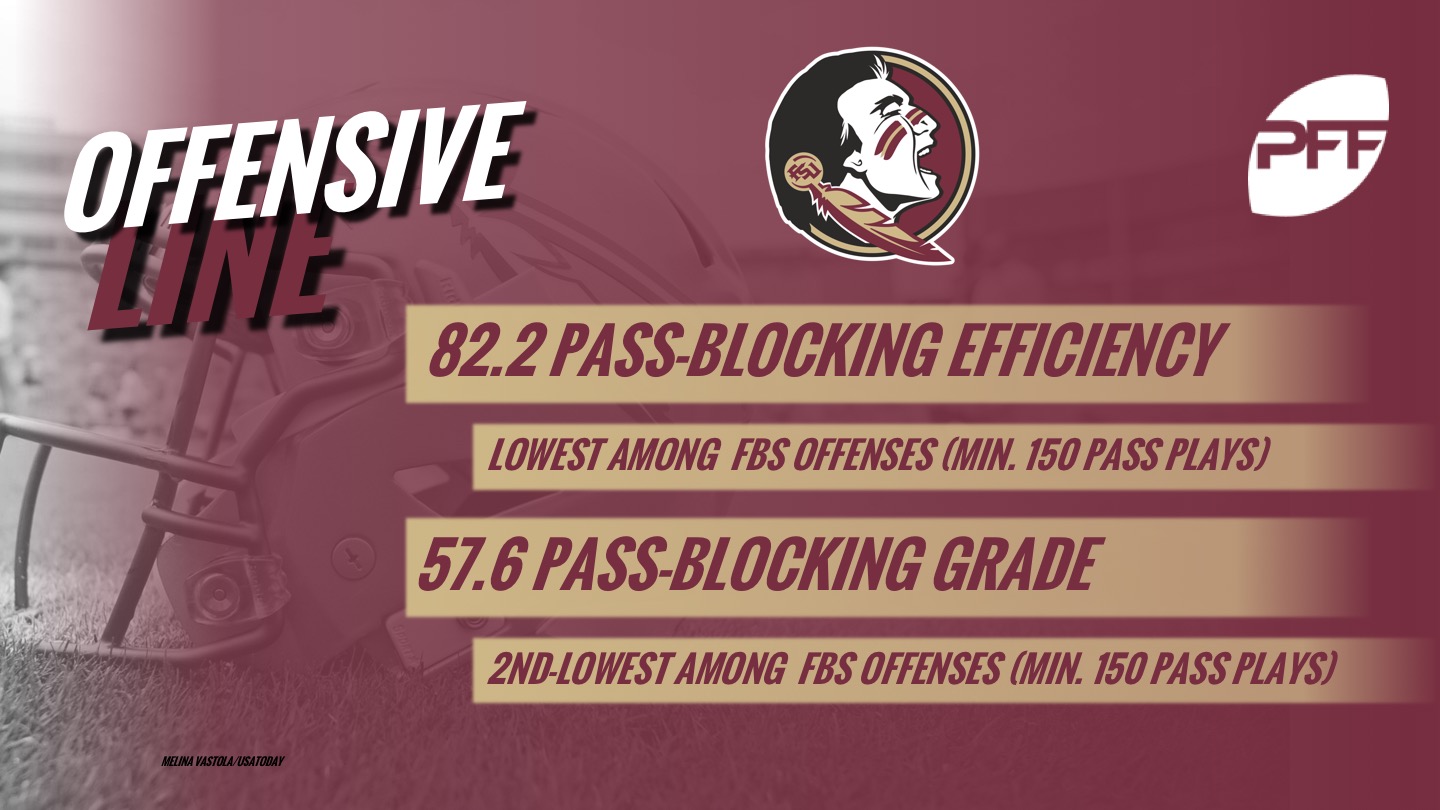 His offensive line has allowed 145 pressures this season and is currently the nation's worst pass-blocking team in regards to both pass-blocking efficiency (82.2) and second-worst pass-blocking grade (57.6) as a team, among the nation's non-triple-option offenses.
Against pressure, Francois has completed just 42-of-114 attempts for 594 yards and a 4:3 touchdown-to-interception ratio. His grade under pressure of 64.2 is over 14.0 points away from his grade when kept clean of 78.8. When not under duress, he's completed 171-of-255 passes for 1,971 yards and a 10:7 TD-to-INT ratio.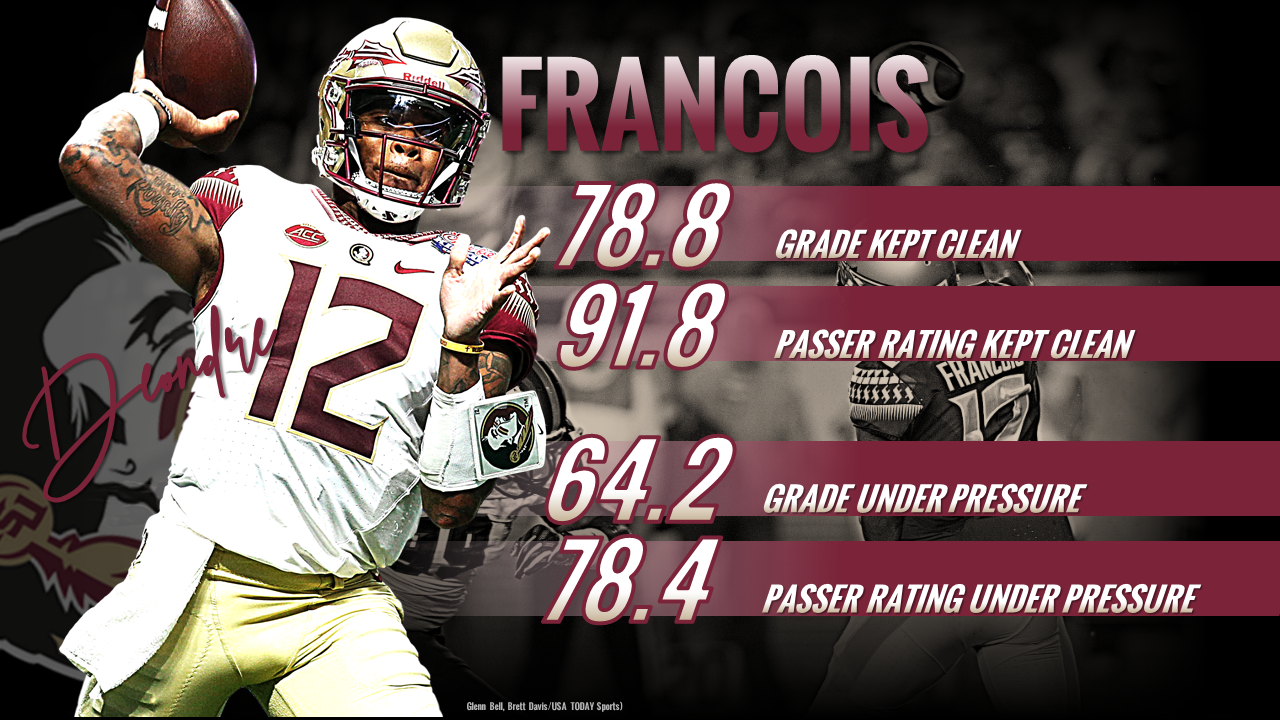 Now, it's obvious that quarterbacks play better when not pressured but a quarterback's ability under pressure is undoubtedly going to be tested in a game against a formidable front like that of the Gators, so how Francois handles the pressure Florida rushers will almost certainly bring will ultimately be the key to how far the Seminoles offense can fly on Saturday.
The Seminoles will go as Francois goes and the wins will follow the allowed pressures. In their five victories this year, the FSU offensive line has allowed on average, 11.8 pressures per game. In their six losses to date, they allow an average of 18.1 pressures per game.
The same can be said for the Gators this season also. In all eight of their victories, the defense has combined for at least 12 pressures per game. In their three losses, the Gator defenses have combined for just 15 pressures.
In fact, edge defender Jachai Polite is their second-highest graded player this season.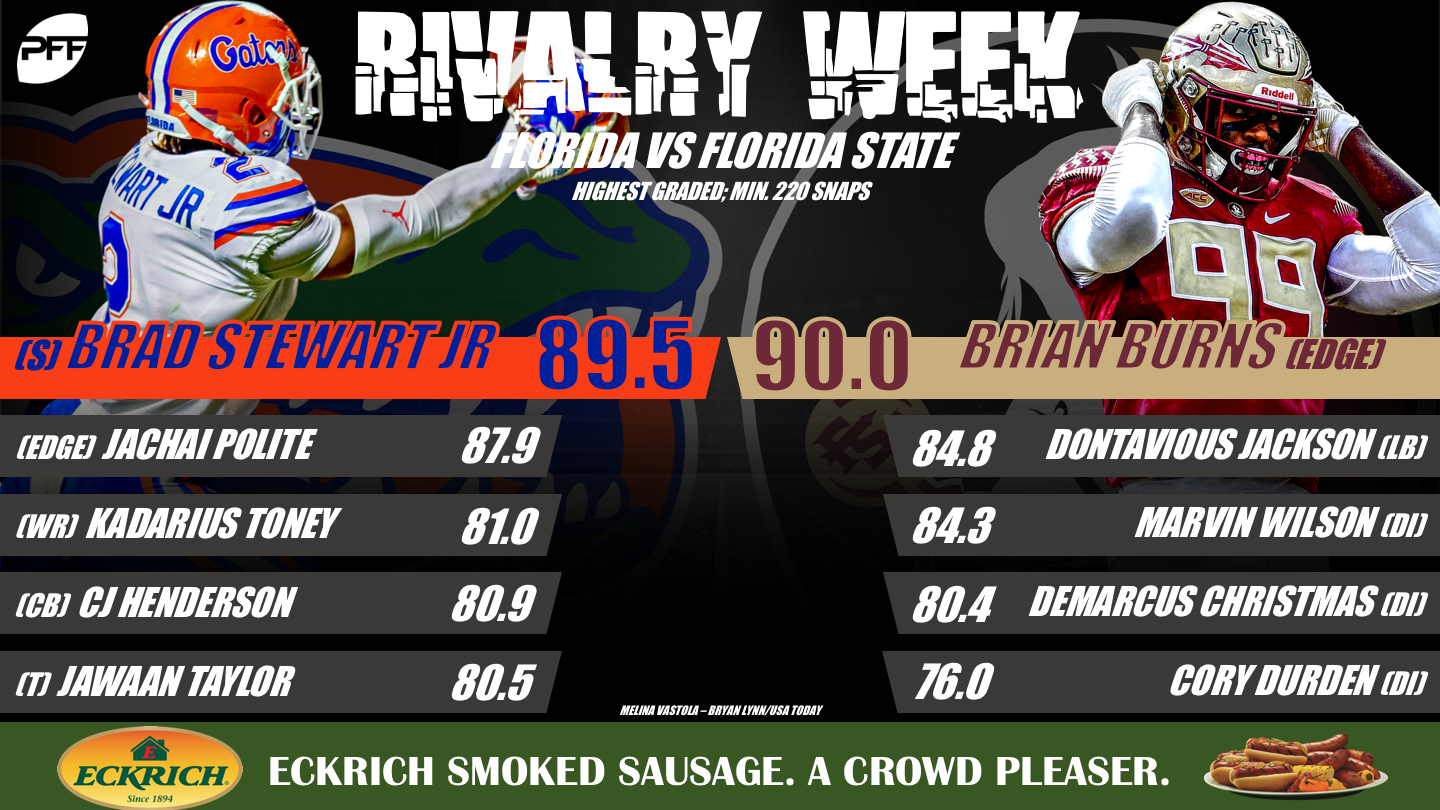 Guess it's as simple as that: hold Florida to fewer than 12 pressures and the Seminoles win.
One guy would surely be happy with fewer than 12 of his dropbacks being pressured, and that guy's name is Deondre Francois.