The search for college football's "DBU" is neverending, but PFF's grading system can tell us which teams have the highest-graded group of defensive backs in the country so far this season. Here's a list of the top-five highest-graded secondaries in college football through Week 4.


1. Ohio State
The Buckeyes have had plenty of NFL-caliber talent cycle through their secondary in recent years with five first-round selections coming from their defensive back group in the last four years alone – Eli Apple, Marshon Lattimore, Malik Hooker, Gareon Conley and Denzel Ward. Jeffrey Okudah is the most likely member of the current highest-graded secondary to join those ranks, as he came in 10th overall on our preseason top-50 big board for next year's draft, drawing comparisons to Aqib Talib from PFF Lead Draft Analyst Mike Renner. He hasn't disappointed to open the season with a coverage grade of 83.1, allowing just over six yards per target and a passer rating of 63.9 on throws into his coverage. 
It's not just Okudah, either. All five members of their secondary with at least 70 defensive snaps have recorded overall grades of 75.0 or higher. As a unit, opposing quarterbacks have produced a stat line of 43/79, 390 yards, one touchdown and one interception for a passer rating of 67.0 when targeting Ohio State cornerbacks and safeties. With continued performances like that, the pool of Buckeye secondary members to make their way to the NFL is soon to grow. 
2. San Diego State
Through their first four games, the Aztecs have allowed just under 12 points per game, and a staunch performance from their secondary is the driving force in that defensive success. Five different secondary members have been targeted at least 10 times so far this season, and there has not been a weak link in the bunch, as all five are carrying coverage grades of 70.0 or higher. 
Tariq Thompson is the big name of the group, garnering one of the safety spots on the Mountain West Conference Preseason All-Conference Team. Interestingly enough, Thompson has played primarily in the slot despite his safety designation. So far this year, 191 of his 276 defensive snaps have come inside in the slot, and he's generally been effective there. Thompson is allowing just 6.7 yards per reception and a passer rating of 75.9 across 29 targets in the slot this season. In their opener against Weber State – granted it was against Weber State – Thompson made several nice breaks on the ball to force incompletions. Thompson and the rest of the Aztecs' defensive backs have been one of the more impressive units in college football. 
3. Georgia
The Bulldogs are replacing one of the top cornerbacks in college football over the past several seasons in Deandre Baker, but they haven't missed a beat, slotting in at third on the list of the highest-graded secondaries in college football so far this season. They haven't exactly had the stiffest competition to start the season, opening with Vanderbilt, Murray State and Arkansas State before playing Notre Dame last weekend, but Georgia's secondary has put up impressive numbers, nonetheless. Their cornerbacks and safeties have combined to allow just 22 first downs receiving while forcing 15 incompletions.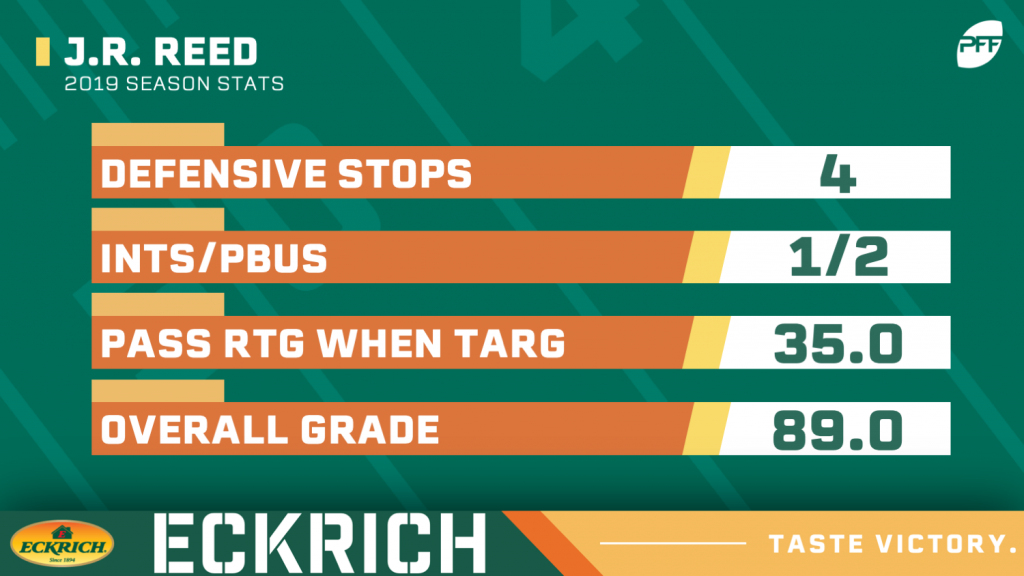 The star of the group is SEC Preseason All-Conference safety J.R. Reed, whose overall grade so far this season of 89.0 ranks fourth among all qualifying FBS safeties. He was very strong in coverage in their biggest test so far this season against Notre Dame, undercutting several routes for pass breakups and hauling in an impressive interception along the sideline. Reed, along with the rest of their secondary, will look to continue their impressive pace as the Bulldogs enter the brunt of their conference schedule.
4. Alabama
Year in and year out, the Crimson Tide have had one of the top defenses in all of college football under head coach Nick Saban. Few teams produce NFL talent like Alabama does, and there appear to be several candidates in the current iteration of their secondary. Cornerbacks Trevon Diggs and Patrick Surtain II have combined to allow 19 receptions for 156 yards, zero touchdowns and three interceptions on 35 passes into their coverage. That is good for a passer rating of just 30.2. For those of you keeping track at home, that is less preferable than the quarterback spiking the football on every single snap, which would yield a passer rating of 39.6. 
In all, Alabama cornerbacks and safeties have combined to allow just 8.9 yards per reception, which is the lowest mark of any FBS secondary. They have completely eliminated anything downfield. Opposing quarterbacks have a passer rating of 24.3 when targeting the Alabama defense 10 or more yards down the field. That is also the best mark allowed by any FBS defense. It probably doesn't need reinforcing, but this Alabama defense is once again very good. The secondary is a big reason why.
5. Oregon
The Oregon Ducks' group of cornerbacks and safeties have allowed the lowest completion rate in the Pac-12 (51.1%), the fewest first downs through the air (20), the lowest passer rating (53.3) and have forced the most incompletions (14). I would say that qualifies as an impressive start to the season, and it has earned them a top-five overall grade in the FBS as a unit.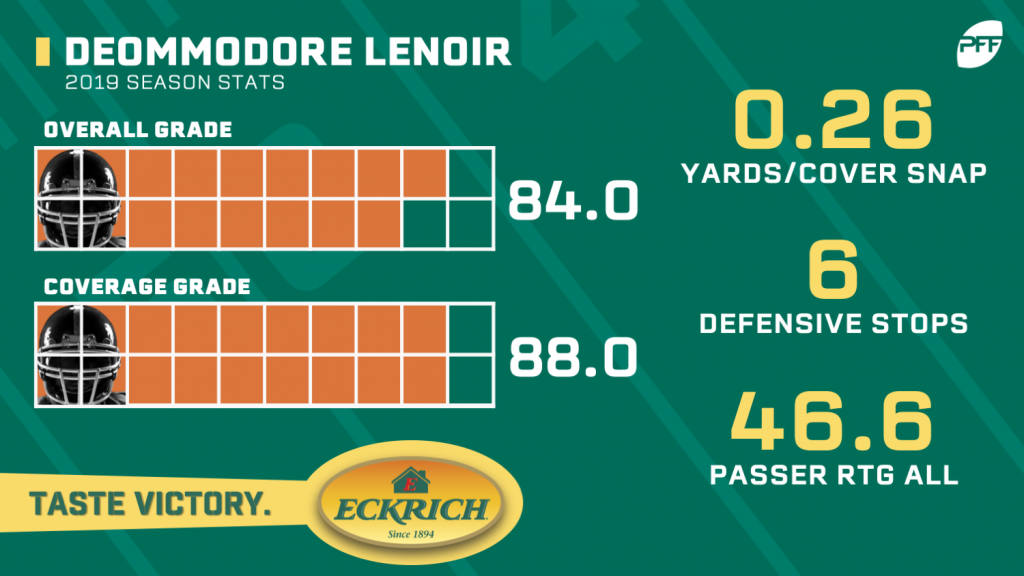 Thomas Graham Jr. came into the season as the only member of the secondary receiving a preseason all-conference nomination, and though he has played reasonably well with an overall grade of 63.7 through the team's first four games, it has been other secondary members that have impressed, namely Deommodore Lenoir and Jevon Holland. Lenoir has allowed just 34 receiving yards all season on 13 passes into his coverage, forcing nearly as many incompletions (4) as he has allowed receptions (5). Holland, meanwhile, already has two opportunistic interceptions on the season coming on underthrown deep balls and a coverage grade of 81.6. With big matchups on the horizon in Cal and Washington, the Oregon secondary will need to continue their high level of play.