Wisconsin Badgers 16, LSU Tigers 14
Here are the biggest takeaways and highest-graded players from the Badgers' 16-14 victory over the LSU Tigers:
Wisconsin Badgers
Quarterback grade: Bart Houston 66.8
Bart Houston mixes strong throws with a few head-scratchers
There was more good than bad from Bart Houston, who moved the chains with a number of solid throws but threw two ugly interceptions. Early in the second quarter, he misread the coverage and fired a pass directly to defensive back Rickey Jefferson for an end zone interception while his third quarter pick-six was just as bad. He was late to throw the deep out, allowing CB Tre'Davious White to secure the interception and take it to the house, allowing LSU back into the game.
Top offensive grades
TE Troy Fumagalli 83.0
FB Austin Ramesh 77.1
LT Ryan Ramczyk 76.8
RG Beau Benzschawel 75.0
C Michael Deiter 72.7
Fumagelli a top receiving threat; offensive line works LSU's linebackers
Wisconsin's top receiver was TE Troy Fumagalli, who did fine work at the intermediate level while also making the most of a couple of screen opportunities. He caught all seven of his passes for 100 yards, including 61 after the catch. The offensive line wasn't great, but they were able to lock onto LSU linebackers at the second level to open holes in the running game while fullback Austin Ramesh did a nice job locking onto targets in Wisconsin's misdirection-heavy scheme.
Top defensive grades
CB Derrick Tindal 81.5
OLB T.J. Watt 79.1
S Leo Musso 78.5
OLB Vince Biegel 69.3
DE Alec James 69.9
Linebackers hold LSU running game in check

Aside from a couple of miscues in which the defense allowed RB Leonard Fournette to break contain, the linebackers did a fine job of containing the Heisman candidate. OLB T.J. Watt led the way with a team-high five stops, but OLB Vince Biegel was right behind him with four. They held Fournette to only 2.7 yards after contact per rush, and that happened only three times all of last season. Cornerback Derrick Tindal was outstanding in coverage, beating up WR Malachi Dupre at the catch point on a number of plays. He surrendered only one catch on five targets, picking off one and deflecting another.
LSU Tigers
Quarterback grade: Brandon Harris 58.6
Harris' inaccuracy and poor decision-making hurt LSU offense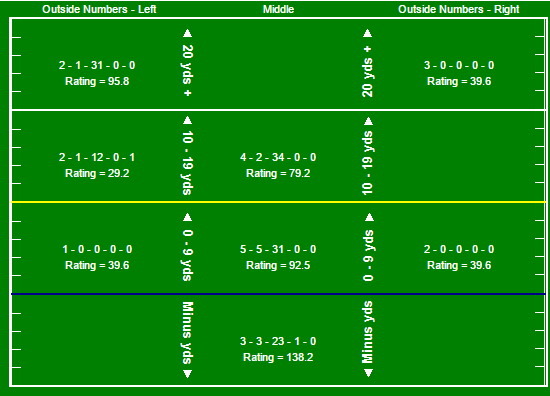 While play-calling is getting the brunt of the attention on the Bayou, Harris' inaccuracy is a much bigger hindrance for the offense. Aside from a well-thrown wheel route to Fournette, Harris missed on a number of throws before making the game's most egregious throw to seal the deal for Wisconsin. With 1:04 remaining in the game, Harris spun out of pressure, set himself, and threw a pass directly to Wisconsin defensive back D'Cota Dixon who was nowhere near Harris' intended receiver. Between scattershot accuracy and poor late-game decision-making, it was very difficult for LSU to sustain offense.
Top offensive grades
C Ethan Pocic 83.1
FB John David Moore 78.9
WR Travin Dural 75.6
RT Toby Weathersby 73.2
RB Leonard Fournette 69.9
Offensive line, receiving corps inconsistent for LSU
The offensive line and receiving corps had a couple respective standouts while the rest of the units struggled. Center Ethan Pocic did a good job getting movement in the running game (82.2) though the rest of the line posted below-average run block grades. At receiver, Travin Dural was the top option catching five of his six targets for 50 yards while forcing four missed tackles after the catch. WR Malachi Dupre struggled mightily, catching only three of his 10 targets including two drops and failed attempts in contested situations.
Top defensive grades
CB Tre'Davious White 88.0
DE Davon Godchaux 78.2
OLB Arden Key 74.0
DT Greg Gilmore 73.4
DT Travonte Valentine 73.3
White and Godchaux carry the defense, linebackers struggle
CB Tre'Davious White had an excellent game in coverage, allowing only three of eight targets to be completed for 20 yards. His pick-six brought LSU right back into the game and he had a good mix of tight coverage and sure tackling to keep the ball in front of him. DE Davon Godchaux was one of the best interior pass rushers in the nation last season but we wanted to see more from him in the running game. That's exactly what he showed as he dominated up front to get in on a team-high eight stops on only 36 snaps against the run. He consistently held his ground and shed blocks to make plays, but unfortunately the linebackers struggled mightily at the second level, leading to Wisconsin's best gains on the ground. LBs Kendell Beckwith and Duke Riley were easily sealed out of too many plays while Beckwith added two missed tackles.